I may receive a commission if you purchase through links in this post. I am not a doctor; please consult your practitioner before changing your supplement or healthcare regimen.
This article is an introduction to the Vitamin A Detox diet: What is it? And why does it show promise in improving leaky gut, autoimmune issues, mental health, eye, lung, bladder, blood sugar, skin conditions and more?
You'll be able to consider and try the diet more easily with the food lists provided below. These free lists and printable grocery list designate which foods to avoid and which foods to eat freely.
While doing a Vitamin A elimination diet to reduce toxicity, it may be helpful to remember that Vitamin A containing foods are not all "bad". The toxicity of Vitamin A is discussed below, but remember to eat with a calm, peaceful state of mind and a sense of freedom and enjoyment. We don't benefit from added stress.
For most people, a restricted diet is intended to be short term, so detoxification and restored wellness can happen. In the meantime, it is wise and joyful to enjoy our meals.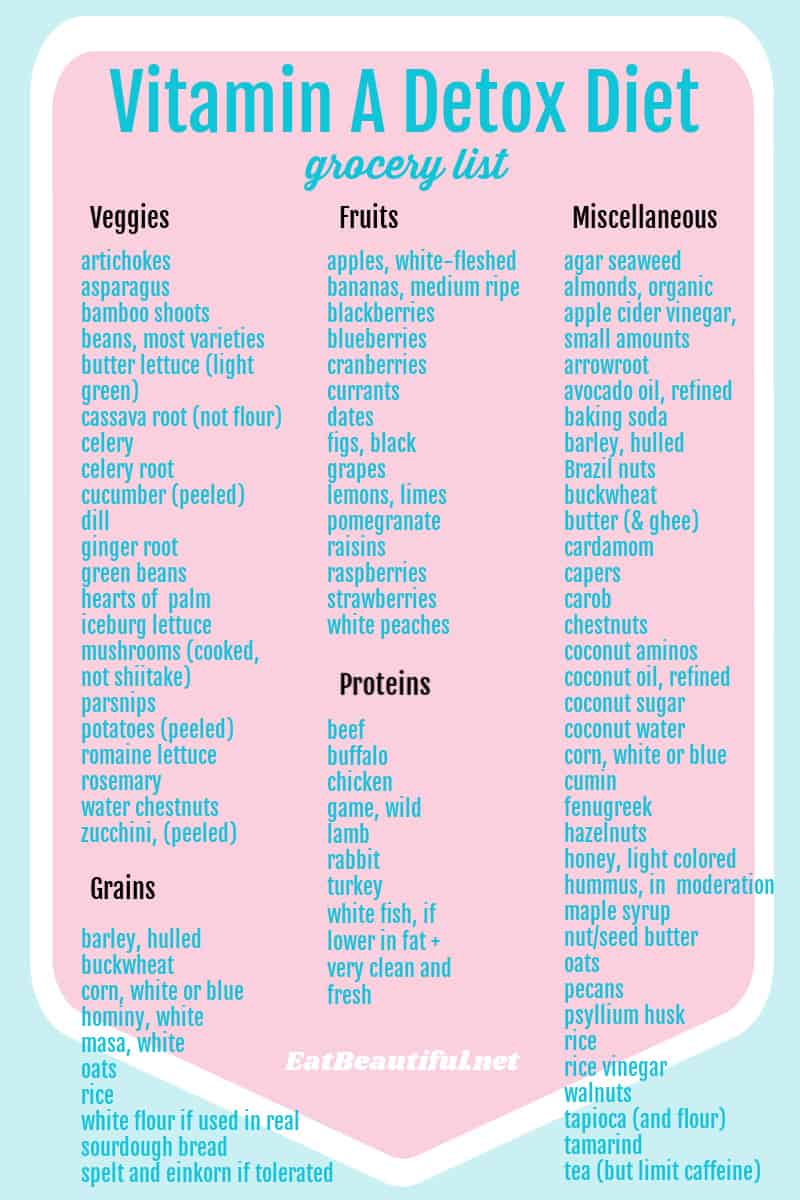 A Background on Vitamin A Toxicity
What follows is a lengthy explanation of the Vitamin A toxicity theory, which I intended to be brief by way of an introduction to the Vitamin A food lists. Nonetheless, I found I had a lot to say and a lot of research to share. I hope you'll benefit.
This concept was introduced several years ago by an engineer named Grant Genereux. He wrote a free e-book called Extinguishing the Fires of Hell. In 2017, he wrote a second free e-book, Poisoning for Profits. Grant's research is thorough and has the potential to change the health of thousands, if not millions of people.
Those of us with tricky or frustrating health concerns are willing to try the Vitamin A detox diet and be the first ones to see if Grant's theory is right.
Full of scientific studies that informed his reasoning, Grant's e-books are compelling to anyone willing to look at the studies and reconsider their formerly held set of nutritional beliefs.
The history of Vitamin A as a supplement
Grant discusses the historical introduction of Vitamin A as a supplement.
He even looks at the corruption involved in making premature and incorrect conclusions about Vitamin A's benefits.
Grant then discusses Vitamin A's role in the body:
… vitamin-A is a fat (lipid) soluble molecule. Therefore, it will naturally be absorbed (emulsified) by fats. This includes both dietary fats, and the body's storage fats. For us, most of the storage of vitamin-A is in the fats within the liver, and to a lesser extent in the fats of the adipose tissues (the skin etc.) … As the liver becomes more and more saturated, more vitamin-A will remain in serum longer and slowly seep into and accumulate within the lipids of the adipose tissues. Even with that, the vitamin-A stored within these fats is not yet toxic … So, vitamin-A in reasonable amounts, given adequate amounts of dietary fats and proteins, is by itself not too terrible. However, there is a tipping point to where vitamin-A can, and does, easily convert into an extremely nasty, and highly toxic molecule (and the thought to be active form of the vitamin). This converted vitamin-A molecule is called retinoic acid.
Retinoic acid for chemotherapy
Grant goes on to explain that retinoic acid is used as a chemotherapy drug. (sources)
What makes retinoic acid effective is that it kills replicating cells. He says,
… every cell in the body will convert excess vitamin-A into retinoic acid. The overall rate of conversion is proportional to the number of cells that are exposed to the vitamin-A molecule. I believe it's also proportional to the number of cells with damaged cell membranes. Therefore, to be safe, there should never be any excess vitamin-A in the body. What does excess vitamin-A mean? It means several things. One is that you never want to consume vitamin-A at a rate that exceeds your body's safe storage rate.
Genes, diet, age, environment and other epigenetic factors affect our body's ability to process Vitamin A excess. Many with autoimmune issues have inherent detox limitations. But ultimately, anyone with too much Vitamin A in their liver will reach that point of toxicity.
He continues, "As we start to exceed the vitamin-A load carrying capacity of those lipids, we will move into the toxicity state … Once we approach these limits, more and more circulating vitamin-A will be exposed to cells, and the subsequent normal processes of converting vitamin-A to retinoic acid will take place."
Medical science discusses Vitamin A toxicity
As one study says,
…there is a growing body of evidences showing that vitamin A doses exceeding the nutritional requirements may lead to negative consequences, including bioenergetics state dysfunction, redox impairment, altered cellular signaling, and cell death or proliferation, depending on the cell type. Neurotoxicity has long been demonstrated as a possible side effect of inadvertent consumption, or even under medical recommendation of vitamin A and retinoids at moderate to high doses. (source)
When there is retinoic acid in the intercellular fluids, cellular damage is most likely to occur, according to Grant, in the eyes and the skin.
Visual disturbances (spotty vision etc.), eye diseases, declining eyesight and dry eyes are extremely common conditions. Eczema affects 20 percent of American children, 30 percent of whom also have food allergies. Skin issues in general affect a huge percent of the adult population.
Grant also has some fascinating insights about the retinoic acid-based drug Accutane and how its use for acne causes the same well-documented side effects as Vitamin A poisoning.
Crohn's and IBS, plus other autoimmunity
Grant takes it one step further to point out that Crohn's and IBS are inflammatory diseases of our internal skin. Symptoms of Vitamin A toxicity and Crohn's are remarkably similar. (source and source p. 154)
Because the liver can be saturated at any point in a person's life, it can take a very small amount of additional Vitamin A (often coupled with stress) to push someone into a toxic zone.
This explains why many of us "all of a sudden" break out with a rash or start having blurry vision or dry eyes that we can't resolve. It also explains recurrent and additional autoimmune conditions, or a leaky gut that just won't heal.
Grant explains,
The body is safely absorbing and storing all the daily doses until it gets to a slightly saturated point. It is important to understand that all those stored doses have not suddenly become toxic; no, they're safely stored. It's the additional doses that cannot be absorbed, or absorbed fast enough, by the liver that are now becoming toxic. What these people are doing is filling up their storage capacity for this substance, and thereby reducing their absorption rates. (source p. 164)
What PubMed says about Vitamin A toxicity
PubMed studies are part of what convinced me to take a longer look at the concept of Vitamin A toxicity.
Mental health
Anthony R. Mawson shares a great article here on the correlation of high levels of Vitamin A with many modern mental health concerns, ranging from ADHD to depression.
My own personal experience with mild mental health issues led me to trial the diet just briefly. Immediate benefits convinced me to continue my interest in the Vitamin A toxicity theory.
Mawson says,
Environmental exposures leading to alterations in physiological concentrations of retinoids are associated with birth defects and fetal loss. There is also evidence that high serum concentrations of retinoids resulting from dietary intake, vitamin A supplements, and therapeutic retinoids are causally associated with cognitive impairments, mood disorders (e.g., depression), persistent agitation, suicide, and other forms of violence.
Hormonal effects
Another study discusses Vitamin A and its precursors as dietary hormones. When combined with environmental pollutants, the author asserts the various functions that can be disrupted, including healthy pregnancies, immune and skin health.
In fact, there are many studies linking excess Vitamin A with various illnesses: malaria, Epstein–Barr virus (EBV), Burkitt's lymphoma (BL) and increased risk of cancer mortality, to name a few. (source, source)
The Vitamin A detox concept is an unexpected and exciting new path for those of us desperate enough in our search for optimum health to try something contrary to what we've been taught. Science propels us to be among the first to try this diet and report back on its effects on our bodies.
Sudden health shifts
Why act now? As Mawson says, "Given that about 80% of vitamin A is stored in the liver, sudden shifts in these stores to other tissues due to infection, chronic illness or trauma can result in severe vitamin A poisoning."
Whether pregnant, nursing or struggling with unresolved health concerns, Vitamin A in excess is toxic, and it's likely that most of us have too much stored in our livers.
Eating too much Vitamin A
Is it possible that many in the Traditional/Ancestral community are consuming too many Vitamin A rich foods?
If liver is super high in nutrients, do we need to eat it everyday? Upon reflection, we know that too much of a good thing is actually harmful.
However, super foods such as liver and cod liver oil are not the only sources to blame.
Americans who consume a standard diet are constantly exposed to Vitamin A through glyphosate, the poison so commonly used on American food crops. Even well water is contaminated with glyphosate.
While glyposate itself isn't high in Vitamin A, it greatly inhibits the detoxification of Vitamin A.
Which supplements have Vitamin A
When considering which foods to eliminate for a Vitamin A detox, we must also consider supplements that contain Vitamin A as well as supplements that contain carotenoids, retinol, retinyl, retinoids and retinoic acid (natural precursors to Vitamin A).
I recently exchanged my B complex that contained Vitamin A for individual B vitamins. My doctor helped me to add in minerals as well.
Genereux also implicates and recommends the removal of specific carotenoids: lutein and zeaxanthin. (source p. 205)
Anyone with suspected Vitamin A toxicity should avoid liver pills, fish oil, krill oil, cod liver oil and any other seafood oils. I myself have eaten and used these supplements for years.
Usually food-based supplements that are dark in color, like spirulina or Vitamin E pills, reflect their high carotenoid content and should be removed.
Some supplements complicate the detox of Vitamin A
Additionally, Genereux warns that too much Vitamin E through food or supplements causes an increase in serum Vitamin A levels.
Vitamin C supplements should be removed because they actually cause VA to be stored in the liver, which doesn't help the detox process.
Dr. Smith recommends eliminating Vitamin D supplements. (source)
If you currently take iodine, you might also share this article with your doctor and consider the potential dangers of potassium iodide.
Personally, I have eliminated more than half of the supplements I was taking! My supplements were like my friends. But I am feeling so good, and one by one I have been able to eliminate several of them, something I never expected but for which I had hoped!
Helpful supplements
Genereux takes zinc, in addition to certain B vitamins.
You can read here all of the supplements I take.
Food Lists for high and low Vitamin A content

If you see any mistakes in the following lists, please let me know! My goal is to create a most helpful and free resource so that more of us can try this diet and make encouraging progress with stubborn health concerns. (I also highly recommend you read Genereux's e-books, here and here.)
As you'll see below, when we remove Vitamin A from the diet, we also remove most colorful veggies. Yet anyone who can digest fruit well can still enjoy colorful meals on the VAD diet! A lot of fruits are allowed. (I can't personally eat fruit, but thankfully I love mushrooms, peeled zucchini and carob!) …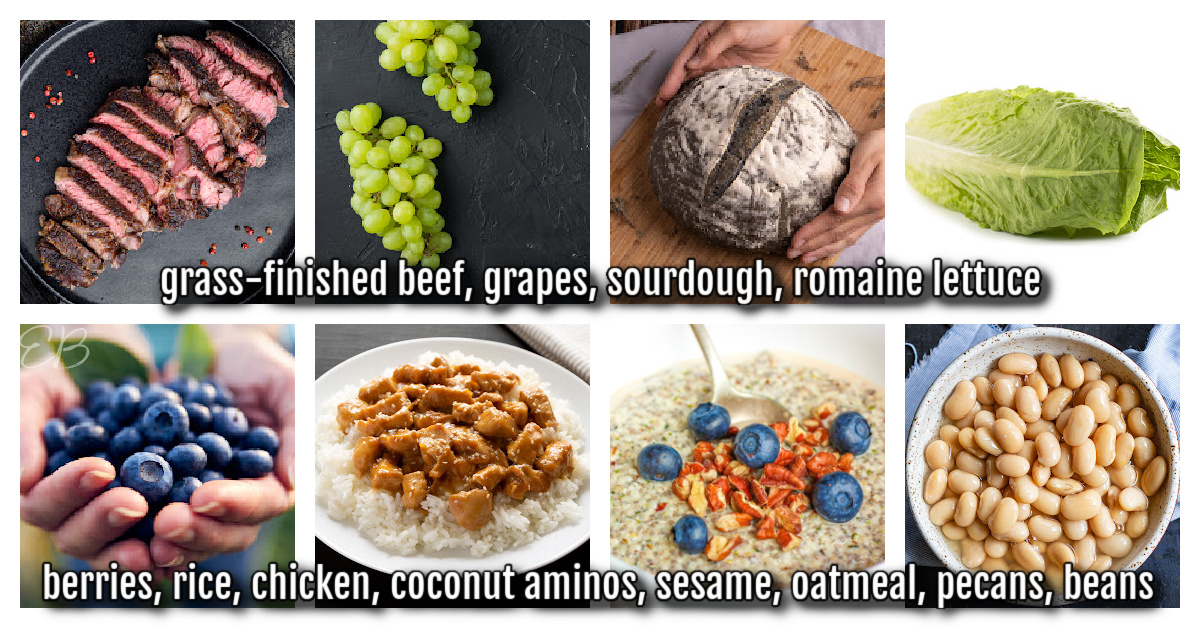 One additional consideration, this concept is still a theory and a work in progress.
How best to detoxify Vitamin A is still being discovered by Grant, Dr. Smith and those of us on the diet. That being said, occasionally dietary changes to the protocol will be made. For example, at one point, cauliflower and pears were removed from the diet: formaldehyde in these foods is competing for the same alcohol dehydrogenase enzymes and inhibiting detoxification.
So I recommend checking back here every once in a while for dietary updates. I also recommend following Grant's blog, if interested in the process, where he discusses "the experiment".
Foods High in Vitamin A (the Avoid List)
Note on the foods listed below: Because Vitamin A is fat soluble, you won't get as much from a food if it's prepared with water. However, when foods high in Vitamin A are prepared or eaten with a fat source, more Vitamin A will be accessible and absorbed by the body.
Green tea is a good example: Green tea steeped in water is low in beta carotene, but when the whole green leaf is prepared with fat, in a Matcha Latte for example, a lot of beta carotene (a precursor to Vitamin A) is absorbed by the body.

Some of the foods listed below are obscure, but they make the list more complete and accurate.
Meats and Vegetables High in Vitamin A (Avoid)

Cod liver oil
Moose liver
Walrus liver
Peppers of all kinds (bell, passilla, ancho, chili etc.)
Turkey liver
Veal liver
Egg yolks
Natto (fermented soy)
Carrots
Chives
Parsley
Paprika and pepper spices like cayenne
Duck liver
Seal liver
Eel
Turkey giblets
Brussels sprouts
Beef liver and other organs
Goose liver
Caribou liver
Pork liver sausage (liverwurst)
Milk
Grape leaves, raw
Lamb liver
Sweet potato, orange (including chips)
Carrot juice
Pork liver
Salmon, herring, tuna, sturgeon, clams, mackerel, shrimp, red snapper, trout, crab
Tomatoes
Broccoli leaves
Canned pumpkin
Kale
Chicken giblets
Lard
Pork
Dandelion greens
Mustard greens
Spinach
Matcha Green Tea
Turnip greens
Collard greens
Winter squash
Mustard greens
Dried apricots
Nutritional yeast
Avocado and unrefined avocado oil
Olives and extra-virgin or unrefined olive oil
Peas
Pokeberry shoots
Winged bean leaves, raw
Beet greens
Cheeses
Coconut (most but not all coconut products)
Palm oil
Cantaloupe
Mango
Black-eyed peas
Broccoli
Mung beans
Flax
Chia
Cinnamon
Basil
Coriander
Oregano
Thyme
Grains to Avoid
Wheat (organic white wheat can be "challenged" later in the diet if desired)
Best to avoid all gluten at first, but get the full list of foods to avoid created by Dr. Garrett Smith N.D. here. (He charges for the list and to become part of his Vitamin A Detox program. But the link allows you access to a free discussion forum. Dr. Smith has become an authority on Vitamin A detoxing and guides his patients through the process.)
Other foods to Avoid
Canned fruits and Aspartame (These belong to the group of foods that either contain or get converted to formaldehyde. These foods, therefore, compete for our alcohol and aldehyde dehydrogenase enzymes, which are required for Vitamin A to detoxify.)
Alcohol (The very small amount in certain tinctures should be fine, as long as the steeped herb itself is allowed on the diet.)
Earl Grey tea
Pears, grapefruits, pineapple (affect the detox process)
Most fermented foods (more on this below)
Regarding Milk, Cream, Butter, Ghee, Cheeses, Yogurt and Sour Cream
100% grass-fed A2A2 cows grazing in a valley in the middle of pristine mountains (no glyphosate around other than some in rain, sadly) produce cream that, to some degree, aids in the detoxing of Vitamin A. Ruminant animals eat grass and break down chlorophyll into DHA and phytanic acid. We consume them when we eat beef fat and dairy fat. DHA and phytanic acid speed up the enzyme that breaks down Vitamin A in addition to blocking it from receptors.
So while dairy raised on grains and glyphosate is not suitable for a Vitamin A detox, very small amounts of the highest quality A2A2, clean cream is.
Grass-fed milk is higher in beta carotene (a precursor to Vitamin A), so milk consumption is not a good idea for a Vitamin A detox. Even the best milk also contains casein and whey, both of which bind to Vitamin A, acting as carriers and transporters. (source and source)
Most people detoxing Vitamin A should avoid dairy products other than butter. A2A2 grass-fed ghee from pristine (remote) pastures is also a good option, because it's free of casein and whey.
Butter, cheese and yogurt
Note: White butter (not pasture-raised) is often recommended on this diet because it is lower in beta carotene. Personally, I am unwilling to support factory grown beef or dairy and grain-fed animal husbandry (although I realize in extreme cases this might be necessary). I would rather eat less butter.
We buy Kerrygold and often use a small amount of water when cooking to reduce my need for lots of butter. I still enjoy about 2 tablespoons of butter daily. Also, as I mention below, the Vitamin K in butter likely cancels out any negative effects from moderate butter intake.
Regarding cheese, I used to eat a small amount on the diet, but it's no longer recommended, and I've eliminated it.
Regarding yogurt, it is out because it is made from milk and high in aldehydes (which slows down the detox of VA).
Foods to Avoid, High in Stearic Acid (that increase Vitamin A issues)
This category of foods is very important, but less known, for those doing Vitamin A elimination diets. (source)
Stearic acid, unmentioned by most articles on Vitamin A toxicity, is what helped me to see the Vitamin A theory's relevance in my own health journey. While my recent diet was somewhat low in most Vitamin A foods, I had begun to struggle with new mental health issues that were getting worse.
I realized I had started consuming cocoa butter (with matcha) daily. The day I removed cocoa butter (and matcha) and cocoa from my diet, my healthy brain and thought patterns returned!
Stearic acid may or likely exacerbates Vitamin A issues, especially during initial detox stages. Also watch for it in your supplements.
Common sources of stearic acid:
Beef tallow
Cocoa butter and dark chocolate
Coconut oil
Lamb
(Butter) — I put butter in parenthesis because its high levels of Vitamin K seem to cancel out any deleterious effects it would otherwise have. Vitamin K2 is considered key to Vitamin A cleansing, but many Vitamin K supplements are delivered in a high Vitamin A base. Consider butter a good Vitamin K supplement if you can tolerate dairy.
The above foods may affect you more during an initial Vitamin A detox and become tolerable and benign over time (although coconut oil should be refined on the diet).
Foods to Avoid, High in Aldehydes (that increase Vitamin A issues)
Here's the piece of the diet that I overlooked, and it's a new addition to this article.
Aldehydes are a compound in certain foods that impede the detoxification of Vitamin A. So the more you eat them, even if they're low in A themselves, the more likely you'll see flares and problems in your detox process.
Avoid these foods for best results on the diet:
most fermented foods: yogurts, fermented vegetables, kombucha (unless a tiny amount)
chocolate
coffee (especially instant)
alcohol
cinnamon
vanilla
citrus oils
watermelon, other melons, pineapple
sugars
starches
True/real sourdough bread is fine to eat once your GI tract is ready for it; so it's one fermented food that is not included in this aldehyde category.
Vegetables and legumes with No Vitamin A
On a Vitamin A detox diet, it's important to avoid glyphosate as much as possible, because it hinders the detoxification of Vitamin A. Therefore, go out of your way to buy organic.
Some of the following foods are obscure. I've put an * next to my favorite or the more common no-Vitamin A foods. Please let me know if I've overlooked a food or made an incorrect inclusion. I believe this list is accurate based on lengthy research, but I may have made a mistake. Listen to your unique body to create a gentle diet for your healing process.

Arrowhead tuber (may contain RS)
*Bamboo shoots
*Beans, pinto, black, kidney (Eat only if you tolerate beans: For best digestion, soak 48 to 72 hours in a new change of plain water each day, rinse, then cook in Instant Pot. Also, see this beans list, based on blood type, which is what allowed our family to start eating beans again.)
Burdock Root
Butterbur, canned
*Celeriac (celery root)
Chayote
*Corn, white or blue
Eppaw
*Ginger Root
Gourd, white flowered calabash
*Hearts of Palm, canned (but rinse well if citric acid is an ingredient)
*New: Hominy, white (Find it here.)
Kanpyo (dried gourd strips)
Lotus root (possible, but likely fine)
*New: Masa, white (This is one of my favorite ingredients on the diet. Find it here.)
Mountain yam, Hawaii (May be too high in copper, I haven't tried this root myself to know how I do with it, but it is high in vitamin B1; it's a maybe.)
*Mushrooms, not shiitake
*Parsnips
Pepeao, dried fungus
*Potatoes (peel them first and no yellow potatoes)
*Sesame and tahini — only in small amounts and occasionally
Sesbania flower
*Waterchestnuts
Waxgourd (Chinese preserving melon)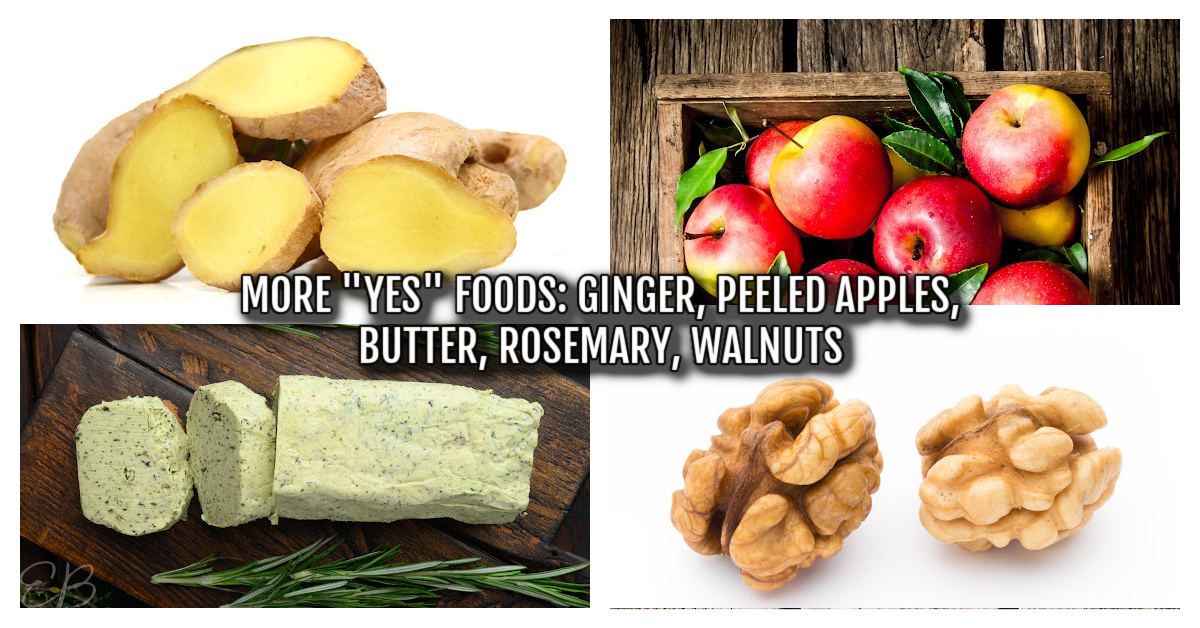 Miscellaneous Foods with Low or No Vitamin A
Arrowroot
Apple cider vinegar (only in small amounts)
Black Tea, Green tea, Oolong, White Tea (but limit caffeine); (avoid Earl Grey)
Carob
Capers
Cassava root, cooked and hot or warm (needs to be fresh, not cold, reheated, nor the flour)
Celery
Cucumber, peeled (optional: also remove the seeds to reduce lectins)
Honey, light-colored
Rosemary
Sage, in very small amounts
Sunflower seeds (only in small amounts and occasionally)
Tapioca (as always, MUST be organic, especially important with tapioca), organic pearls here and organic flour here; may be wise to limit amounts of tapioca because it's a starch. I don't know its aldehyde content. A bit of tapioca flour in certain recipes is handy, if nothing else.
Zucchini, peeled
Peeled fruits: white-fleshed apples and fresh applesauce (but not store-bought or home-canned), white peaches, lemons and limes (not the rind), pomegranate
Other fruits: blackberries, blueberries, currants, grapes, raspberries, strawberries
Bananas that are medium-ripe are allowed occasionally. No green bananas or overly ripe bananas.
Meats: beef, bison, chicken, turkey, wild game, likely rabbit
Seafood: A few kinds of whitefish are low in Vitamin A (retinoids and carotenoids). I occasionally buy fresh west coast Petrale sole. I also eat fresh sea scallops, and they seem to be fine. Recently I started enjoying cod as well. Any white fish choices should be lower in fat.
Grains: White rice (fresh, not leftover when you first start the diet, to avoid resistant starch) (Genereux allows himself both white and brown rice. Consider predigesting brown rice to reduce phytic acid.) It's important to consider a B-1 supplement or eat beans (or other foods high in B1) regularly if you eat white rice; otherwise it can cause a deficiency. Balance one with the other. Also: Amaranth, hulled barley, buckwheat, blue or white corn or cornmeal (no yellow), sorghum and quinoa. (I personally do not eat amaranth, sorghum or quinoa.)
Most people on the diet find it's best not to rush into a lot of whole grains. When your body is ready, these grain staples on the diet are embraced: rice, oats, barley and buckwheat. Proceed slowly with grains to be sure you can digest them well.
Other Yes foods: butter, ghee and heavy cream in moderation (I mention these above in the paragraph about dairy.)
Nuts and seeds: Most nuts are okay, but make sure they're organic. They should also be soaked overnight/sprouted/activated. See how to soak nuts here and seeds here. (As it says above, avoid cashews [which are actually a fruit] and peanuts [legume], as well as flax and chia.
Both sesame and sunflower seeds have gone on and off the Yes list of foods for the diet, which has been a little frustrating for those of us trying to figure it out. At this point, most on the VAD diet eat these foods in only small amounts (or avoid them), but they are probably both fine if you don't make them staples or eat large amounts of them. The occasional condiment, hummus with not too much tahini, use of toasted sesame oil etc.
And some nuts, in moderation, seem to actually be beneficial to the detox process, like walnuts and pecans.
Some organic green lettuces are allowed on the diet: iceberg, butter and romaine. No red lettuces or extra bitter lettuces.
Allowed spices and seasonings
Anise
Caraway
Cardamom
Celery Seed
Cloves
Coriander
Cumin
Fenugreek
Ginger
Coconut aminos
Miso (although too estrogenic for some people, so possibly avoid; small amounts)
Real fermented soy sauce; tamari (again, avoid if too estrogenic for you)
Tamarind
Baking ingredients
Baking soda
Cream of tartar
Natural sweeteners (if light colored, but coconut sugar and maple syrup are allowed; avoid dark honeys and molasses)
Foods high in detoxification enzymes and low in Vitamin A
Certain produce items not only help to improve our gut microbiome diversity, they also help to usher Vitamin A from our livers.
While this diet may seem like a lot of beef and not enough produce, you can add in the following produce items to expedite your detox process and for variety: peeled white-fleshed apples, peeled lemons and limes, rosemary, green and black tea in moderation, walnuts, pecans, berries, grapes and pomegranate.
And it's hard to say enough good things about ginger. Add it to smoothies, stir fries, swallow it minced/grated on a spoon, stir it into water. I enjoy this tincture in water to support digestion and for the flavor.
Important basic principles on the VAD diet
Food lists are super helpful, but some of the principles that Dr. Smith and Grant Genereux have learned in the last two years are just as important. If you choose to do this diet, I recommend you join at least one of their forums to gain a better understanding and to get the best updates.
One of the most important principles understood and relayed in the last year has to do with soluble fiber.
Dr. Smith emphasizes the importance it plays in carrying out toxic bile, which holds Vitamin A, from our bodies.
Recommended sources of soluble fiber include: oats, beans and a low-FODMAP prebiotic fiber called SunFiber. Start slowly with a very low dose of all of these (at different meals throughout the day), so your body can adjust.
Gradually increase soluble fiber, but very slowly. Otherwise, digestive upsets occur.
PRINTABLE VITAMIN A DETOX DIET GROCERY LIST (updated 04/22)
You can Print the grocery list below here.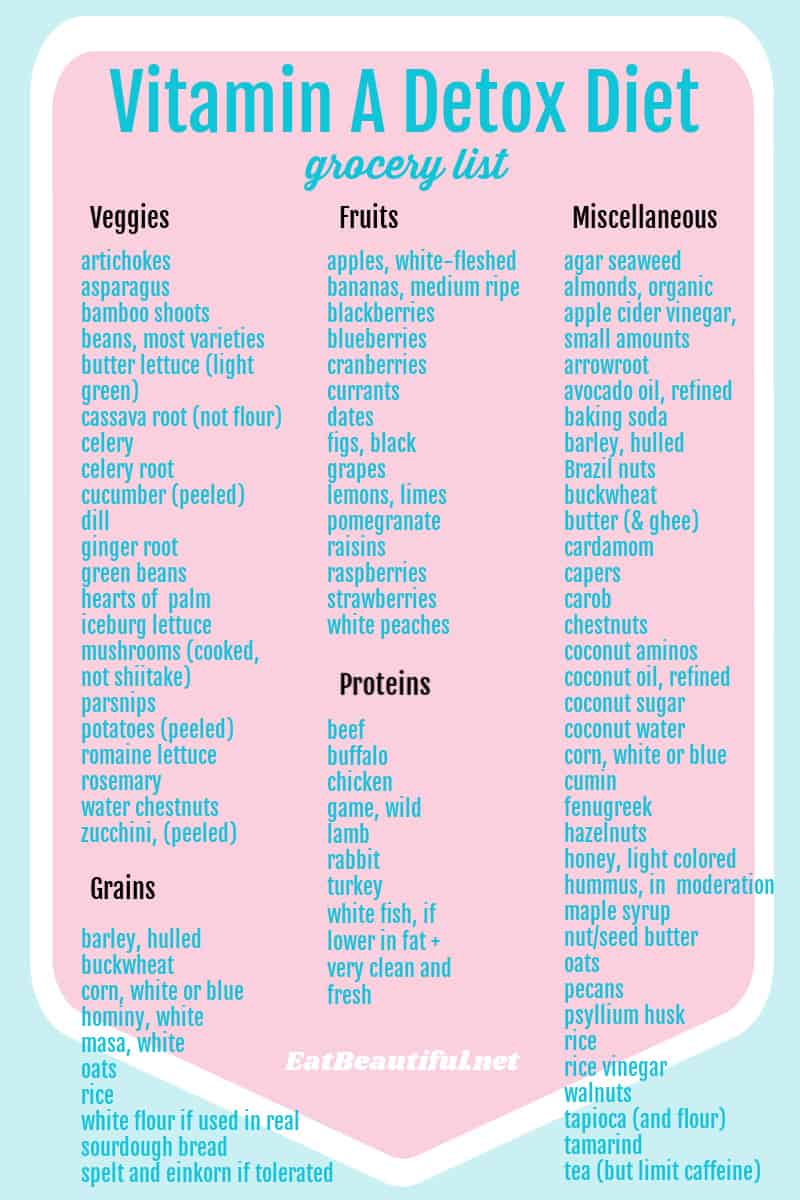 Prebiotic foods and resistant starch
Dr. Smith has observed that resistant starch (RS) is not beneficial to the detoxification of Vitamin A. He links to studies (here) showing butyrate increases retinoic acid production.
As you may remember, butyrate is the short chain fatty acid consumed by T-cells, which in turn increases T-cells and diversifies our colon ecosystem.
Benefits of RS aside …
I have certainly felt the benefits of whole food-sourced RS myself, especially when I added in cassava flour and tiger nut flour after years on the GAPS diet. I also have clients who report relief and much better bowel movements when RS whole foods are added in.
While RS has brought many of us further along on our health journeys, if your latest health goal is a VA detox, it may be ideal to remove RS until you're past a detox stage. Then consider trying it again with VAD-safe foods, if it worked well in your system formerly, to see if it's still an asset. Without excess Vitamin A, it may resume its gut and colon benefits.
Inulin alternative
Also of note, my son's long time eczema went away very quickly when we added in inulin, a prebiotic. Dr. Smith states that inulin feeds bad flora. As the Nemechek protocol has shown, inulin can be a powerful way to improve the gut microbiome and skin health. Yet long term, diverse forms of prebiotics are better than a single source, and sometimes we have to take one goal at a time.
Dr. Smith recommends only certain prebiotics on the VA detox diet (like this one).
Prebiotic foods to avoid:
Avoid cassava flour, tiger nuts in any form and the flour, jicama, chicory, raw onions and fermented asparagus. Here's a fuller list of prebiotic foods that may affect Vitamin A detoxification.
Included in that list, note that cooked and cooled beans have RS. These do not seem to cause any problem once you've been on the diet for a while, but may cause issues during the initial months.
So at first: Any beans eaten need to be fresh and hot (or warm). White rice and potatoes also need to be fresh and hot, no leftovers. (There continues to be controversy surrounding how much RS exists in certain reheated foods, like potatoes, so use your best judgment, and observe how your body responds to different foods. Yet it is likely best to avoid reheated RS foods in the initial few months at least.)
Why tapioca is okay
Happily, one food comes out of the resistant starch conversation free to be eaten, and that's tapioca.
Extracted from cassava root, tapioca flour and tapioca pearls do not contain RS. To be more specific about cassava, cassava root belongs to the RS3 category of resistant starch foods. This means cassava gains resistant starch when it's cooked and cooled. It is possible to eat the whole root cooked and hot or warm and not get any resistant starch.
We buy frozen, raw cassava root at our local Asian grocery store. It is less inflammatory than potatoes and works well for some people as a healthy source of complex carbs. (The flour, in contrast, already contains RS. And tiger nuts, in contrast, have resistant starch even when they're raw [RS1].) We do eat fries made with cassava roots and have no problem.
My story
Regarding my own symptoms and my progress thus far on the diet, I felt initially hopeful when I read more about the symptoms associated with chronic Hypervitaminosis A:
"The toxicity of Vitamin A (hypervitaminosis A) is manifested in two forms: acute and chronic … Chronic hypervitaminosis A is much more common and insidious. It is generally associated with self-prescribed over-supplementation by humans … Toxicity at the cellular level is manifested by redifferentiation of simple types of epithelium into more complex forms, including mucous epithelium. Accompanying this is decreased cohesion between epithelial cells in the skin. Accordingly, most affected humans report skin changes such as … eczema … double vision … "
This study goes on to describe more of my symptoms including Vitamin A's pro-oxidative effects on the lungs and its role in anemia. Other symptoms addressed affect two of my loved ones and include issues with bone density and liver health. (source)
After two months:
I saw an immediate and lasting improvement in my mood and mental health, a major improvement in my skin, a day or two of "die off" symptoms and significant anti-histamine effects. Urgency (I have a bladder disease that is in remission) returned after two weeks on the diet. That symptom lasted two weeks and is now resolved. (Vitamin A is very closely related to bladder issues because it affects epithelial cells and their tight or loose junctions.) My sight issues (on and off cloudy vision) have improved.
While this diet isn't for the faint of heart, the improvements are so encouraging and far outweigh the challenges. I can't imagine not pursuing this path fully now.
After 2-1/2 years on the diet!:
I am doing great, friends!! This diet has been an amazing help to me. I plan to continue on the diet for another year or so because I'm still seeing benefits, and I believe my body is still detoxing Vitamin A.
After 1-1/2 years, I was able to put my endometriosis into remission. My sight continues to improve. I have zero bladder issues. My histamine intolerance and MCAS is long gone.
The only health conditions that remain for me are a chemical sensitivity and intermittent insomnia (due in part to peri-menopause and fluctuating hormones). Basically, I'm well and feel great. I do still need to improve my chemical sensitivity, so that's my ongoing goal. But the VAD diet has been nothing but positive for me, as well as for my kids and husband.
I have experimented a bit with supplements over the last year. Overall, I've reduced our supplements, while adding in a few here and there to see how they affect us.
Here is my exact current diet and supplements.
Notes on the ups and downs
Negative symptoms can return during the detoxification of Vitamin A. My N.D. says the body revisits old illnesses as it heals itself. Also Vitamin A can cause issues as it detoxes from the liver.
I experienced decreased immunity on my skin starting at the six week point, which Grant has commented can be a "more tox" stage for the body.
Additionally, I got a staph kidney infection as a result. I used allicin, tea tree oil (here's how), colloidal silver (here) and goldenseal to combat it and avoid antibiotics. In retrospect, colloidal silver was the most effective and best fit for a low Vitamin A diet.
Even my onerous symptoms encouraged me and baited my curiosity — that this diet affected my issues and seemingly allowed my body to heal at a deeper level!
VAD diet NOT working?
If someone believes in this diet and its potential but sees no personal benefits after trying it, here are few questions to ask:
Have you had your food intolerance evaluation done? You could be eating a food your body can't digest genetically, discussed at length here. I ask all my clients to get this evaluation done so we can build their diet with this foundational information. (I do not benefit in any way from you reaching out to Dr. Zeff [here] to get his kit in the mail. There aren't very many doctors who do this evaluation, but there are a handful.)
Is your diet high in aldehydes or stearic acid?
Are you including enough soluble fiber?
Have you assessed your mental health? Although more subtle, this is where some people see their main benefit. The brain may be healing itself before other body issues are addressed.
Are there other foods you're eating that are NOT gentle: THINK grains, like rice or oats. Think too many nuts or seeds. There are several foods allowed on the VAD diet that could be inflammatory, like potatoes. Consider combining the VAD with another wellness diet like GAPS, AIP etc. I am reachable here for support if you need help building a combo diet. Or ask me quick questions below in the Comments section.
Is your diet too high in fat?
Have you eliminated alcohol and excess sweeteners?
Many other healthy lifestyle choices are also needed for this diet to work: no smoking, no artificial foods, flavors, avoiding pre-packaged foods (even the packaging materials affect our process), chemicals and more.
If you're struggling at all, it's best to pay the small fee to be a part of Dr. Smith's forum so you can ask questions and read the latest insights.
Are you considering a Vitamin A detox? I'd love to hear your experience.
And, here are several low Vitamin A recipes to get you started!:
Also, follow Grant Genereux's blog here to be a part of the discussion.
Learn the latest on how to do this diet (and receive community support), here, on Dr. Smith's forum.
You can Pin this post here: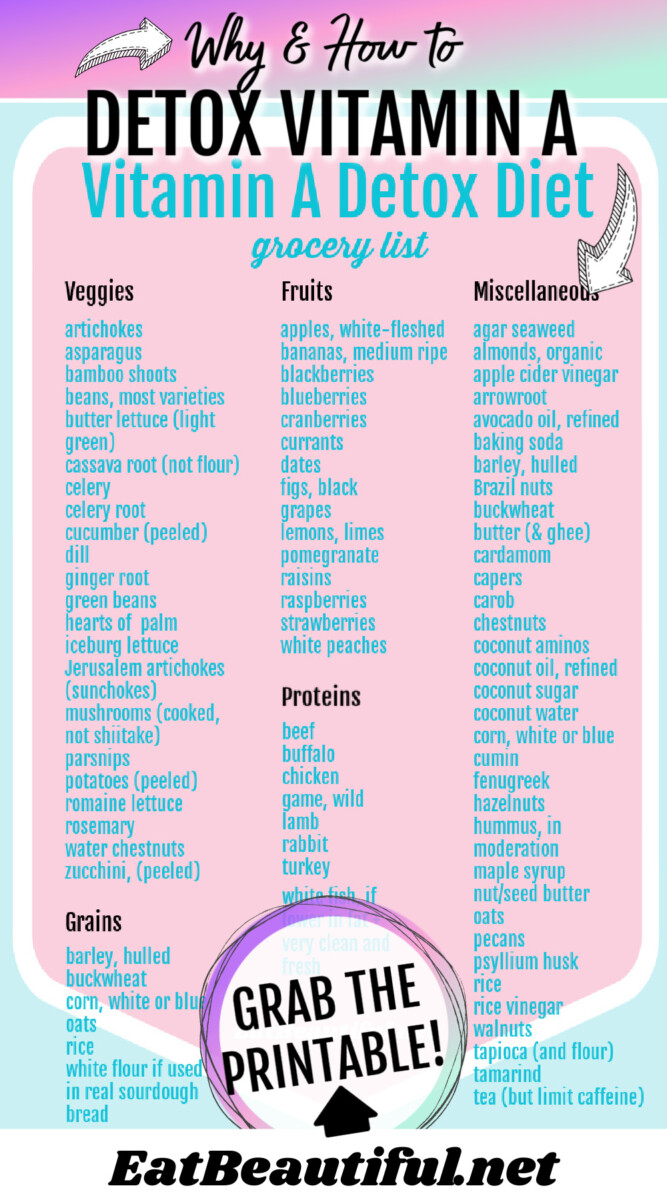 Additional Sources
https://www.sciencedirect.com/topics/biochemistry-genetics-and-molecular-biology/hypervitaminosis-a
http://dietgrail.com/no-vitamin-a-foods/
http://dietgrail.com/vitaminA/
https://academic.oup.com/ajcn/article/83/2/191/4649798
https://www.traditionaloven.com/foods/specific-nutrient/beverage/tea-black-brewed-tap-water/carotene-beta.html
https:// www.myjapanesegreentea.com/vitamins-in-green-tea
https://www.ncbi.nlm.nih.gov/pubmed/20443063
https://www.researchgate.net/figure/Carotenoid-content-mg-100-g-of-culinary-herbs_tbl1_44573723
https://www.researchgate.net/figure/Content-of-carotenoids-mg-100-g-in-micelles-obtained-from-digested-culinary-herbs_tbl2_44573723
https://file.scirp.org/pdf/FNS_2015030915222241.pdf
https://nutritionrestored.com/blog-forum/topic/stearic-acid-aka-stearate/
https://academic.oup.com/ajcn/article/83/2/191/4649798
https://www.nih.gov/news-events/news-releases/scientists-identify-unique-subtype-eczema-linked-food-allergy
https:// justtakeabite.com/2019/04/14/health-benefits-white-fruits-vegetables/
https://www.ncbi.nlm.nih.gov/pmc/articles/PMC5010230/
https://www.urmc.rochester.edu/encyclopedia/content.aspx?contenttypeid=76&contentid=11108-1
https://www.urmc.rochester.edu/encyclopedia/content.aspx?contenttypeid=76&contentid=11104-2
https://nutritiondata.self.com/facts/fats-and-oils/511/2
https://www.nutritionvalue.org/Tapioca%2C_dry%2C_pearl_nutritional_value.html
http://www.whfoods.com/genpage.php?tname=nutrientprofile&dbid=120
https://nutritiondata.self.com/facts/finfish-and-shellfish-products/4054/2
https:// www.westonaprice.org/health-topics/food-features/cassava-versatile-satisfiying-grain-free-option/
https://healthfully.com/330279-foods-high-in-glucaric-acid.html
https://www.sciencedirect.com/science/article/pii/S0278691501000345?via%3Dihub
https://www.ncbi.nlm.nih.gov/pubmed/7821873
https://academic.oup.com/carcin/article/24/10/1651/2390271
https://academic.oup.com/carcin/article/24/10/1651/2390271
https://www.ncbi.nlm.nih.gov/pubmed/20600030
https://www.ncbi.nlm.nih.gov/pmc/articles/PMC4488002/