I may receive a commission if you purchase through links in this post. I am not a doctor; please consult your practitioner before changing your supplement or healthcare regimen.
Enjoy this new gluten-free breakfast or snack recipe, also Paleo, Vegan and VAD-friendly. Just 2 ingredients, easy prep, fast to make, convenient, affordable and gentle to digest.
Rice Flour Porridge is a food you'll wonder how you lived without … and why no one shared this recipe sooner! We've been using more pantry staples lately, which is what gave me the idea to develop and give this hot cereal recipe a try. Wow, such delicious comfort food!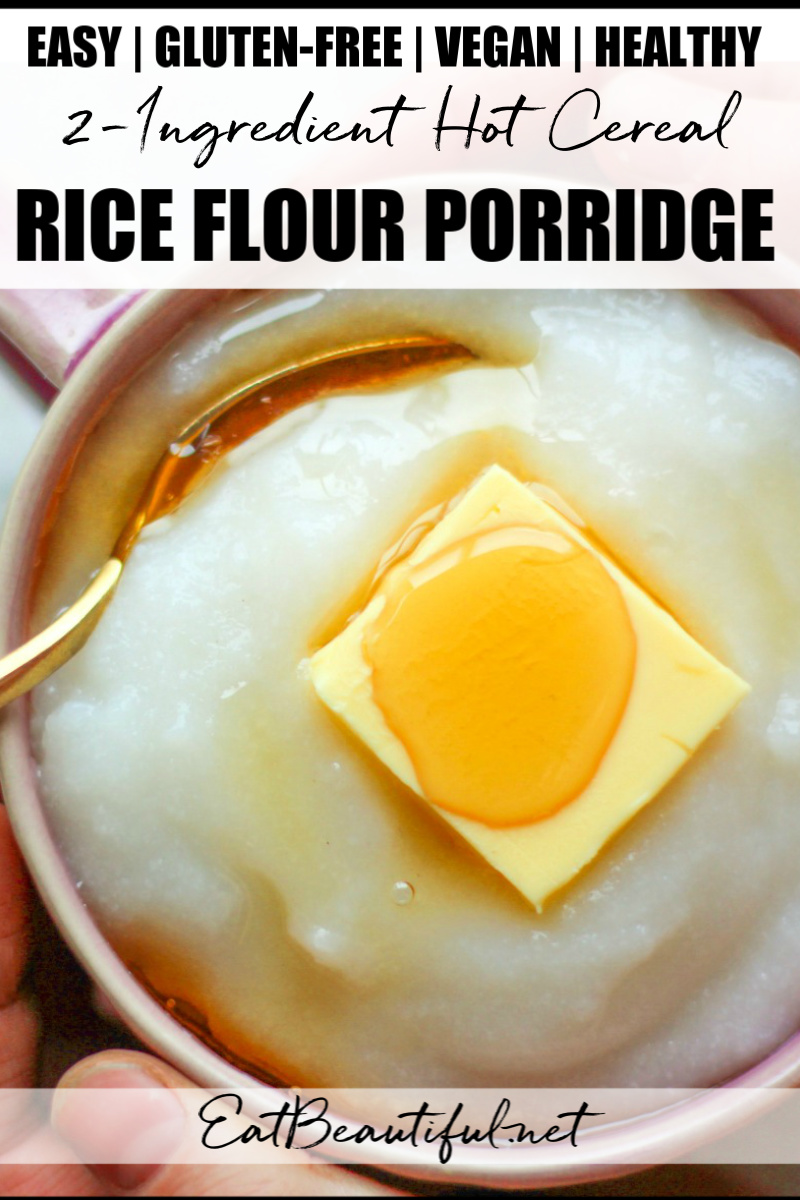 Jump to Recipe
Why white rice is healthy and even Paleo
The classic definition of the Paleo diet includes the description, grain-free. However, Paul Jaminet, author of The Perfect Health Diet, is one Paleo nutritional resource who has influenced many that white rice can be included with benefits.
Before I go into several of the reasons behind Jaminet's perspective, it's noteworthy that white rice is not for everyone. I only added white rice back into my diet about six months ago after an important detox brought me to a new level of wellness. So I am not suggesting you start eating white rice. 🙂
Simply, that white rice does have benefits, and that each person must decide for herself if her body is at the right stage to add it in, or not.
Benefits of white rice:
Provides the body with glucose — White rice (and white potatoes) digest into pure glucose, whereas other starchy vegetables and fruits break down into both glucose and fructose. Glucose can be used immediately by the body (bypassing the liver). Jaminet observes that the absence of glucose-producing foods can lead to glucose deficiencies and, in turn, health problems. He believes the addition of white rice can prevent this from happening.
Resistant starch — I've written a lot about resistant starch. A specific kind of resistant starch is formed in cooked and cooled rice, called RS3. RS3 is particularly well-loved by our gut flora. White rice contains just a bit, making it a gentle inclusion in the diet (whereas some react to large amounts of resistant starch from other sources). RS3 is good for colon health and the immune system.
Carbs and energy — Several clients (and one family member) over the years have struggled with weight loss. As they strictly adhered to an autoimmune diet, they began to lose weight and energy. The best advice? Combine a convenient carbohydrate with a healthy fat. White rice is one such carb that's helped many to gain new energy and maintain their weight as they continue an anti-inflammatory diet.
Decreased incidence of diabetes — Contrary to popular perception, studies show that countries who eat more white rice amidst a balanced natural foods diet, have lower incidence of diabetes. Jaminet says, "Internationally, higher consumption of white rice is associated with a significantly reduced risk of type 2 diabetes."
Free of toxins and anti-nutrients — The outer hull of white rice has been removed, thus freeing white rice from protein toxins and phytic acid (which robs the body of minerals). (Brown rice and other grains should still be avoided.)
Mucus-forming and satiety — In agreement with Jaminet, Stephen Guyenet Ph.D. and author of The Hungry Brain, observes that prolonged small intestine exposure to glucose from white rice and white potatoes leads to increased satiety. Guyenet also comments, in regard to improving gut integrity, eye health and more, on the usefulness of glucose in forming polysaccharides that make mucus.
Ingredients in Rice Flour Porridge
Rice Flour Porridge really does have only 2 ingredients! Organic white rice flour (this one is a good option) + water! That's it!
Similar to commercially sold hot cereals, Rice Flour Porridge is a smooth hot cereal that's cozy, comforting, easy and fast to make.
Rice Flour Porridge makes a great breakfast staple or snack — and, of course, is very inexpensive to make from only one pantry staple!
How to make Rice Flour Porridge
Simply bring water to a boil in a saucepan. Whisk in the rice flour. Simmer for 5 minutes, remove from the heat and cover for 10.
Then serve. That's it!
Toppings and variations
Similar to Cream of Wheat, my favorite way to eat Rice Flour Porridge is quite simply: topped with just butter and maple syrup. Several similar toppings will be just as fitting, depending on your personal preference. Topping suggestions and variations include:
coconut oil
honey
heavy cream or raw milk
coconut cream or your favorite non-dairy creamy nut/seed milk
raisins
other dried fruits
fresh or frozen berries
cinnamon
Fair Trade chocolate chips (You have to try these; they're SO good! Finally a true Paleo/Vegan chocolate chip that's affordable!)
Savory variation
To make a savory "meal" or gruel 😉 , use bone broth or meat stock in place of water in the recipe. Top with a pat of unsalted butter and a sprinkle of sea salt.
SUPER delicious, this savory treat is rich in gelatin and amino acids, while also being gentle to digest and affordable to make.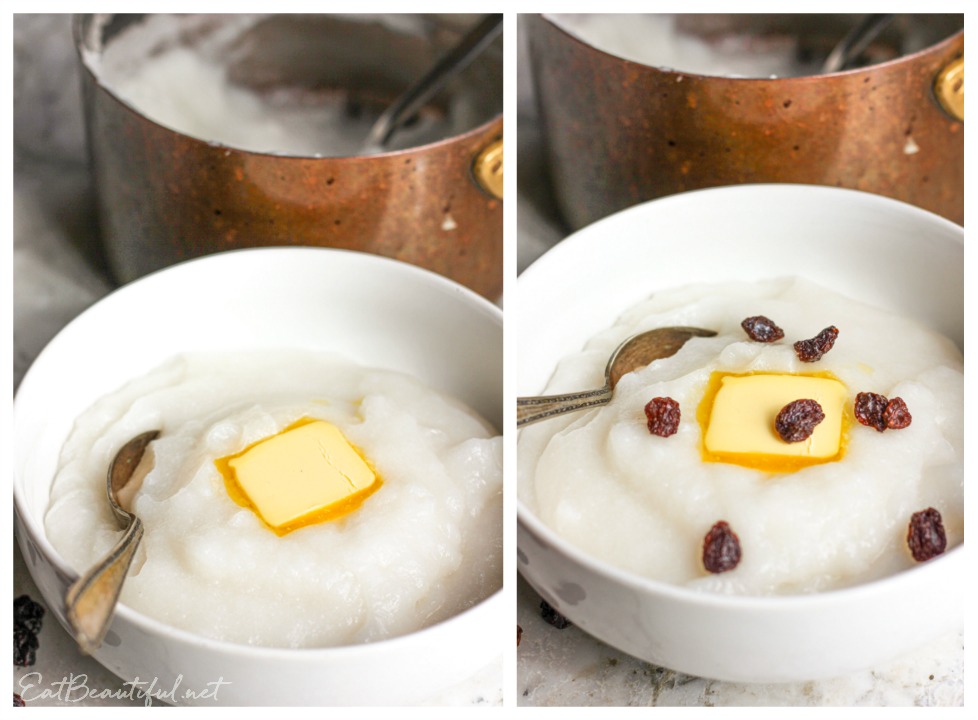 Print Recipe
Rice Flour Porridge (2-Ingredient Hot Cereal)
Just flour and water make the MOST delicious and cozy breakfast and snack! You'll love this new pantry staple recipe: convenient, a favorite with all ages and affordable.
Ingredients
4

cups

filtered water

10

Tablespoons

rice flour white , organic (

½

cup + 2 Tablespoons)
Instructions
Pour water into medium-large saucepan. Bring to boil over high heat. Reduce heat to medium.

Whisk water while you sprinkle in rice flour. Keep pouring in flour gradually until it's all added. Simmer over medium-low heat for 5 minutes, stirring or whisking most of the time.

Turn off heat, cover with a lid or plate. Allow to sit for 10 minutes.

Serve. Top with butter or coconut oil and maple syrup or honey. Add additional optional ingredients: raisins, cinnamon, berries etc.
Notes
Process photos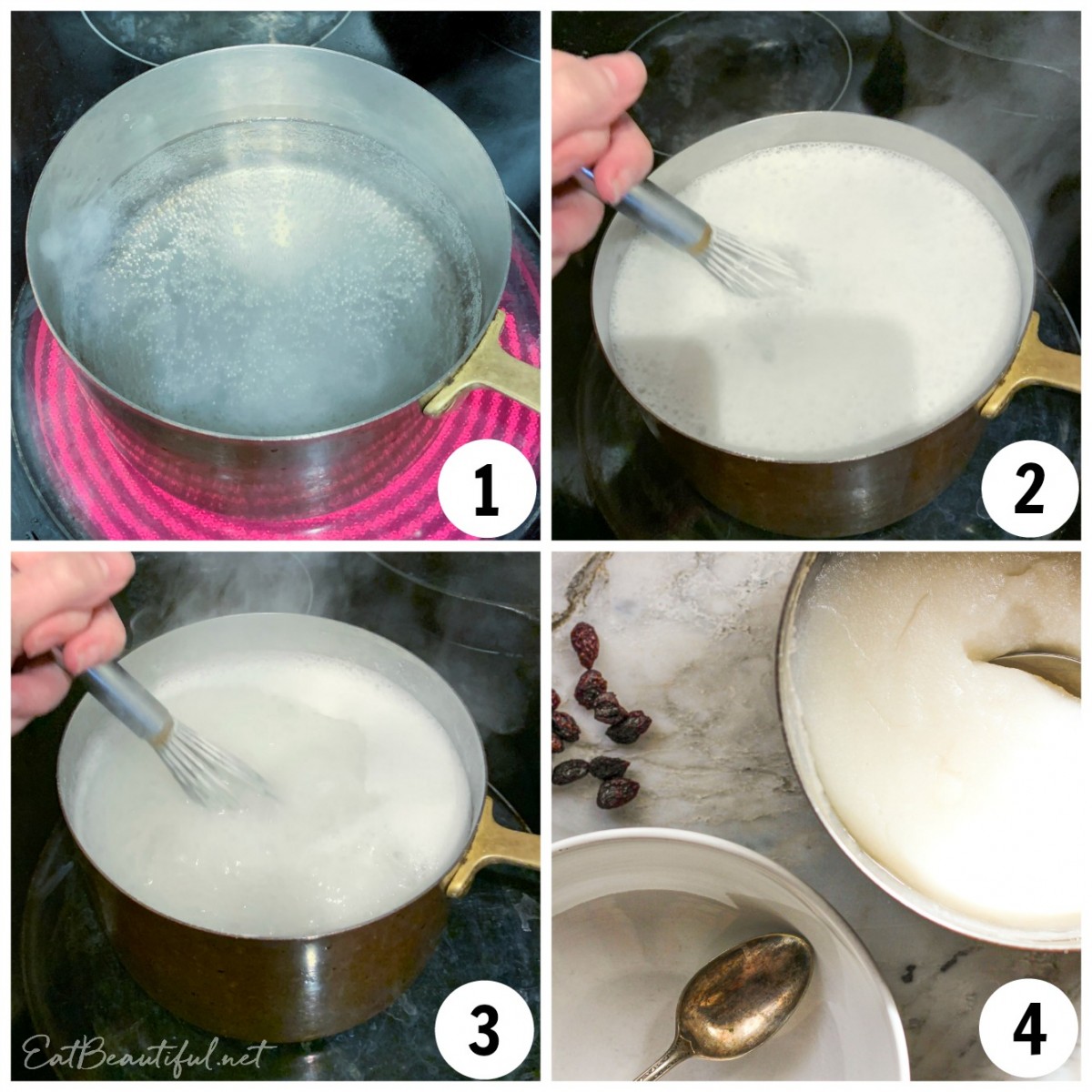 Nutrition
Calories:
137
kcal
|
Carbohydrates:
30
g
|
Protein:
2
g
|
Fat:
1
g
|
Saturated Fat:
1
g
|
Sodium:
25
mg
|
Potassium:
29
mg
|
Fiber:
1
g
|
Sugar:
1
g
|
Calcium:
15
mg
|
Iron:
1
mg