I may receive a commission if you purchase through links in this post. I am not a doctor; please consult your practitioner before changing your supplement or healthcare regimen.
Carob Muffins are super dark, moist and good! + high in protein and complex carbs. Perfect with breakfast, lunch or dinner or as a high-energy snack, this treat is Paleo, Gluten-free and Vegan.
Also VAD-friendly and Ancestral.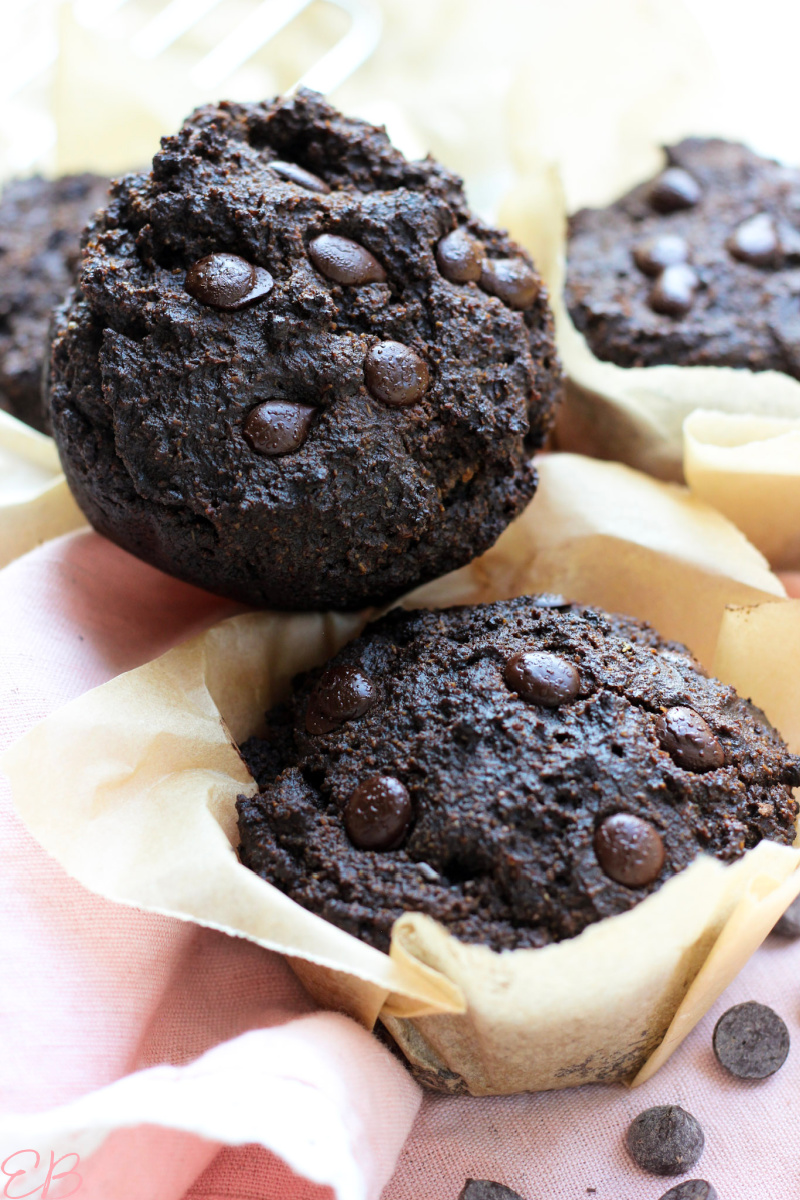 Jump to Recipe
Ingredients in Carob Muffins
The main ingredients in Carob Muffins are:
blanched almond flour — Make sure to get organic (like this one) because conventional almonds are heavily sprayed. This means they poison the body and impede detox pathways. There's no reason to make "healthy" muffins and use conventional almonds. 🙂 If you follow an Ancestral diet, you can also use another variety of activated/sprouted nuts turned into flour.
arrowroot (or tapioca flour) — Both ingredients work equally well.
carob powder — Use a roasted one, not raw, for the best flavor and texture (like this).
and coconut oil — If you're not vegan or dairy-free, you may also use butter.
Additional ingredients are:
psyllium husk whole (like this) OR, if you're not vegan or egg-free — You may also use egg whites. Both versions of the recipe you'll see below in the Recipe itself. (This recipe was tested with egg whites, not whole eggs, for the VAD diet, so I don't have the whole egg equivalent. If you eat whole eggs, use the leftover yolks from this recipe to make custard.)
coconut or maple sugar
apple cider vinegar — Or, you may also use another vinegar, too, like balsamic. Just a bit is used to react with the baking soda. I use balsamic because my body digests it better, but most of you will be happy with apple cider vinegar.
baking soda and sea salt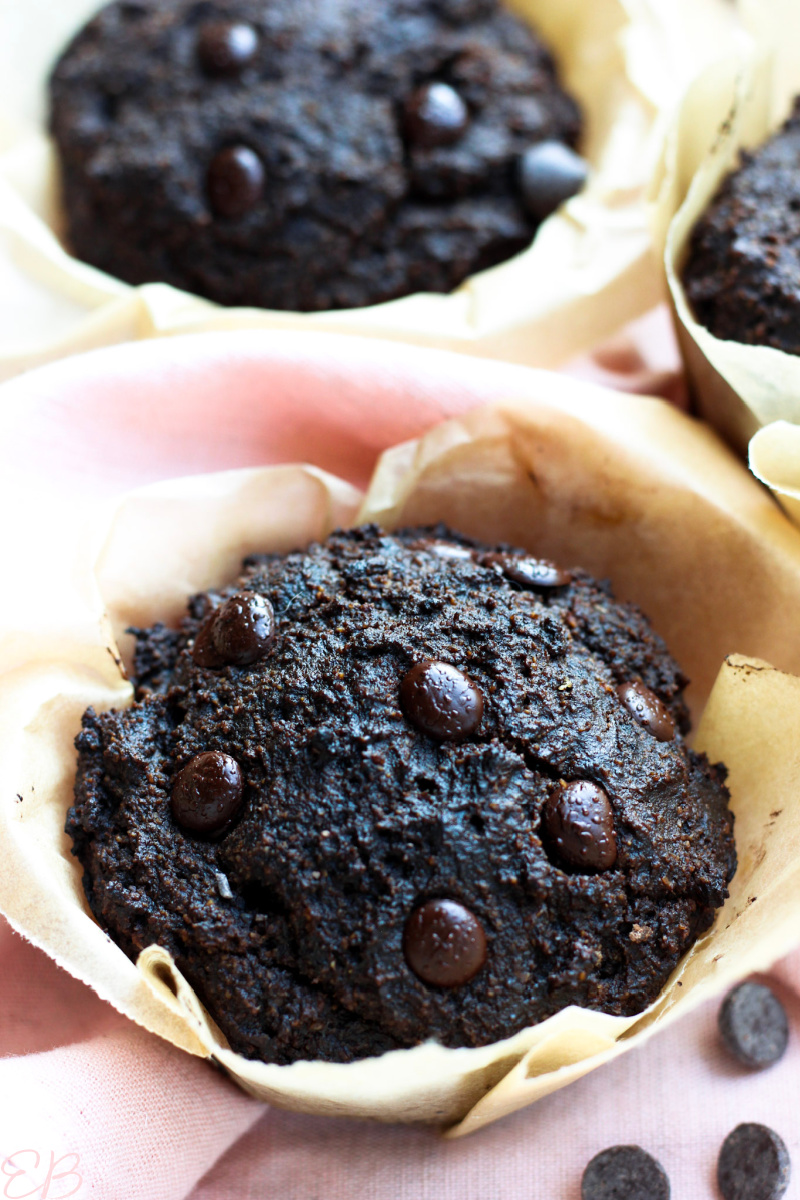 How to make Carob Muffins
This muffin recipe is a simple quick bread process:
Stir together the dry ingredients.
Add the wet ingredients and mix.
Pour into muffin pan, and bake!
Super fast and easy.
Nutrition in carob
From a health perspective, carob provides fiber, B vitamins and minerals like: calcium, magnesium, iron, copper, potassium and manganese.
Personally, I LOVE chocolate and eat it as well, but chocolate, in contrast to carob, contains caffeine and phytic acid. I never eat chocolate at night, to protect my sleep cycle.
Carob is caffeine-free and nourishing any time.
Note: Carob may not be agreeable to everyone because it is a high-FODMAP food — which means is may cause bloating (gut fermentation) for some sensitive individuals.
Carob is also naturally higher in sugar and carbs than cocoa, so it should be a treat enjoyed in the midst of an active lifestyle (like fruit).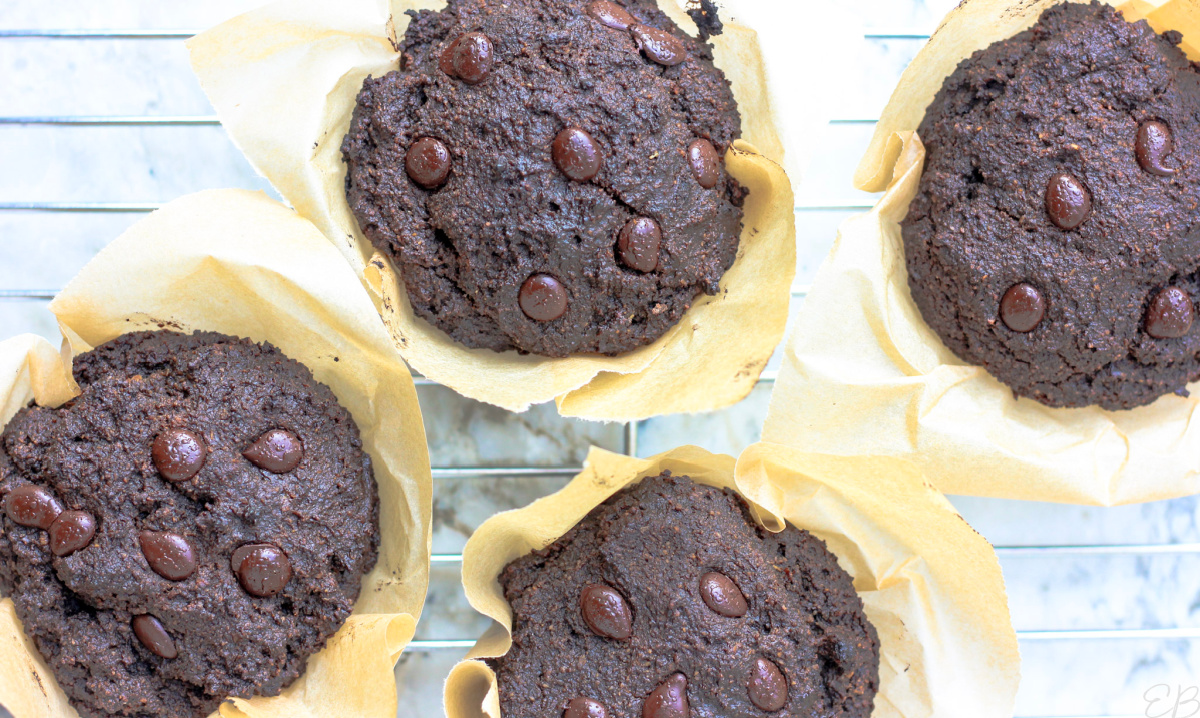 How to store leftover Carob Muffins
Keep muffins on the counter, sealed, for one day. If eating within a few days, just wrap and refrigerate.
For longer term storage, freeze muffins in a sealed container for up to 3 months.
To defrost, leave out at room temp for several hours or overnight.
Print Recipe
Carob Muffins (Paleo, Gluten-free, Vegan)
Carob Muffins are high in protein, complex carbs and simply delicious! Perfect with breakfast, lunch or dinner or as a high-energy snack, this treat is Paleo, Gluten-free and Vegan.
Ingredients
2

cups

blanched almond flour

, or use activated/sprouted nut of choice, and make flour from them, then measure

¾

cup

water

(OR, if you use the 3 egg whites variation in place of the psyllium, use just

¼

cup water)

½

cup

carob powder

, roasted

⅓

cup

coconut oil

, melted and cooled slightly, or butter if preferred

⅓

cup

arrowroot

or tapioca starch

¼

cup

coconut sugar

or maple sugar

¼

cup

psyllium husk whole

OR 3 egg whites (see how water amount changes accordingly)

1

Tablespoon

apple cider vinegar

or other vinegar, as preferred

½

teaspoon

baking soda

, sifted

½

teaspoon

sea salt
Instructions
Preheat oven to 325° Fahrenheit. Line muffin pan with liners.

In medium size mixing bowl, combine dry ingredients: blanched almond flour, carob powder, arrowroot or tapioca, granulated sweetener, psyllium, baking soda and sea salt.

Add wet ingredients: water, fat of choice and vinegar. Combine well (I use handheld electric beaters) without over-mixing.

Fill muffin cups: Make 4 big muffins or 6 regular size.

Bake 25 minutes for 6 smaller muffins or 30 minutes for 4 larger muffins.
Nutrition
Calories:
382
kcal
|
Carbohydrates:
28
g
|
Protein:
8
g
|
Fat:
31
g
|
Saturated Fat:
12
g
|
Sodium:
192
mg
|
Potassium:
74
mg
|
Fiber:
8
g
|
Sugar:
10
g
|
Vitamin A:
1
IU
|
Vitamin C:
1
mg
|
Calcium:
112
mg
|
Iron:
2
mg
Pin this recipe here:
What is carob
For curiosity's sake, what is carob?
Carob is made from the large edible pod of a seed. It is not the seed itself, but the dried pod, ground up.
Also called St. John's bread or locust bean, the tree goes back to ancient Mesopotamian times when the pods were highly valued.
In fact, the legumes were so highly prized that they were used to measure the value of gemstones and gold. This is the origin of the word "carat" that we still use today to measure gold.
Why use carob
If you don't already love carob, you should. It is incredibly delicious. 🙂
I'm always surprised when people limit their diet to the basic ingredients they like best or limit their diet to "super foods", eating of the rainbow, for health's sake … and yet, don't enjoy carob?!
If it's healthy food, give it a try, and try to love it!
Carob, to me, is like dates + chocolate. It's fruitier than chocolate, sweeter and gentler.
But carob still provides a rich, dark and satisfying flavor plus a moist tender texture. Just look at the dark color of these muffins. And the inside is super rich and moist.
Many people turn up their nose at using carob as a chocolate alternative — which is just a matter of how you want to perceive what you're eating and why you're eating it.
I LOVE carob as its own thing AND as a chocolate alternative. Why not? It is great in both respects.
Find more carob recipes here: