I may receive a commission if you purchase through links in this post. I am not a doctor; please consult your practitioner before changing your supplement or healthcare regimen.
Cassava Fries are pure, delectable comfort food! Perfect for Gluten-free, Paleo and AIP diets, these savory treats need only sea salt as an embellishment.
This Cassava Fries recipe, also called yucca or yuca fries, is made in the Instant Pot, for the first part of the recipe, when the cassava cooks and becomes tender. The Instant Pot makes the cassava healthier (I'll tell you why), cooks the cassava root until it's perfectly tender (which makes a better-textured fry) and makes cooking cassava easy!
Enjoy this classic Paleo treat, that's actually healthy: full of resistant starch and complex carbs!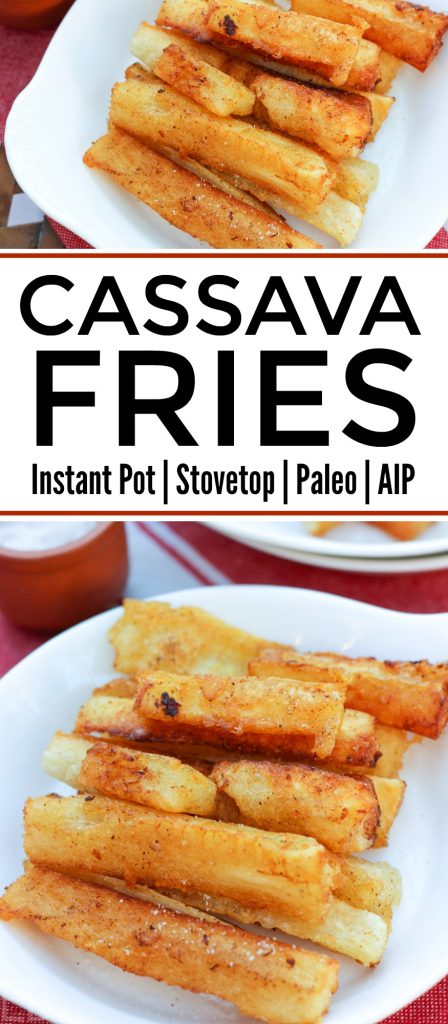 When we first started making Cassava Fries
Our family started making cassava fries on our trip to the Bahamas several years ago. The first night we made them was Christmas Eve: We roasted a whole duck, and with the copious amounts of (highly desirable) rendered duck fat, we fried cassava! The feast was humble (not fancy) in our little beach cabana, yet so delicious and memorable.
Upon returning home, we were all bent on repeating the cassava fry meals we had on vacation.
By the way, cassava fries don't leave you feeling heavy. They digest so well! The cassava may be fried, but our bodies know how to digest traditional fats and complex carbohydrates. (Fried carbs cooked in vegetable oil are disease causing.)
Where to buy cassava and how to prepare it
We found, and you'll find, both frozen and fresh cassava root are easy to source at Asian grocery markets and Latino markets. Some standard grocery stores also carry one or both. We started by using fresh cassava at home, because that is what we had purchased abroad. But ultimately we now choose frozen, because it's easier and the peel …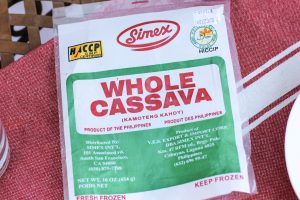 The peel of fresh cassava root is covered in wax to keep the root from aging. That wax is actually a petroleum product. And waxed, fresh cassava are a lot of work to peel. If you do buy fresh, you must peel the root deeply, through the wax, through the brown peel, and then deeper still as there's a thin layer of outer white flesh that's stringy. Definitely fine if you need to, but easier and better to buy the frozen.
I haven't yet seen organic cassava root available in markets. So that's something for which we can hope.
Why I use the Instant Pot to cook cassava
You may be unaware, but cassava has a fair bit of phytic acid. Phytic acid is a plant compound that binds with nutrients in our gut during digestion and actually robs our bodies of minerals. We can reduce phytic acid especially well, though, by pressure cooking cassava.
Also, cassava is a root that can cook a long time! I have seen cassava fry recipes that call for boiling the root chunks for just ten minutes. I have to wonder if these recipe developers have actually eaten cassava. Cassava root needs to boil for 30 minutes minimum if you cook it on the stove top, especially for making fries, because you want the insides soft. The Instant Pot (this is the one I have) makes this step so much faster and easier — no mess and no testing the roots to see if they're done yet.
I LOVE that the IP makes cassava fries easier and healthier.
I give instructions in the recipe below for cooking either frozen or fresh cassava root in your Instant Pot.
How to make Cassava Fries
After the initial cooking of the cassava root in the IP, the rest of the recipe is done on the stove top.
The frying of the fries is easy. We don't quite "deep fry" them.
The cassava pieces cook on the stove top in a generous amount of fat, but this is no harder than sautéing a veggie, not super messy or involved. I use our big cast iron skillet (find it here), and it takes about three batches to make two pounds of fries!
I believe this recipe is the healthiest yucca or yuca fries recipe you'll find: all the natural good fat and resistant starch + the Instant Pot reducing phytic acid. Win, win, win.
AND, it's the yummiest — the cassava being cooked soft first from the Instant Pot cooking — and then fried! Perfect texture inside and out. Delicious!!!
What do cassava fries taste like?
Cassava in general is milder than potato, and starchier. The fries like a lot of sea salt, and some of you might like freshly ground black pepper on yours too (not AIP).
The yucca root takes really well to high-fat cooking. The edges get super crispy. I find Cassava Fries to be more delicious and satisfying that potato French fries.
What to serve with Cassava Fries
Cassava Fries would make a great appetizer for game day or any gathering; you'd just want to double or triple the recipe (for a crowd) and have a couple of pans cooking fries to save time.
Usually we eat them for a family dinner as a most delectable side dish to meat, with greens or a salad on the side. Recently, I also figured out how to make Cassava Fries in the oven for this Burgers & Fries Sheet Pan Dinner (Paleo & AIP).
Resistant starch in cassava
Eat Beautiful would hardly be my blog, if I didn't bring up this final point: resistant starch!
If you're new to my articles, recipes or this term, resistant starch refers to an indigestible starch present in several veggies and a few fruits. Resistant starch comes in different forms, but with cassava, the kind of resistant starch that's produced is called RS3.
RS3 is a SUPER healthy starch that forms when cooked cassava cools! That's why we cook the cassava root first, then let it cool, then fry it! RS3 forms during that process. After you eat the fries, RS3 will make it all the way to your colon undigested where it will be consumed by probiotics! Regular consumption of resistant starch foods helps to create a thriving colon ecosystem to fight sickness and disease (through an increase in T-cells) and improve immune regulation (think no more autoimmunity!).
So now you know: Cassava is health food due to its RS content. Cassava is also a great source of complex carbs for sustained energy! Read more about cassava here.
Print Recipe
Cassava Fries — (Yucca) Stovetop + Instant Pot (Gluten-free, Paleo, AIP)
Cassava Fries are pure, delectable comfort food! Perfect for Gluten-free, Paleo and AIP diets, these savory treats need only sea salt as an embellishment.
Ingredients
2

pounds

cassava

root, frozen or fresh — if fresh, peeled deeply and rinsed well; then cut into 6 inch lengths

2

cups

filtered water

¾

cup

duck fat

duck fat is best, then lard, then Kerrygold butter, then strained bacon fat, then coconut oil or avocado oil, then tallow

1

teaspoon

sea salt

garnish
Instructions
Place water into base of Instant Pot insert. Add cassava root sections.

Check that rubber ring is fitted inside Instant Pot lid. Place lid on Instant Pot, making sure the steam release valve is sealed. Press the "Manual" setting, and decrease the time until you reach 35 minutes.

When the Instant Pot is done and beeps, press "Cancel." Allow Instant Pot to release pressure naturally for 30 minutes. Place a dish towel over steam valve (or use oven mitt), and open it to release any remaining pressure. Remove lid and insert, so the pot's contents begin to cool.

Cool cassava almost completely; then transfer to a cutting surface. The roots will have split open during cooking, or they will easily splay open. Remove tough stringy fiber that runs down the center of each one (see photo). Slice roots into long strips of desired thickness, about 8 fries per root.


Place fat in heavy bottom pot over high heat: ideally a cast iron skillet, but a large saucepan with heavy bottom or Dutch oven will work too (you'll just need to cook more batches if the surface area is smaller).


When fat is quite hot (sizzles when a drop of water is added) carefully add cassava strips in rows. You can crowd the pan a little, as long as none are overlapping or touching too much, and there is sizzling fat beneath and around each one. Cook cassava on first side about 5 minutes, then reduce heat to medium-high or medium (depending on how hot your fat is; no need to use a thermometer, you just don't want the fat smoking: a nice even sizzle of the cassava as it fries; see photo). Flip each strip over, using two forks or a set of tongs. If strips have a third side that isn't yet golden (some will, some won't), rotate cassava again so third side is fried. Remove cassava fries to a large plate (does not need to be lined with a paper towel, will not be greasy) one by one as they finish cooking, about 10-12 minutes per batch. They will not all finish cooking at the same time.


Repeat with remaining cassava fries. Sprinkle each batch *generously* with sea salt as you plate it.


Serve fries with extra sea salt and any optional dippings you like.

Notes
Nutrition
Calories:
702
kcal
|
Carbohydrates:
86
g
|
Protein:
3
g
|
Fat:
39
g
|
Saturated Fat:
13
g
|
Cholesterol:
38
mg
|
Sodium:
619
mg
|
Potassium:
615
mg
|
Fiber:
4
g
|
Sugar:
4
g
|
Vitamin A:
30
IU
|
Vitamin C:
46.7
mg
|
Calcium:
40
mg
|
Iron:
0.6
mg
Love the IP and healthy carbs? You'll also love this Paleo and AIP Apple & Delicata Squash Porridge recipe!