I may receive a commission if you purchase through links in this post. I am not a doctor; please consult your practitioner before changing your supplement or healthcare regimen.
AIP Burgers and Fries Sheet Pan Dinner shares a few secrets of how to make great burgers in the oven and how to make great AIP-friendly French fries in the oven! This recipe is also perfect for Paleo, GF, VAD, Low FODMAP and could work for Whole30.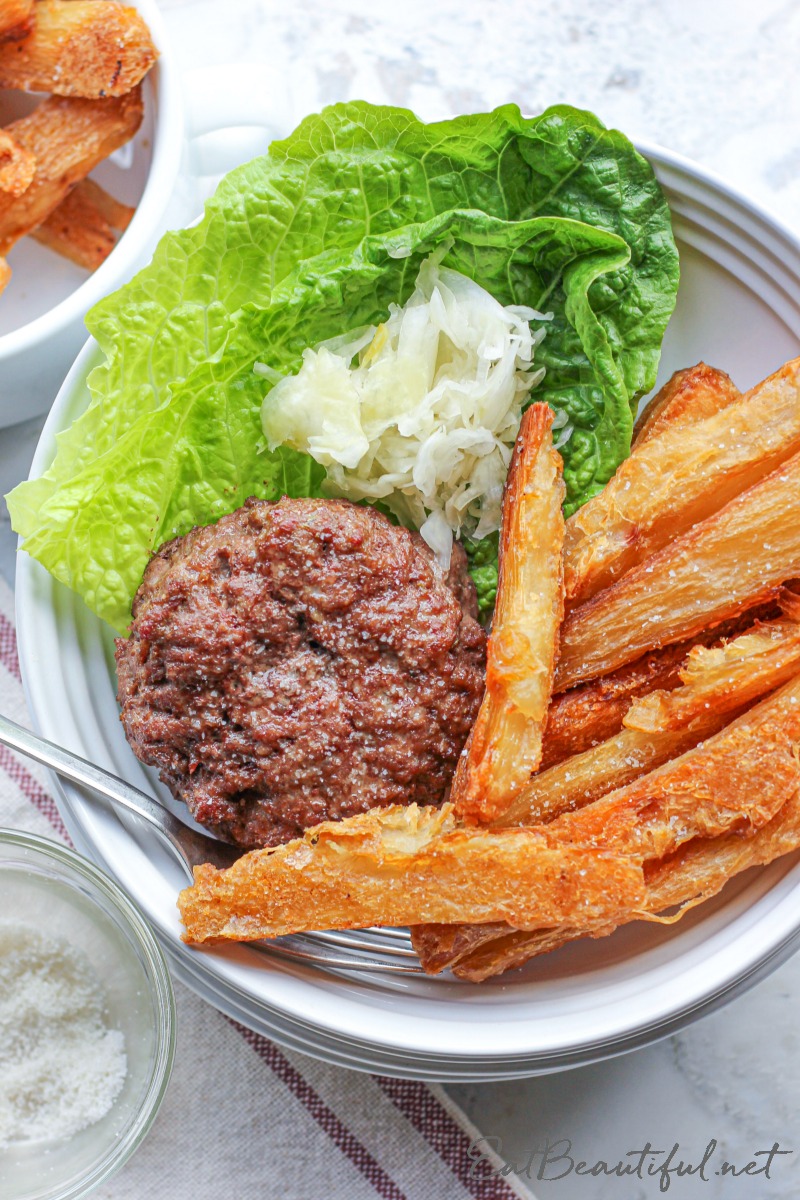 Jump to Recipe
How do you make great burgers in the oven?
The secret is: mini meatloaves. This recipe turns out moist, super flavorful and tender burgers because the ground beef is mixed with a few other key ingredients.
The individual meatloaves look like burgers. But if you actually bake plain ground beef in the oven on a cookie sheet, you won't end up with a yummy dinner. 😉
Here are the burger's secret ingredients:
dried herbs — Garlic, onion and rosemary all provide delicious and savory concentrated flavors.
apple cider vinegar + baking soda — This combination of ingredients creates a nice rise in the meat when the burgers bake, making them light.
coconut flour + water — Seems odd, but coconut flour binds and creates a flour base for the herbs and baking soda, while the water creates the right consistency to balance the flour added. (Low FODMAP alternative in recipe.)
coconut sugar — Just a small amount adds richness and helps to keep the meat moist. (omit for whole30)
sea salt — One always needs great sea salt to make the flavors of juicy meat bloom and burst in your mouth!
How do you make great AIP fries in the oven?
AIP French fries are made with cassava root, also called yuca. I buy ours from the freezer section at our local Asian grocery store.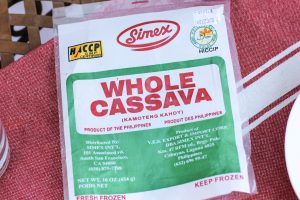 Many hispanic grocery stores and other markets also carry frozen cassava.
Buying frozen roots saves time, as you don't have to remove the thick, coated peel.
AIP cassava root fries are a staple in our home. We love them more than potato-based fries. Here's the recipe I've shared before about how to make Cassava Fries in the Instant Pot and deep fry them.
Recently I figured out how to bake Cassava Fries and make them just as wonderful. They have an amazing crispy exterior and super soft and lovely middle!
The key is to first boil the roots until soft and then to dip them in melted coconut oil (or other ancestral fat) before baking! I give the detailed instructions below. I find it all quite fast and easy. I hope you do too.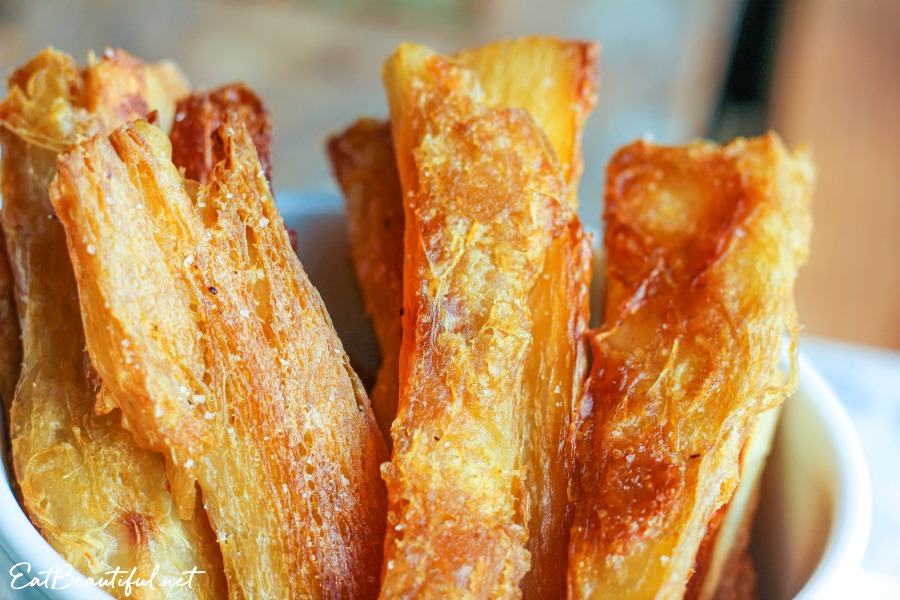 What are some tips for cooking cassava?
Cassava needs to be boiled first to soften the hard root.
Cassava is even starchier than potato, which is why it makes such great fries. There is also a kind of layered-honeycomb structure to the root, which makes it super flaky when fried or baked with fat.
To fully take advantage of and accentuate cassava's texture, I add baking soda to the boiling water. Baking soda makes cassava starchier. The boiled roots will fall apart a little bit (not a lot) when you cool and cut them; that's what you want! This starchy middle will make the best fries when they're baked with fat.
So remember to include the baking soda in your boiling water, and embrace the mushy parts of the roots as you cut them (they still hold together well).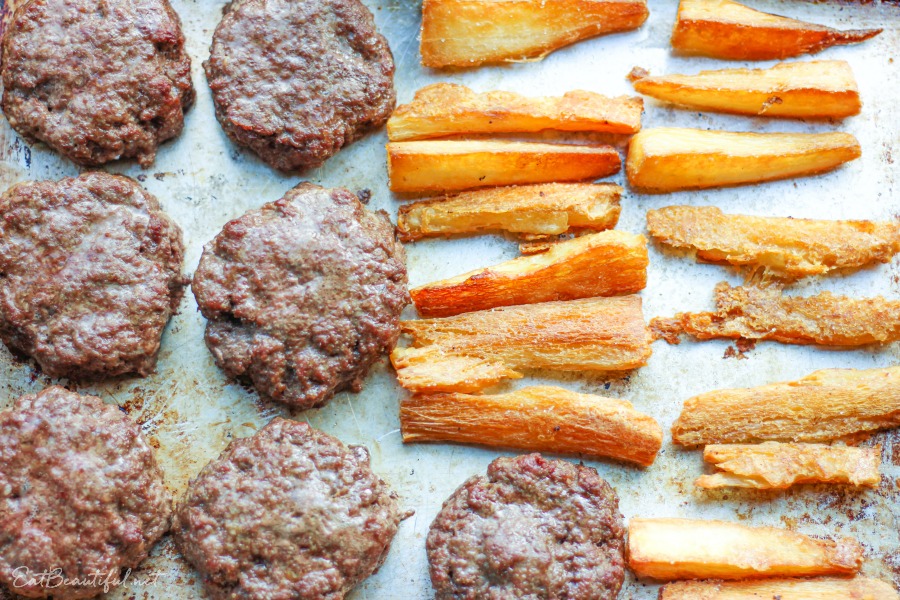 One sheet pan or two for AIP Burgers and Fries?
This sheet pan dinner cooks on two separate sheet pans.
This detail is important because the burgers produce moisture — basically broth-y pan drippings. In contrast, cassava fries need to be "oven-fried" to become crispy. We don't want the fries sitting in the moisture of the burgers.
The photos for this post show meat and fries on the same pan, but that was just an easier way of photographing them together, so make sure to use two pans.
Also, this recipe makes 6 big burgers and 2 pounds of fries. Feel free to halve the recipe for a smaller crowd, but still use two pans.
Print Recipe
Hamburgers and Fries Sheet Pan Dinner
Such a delicious and easy Paleo or Autoimmune Protocol dinner! Perfect for AIP, Paleo, GF, VAD, Low FODMAP and Whole30.
Equipment
saucepan

oven

2 cookie sheets
Instructions
Place cassava roots into large saucepan or stock pot. Cover with water by 1". Bring to a boil, reduce heat, and simmer 20 minutes. Add

¼

teaspoon baking soda to water, and simmer an additional 10 minutes. Drain and set aside on cutting board to partially cool.

Preheat oven to 375 degrees Fahrenheit. Grease 2 large cookie sheets. Set aside.

Cut cassava roots into large/long home fries shape. Remove any large inner strings. Dip each cassava fry into melted fat and place on greased cookie sheet in a row. Salt generously, to taste. (See Process Photos below in Recipe Notes.)

Place fries into preheated oven. Bake 35 minutes.

While fries bake, place ground meat, water and apple cider vinegar in a large bowl.

In separate small bowl add dry ingredients: coconut flour, coconut sugar, sea salt, ginger, garlic, onion, rosemary and baking soda. Stir to mix.

Add dry ingredients to wet ingredients. Use handheld electric beaters (or a fork) to mix ingredients together well. Form into 6 to 7 equal size patties on the second greased cookie sheet, each one about 3/4-1" tall and 4-5" in diameter. Set aside until ready to bake. (See Process Photos below in Recipe Notes.)

After fries have baked for 35 minutes (per direction above), remove from oven and flip with an offset metal spatula. Salt again, and return to oven.

At this time, also add cookie sheet of hamburgers into oven.

Bake both fries and burgers 20 minutes. Serve alongside salad.
Notes
Process Photos
HOW TO PREPARE CASSAVA

HOW TO PREP THE BURGERS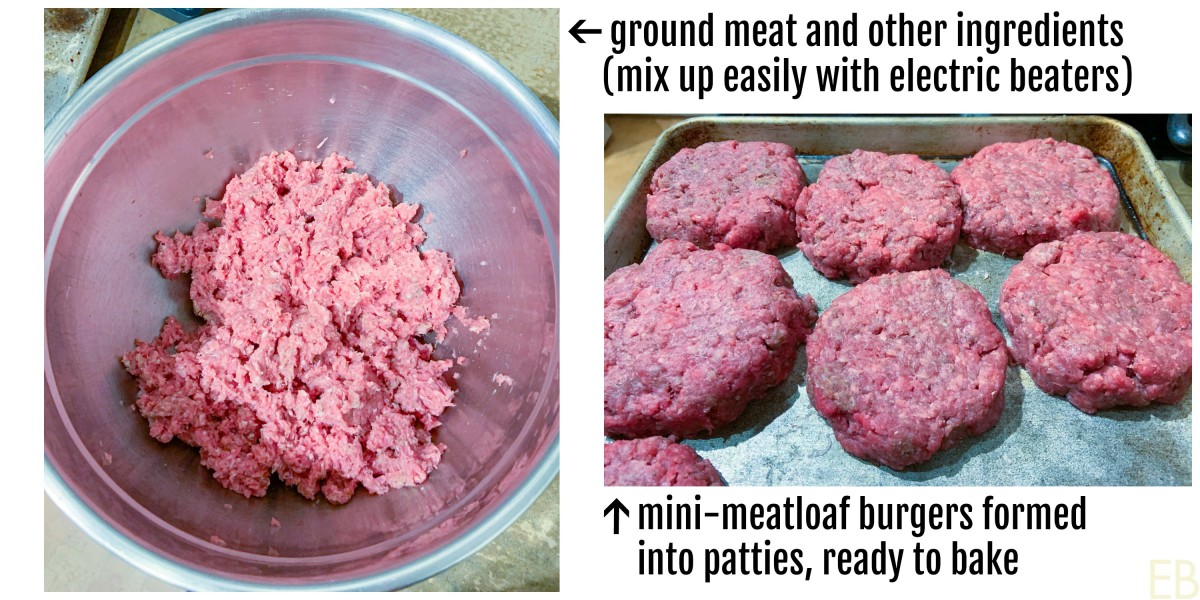 Nutrition
Calories:
600
kcal
|
Carbohydrates:
8
g
|
Protein:
24
g
|
Fat:
34
g
|
Saturated Fat:
17
g
|
Cholesterol:
92
mg
|
Sodium:
877
mg
|
Potassium:
386
mg
|
Fiber:
3
g
|
Sugar:
3
g
|
Calcium:
23
mg
|
Iron:
3
mg
Need other great and easy AIP or Paleo dinners? Try these: