I may receive a commission if you purchase through links in this post. I am not a doctor; please consult your practitioner before changing your supplement or healthcare regimen.
Easy Chinese Hot and Sour Stir Fry is Paleo, AIP, Whole30, Keto, Low FODMAP and GAPS friendly. You'll love preparing this fast one-pan dinner! With 20 minutes or less of prep time, the hot stir fry pan makes this dinner come together super quickly. The results are healthy and delicious!
Just prepare some cauli rice (or basmati for gluten-free) on the side for a complete dinner that's nutrient-dense and sure to become a new favorite.

Hot and Sour
I completed a lovely Hot and Sour Soup recipe for my upcoming soup cookbook, which is what inspired this stir fry.
My family now loves this fast-to-make dinner, and I love making it. The flavors are so beautiful and traditional.
Chinese Hot and Sour Stir Fry Ingredients
In the soup I use traditional dried mushrooms (wood ear fungus), but fresh shiitakes are perfect for this stir fry.
Hot and Sour is the ultimate in umami flavor. We use:
thinly sliced pork tenderloin (you can also use your favorite lean beef thinly sliced)
bone broth
coconut amino acids
lots of fresh ginger
a splash of apple cider vinegar
and for those not on AIP, just the right amount of white pepper for that ginger + pepper spicy hot taste that's also healthful for digestion.
For the AIP version we just add extra ginger, and nothing's missing.
The apple cider vinegar adds the refined, mysterious and healthy sour flavor, so distinctive to this soup native to China. (Traditional recipes use rice vinegar, but apple cider vinegar is healthier, grain-free and super delicious.)
This is one-pan Asian comfort food.
Optional ingredients in Chinese Hot and Sour Stir Fry
You can certainly add bamboo shoots to your stir-fry as well, which is another traditional ingredient.
I thicken my stir fry sauce with just the smallest amount of tapioca flour (instead of cornstarch), so that delectable sauce clings to the meat and veggies. This ingredient is omitted in the recipe (below) for the Keto and GAPS versions.
Many versions of Hot and Sour abound, depending on the Asian country, so it's usual to see slight variations of this classic. Wish to garnish with garlic, fish sauce, fresh basil, bean sprouts (not AIP), chilies (not AIP) or noodles? These additions are all acceptable to the wonderful hot and sour flavors.
Chinese Hot and Sour Stir Fry also features healthy and nutrient dense broccoli and cabbage, both cruciferous veggies we're told by the nutrition gurus to eat more of — for a healthier gut ecosystem, phytonutrients and great fiber.
For the Low FODMAP version of this recipe, these veggies are in the "maybe" category, so just eat which ones agree with you.
This stir fry is a great way to get extra veggies into your diet, and cooking them makes them gentle on our digestion.
Mushrooms and the Microbiome
Mushrooms are the silent and lovely centerpiece of an authentic hot and sour. My husband doesn't love them, so I pull his aside and put them in my dish. 🙂 But assuming you love their rich umami flavor as much as I do, I want to share briefly the value of these forest gems.
Mushrooms comprise one whole kingdom of the earth's living organisms! Mushrooms are quiet, uniquely elegant and when edible, nutritional powerhouses. 1.5 million types of fungi exist … so let's talk about the benefits of the about 2000 edible species!
Functional doctors on the forefront of gut health and nutrition are now recommending we eat mushrooms several times each week. Not surprisingly, mushrooms offer a unique array of bacteria that ameliorates our gut biodiversity. We are talking about prebiotics!
Mushrooms feed our gut flora and, as a result, improve our gut health. Mushrooms add what vegetables can not. Regular consumption of mushrooms (and there are so many delicious kinds, both fresh and dried) ensures our microflora complexity increases and remains more diverse. (sources 1, 2)
Asian cultures have been using mushrooms for food and medicine for thousands of years.
Hot and sour soup usually contains at least one to two kinds of exotic dried mushrooms, which are actually easy to find at local Asian markets, if you have one in your town. (Or find them online here.)
Shiitakes are common in hot and sour preparations, and that's what I use fresh in this lovely stir fry!
Shiitakes are high in beta glucans, which have the prebiotic properties about which we've been talking. Shiitake mushrooms are also known to increase circulation and improve and support skin health. Shiitakes provide fiber, minerals, amino acids and a variety of vitamins, including D and B. (source)
Other ways to add mushrooms to your diet
(If you're looking for more ways to add mushrooms conveniently to your diet, this cordyceps mushroom powder is what I take daily in capsule form.
Adaptogenic cordyceps provide significant energy, and this powder is delicious stirred into coffee, hot chocolate or any smoothie; or swallow the capsules for convenience.
Adaptogens help to bring balance, normalize systems and defend the body against stressors.
I use the bulk powder [here] in my morning hot or warm beverage, and I take the capsules [here] in the afternoon with rhodiola. Twice daily. This is also a really nice combination powder of three mushrooms that I have in my pantry to use next, because I'm in love with mushrooms and their wellness properties … and have been hoarding all the mushroom power powders lately. ;))
Whether Gluten-free, Paleo, GAPS, AIP or Whole30, you'll love the health benefits of a stir fry with mushrooms! For Keto and Low FODMAP, these fungi are still acceptable, at two mushrooms per serving.
Tips on this Easy 20 Minute, One Pan Dinner
I need fast dinner recipes as much as anyone. I try to put a beautiful dinner on the table most nights of the week, but some nights I'm tired, or we get home late from an event … so yes, and yay, to 20 minute dinners cooked all in one pan.
Chinese Hot and Sour Stir Fry is extra fast if you have the butcher at your market slice the meat for you! Butchers happily do this (even when the meat is pre-wrapped)!
This stir fry features pork tenderloin! If you've never stir fried with this tender, flavorful meat, I know you're going to enjoy how easy it is to cook and just how delicious it is.
Stir fries are economical, too, because they stretch the meat further amidst all the veggies and the rice, while still providing plenty and leaving everyone satisfied.
Other ways to speed up this meal prep?
You can buy already chopped broccoli and already sliced cabbage, like the organic, fresh bags sold at Trader Joe's, or batch cook one day each week and get the veggies chopped ahead of time.
Either way, it doesn't take long to chop a few veggies, and you're going to love the outcome.
Print Recipe
Chinese Hot and Sour Stir Fry — Paleo, AIP, Whole30, Keto, Low FODMAP, GAPS
Chinese Hot and Sour Stir Fry is Paleo, AIP, Whole30, Keto, Low FODMAP and GAPS friendly. You'll love preparing this easy and fast one-pan dinner! With 20 minutes or less of prep time, the hot stir fry pan makes this dinner come together super quickly. The results are healthy and delicious!
Ingredients
1

pound

pork tenderloin

, thinly sliced to about 1/4"-1/3"

12 to 16

ounces

broccoli

, fresh and cut into small florets (Low FODMAP only if it agrees with you or in small amounts)

1

cup

bone broth

½

cabbage

, thinly sliced, about 10 ounces (Low FODMAP only if it agrees with you or in small amounts)

1

bunch

green onions

, sliced diagonally, whites and greens separated (omit whites for Low FODMAP)

4

ounces

shiitake mushrooms

, stems discarded and mushrooms sliced, about 7 ounces (limit 2 per serving for Keto and Low FODMAP)

1

carrot

, optional, in matchsticks (omit for Keto)

¼

cup

coconut amino acids

2

Tablespoons

ginger root

, fresh, grated or minced

2

Tablespoons

lard

, or preferred fat of choice such as avocado oil

1

Tablespoon

apple cider vinegar

1

Tablespoon

tapioca flour

(also called tapioca starch); omit for Keto and GAPS

1 +

½

teaspoon

sea salt

, separated

¼

teaspoon

white pepper

omit for AIP, and add 1 extra Tablespoon fresh ginger for AIP
Instructions
Combine pork, coconut amino acids, tapioca flour, fresh ginger and optional white pepper in a medium size bowl. Set aside to marinate for a few minutes.

Heat large cast iron skillet over high heat until pan is hot but not yet smoking. Add lard or avocado oil. Add mushrooms. Sauté 2 minutes.


Add cabbage, broccoli, carrot and whites of green onions and

½

teaspoon sea salt. Stir over high heat 3 to 4 minutes, until wilted slightly. Reduce heat to medium if pan is too hot.


Add broth. Reduce heat to medium or medium low to create a slow simmer. Simmer 3 minutes, stirring occasionally.


Add marinated pork and additional 1 teaspoon sea salt. Stir the pork into the other ingredients several times to keep the meat from sticking together. Allow to simmer 3 to 4 minutes, while you stir, just until sauce begins to thicken. Meat will cook very quickly.

Remove from heat. Add the apple cider vinegar and stir.

Serve with cauliflower rice or basmati rice. Top with greens of green onions and fresh cilantro.

Nutrition
Calories:
232
kcal
|
Carbohydrates:
10
g
|
Protein:
31
g
|
Fat:
5
g
|
Saturated Fat:
1
g
|
Cholesterol:
74
mg
|
Sodium:
1018
mg
|
Potassium:
1089
mg
|
Fiber:
7
g
|
Sugar:
7
g
|
Vitamin A:
3620
IU
|
Vitamin C:
122
mg
|
Calcium:
119
mg
|
Iron:
2.5
mg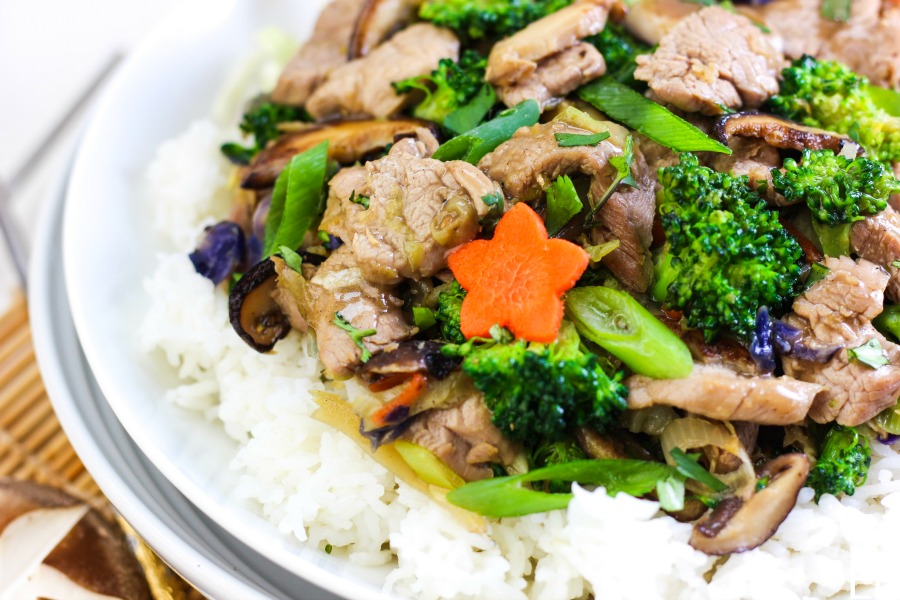 Want more easy, fast, one-pan dinners? Here are a few of my favorites: