I may receive a commission if you purchase through links in this post. I am not a doctor; please consult your practitioner before changing your supplement or healthcare regimen.
Broiled Thai Beef and Pineapple Kabobs is an exciting and fresh change from the usual, but so easy to make — a sheet pan dinner! With just 20 minutes of prep time, enjoy marinated steak and pineapple with a garnish of fresh mint. Perfect for Gluten-free, Paleo, AIP, GAPS and Whole30.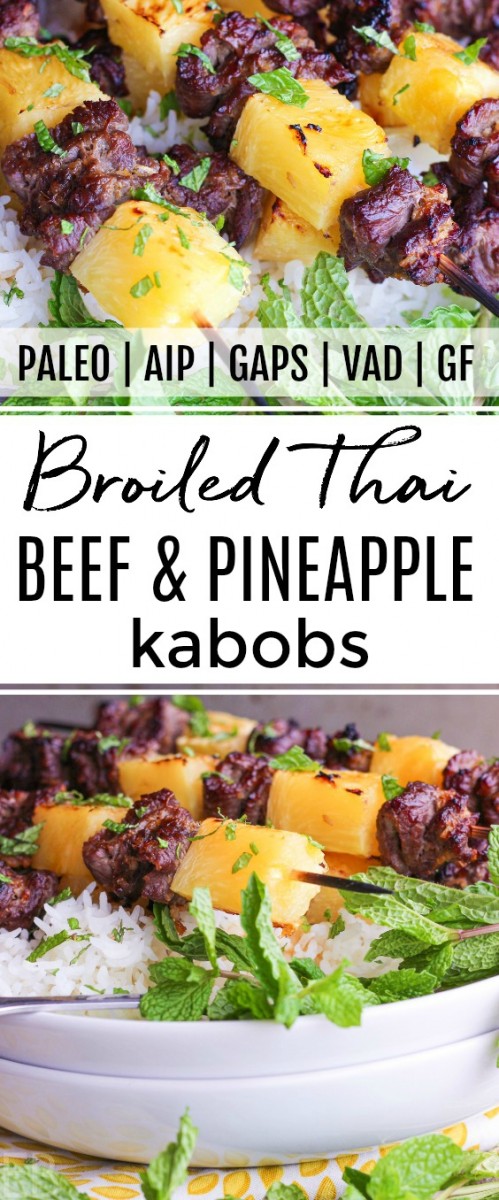 How Beef Kabobs are made
This recipe uses beef sirloin steaks. Sirloin is an affordable steak that works great for stir-fries and kabobs. It cooks quickly, is tender and flavorful.
Kabob steps: Thinly slice the meat, marinate it briefly in ingredients you probably have on hand, and skewer it!
Broiling cooks the meat quickly, giving it a delectable outer texture and tender middle.
As the recipe indicates below, soak your skewers in water for 15 minutes (while the meat is marinating).
What are shish kebabs?
Some say shish kebabs originated in the Middle East. Turkish soldiers used their swords to roast meat over their open fires during the invasion of Anatolia (1018-1071). It is likely the practice goes back much further to the Greeks of the Byzantine Era (330 A.D.) and as mentioned in Homer's Odyssey (1200 B.C.).
Shish kebabs today are commonly made with both meat and vegetables and oftentimes fruit as well. Lamb is the most commonly used meat in the Middle East, whereas beef and chicken are used most often in the States. Fish can also be used.
Westerners typically call shish kebabs kabobs.
In the East and Southeast Asia, kebabs are called satay when meat alone is cooked on a skewer.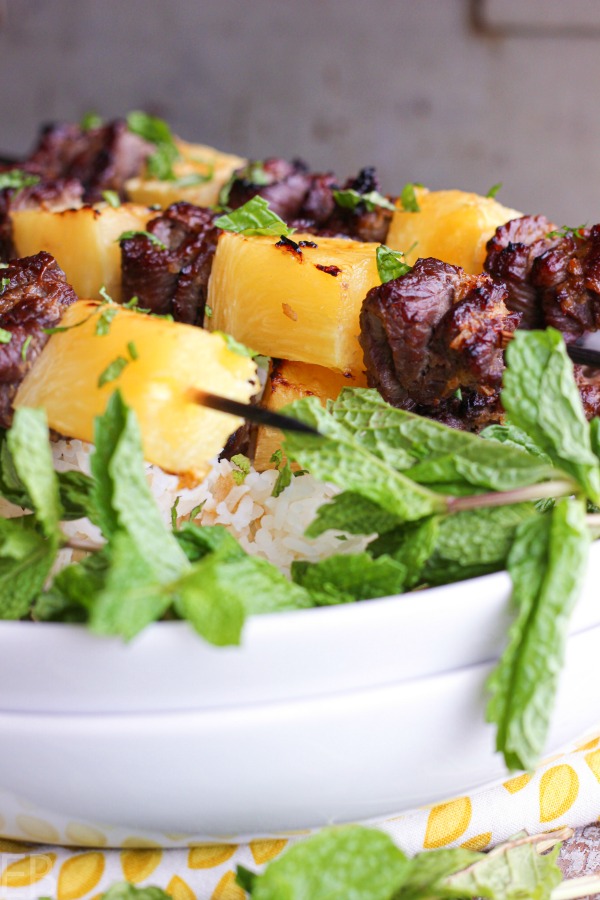 What Thai ingredients are used
The Thai ingredients in this recipe are straightforward and commonly used in Paleo cooking and many wellness diets, including AIP, GAPS, Whole30 and Gluten-free.
This recipe uses coconut amino acids for that wonderful combination flavor of sweet-umami.
Fish sauce is a traditional Thai ingredient. This ingredient does not taste fishy (but it does not smell pleasant to my kids). It adds a wonderful, rich umami flavor, excellent with beef.
Fresh ginger and garlic are great basics in so many world cuisines, adding spice in the absence of peppers.
Mint is a favorite herb of mine and while not as common as fresh basil in Thai cuisine, still quite common and traditional. I love the fresh mint in this dish. It goes beautifully with the pineapple and works well for just about every wellness diet.
How to marinate the meat
Shish Kebabs are best when the meat is first marinated, making it flavorful and moist.
Marinades also work to tenderize meat. For this reason, it's important not to marinate meat for too long. This recipe marinates for just 20 minutes, because the meat is cut thinly.
Marinades are usually very simple recipes, easy to assemble. Broiled Thai Beef requires just a few basic ingredients you probably already have on hand: avocado oil, coconut aminos, fish sauce, honey, ginger and garlic!
Delicious and easy.
Which pineapple to buy
Look for organic, fresh pineapples.
When pineapple isn't organic, it is almost always genetically modified. So definitely skip the conventional pineapple you see on sale.
This is one crop to always buy organic. And the prices are often good.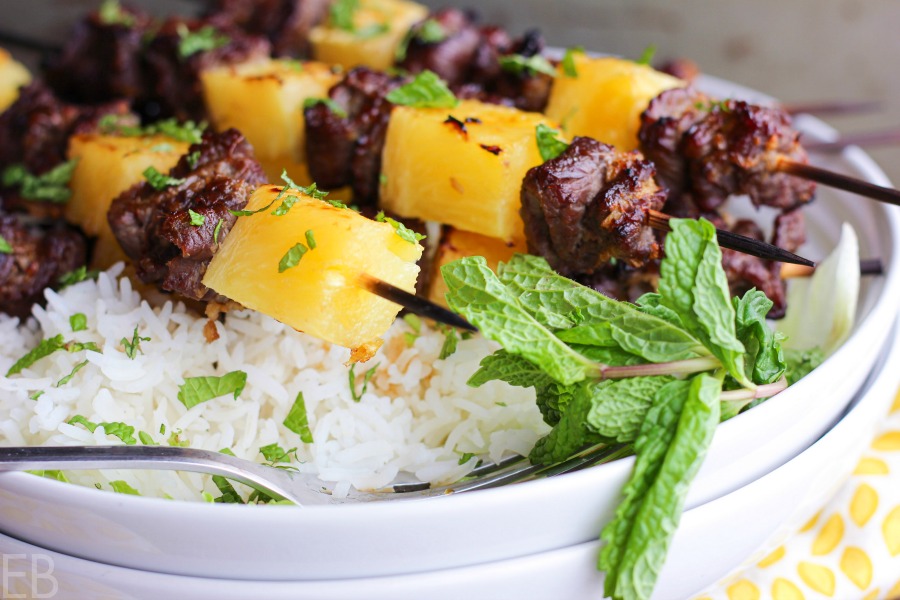 How to broil the meat for Thai Beef and Pineapple Kabobs
The key when broiling is to get a nice exterior texture, a sort of shiny glaze, without over-cooking the meat. If you broil for too long, the meat will dry out and be less succulent.
Broiling pineapple creates a lot of pan juices. The top of the steak will get caramelized while the bottom of the meat, pineapple and onions will cook in the hot pan juices.
Broil the meat for about ten minutes, and then pour the pan juices off. Optionally, the pan juices can be thickened a bit (instructions below) and used to garnish the cauliflower (or Basmati) rice.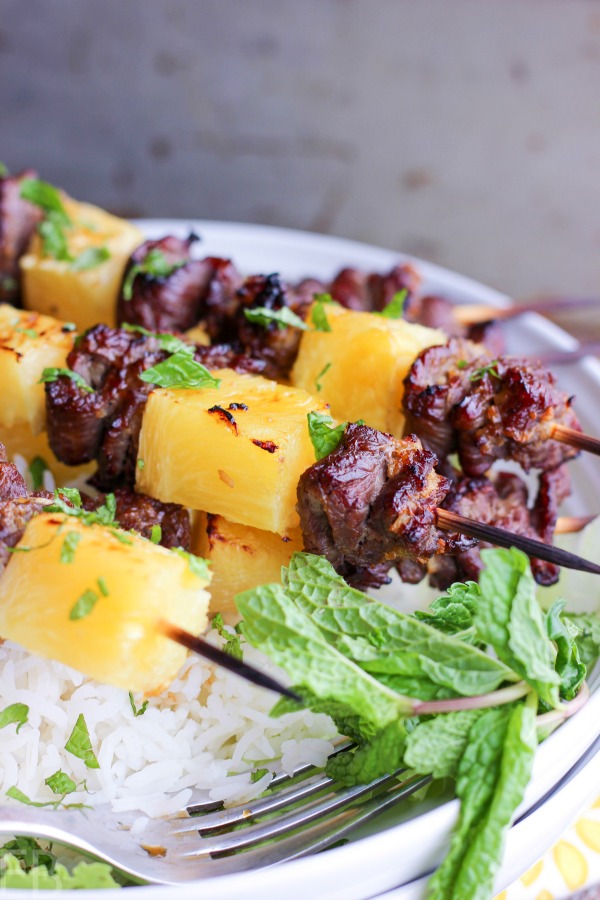 Print Recipe
Thai Beef & Pineapple Kabobs Sheet Pan Dinner (Paleo, AIP, Whole30)
Broiled Thai Beef and Pineapple Kabobs takes just 20 minutes of easy prep time and creates a dinner everyone will be excited about! Serve with salad and cauliflower rice, or white rice for gluten-free.
Equipment
12 bamboo skewers, 8-10 inches, soaked in warm water for 15-20 minutes
Ingredients
1-

½

pounds

beef sirloin

thinly sliced

1

pound

pineapple

, fresh, cut into 1" cubes

1

onion

, cut in half, cut into wedges and wedges cut in half (for skewering)

1

Tablespoon

avocado oil

+ more for greasing baking sheet

1

Tablespoon

coconut aminos

1

Tablespoon

fish sauce

1

Tablespoon

fresh ginger

finely grated

2

teaspoons

honey

1

clove

garlic

1

teaspoon

sea salt
Instructions
Grease a large cookie sheet with avocado oil. If you haven't already, thinly slice steaks, cutting against the grain.

Marinate meat: In large bowl, stir together avocado oil, coconut amino acids, optional fish sauce, ginger, honey, garlic and sea salt. Add meat and stir well to coat. Set aside for 20 minutes. (Do not marinate beef for an extended period of time.)

If you haven't yet, cut the pineapple and onion. (See How to Cut Pineapple photos in the Recipe Notes.) Set oven to broil and move an oven rack to the highest level.

Place beef, pineapple and onions on skewers, leaving about 1-

½

inches on each end. (See How to Assemble Kabobs photos in the Recipe Notes.)

Line up skewers on greased cookie sheet.

Broil beef until cooked through (just beginning to char on the edges), 8-10 minutes. Watch closely, checking on it occasionally. (Pan juices will collect while broiling. Carefully pour these off into a small saucepan or dish by tipping pan to one corner. If desired, use pan juices over rice when serving, and/or thicken pan juices first. See Recipe Notes for how to thicken.)

Serve with cauliflower rice or organic Basmati rice (for GF). Garnish with chopped fresh mint leaves and coconut amino acids.
Notes
To thicken one cup or more pan juices (not for GAPS):
In small bowl, stir together 1 Tablespoon tapioca flour (or white rice flour is fine for GF) and 2 Tablespoons broth.
In small saucepan, bring pan juices to a simmer.
Add one Tablespoon coconut oil (or preferred fat) to pot.
Stir tapioca slurry again and add it to pot. Simmer briefly, stirring, until pan juices have thickened.
Use pan juices over rice. (If you don't have a full cup pan juices, add a bit of broth to equal 1 cup.)
How to Cut Pineapple

1) Cut off the top (crown) and bottom of pineapple. Slice off the peel, including the brown "eyes". 2) Cut the sides of fruit from the core. 3) Slice and cube sides of fruit.
How to Assemble Kabobs

1) Thread meat onto skewer by weaving the slice back and forth so the whole length stays put. 2) Alternate meat with onions and pineapple.
Nutrition
Calories:
186
kcal
|
Carbohydrates:
22
g
|
Protein:
13
g
|
Fat:
6
g
|
Saturated Fat:
1
g
|
Cholesterol:
31
mg
|
Sodium:
1055
mg
|
Potassium:
368
mg
|
Fiber:
2
g
|
Sugar:
15
g
|
Vitamin A:
65
IU
|
Vitamin C:
56.5
mg
|
Calcium:
32
mg
|
Iron:
1.4
mg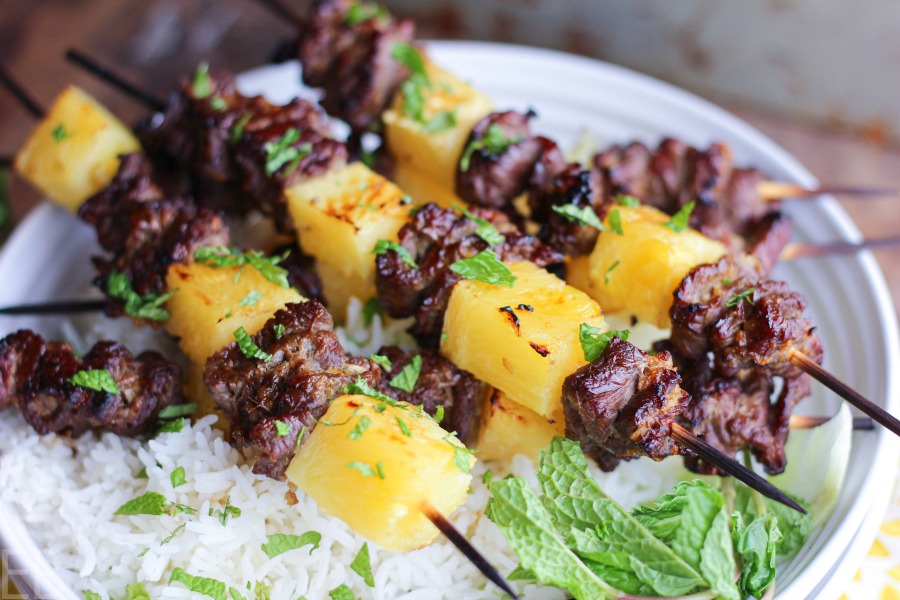 Looking for more easy, delicious dinners? Enjoy these: