I may receive a commission if you purchase through links in this post. I am not a doctor; please consult your practitioner before changing your supplement or healthcare regimen.
Vegan Bean Milk is a nutritious, creamy beverage that's great for topping cereal, oatmeal, granola and adding to smoothies. This recipe is naturally gluten-free and high in fiber.
Paired with grains, it creates a protein-rich combo for nutrient-dense snacks and meals.
Vegan Bean Milk is dairy-free, soy-free and nut-free. And you can actually make this beautiful milk with canned beans or home cooked beans — super convenient and affordable.
Plus, homemade vegan milk means: no single-use disposable containers from the store that leach plastics and aluminum into our dairy-free milks.
This recipe even has Low Carb and GAPS diet variations.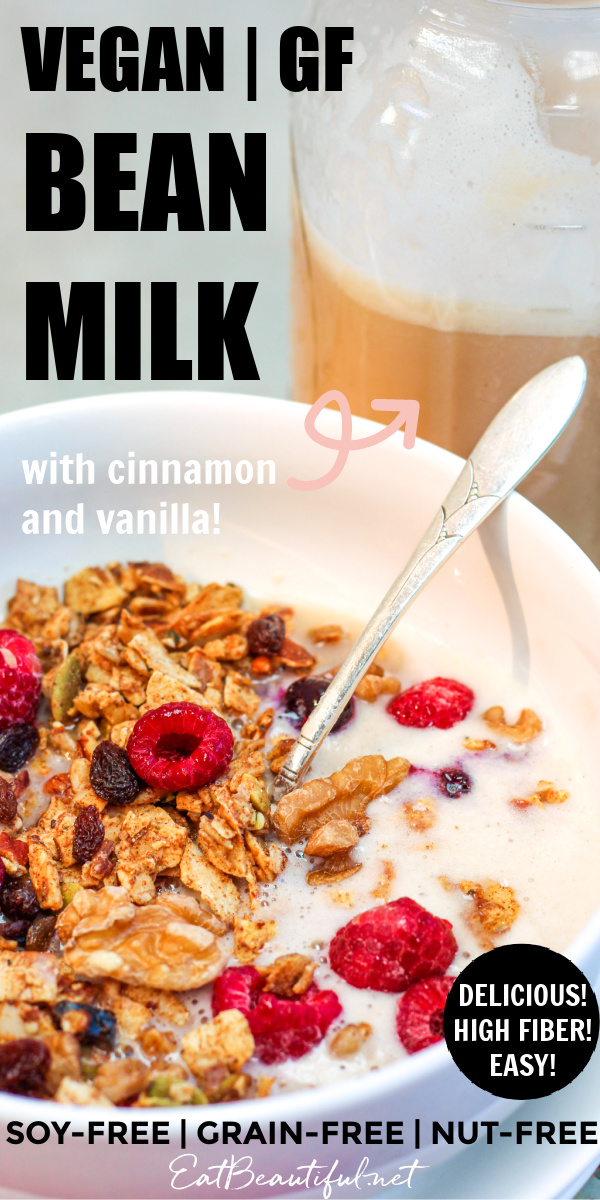 Our family's been eating a lot more oatmeal lately, which is how I came to need a new dairy-free milk. A lot of my other favorite dairy-free milks (Avocado and Macadamia) aren't practical for our current diet, so I got to thinking … Has anyone created a bean milk? I asked myself, Is that weird? And, Will it taste good?
Unexpectedly, I couldn't find a recipe for the kind of bean milk I had in mind. This surprised me! I mean, after all, soy milk's been around for forever; why not make milk from beans that are less estrogenic? (Let's face it: soy milk can cause major hormone imbalances and isn't a good choice for a lot of people.)
So I made my Bean Milk idea, and it worked!
I gave it to my boys for their oatmeal, and didn't hear a peep. Just slip-slop, gobble-gobble. When I asked them how they liked it, they said it was great! Only positive reviews!
I don't think Bean Milk is ideal for drinking by the glass, though. It does taste like beans to some extent. However, I make mine kind of like horchata: I add cinnamon and/or vanilla and a little sweetener. So with other foods, and as a topping, the bean quality does NOT come through. I only sweeten this milk slightly, so you could obviously cover up the bean taste more, but I don't think that's necessary.
It's delicious as a topping, and that was my goal. We now enjoy this milk daily on our oatmeal! It's a family staple.
Ingredients in Vegan Bean Milk
The key ingredients in Vegan Bean Milk are water, beans and maple syrup. Cinnamon and/or vanilla can be added for a nice, sweetening of the recipe flavor-wise — which helps the beany taste be less pronounced.
What kind of beans to use: canned or home-cooked dried beans
One thing I really like about this recipe is that you can use canned beans or home-cooked dried beans. Canned beans are nice for some of us who find them more digestible or convenient. Home-cooked dried beans are more affordable.
I personally find that Eden brand beans is easier for me to digest than long-soaked home-cooked beans, so that's why I choose canned beans for our family. Eden uses a little bit of kombu before their high-pressure canning, and we find them really gentle as a result. (Find Eden beans here.)
If you love cooking your own beans, it's easy to measure your cooked beans for this recipe. I give both options in the recipe below.
What variety of beans to use
This recipe uses any mild-tasting white bean: navy, white kidney (cannellini) or Great Northern bean.
Nutritional benefits of beans
Beans are a great source of B vitamins, fiber and protein.
Personally, we eat beans for all three of these reasons! If you eat a lot of white rice, a B1 deficiency can occur. Eating beans puts the B1 back in your diet. Most people need more B vitamins, whether or not they eat polished grains. B vitamins are vital for proper cell functioning — including brain health, energy production and the ability to detoxify.
Fiber in one's diet helps to prevent constipation and toxicity, and also benefits heart health and blood sugar levels.
If you're vegan, it's always nice to have another way to eat beans, to increase the amino acids in one's diet.
How to make Vegan Bean Milk
The second thing I love about this recipe is that it does not need to be strained! This recipe is fast and easy to blend and serve!
The reasons we don't strain are:
Vegan Bean Milk is naturally smooth. After 50 seconds or less of blending, there are no discernible bits whatsoever.
We certainly do not want to strain this milk because — we want all that fiber! One of the main benefits of eating beans is their fiber, so we don't want to omit it from this recipe or our diet.
So, back to how to make Vegan Bean Milk: We simply blend equal parts white beans and filtered water with a small amount of pure maple syrup and a tiny amount of cinnamon. That's it! This recipe takes 5 minutes and is ready to serve!
You may also add optional vanilla and sea salt, if you'd like.
How to store Vegan Bean Milk
I pour our Bean Milk into a 4-cup mason jar. This recipe makes about 3-1/2 cups, so that size jar is the perfect storage container. (Find quart mason jars here.)
It keeps well in the fridge for about 4 days. I have never tried keeping it longer than that, because we use it up pretty quickly.
How to digest beans better
If you don't digest beans that well — if they cause you gas — you might find this resource helpful: a list of which beans digest best based on one's blood type. We've found this list SO helpful.
Also see How to Soak Beans for 4 Days to Prevent Gas & Which Beans Digest Best.
GAPS diet variation
You can make this recipe GAPS-friendly by using honey in place of maple syrup. Assuming you've reintroduced beans successfully.
Low Carb variation
A low-carb diet can shortchange the body of fiber, by reducing fruits, grains, and certain vegetables in order to stay on track — and fiber is good for digestion.
Surprisingly, beans can actually fit well into a Low Carb diet. As one source says, "While it's true that beans are high in carbohydrates, 'along with that comes fiber — mostly soluble fiber, which can help lower cholesterol — and important vitamins and minerals like folate, potassium, iron, and zinc.'"
Fiber reduces net carbs. So by changing the sweetener in this recipe, Bean Milk becomes a great dairy-free milk alternative. To make this recipe Low Carb and Keto-friendly, use a liquid low carb sweetener like Lakanto's Maple Syrup, in place of the pure maple syrup. Or, sub in stevia or pure monk fruit, if preferred.
Keto and Vegan, with this one sub, Bean Milk has just 4.5 grams net carbs per serving.
Savory variation — for soups and gravy
Yes, Vegan Bean Milk can also be used for savory applications! Just leave out the cinnamon and/or vanilla.
Enjoy in soups, sauces and gravies — in place of other milks or creams.
The naturally creamy and umami qualities of beans means this Milk is the perfect texture and flavor for pasta dishes, stews, condiments and more.
You may choose to exclude the sweetener, or leave it in, because a subtle rich sweetness can add a nice dimension to recipes.
Print Recipe
Vegan Bean Milk (soy-free, nut-free, grain-free)
Vegan Bean Milk is a nutritious, creamy beverage that's great for topping cereal, oatmeal, granola and adding to smoothies. This recipe is naturally gluten-free. Vegan Bean Milk is dairy-free, soy-free and nut-free. And you can actually make this beautiful milk with canned beans! — super convenient!
Cost:
$2 or less if you use dried beans
Ingredients
1

can

white beans

OR 1-

⅔

cup cooked white beans: navy, kidney or Northern
1-

⅔

cup

filtered water

2

Tablespoons

maple syrup

You could also use two soaked, softened dates, if preferred. (For GAPS, use honey; for Low Carb, sub in Lakanto's Maple Syrup or stevia, to taste.)

⅛

teaspoon

cinnamon

Use more if preferred. I like it subtle.

Optional:

1 teaspoon vanilla extract, 1 to 2 pinches sea salt
Instructions
Place water, beans, maple syrup and cinnamon in high-powered blender. Blend for 30 seconds at medium speed. Increase speed to medium-high for 20 additional seconds.

Pour into quart-size mason jar, and serve, or refrigerate until ready to use.
Notes
The Low Carb, Keto version of this recipe has 4.5 grams net carbs per serving.
Nutrition
Calories:
56
kcal
|
Carbohydrates:
11
g
|
Protein:
3
g
|
Fat:
1
g
|
Saturated Fat:
1
g
|
Sodium:
2
mg
|
Potassium:
185
mg
|
Fiber:
2
g
|
Sugar:
3
g
|
Calcium:
32
mg
|
Iron:
1
mg
Please comment below and let me know how you like Vegan Bean Milk!
And what to eat with it? Enjoy these favorite vegan and gluten-free cereals with Vegan Bean Milk poured on top!: