I may receive a commission if you purchase through links in this post. I am not a doctor; please consult your practitioner before changing your supplement or healthcare regimen.
Kombucha Overnight Oats makes the most delicious breakfast or snack that's also easy to digest and nutritious. This probiotic treat is a wonderful way to start the day!
This recipe is Gluten-free, dairy-free and Vegan.
I first fell in love with this breakfast when I was staying in a hotel for several days and needed a nourishing no-cook breakfast!
It was so easy to buy kombucha, oats and creamy topping at the store, use a cup from the hotel and some maple sugar I'd brought with me in my suitcase!
Now, I enjoy this restful fun meal at home often.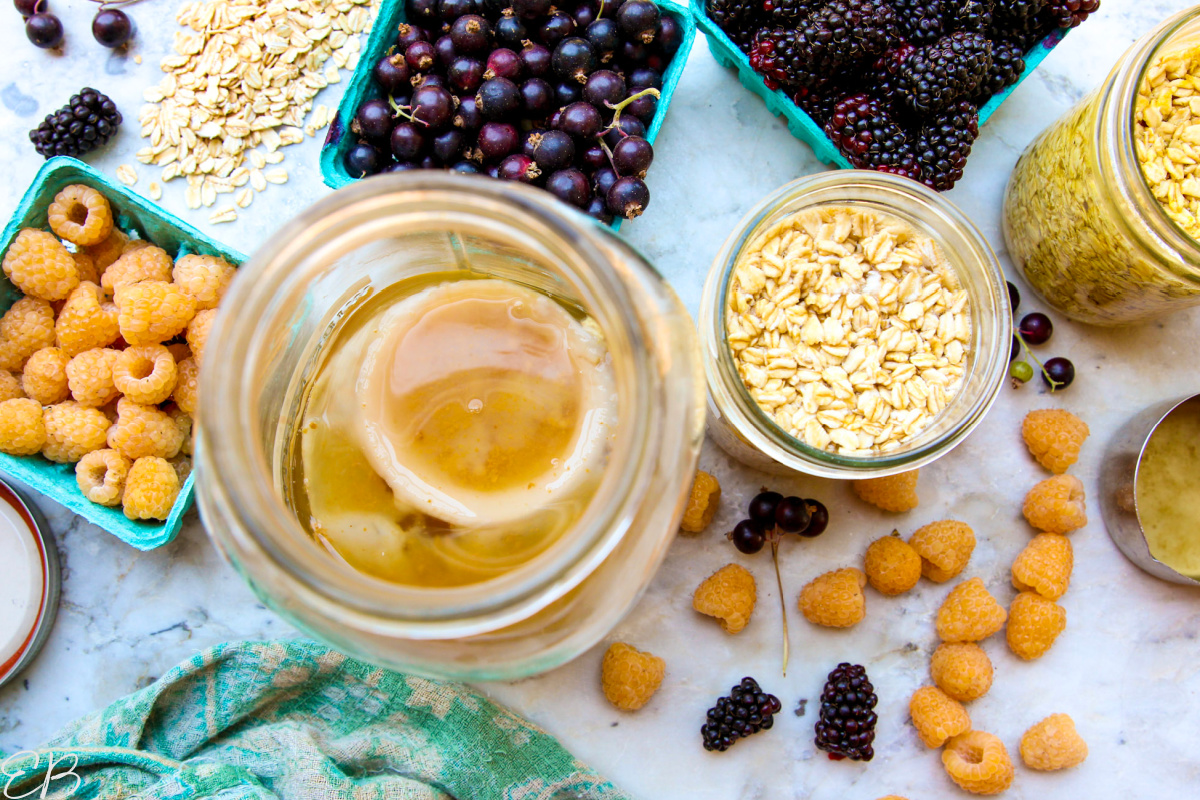 Jump to Recipe
How to make Kombucha Overnight Oats
Of course, that's one of the best things about overnight oats — they're so fast to make!
Fill mason jar, or favorite bowl with lid, half full of rolled oats.
Add homemade OR store bought kombucha (exact amounts below in recipe).
Leave out on the counter at room temperature. (This warm environment allows the probiotics to "pre-digest" the oats.)
In the morning, add milk or cream of choice and favorite toppings. Or, chill until you're ready to eat.
You can even meal prep Kombucha Overnight Oats by making several for the whole week. These gently fermented oats keep well in the fridge for up to 5 days. So feel free to make several for easy grab-and-go breakfasts or snacks.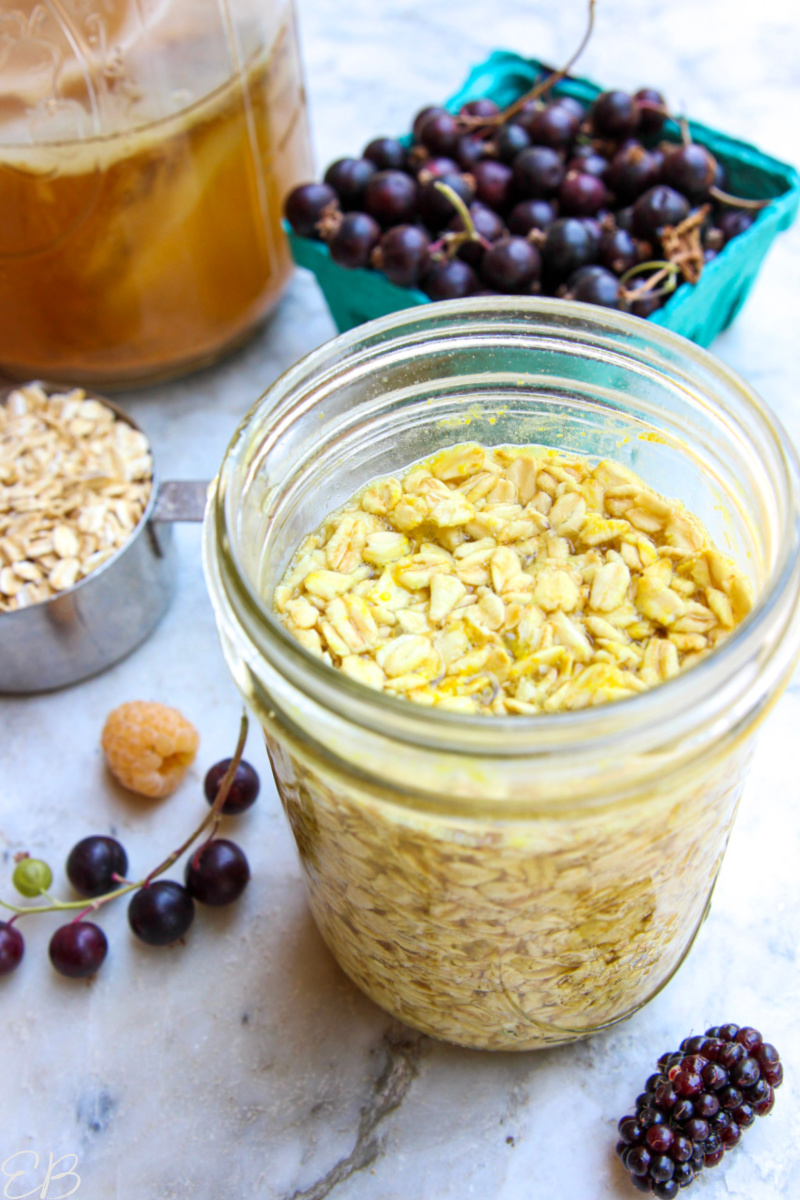 Benefits of making Overnight Oats with kombucha
If you love eating oats but you never "pre-digest" them, they're actually not as nutritious! That's because oats are a grain that's dormant when raw.
Oats contain a compound called phytic acid; it's the storage form of phosphorous. The grain is protecting itself against nature so it can germinate under the right conditions.
When you soak it in the probiotic liquid, you help the grain to convert or break down its defenses.
This means that your body can now better digest the nutrients oats have to offer.
Because kombucha is a probiotic living food, it aids this process. Fermentation pre-digests the oats.
PRO TIP
To make your oats extra gentle and nutritious, you may also add a very small amount of buckwheat flour to your oats, about 1 teaspoon.
Buckwheat contains an enzyme, phytase, that oats lack. Phytase breaks down phytic acid.
So, for the most nutritious bowl of overnight oats: add both kombucha and a small amount of buckwheat flour. (But, this is completely optional.)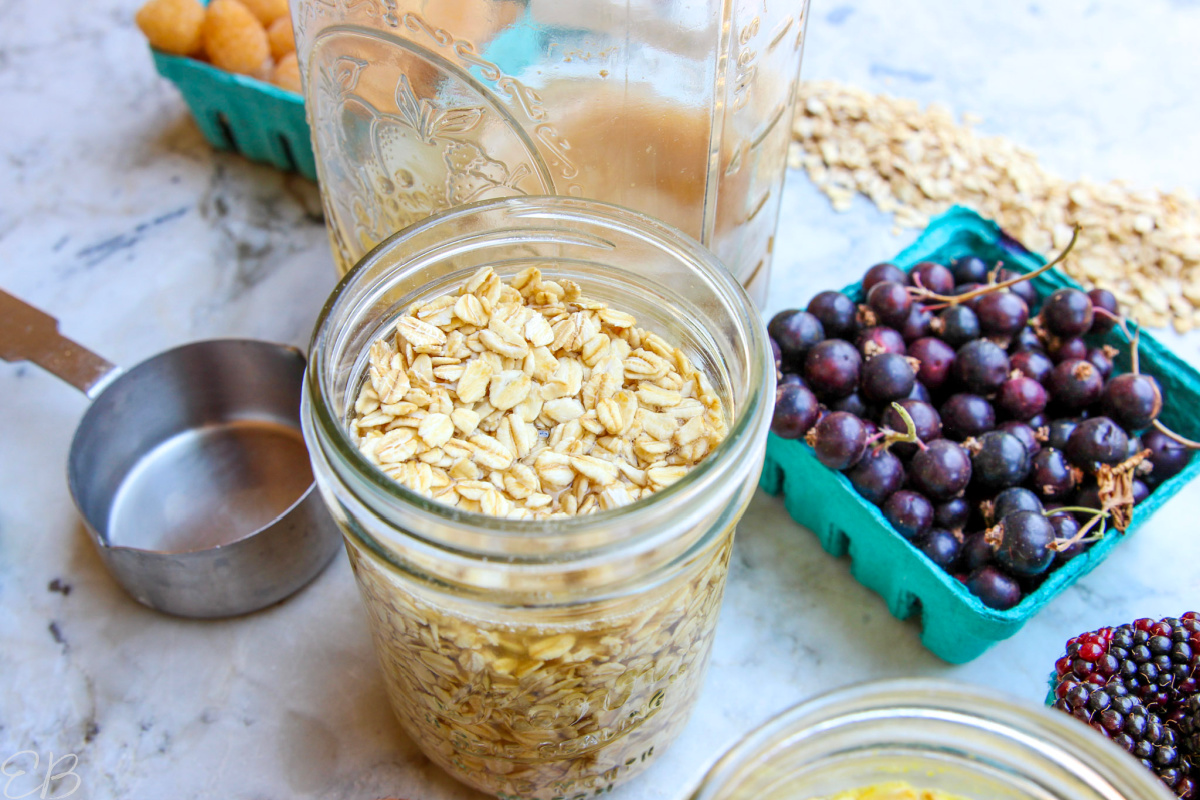 How do Kombucha Overnight Oats taste
Kombucha Overnight Oats taste a little sour or tangy. This is an acquired taste for some people, and others love it immediately.
Similar to the first time you tasted kombucha itself, or even apple cider vinegar, you may have to get used to it, and then you love it.
After adding your milk or cream of choice and a little sweetener, I think most people will love them.
For me, they're my favorite way to eat oats. I like Kombucha Overnight Oats better than other overnight oats and better than oatmeal.
TEXTURE-WISE
Overnight oats are a bit chewy, and maybe because I also love granola, I like the texture and experience of eating them better than cooked oats.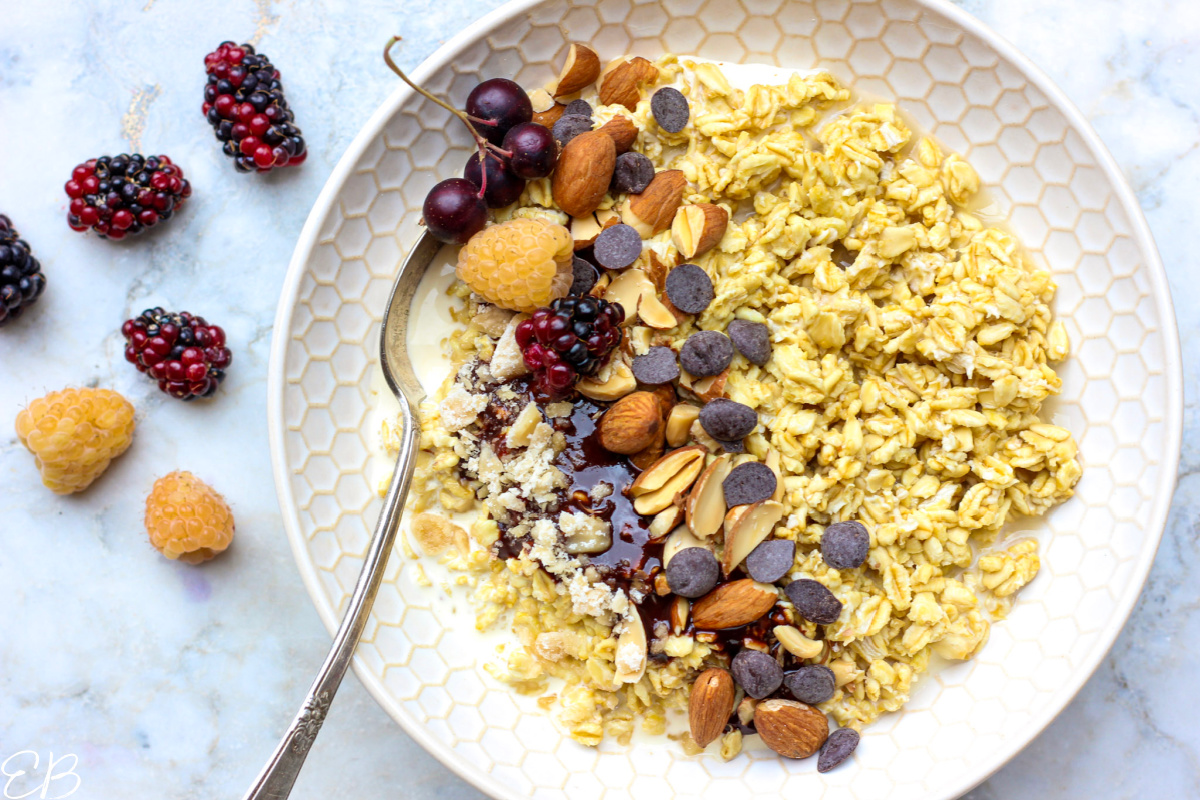 Toppings for Kombucha Overnight Oats
Once you start adding toppings to Kombucha Overnight Oats, it's hard to not see anyone loving them!
Toppings for overnight oats are just SO FUN and delicious. Here's what we eat on ours the most often:
milk or cream of choice (I use raw cream, but you may use nut milk or whatever you like.)
activated nuts or seeds (Buy these, or learn to make your own here.)
chocolate chips — sweetened or unsweetened (like this)
pure maple syrup — or other sweetener of choice
fresh berries (or frozen)
freshly grated ginger root — This is really nice. I've done this when I've used ginger kombucha, and still added all my other favorite toppings, and it's lovely + great for digestion.
any fruit compote, such as this Strawberry Topping
yogurt
freshly made Chocolate Ganache or Pourable Chocolate Sauce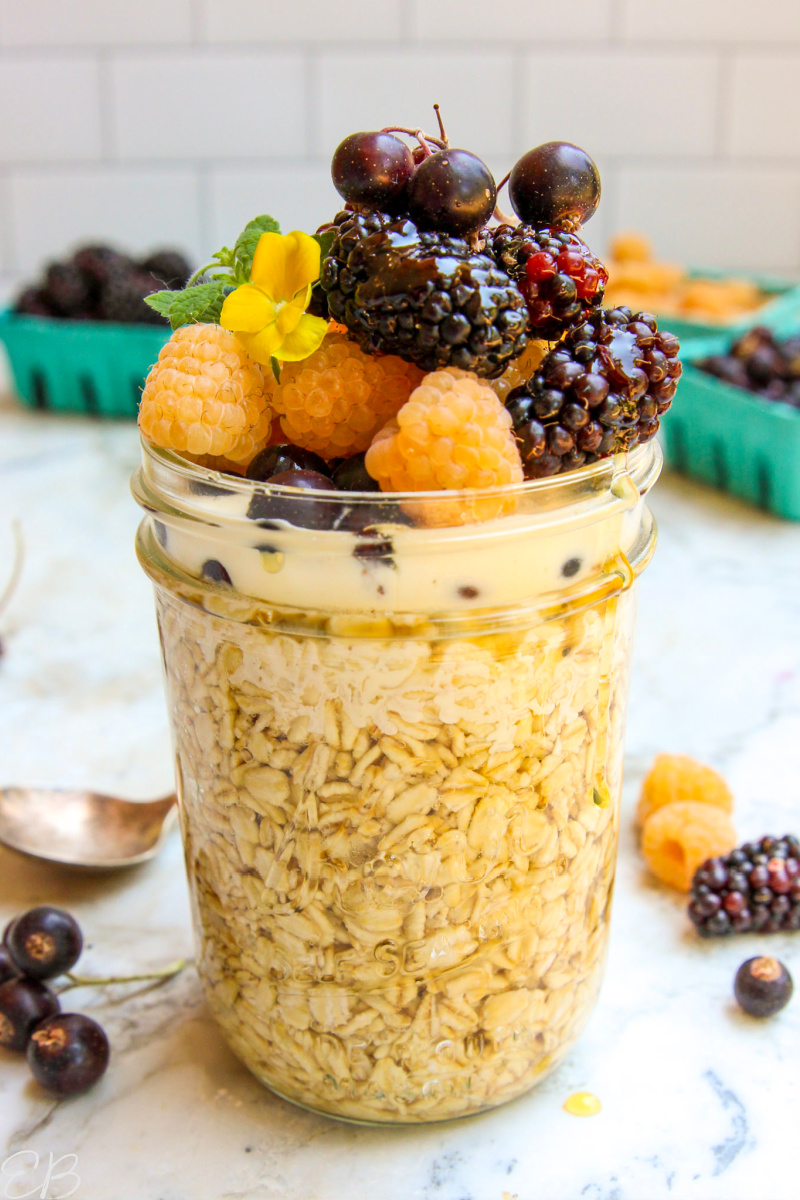 MEAL PREP OVERNIGHT OATS
Toppings — inside the jar — for meal prepped Overnight Oats are fun. You can do the toppings ahead of time or the morning of — although it's best to wait to add fruit toppings.
If you have several jars of Kombucha Overnight Oats in your fridge for the week, just unscrew the lids of your mason jars, add milk of choice, sweetener, berries or chocolate chips, screw the lid on again — and go …
… Super fun all-contained treats to stir in and eat with your oats while you're out and about.
I love that this meal is truly nourishing, pretty and yet convenient to take to work or wherever you're headed.
I've even taken my Kombucha Overnight Oats on the plane with me! They got checked and approved at security, LOL, and I was SO happy to have a healthy meal in the airport!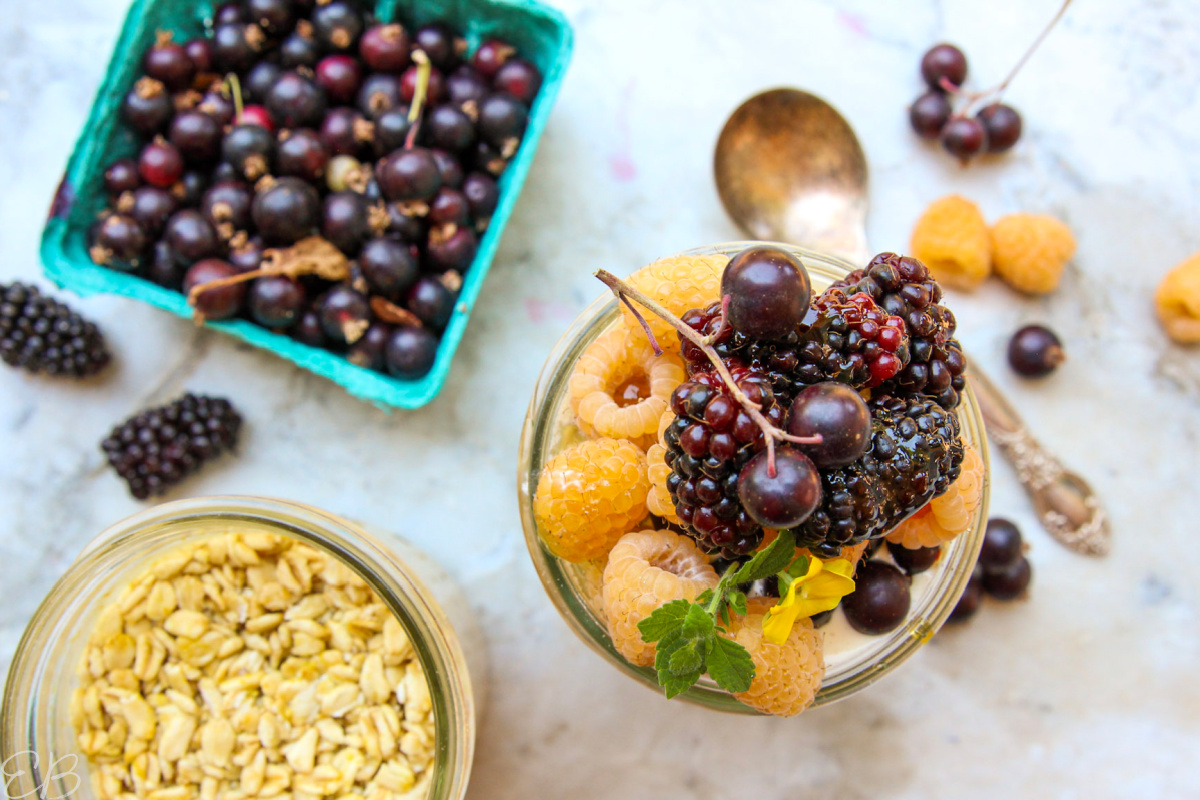 When to eat Overnight Oats
Kombucha Overnight Oats are perfect when you can't, or don't want, a hot breakfast … but I usually do have hot protein on the side!
Like:
hot summer mornings
don't want or can't cook that day
need portable food
But, a bowl of delicious probiotic oats is also super restful to enjoy at home.
I usually have my Overnight Oats in a bowl, in a parasympathetic mode, sitting on my couch or at our dining room table. I savor every bite.
Whether the weather's cold or hot, whether I'm home or out, this meal always nourishes and satisfies me.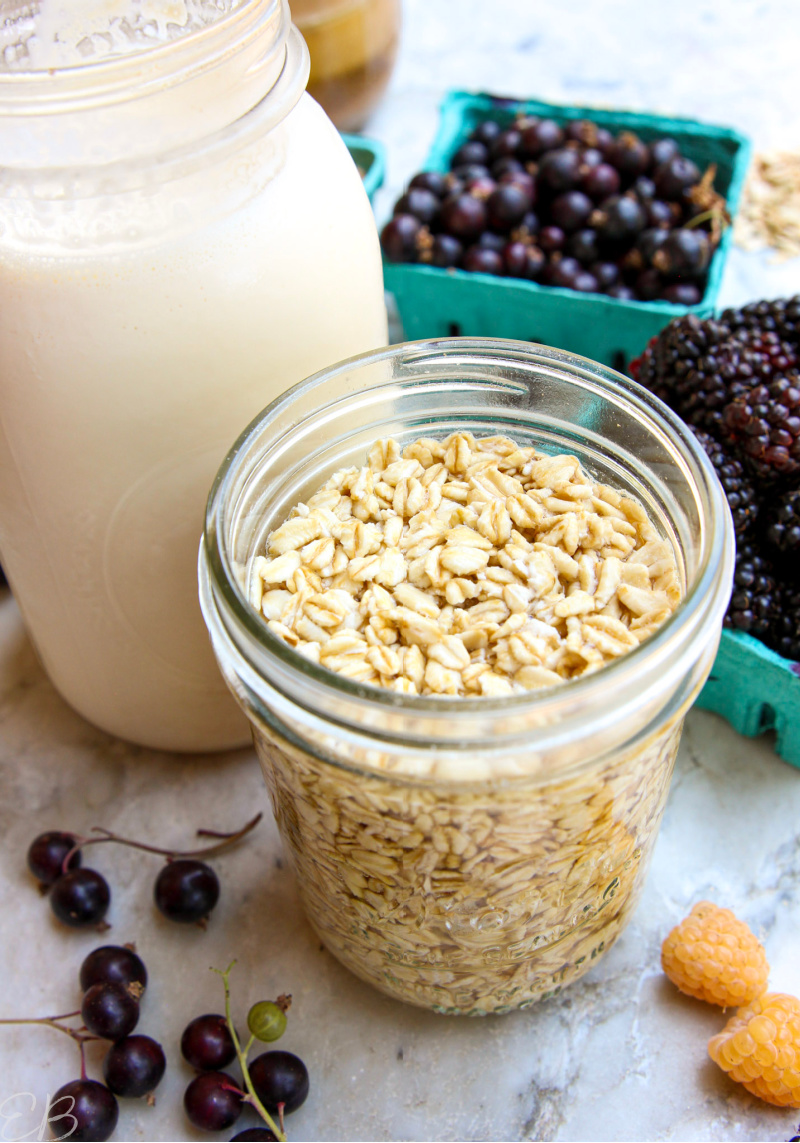 What kombucha to use
You may use either homemade or store-bought kombucha. I use both.
If I'm low on homemade or traveling, I buy kombucha. My favorite brands for quality are:
SOMA — A lovely brew, super high quality. Nicely, SOMA offers both kombucha and jun, so for those who prefer their ferment made with honey, there's a second product line.
Health-Ade — I buy the Ginger Immunity one.
If you'd like to start making your own homemade kombucha, I promise you that it's REALLY easy and rewarding.
I recommend one of Cultures for Health's kombucha starters. They have starter cultures or a kit.
Print Recipe
Kombucha Overnight Oats
Kombucha Overnight Oats makes the most delicious breakfast or snack — that's also easier to digest and more nutritious. This probiotic treat is a wonderful way to start the day. Gluten-free and Vegan.
Ingredients
1

cup

rolled oats
1 to 1-

¼

cups

kombucha

any flavor, homemade or store-bought (Base the amount of kombucha on whether you want a little leftover in the oats in the morning or you prefer your oats on the drier side.)

1

teaspoon

buckwheat flour

optional
Instructions
Place oats in mason jar with lid, or other preferred bowl.

Stir in optional buckwheat flour.

Add kombucha. (It may foam a bit. If you used the buckwheat flour, you can stir it in.)

Cover very loosely (do not screw on lid), and leave out at room temperature overnight.

In the morning, enjoy with toppings, or screw on lid and refrigerate until you're ready to eat it. Keeps in the fridge for up to 5 days. Provides one VERY big meal or two smaller ones. (Sometimes, I just eat my breakfast leftovers with my lunch.)
Nutrition
Calories:
339
kcal
|
Carbohydrates:
53
g
|
Protein:
11
g
|
Fat:
5
g
|
Saturated Fat:
1
g
|
Sodium:
10
mg
|
Potassium:
322
mg
|
Fiber:
9
g
|
Sugar:
2
g
|
Calcium:
44
mg
|
Iron:
4
mg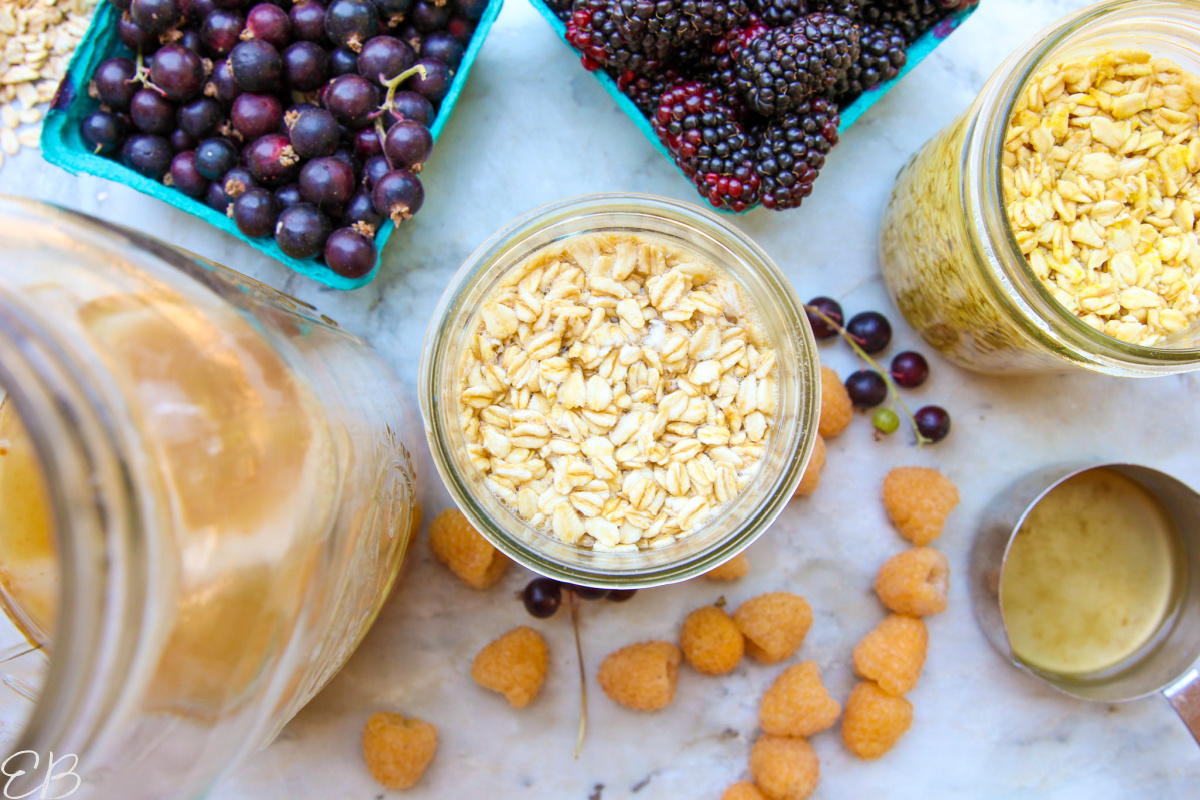 Similar recipes you'll enjoy:
Pin this recipe here: