I may receive a commission if you purchase through links in this post. I am not a doctor; please consult your practitioner before changing your supplement or healthcare regimen.
How & Why to Soak Beans for 4 Days To Prevent Gas AND WHICH beans do YOU digest best looks at what actually happens when you eat beans that have been soaked for 4 to 6 days (nothing, no gas!) AND, just as importantly, which beans does YOUR body digest best!
Which beans you choose has a direct bearing on their digestibility. So we look at both issues.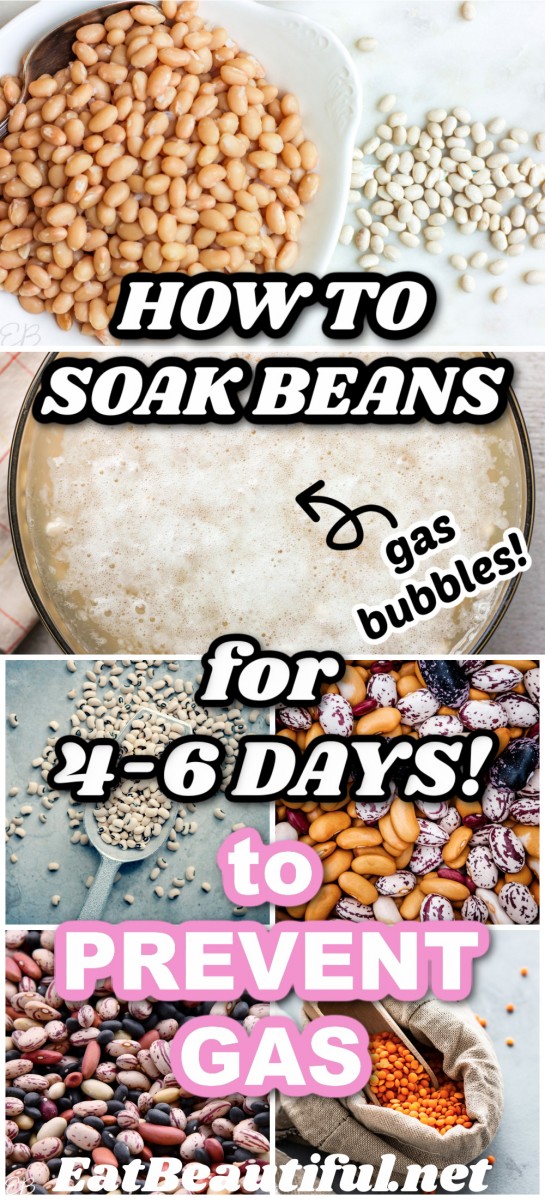 How long to soak your beans
This, my friends, is the MOST important question of all!
As one expert says, "… you'd have to soak beans for up to 3 days for any of the flatulence-causing sugars to start to leech into the water, by which point the beans would be close to germinating". Yes, exactly!
And yet most sources recommend either no soaking, a quick soak or only soaking overnight. As many of us know from personal experience, an overnight soaking does NOT reduce gas.
The height of flatulence-causing sugars (called oligosaccharides) release on Day 3. More of these sugars continue to release through Day 6 of soaking, depending on the warmth of the room.
I always soak my beans a minimum of 4 days, and sometimes up to 6.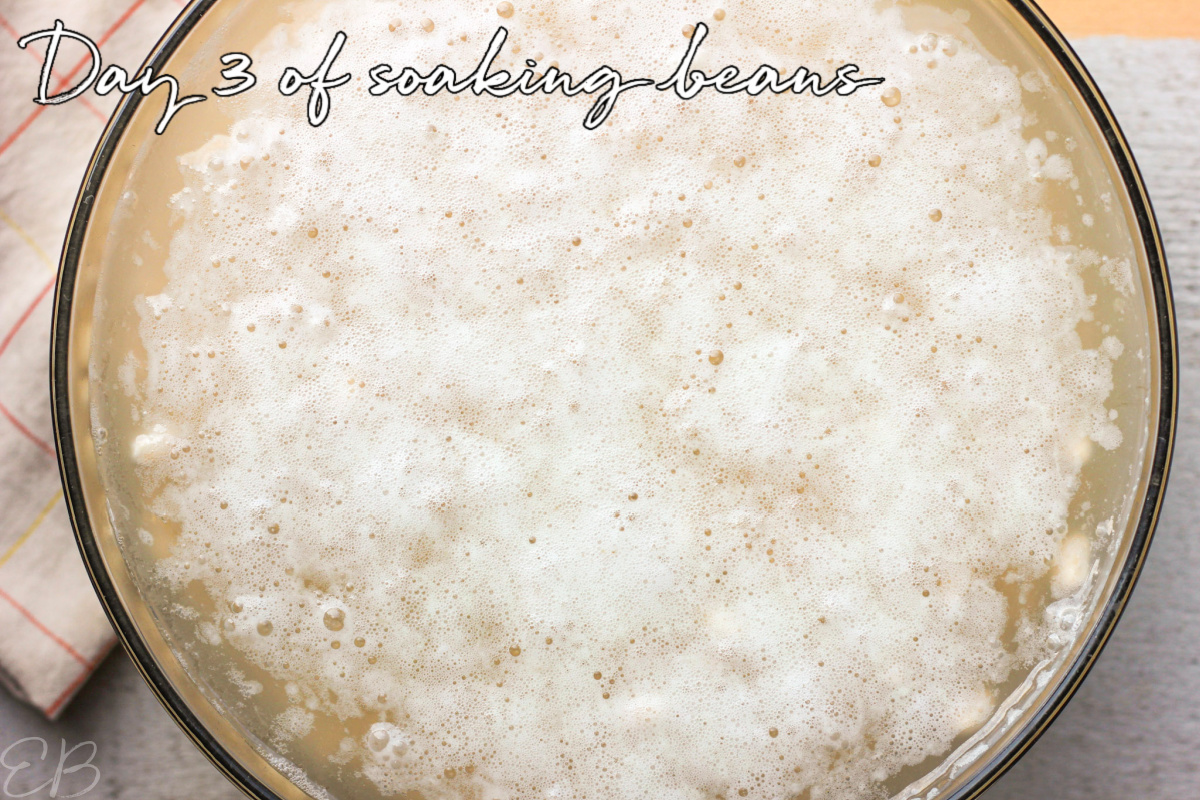 Do soaked beans have a good flavor and texture
I've read some sources that say long-soaked beans do not maintain as good of flavor or texture.
Firstly, this just isn't true. And secondly, digestion is more important than a subtle nuance in flavor or texture.
But even after a 6-day soak, I get a great flavored and textured bean.
Are soaked beans less nutritious
Definitely not. Beans' nutrition increases through soaking.
Otherwise, a bean is a dormant seed, and its nutrition is inaccessible. By soaking, that seed (bean) starts to germinate, which allows two things to happen:
Phytic acid is reduced, which otherwise binds with minerals in the gut to reduce nutrition in meals. (source) (Phytic acid is the storage form of phosphorus, a natural substance found in seeds.)
The bean's own nutrition can now be digested and assimilated by our bodies.
Soaked beans are not only more nutritious, they are also lower in lectins. (source) Lectins can be harsh to the gut lining and even cause leaky gut. (source)
Do you soak beans in the fridge or on the counter
You can do either, but on the counter is much better.
A warm environment speeds up and encourages fermentation or germination of any kind. Again, think of a seed and that it germinates in the spring, as the weather warms.
WHEN TO SOAK IN THE FRIDGE
If you ever need to leave on a short vacation while your beans are soaking, you can move them into the fridge for a couple of days to slow down the process.
Then, when you return home, just rinse and replace the water, and keep soaking on the counter.
What is the best way to soak beans
Beans MUST soak for about 4 days minimum to significantly reduce gas. Here's how to soak beans for 4 days:
Place beans in large bowl. Cover by about 2 inches with room temperature water.
Soak for 24 hours.
Pour beans into a colander, and rinse them well. Wash the bowl. Place beans back into bowl, and again, cover by 2 inches with water.
Repeat this process for a minimum of 4 days, or up to 6 days.
Watch the amount of white bubbles and foam on the surface of the water. It will reach its height on Day 3, and then gradually decrease. Cook your beans when all or most of the bubbles have ceased.
Is a quick soak just as beneficial
No, definitely not.
Do you soak beans in hot or cold water
Room temperature to warm water is the best for soaking beans.
Soaking beans is indeed a pre-digestion of the food.
This means we're actually pre-germinating, pre-sprouting and even pre-fermenting the beans.
As you know, the best temperature for seeds to germinate — or food to ferment — is warm or room temperature.
Why do you discard bean soaking water
Bean soaking water is full of the gas-producing sugars that we want to avoid.
Although some sources claim that the beans' nutrition leaches into the water, this is not true.
Most of the nutrition is in the bean itself, in the form of B vitamins and fiber.

Can beans soak too long and what to watch for
Yes. I have never soaked my beans beyond Day 6, but beans can go bad.
What's interesting is that most of us are super worried about getting sick from beans soaked for too long, so we never realize or get the opportunity to soak them long enough.
On Day 6, or on Day 4 in warm weather, your beans may start to smell fishy or like bad flatulence! This might sound dangerous, but this is just a sign of "hardcore" fermentation. If you've ever eaten natto (fermented soybeans), you know what I mean. Natto is super nutritious, but it's fishy smelling.
A fishy or sulphuric smell is different from the smell of spoilage. Even beans that start to feel a little slimy within the 4 to 6 day window (depending on the temperature of the room) just need a good several rinses. These beans, in my experience, taste exactly the same after being cooked but produce zero gas!
What do spoiled soaked beans smell and look like? I haven't ever gone that long. But just be aware that spoilage and the fishy fermenting smell are different. Most fermenting sites say that when something spoils, you can't miss it.
Interestingly, each batch of beans I soak varies quite a bit. Temperature really affects their soaking time and how smelly they get. Some soaked beans stink quite a bit (like human gas!) while you're rinsing them.
(Several times, I've been accused by my kids of "tooting" while rinsing beans —LOL. Other times, the beans don't smell much while changing the water. I find that the more beans smell during the soaking and rinsing stage, the less gas they'll produce in your gut after cooking.)
What to put in beans to prevent gas
During the soaking stage, nothing. You do not need to add baking soda, salt or vinegar to your soaking water.
Just water.
Optional: To the cooking water, you may add a 6″ (or greater) piece of kombu seaweed. It will not add a fishy flavor but helps to alkalinize the water, breaking down oligosaccharides; and it adds minerals and B vitamins. (However, kombu is high in iodine, so not ideal for every body.)
Which beans are the most digestible
This section is VERY exciting. I only learned myself this year that my body digests certain beans MUCH better than other beans.
While I don't agree with everything in the Eat Right for Your Blood Type book by Paul J. D'Adamo, there are a few nuggets that I've found to be very helpful. One is THIS CHART, which shares which beans we can digest best based on blood type. For me, and everyone I've shared this chart with so far (family and friends), it holds true!
I hope you find it as helpful as I have. (I learned of this chart from Dr. Garrett Smith.)
Before using that chart's insights and learning to soak beans for 4 to 6 days, I couldn't eat beans without gas, so I just avoided them.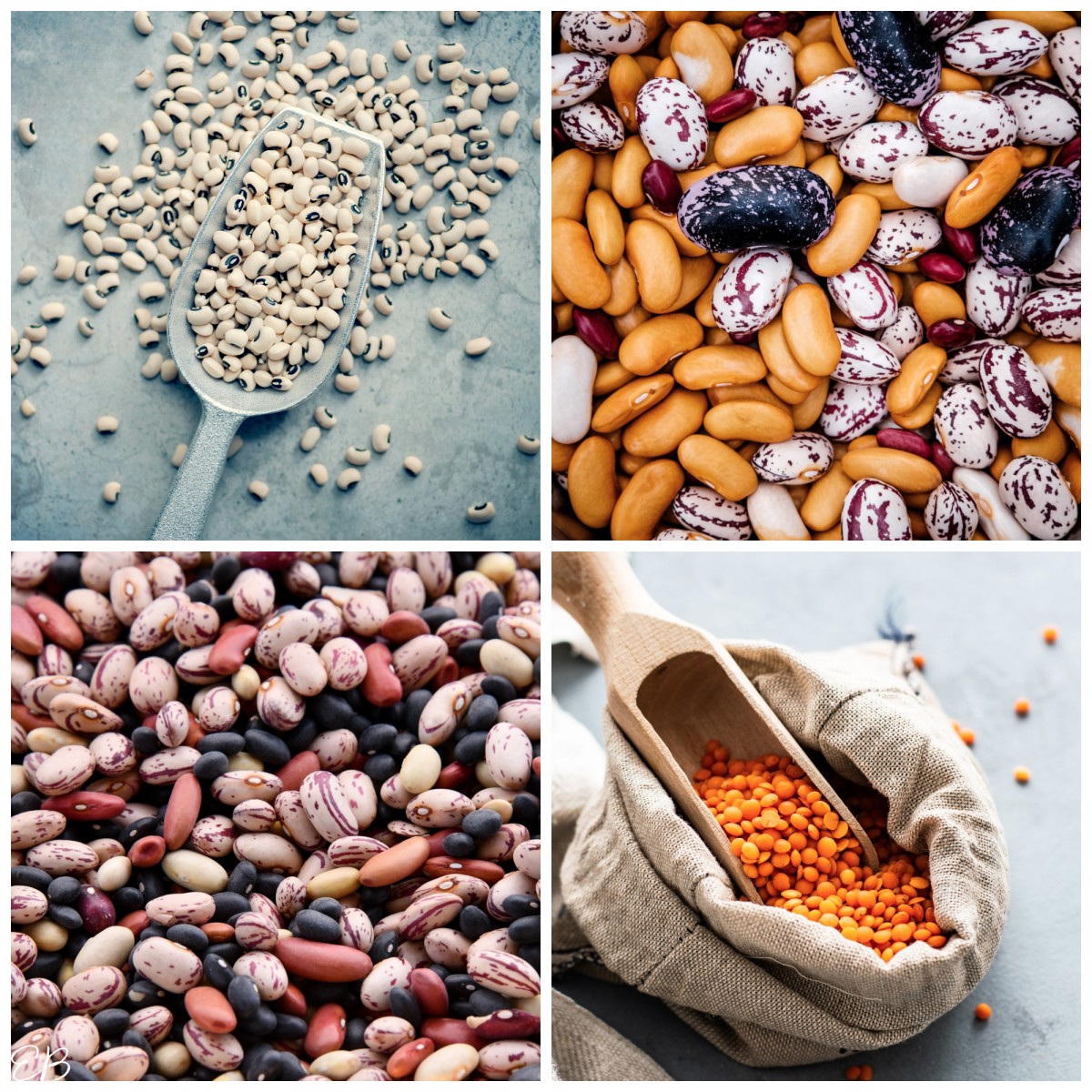 What's the best way to cook beans to reduce gas
There are two ways to cook beans that may further reduce gas:
a long slow cook in the slow-cooker: The Weston A. Price Foundation says, ""It is important to avoid boiling beans since this will coagulate their vegetable protein and result in permanently hard, unpalatable beans."
use a pressure cooker
How to further reduce gas-producing sugars in beans
If you still experience a small amount of gas from long-soaked beans of the right variety for your body, there is one more thing you can do!
And that's to ferment your cooked beans. This study (and others) show that lactic acid bacteria significantly reduces flatulence-causing sugars in beans.
How to ferment beans? I know it sounds hard, but you simply make fermented hummus! You can make hummus with any bean.
The probiotics proven to work in the above linked to study are L. plantarum, L. fermentum and P. acidilactici.
But you may use any probiotic you use to make yogurt. I recommend this one. You may also use 1/4 cup probiotic whey per batch, drained from dairy or dairy-free yogurt.
Fermented Hummus Recipe
Here's how to make homemade hummus with your soaked and cooked beans:
Purée the usual ingredients together (cooked beans [any variety you digest well], tahini, olive oil, optional lemon juice, garlic, sea salt and water).
Add 3 probiotic capsules or 1/4 cup probiotic whey, and blend again briefly.
Transfer to an air-tight container, and leave out at room temperature overnight, or 8 to 12 hours.
Move to the fridge, or enjoy immediately.
As you may have gleaned, this hummus is also rich in probiotics.
What are more bean recipes that use soaked beans? Enjoy this Easy White Chicken Chili, for the slow cooker or Instant Pot.
How to re-introduce beans to your diet
Lastly, if you're re-introducing beans in the hopes of having less gas, consider these additional tips:
Do so slowly. Start with just 2 tablespoons to a quarter cup the first day, and increase gradually, so your body can get used to the increased fiber.
During digestion, the soluble fiber in beans clings to toxic bile. (Beans help to excrete toxins from the body!) But if eaten with fat, the fiber will cling to that instead. Do not add a lot of fat to your beans, and you will have less gas. When the fiber clings to the bile, less gas results. (This observation comes from Dr. Garrett Smith, who helps patients recover from vitamin A toxicity by implementing aspects of Karen Hurd's Bean Protocol.)
Use a digestive aid: a splash of apple cider vinegar with your beans, digestive bitters with your meal or digestive enzymes that contain alpha-galactosidase.
Print Recipe
How to Soak Beans for 4 to 6 Days for NO GAS
How and why to soak beans for 4 to 6 days before cooking to reduce flatulence-causing sugars, and then how to cook them in the slow cooker or pressure cooker.
Servings:
4
or more servings, depending on how many beans you choose to soak and cook
Equipment
bowl and colander

slow cooker or Instant Pot (or other brand of pressure cooker)
Ingredients
any amount desired!

dry beans

see this chart for which beans to use for your blood type

enough to cover by 2 inches

water

preferably clean well water or filtered water
Instructions
Place beans in large bowl. Cover by about 2 inches with room temperature water.

Soak for 24 hours (on the counter).

Pour beans into a colander, and rinse them well. Wash the bowl. Place beans back into bowl, and again, cover by 2 inches with water.

Repeat this process for a minimum of 4 days, or up to 6 days, rinsing, changing the water and washing the bowl every 24 hours.

Watch the amount of white bubbles and foam on the surface of the water. It will reach its height on Day 3, and then gradually decrease.

Cook your beans when all or most of the bubbles have ceased, on Day 4, 5 or 6.

NOTE: Warm weather allows for a 4-day soak. In cooler weather, up to 6 days may be needed.

To cook, cover soaked beans by 2 inches with fresh water. Add sea salt, to taste.

Slow-cooker: Cook on lowest heat for about 6 to 10 hours. (Safety note: If you are cooking kidney beans, cannellini beans or butter beans, boil them for 10 minutes before slow-cooking. This neutralizes a toxin called phytohemagglutinin which can cause digestive discomfort.)OR — For Instant Pot, use the Manual button, and cook on High heat for just 10 to 15 minutes for smaller beans, like lentils, or up to 45 minutes for larger beans, like kidney beans. Experiment to find the cooking time and amount of salt you like best.
Notes
The following nutritional data represents 1 cup of cooked dried beans. The net carbs for those on Keto or Low Carb diets varies with the type of bean, ranging between 11 and 22 grams for

½

cup. The high fiber in beans still makes them a good choice for low carb diets.
Nutrition
Serving:
1
cup cooked dry beans
|
Calories:
220
kcal
|
Carbohydrates:
40
g
|
Protein:
15.2
g
|
Fat:
68
g
|
Sodium:
1
mg
|
Potassium:
884
mg
|
Fiber:
12
g
|
Sugar:
2.3
g
|
Calcium:
1
mg
|
Iron:
5.2
mg
Further reading
In addition to How to Soak Beans for 4 Days, learn about how to soak different seeds for eating HERE, or how to soak nuts to reduce phytic acid HERE.