I may receive a commission if you purchase through links in this post. I am not a doctor; please consult your practitioner before changing your supplement or healthcare regimen.
You've probably heard of using activated charcoal when you're sick with food poisoning or have had too much alcohol? You've also heard about the health benefits of apple cider vinegar? This supplement combination can be used daily for unparalleled detoxification. Results include: cleansing of the liver and gall bladder, help clearing up stubborn acne, improvement in digestion and adsorption of gastrointestinal toxins.
We'll look at both apple cider vinegar and activated charcoal, and then look at how these inexpensive supplements work together.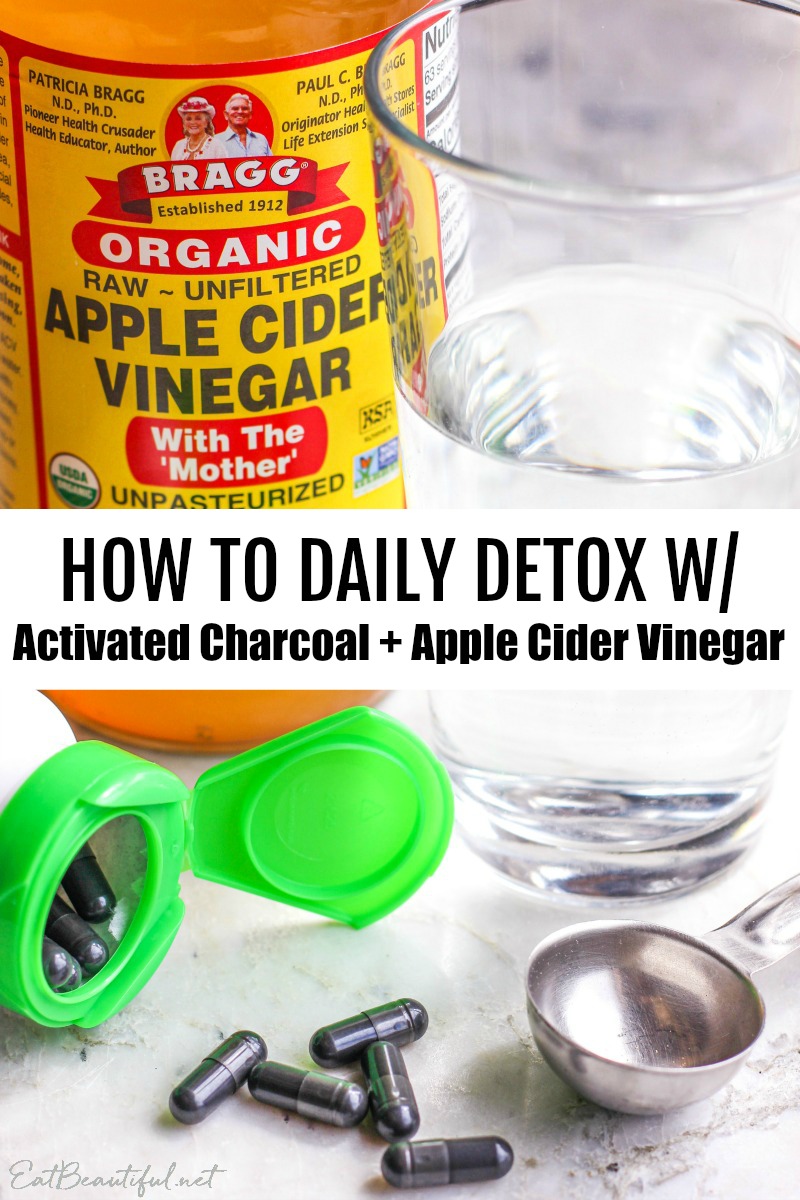 How apple cider vinegar helps with detox
Apple cider vinegar aids weight loss. Because fat stores toxins and excess fat disrupts normal metabolic processes, obesity is more strongly correlated with lifestyle-related diseases. (source) Detoxification naturally occurs with weight loss, especially if toxins can be ushered safely from the body.
The acetic acid in vinegar reduces inflammation and improves gut microbe composition. Both of these outcomes allow the body to detoxify. (source)
Vinegar intake improves blood glucose in humans. Glucose levels are directly correlated with one's toxic load. (source, source)
ACV stimulates the liver to produce bile (which holds toxins) and the gall bladder to excrete bile into the GI tract.
What remains then is to usher those toxins safely out of the body. This is where activated charcoal comes into play. (To some smaller extent, apple cider vinegar also ushers toxins out.)
How activated charcoal helps with detox
While I have used activated charcoal (find it here) for years, I used it for rare cases of food poisoning or other emergency cases, such as recommending it to an elderly relative who had diarrhea that wouldn't stop.
But my naturopathic doctor was the first person to share with me how to use activated charcoal more often to adsorb internal toxins.
Our bodies have various methods of naturally detoxing: urination, bowel movements, sweat. But internally, we need a porous supplement that binds with and ushers out GI toxins.
Activated charcoal is effective in this role, affordable and incredibly convenient.
Activated charcoal is a special form of carbon that can bind other substances on its surface (adsorption).
Adsorption works by chemically binding the body's impurities to the carbon (charcoal). The active sites in the charcoal eventually become filled. Activated charcoal is a special form of carbon processed to have small, low-volume pores that increase the surface area available for adsorption or chemical reactions. Due to its high degree of microporosity, one gram of activated carbon has a surface area in excess of 32,000 sq ft, or larger than a football field! (source, source)
(In contrast, when something is absorbed, it gets soaked up and assimilated into the blood stream.)
Modern health benefits of activated charcoal
Today, many doctors use activated charcoal to remove a range of toxins, drugs, viruses, bacteria, fungus, mycotoxins and chemicals from the body. (It is not true that charcoal binds to heavy metals, though.)
Activated charcoal may be able to assist kidney function by filtering out undigested toxins and drugs from urea (the main by-product of protein digestion).
AC is the most commonly used method of gastrointestinal decontamination in emergency rooms today.
Activated charcoal has also been shown to protect gut flora during the use of antibiotics.
Estrogenic compounds are of increasing concern in today's food supply and environment. They mimic natural estrogens in the body and wreak havoc on hormone levels and can be cancer causing. AC adsorbs xeno- and phyoestrogens and ushers them from the body.
Several studies have shown that activated charcoal may help reduce cholesterol levels. Again, AC binds with cholesterol and cholesterol-containing bile acids in the gut, preventing the body from absorbing them.
And while many people use activated charcoal for acne or other skin conditions topically … acne is the body's way of pushing out internal toxins and can be used more effectively internally.
My doctor reminded me of this: Cystic acne is the body's attempt to detoxify! That is why activated charcoal works so well to reduce and improve acne symptoms.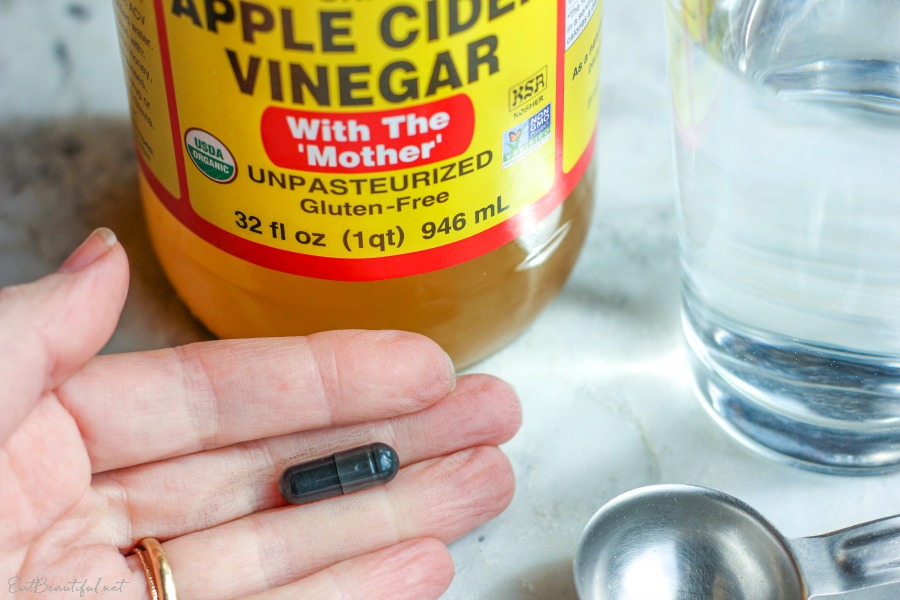 How to use apple cider vinegar with activated charcoal to detox
Used with apple cider vinegar, which helps the body to excrete toxins through bile, activated charcoal adsorbs these toxins, both in the stomach and in the intestines, and ushers the toxins safely from the body.
In regard to acne: Detoxified thus, the body does not need to push the toxins out of the skin; they have already been removed!
The same is true of lesser-known toxins, such as the possibility of excess vitamin A. A myriad of toxins are removed from the body — cleansing the liver, reducing the body's toxic load and reducing symptoms.
This benefit I've personally experienced. Great improvement to skin and overall health from my morning dose of water, ACV or gentian and activated charcoal.
My teenage son has also seen a huge improvement in his skin from this daily detox dose. Out of consideration for him, I have not included before and after photographs (not that he would have let me LOL), but it's made a significant difference in his complexion.
Alternatives to charcoal or apple cider vinegar for detox
For a fruit-free variation, I use gentian tincture. Gentian is a bitter herb that performs a similar role as ACV. Gentian stimulates and cleanses the liver and gall bladder, as well as aids in digestion.
However, ACV is better for liver function and health; so if you can use it, do.
Lemon juice may also be used, mixed with a small amount of water, in place of ACV.
Alternatives to activated charcoal may include: bentonite clay, zeolite and citrus pectin. Each of these binders has its own properties and varies from charcoal in its qualities and benefits. I won't go into the differences here, but feel free to ask any specific questions in the Comments section below.
Find activated charcoal here.
How to do a Daily Detox with Activated Charcoal + Apple Cider Vinegar
I am not a practitioner, so ask your doctor about dosage. I always take my dose in the morning on an empty stomach. Here's a recipe for daily use that I use for our family:
Add one tablespoon of apple cider vinegar to 12 or more ounces filtered water.
Swallow activated charcoal pill with ACV water. (I take just one capsule activated charcoal daily.)
Drink plenty of water daily.
Wait to eat for about 1 hour.
To use gentian in place of ACV, I use 1/3 of a dropper in a small amount of water + more plain water. (You can buy gentian tincture here, or make your own here.)
More than one capsule may be unnecessary for a daily maintenance dose and cause constipation in some.
History of activated charcoal for detox
As the National Poison Control Center tells us, "Activated charcoal has historically been used to clean water and as a treatment for many ailments. An early demonstration of the adsorptive properties of activated charcoal occurred in 1813 when the French chemist Bertrand drank 5 grams of arsenic trioxide (a very poisonous substance) mixed with activated charcoal and survived." (source)
Ayurvedic and Eastern medicine practitioners have used activated charcoal for millennia — to cleanse toxic mold spores from the body and even to whiten teeth (by adsorbing the oily substances that build up on teeth as well as removing common food stains — although this may be too abrasive for tooth enamel). Internally, activated charcoal binds itself to mold's mycotoxins — the very cause of symptoms. When mycotoxins are removed, the body's natural healing responses are more effective.
During the Bronze Age, as first recorded in 3750 B.C., the Egyptians discovered that charcoal did not rot. They and many other primitive civilizations discovered that the use of charcoal helped to create sea-worthy crafts as well as protect residential buildings.
Because charcoal can be produced from a variety of raw materials, diverse cultures discovered its many uses: purification of drinking water, toxin remover, blood purifier, gas and bloating remedy, insect bite relief and anti-aging. In the first World War, charcoal was used to create gas masks.
Today, clothing for hunters is made with activated charcoal, as it adsorbs the body's odors, preventing hunters from being smelled by their prey.
What have your experiences been with apple cider vinegar and activated charcoal?