I may receive a commission if you purchase through links in this post. I am not a doctor; please consult your practitioner before changing your supplement or healthcare regimen.
How to Make 2-Ingredient Digestive Bitters is a recipe for making digestive bitters with gentian root. It's not only the easiest bitters recipe, it's also the most effective and allergy-friendly (or gentle) bitters to use.
Why make and use digestive bitters
A few supplements come to mind as being fundamental for good health, for most people.
Digestive bitters is one of them.
Bitters is an herbal tincture that improves digestion and liver function.
But the key to this article is also saving money. One 4-ounce bottle of bitters costs over $40. Our family of five goes through those bottles quickly. Our budget finally prompted me to make my own! If you're not making your own yet, this 2-ingredient recipe should convince you. With just vodka and one herb, this tincture takes only 5 minutes to make. Plus it's fun and empowering!
Gentian
Several herbs usually go into bitters recipes, but that's not necessary. There is one best herb. It's my powerhouse favorite, and it does it all. The other herbs do have roles and benefits too, but there is one herb that is the best at improving digestion and detoxing the liver. That herb is gentian.
2 Ingredients
Gentian is a strong, bitter herb that stimulates the liver to produce bile. Gentian also stimulates the gall bladder to release bile into the stomach. This whole process detoxifies the liver and helps the stomach to break down fat and protein. (Read more about gentian's health benefits below the recipe.)
The second ingredient in this recipe is vodka. You can buy any 80-100 proof vodka you prefer, whatever is inexpensive. You may choose to buy pure, gluten-free vodka.
All you need to do? Order dried gentian root. When it arrives, you are ready to make this recipe in just 5 minutes. Your gentian tincture will steep for one month before it's ready to use. Get ready now, so it's ready sooner! (Find gentian root here.)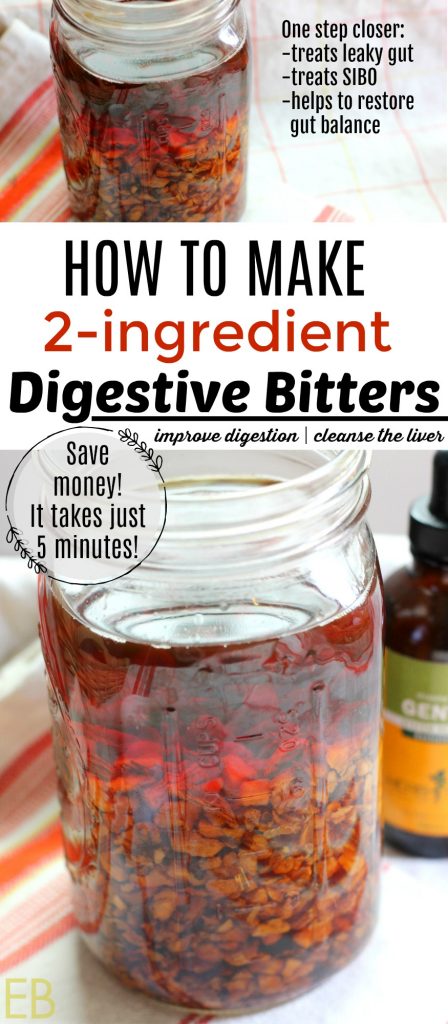 How to Make Bitters
You can use any size jar, to make as much or as little bitters as you need.
Fill jar 1/3 of the way with gentian root.
Pour 80- to 90-proof vodka over the root, and fill the jar to its neck.
Cover and place jar in cool, dark location for 1 month. (Tip the jar and herbs upside down every other day or so.)
Strain into another bottle, or several small bottles (find bottles

here

) with dropper lids. (Find funnels

here

.)
(Use one dropper of gentian bitters with each meal that contains fat and/or protein. Dilute in about 1-ounce of water. Preferably, drink before, during or, if you forget, after the meal.)
Bitters' Other Health Benefits?
While most people need the boost gentian bitters provides, those with common health struggles need bitters most:
Most with GERD will benefit. Bitters shuts the valve between stomach and esophagus, preventing stomach acid from traveling up and causing painful symptoms.
Most with SIBO will benefit. Bitters stimulates the closing of the ileocecal valve, located between the large and small intestine, preventing the large population of flora in the large intestine from traveling up to the small intestine.
Most with leaky gut will benefit, although some may need Vitamin U first. (Read about Vitamin U here.) Bitters creates the correct pH in one's stomach, aiding digestion, breaking down large food particles, aiding in the gut's healing process over time.
Gentian bitters creates an inhospitable environment for pathogens of every kind, including bacteria, viruses, fungi, protozoa and intestinal worms. It helps to restore floral balance by killing and discouraging pathogenic overgrowth while supporting the development of beneficial flora. (No other bitter herb can boast this anti-pathogenic profile!: being able to kill even protozoa and worms.)
While some say gentian is one of the strongest bitter herbs, and it's true that it's VERY effective … The fact is: It's also very gentle. Gentian is not harsh in the stomach, and it's more allergy friendly than herbal combinations. Many of us can not tolerate orange peel or other ingredients. Gentian, however, works for most people.
Will you make your own gentian digestive bitters? Find dried gentian root

here

, (or if you're not yet ready to make your own, find the ready-made tincture

here

).