I may receive a commission if you purchase through links in this post. I am not a doctor; please consult your practitioner before changing your supplement or healthcare regimen.
Mineral-rich and volcanic in origin, bentonite clay could be considered a panacea amidst the world's deluge of toxins. Chronic degenerative diseases and cancer are modern health epidemics. Here we discuss why and how to drink bentonite clay: Bentonite clay provides minerals to the body, even while it helps to repair the gut and detoxify the system. Bentonite clay cleanses the body of toxins and gives energy to cells. Anti-radiation and cleansing from plastics, yes, that too! Let's look more closely…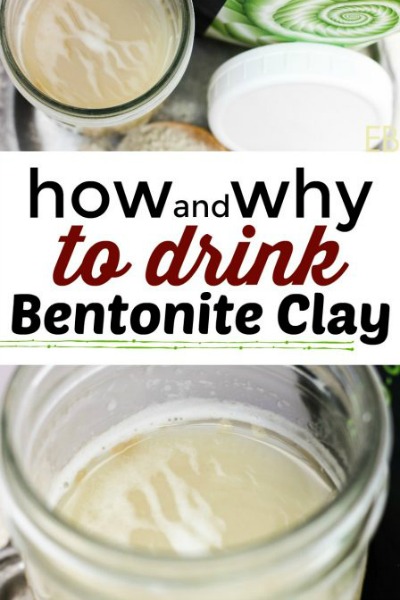 How Does Bentonite Clay Work?
For millennia, native people groups have recognized and used bentonite clay for its cleansing and energizing properties. Over 100 scientific studies have explored the historical and current uses for bentonite clay, confirming its healing properties and the extreme safety of its uses (source).
Bentonite clay is sponge-like and able to absorb forty times its own weight in positively charged substances (such as toxins and pathogens) throughout the alimentary canal. Bentonite clay can not be digested, so it helps the body to excrete these waste products.
Bentonite clay sweeps through the system cleansing or healing conditions that are otherwise difficult to combat:
Dietary toxins
SIBO
Flouride contamination
Toxic metals
Diarrhea, IBS
Every cell in the human body excretes waste. Bentonite clay absorbs that waste, relieving the body's toxic burden. Organ function is benefited by the reduced toxic load: Bentonite clay absorbs toxins before they get processed by the liver and kidneys. Toxins are also absorbed before they get backed up in the colon. This allows the intestines and colon to absorb more dietary nutrition!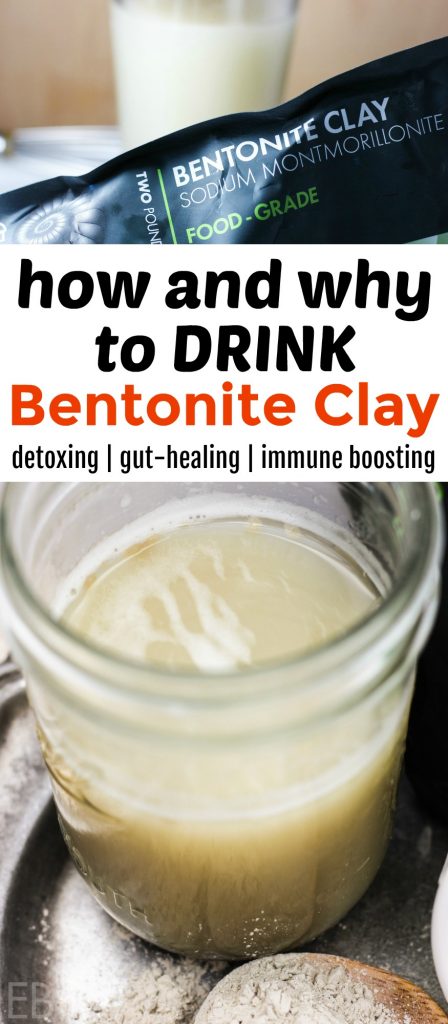 Bentonite clay is also alkalizing, renewing the body's inner environment and making it inhospitable to the growth of cancer cells.
Bentonite clay energizes! It has an innate electromagnetic negative charge, hearkening back to its volcanic origins. This power allows bentonite clay to ignite cells with improved function and balance, revitalizing the whole body. Revitalization of cells allows the organs to function better and the body to rebuild itself.
Bentonite clay also attracts hydrogen. This allows cells to take in more oxygen!
Bentonite clay prevents and cures aflatoxin toxicity. Aflatoxin is a cancer-causing mold commonly found in peanut butter, corn and other foods. It's an extreme immune-suppressant (source).
Bentonite clay is anti-bacterial.
Benefits of drinking bentonite clay? Healing of the digestive system, excretion of toxins, improved organ function, increased nutrition from food, oxygenation of cells, antibacterial (can replace antibiotics in some cases).

Detoxing Plastics and Pathogens
Whether it's from our phones, clothing, chewing gum, contact lenses, take-out boxes, plastic wrap, restaurant storage containers, or the plastics found in the water we drink, how do we detox the plastics that we touch and consume? (source)
I recently wrote about the value of sea salt, over the use of mined salt (read that post here); but sea salt's one drawback is its contamination by plastic. The fact is: We can't escape plastics in our modern world. But we can detox them. Our bodies can handle a certain toxic load; and our bodies are wired, if given the right dietary advantages, as well as low-stress, and good supplements, to be able to usher those toxins out of the body.
We can also detox plastics with supplements like diatomaceous earth (DE) and activated charcoal (source).
On a related note, one of the MOST important steps in my healing process is practicing grounding, or earthing. (Read about it here.) My doctor restored my proper organ function through this practice. During the process, I learned about negative ions. Both pathogens and plastics, like toxins and heavy metals, are positively charged. Bentonite clay, in contrast, is negatively charged. It attracts pathogens and plastics to itself and ushers them out of the body.
Benefits of drinking bentonite clay? The removal of plastics and pathogens from the system!
Find bentonite clay here.
Radiation Exposure
Have you had an x-ray recently, perhaps a mammogram? Or do you work in a hospital or dental office? Actually, being human in this modern age means exposure to low level radiation on a regular basis. Radiation exposure is all around us. Here are some common forms of radiation that most of us are exposed to daily:
Cell phones
Computers
X-ray machines
Smoke detectors
WIFI routers
Cigarette smoke (source)
The millions of pores in bentonite clay draw in radioactive contaminants. Clay is used for the removal and storage of radioactive wastes because it will mop up any leakage, preventing further contamination. Even animals exposed to the Chernobyl disaster were considered edible after prolonged treatment with bentonite clay! Both Russian scientists and American military have habitually used bentonite clay to protect themselves from radiation poisoning (source).
After cancer treatments such as chemo and radiation therapy, a patient's immune system is compromised. Bentonite's negative ions allow it to strengthen and awaken that body. Bentonite clay increases one's T-cell count, fights free radicals and was shown in one test to cause oxidative stress upon cancer cells (source and source).
Benefits of drinking bentonite clay? Healing from radiation poisoning and the strengthening of the immune system!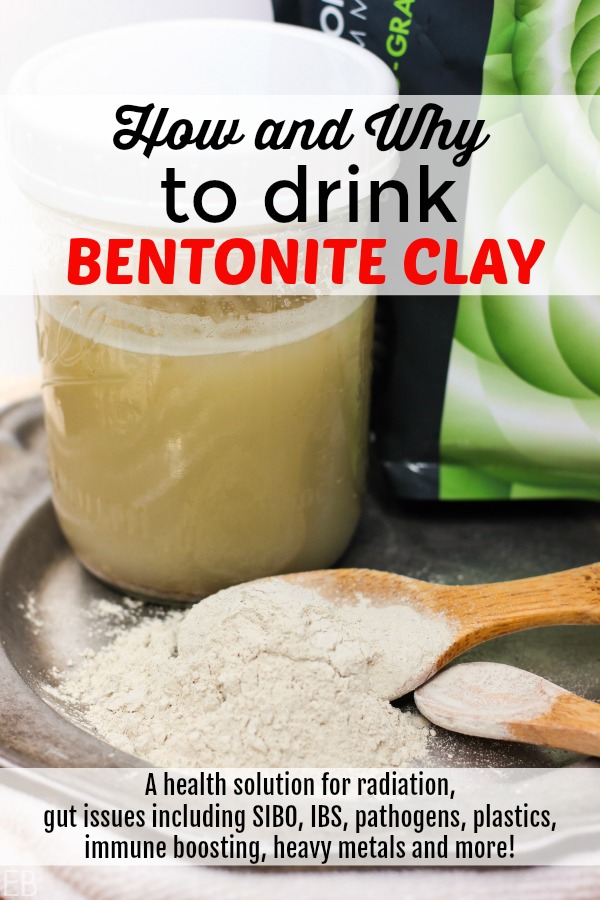 Which Bentonite Clay to Choose
A company called Sonne's removes the impurities from bentonite clay (dirt, mica and impurities) so the active ingredient, montmorillonite, is more concentrated. (Find Sonne's Bentonite Clay here. Use code BEAUTIFUL10 at checkout for 10% off your order.) If you choose this gentle product, most adults take 1 tablespoon on an empty stomach first thing in the morning, in a glass of water. Another tablespoon is recommended before bed each night, in a glass of water. This regimen can be taken long term or short term, depending on an individual's health goals and challenges. Consult your functional or naturopathic physician.

Here's another great clay company. They offer green clay and have some wonderful testimonies as well as a free eBook.
Some recommend taking bentonite clay with psyllium husk. This plant material is effective for many as a laxative. Psyllium husk can effectively help to move the clay and toxins out of the system. But in a very few patients, psyllium husk actually has the opposite effect; it can cause blockage or constipation. Based on my own ingestion of bentonite clay and reading extensively on the topic, psyllium husk may be unnecessary.
The key to avoiding constipation when taking bentonite clay is to drink LOTS of water, a lot more than you usually do (I drink about 3-4 extra glasses per day), and having a proper diet. Our diet should be free of processed foods and sugar. While bentonite clay will firm up loose stools, it will likely not cause constipation unless there is old fecal matter in the colon and not enough water is consumed (source). Constipation will resolve with the continued use of clay and extra water. Some sources caution that constipation from drinking edible clay reveals the degeneration of the system. Clay more often and regularly is recommended over abandoning the practice (source). Consult your practitioner to be sure of what's right for your body.
Others encourage the ingestion of castor oil to encourage an effective purge of the toxins. Again, be careful with this and start slow, as internal use of castor oil can cause diarrhea or GI discomfort.
Most sources recommend bentonite clay on its own, at least to start, which I found to work well. Remember to always take bentonite clay with lots of water.
I have also found it's helpful to start with less bentonite clay, and work up to more after you see its effects. The recipe below starts with just half a teaspoon daily. This approach is gentle, yet I still notice the benefit. The amount can be doubled, tripled etc. when the patient is ready.
What most sources don't expound upon enough, in my opinion, is the approach of starting slow. While many sources recommend drinking 1-3 teaspoons (or more) of clay mixed with water daily, there are some who remind us that after the below solution is mixed (see Recipe), it's appropriate to drink just 1 ounce of the clay water daily for the first week. Week 2 the patient may increase to 2 ounces daily. And then 2 ounces twice daily, once in the morning and once at night.
Letting the mixture sit overnight, and allowing the sediment to settle and drinking just the clay water from the top of the mixture in the morning is another gentle approach.
When health goals have been reached some patients consume an ounce of clay water every 2-3 days for maintenance.
In addition to increasing one's water intake, starting slow may be the best approach for avoiding constipation as well as seeing the benefits bentonite clay has to offer.
Drink Recipe when using powdered bentonite clay: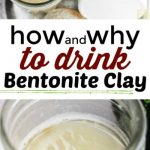 Print Recipe
Bentonite Clay Drink (for detox)
See the main recipe below, or see the Notes section for a bulk recipe that you only need to mix up once a week. Do not take with other supplements or medications.
Ingredients
8

ounces

water

filtered (not distilled)

½ to 1

teaspoon (or more; see Instruction 5 below)

bentonite clay

see link for safe source of bentonite clay in Recipe Notes
Instructions
Put bentonite clay and about 2 ounces of filtered water in 2-4 cup mason jar with plastic or coated metal screw-on lid.

Shake vigorously (about 60 seconds). Once mixed, add remaining 6 ounces of water. Shake again.

Drink immediately; or let sit out overnight, and drink in the morning: Some sources say the overnight soaking is best to activate the clay.

Follow by drinking additional filtered water.

For general detox, use up to 2-

½

teaspoons bentonite clay daily for 2 weeks, in divided doses, morning and night: about 1-

¼

teaspoons in the morning and the same in the evening. For heavy metal detox, 1-

¼

teaspoons can be taken 3 times daily. For general long term use, 1-

¼

teaspoons can be taken once daily. More may be taken at any point, as desired. Increase gradually.
Notes
Here's

food-safe, bulk bentonite clay supplement, intended for internal use.
Here's

psyllium husk, if you'd like to add it (1 teaspoon) to prevent constipation.
BULK RECIPE
To make a larger portion of Bentonite Clay water that you can drink daily, but only make once a week or so, follow this recipe:
Place 2 ounces bentonite clay in 16 ounce jar.
Add 16 ounces water, and shake vigorously.
Allow to sit out for 24 hours, during which time the clay activates more.
Shake, and drink about 2 ounces daily, or less depending on your body.
Follow by drinking a full glass of water.
Is there Lead in Bentonite Clay?
The short answer is Yes, and aluminum too; but they're not bioavailable. Here's a helpful post if you'd like to read more on the topic (source).
Topical Use of Bentonite Clay
Bentonite clay is most commonly used topically. A clay paste is applied on the face and armpits; clay is dissolved in full body baths and for detox foot baths. This last option is both economical and effective for internal detoxification. Here's one foot bath recipe that includes bentonite clay.
For anyone with an autistic child, diabetes or serious heavy metal contamination: You might consider whole body baths with bentonite clay for their cleansing and calming benefits. We have found it's best to start with hot water in the blender; and blend the clay. Once dissolved, the blender contents can be added to the bath water. (Rinse clean the blender directly after use. See below for concerns about mixing clay with metal tools.)
For beauty purposes: Looking closely at animal husbandry practices, bentonite clay actually increases wool production in sheep! (source) I like to think it may give us more beautiful and abundant heads of hair too! Historically bentonite clay has been used in Iran for these purposes, although there are not yet scientific studies on the topic.
Other concerns?
Use with metal? How to mix it? — Many voices have been raised over the use of metal mixing tools with bentonite clay. This concern is valid only if the metal is exposed for an extended period of time and especially if the clay is wet. Note, all clay is mined with metal tools! BUT: Don't leave a metal implement in a glass of wet clay or clay water overnight. HOWEVER: It IS actually safe to use a metal whisk or metal-bladed blender with bentonite clay, briefly. After the clay is mixed, simply rinse the whisk or blender immediately and thoroughly (source). When mixing clay for internal use, the best method is outlined in the recipe above: Shake with water in glass jar.
Keto/low carb? — Bentonite clay has no calories, a zero glycemic index and is not a digestible food. It is safe for Keto and low carb diets.
When to take it — It's recommended by most to take bentonite clay before a meal, by 30-60 minutes. The main reason is that clay is very alkaline (it has an 8.5-10 pH). Ideally, for digestion, the stomach should have a 1-2 pH, (which is why many of us take bitters or Betaine HCl). While we want alkalinity within our bodies (to avoid cancer and other illnesses), the stomach's pH needs to be acidic while it's digesting. Clay, will not, however rob our bodies of food's nutrition! It is selective and draws positively charged toxins to itself. So it certainly can be taken with food. Some sources recommend taking bentonite clay with food, if extreme food sensitivities exist, to create a less caustic environment.
Its effect on flora — Raymond Dextreit, author of Earth Cures, said "Clay is incomparable for maintaining or re-establishing a good normal flora…" All herbal authorities agree that bentonite clay works alongside the gut's flora to create a more balanced microbiome.
Pill or capsule form? — The clay needs to be in its liquid state for optimum benefit. Clay begins to work in the mouth, and is in its active state even in the mouth. Once a dry tablet or capsule dissolves, a lump of clay is left in the stomach. It needs water not only to activate it, but to carry it through, to coat the digestive system properly. Pills and capsules of clay should be avoided.
How long to use — Perry Arledge, author of Calcium Bentonite Clay, explains the lasting effects of bentonite clay, but also encourages its long term use:
The vibrational resonance of the electromagnetic energy of clay in stimulating blood flow and circulation has a lingering essence. It's somewhat like forgetting to plug your cell phone into a charger. It may take a few days to completely lose the charge. Clay is like a charger that keeps the body balanced and in equilibrium and thus energized. It is best to take clay on a daily basis and keep a steady balance in your body.
Cautions and Tips
Here I want to briefly address concerns about the safety of consuming bentonite clay. While there are over a hundred scientific studies about its uses and safety, plus thousands of testimonials, there are still a couple of voices that say otherwise. My post is not meant to be one-sided. Simply put, I have personally benefited from the ingestion of bentonite clay. I actually love what it's done for my body. But when I read the concerns voiced, I think it's important to consider each point to be sure, of course! We want to be cautious and wise; that's the whole reason we're talking about taking bentonite clay to begin with: to further our own healing.
Here are some cautions and tips:
Don't ingest bentonite clay at the same time as DMSO, a prescription medicine sometimes taken for bladder and other conditions. They can, however, be taken separately.
Do not take bentonite clay with any medication.
Although it is unlikely to interfere with natural supplements, take bentonite clay 30-60 minutes away from or at a separate time from supplements.
Do not take clay baths mixed with magnesium in bathwater. There are different actions occurring: Clay draws toxins in, while magnesium is absorbed by the body.
After consuming bentonite clay and water, wait 60 minutes to eat, allowing it to sweep through the stomach and do its good work, unaffected by the acidity required for digestion. (Ideally, use Betaine HCl or Digestive Bitters to create the optimum pH for digestion directly before eating. Find them

here

and

here

.)
Any other concerns about ingesting bentonite clay?

Here's

a helpful article and website.
Best resources? Want to read more about healing clays? Here are four top books on the subject:
Additional References
https://www.allaboutfasting.com/colon-cleanse-recipe.html
http://www.calciumbentonite.net/bentoids/bentonite-background.html
https://www.holisticcancerfoundation.com/reducing-chemo-radiation-symptoms /
http://www.bentoniteclayinfo.com/clay_info.html
http://www.eytonsearth.org/clay-sleep-disorder.html
https://www.earthsnaturalclay.com/blogs/blog/87074183-boosting-liver-function-with-bentonite-clay