I may receive a commission if you purchase through links in this post. I am not a doctor; please consult your practitioner before changing your supplement or healthcare regimen.
Candida overgrowth is an epidemic in our modern times, due in part to the overuse of antibiotics, birth control, steroids, hormone replacement therapy, over-consumption of sugar and stress. Many of us don't know the imbalance is occurring until a full blown case of jock itch or a yeast infection breaks loose. Overcoming infections includes omitting certain foods and using topical applications, but what we do internally with supplements like diatomaceous earth is pivotal to getting well.
Candida
During hot summers, there are lots of sweaty parts! 😉 A warm sweaty crotch is ripe for candida growth. My husband got an awful case of jock itch late spring/early summer a few years ago. For the first time in his life, he had to completely cut out all foods that candida, too, can consume. He went about a month on a grain-free, anti-candida diet, in addition to using topical treatments, and finally came out victorious. But boy, what a doozy. That kind of itching will almost break you!
I link here to my post on yeast infections. I, too, have battled them and come out victorious. In the process, I learned a lot, and I'd like to provide information so you can heal and avoid them as well. We even learned a new trick due to the pesky, determined nature of my husband's outbreak, a surprising remedy that was the final key to his relief.
Diatomaceous Earth
Diatomaceous earth (find it here) is actually the razor-sharp remains of tiny fossilized creatures from millions of years ago:
Diatomaceous earth is made up of the tiny microscopic remains of single-celled diatoms that have been fossilized millions of years ago. It has electromagnetic properties that actually attract and trap toxins, fungus, yeast, and bacteria in a honeycomb-like structure so that the body can expel it naturally through the digestive system's waste. In addition, the coarse nature of diatomaceous earth works as a scrubbing agent on the intestinal walls to get rid of the plaque buildups that the yeast infections thrive in. (source)
Although DE is described as abrasive, the gut lining will not be harmed by it. The microscopic nature of DE powder allows it to harm pathogens without harming our tissues.
When purchasing DE, there are different grades available. Be sure to buy food grade.
BEYOND CANDIDA
Harmful yeasts and bacterial species go beyond candida. Candida are one among 300 to 1000 gut bacterial species, several of which can become invasive if enough good flora are killed. This article is not just about eradicating candida. For those of us with internal overgrowth, not a one-time flare-up of jock itch or a yeast infection, there are many foe on the loose, literally weaving their nasty tendrils into the lining of our gastrointestinal tract.
Fungi, parasites, bacteria, (and even heavy metals) can be diminished using diatomaceous earth.
DE isn't going to rout the bad guys all by itself. But it is a key player in exterminating populations that would be less harmed by other methods. My own personal experience with using DE combined it with a rotation of pathogen killing herbs and the anti-candida diet. (Here's my post on killing yeast, Part 2. In this post I share more details about the herbal regimen and biofilm.)
Regarding diet, I was already on the GAPS diet; but when I continued to struggle with outbreaks (I had a horrible case of thrush during my nursing years), I went further by following the recommendations of the anti-candida diet. (This must be done in conjunction with GAPS, in my opinion, to be effective.) I eliminated all fungi from my diet: no mushrooms. I eliminated cheese, peanut butter, all veggies that are fructose-rich, so beets and carrots … and I got well!
It's pretty amazing, when you feel that bad for a long time, to finally get well again. You begin to wonder if it's even possible to find relief. You keep trying. And yes, eventually relief comes.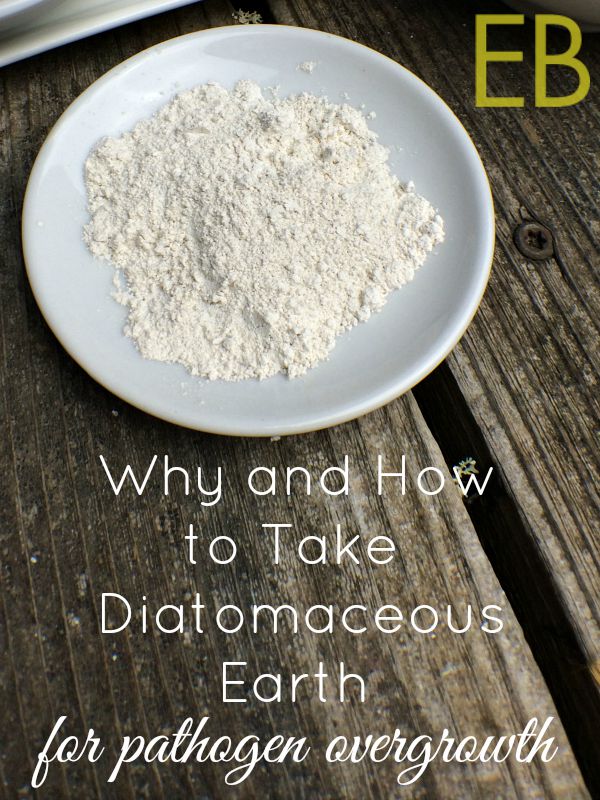 DOSAGE
I am not a nutritionist or doctor. I'll tell you what my practitioner told me, in terms of how to use DE. And then you can investigate further with your functional medical or naturopathic physician to make sure this is the right path for your body.
My doctor had me take 1 teaspoon DE, 3 times daily, stirred into about 4 to 6 ounces of water. I did this about fifteen minutes before each meal.
It tastes super chalky and powdery, and then it's down the hatch! Since that time, just recently, I had the idea to bake with it. Since it's a powder, like flour, I thought it might work. I found online that a few others had tried it before and that scientific experts on DE gave this method their thumbs up. So I came up with two recipes using this idea.
Each recipe only contains one tablespoon of DE. Too much can cause constipation. But one tablespoon works great. You can eat 1 to 2 biscuits or a few energy ball cookies and be perfectly in line with how much DE you'd be taking if you drank the 1 teaspoon before a meal.
Here's the biscuit recipe and here's the Energy Ball recipe.
You can purchase food grade diatomaceous earth here.
Blessings upon you; may you defeat your pathogen overgrowth too!