I may receive a commission if you purchase through links in this post. I am not a doctor; please consult your practitioner before changing your supplement or healthcare regimen.
Perhaps you've heard of aflatoxins in peanut butter, that silent but deadly mold that you can't usually see but that's actually harmful?
In this article, we'll look at how much mold the leading brands of peanut butter have and how to remove aflatoxins from peanuts or peanut butter.
Is there a peanut butter without aflatoxin? The answer is, yes! But, it's a little complicated …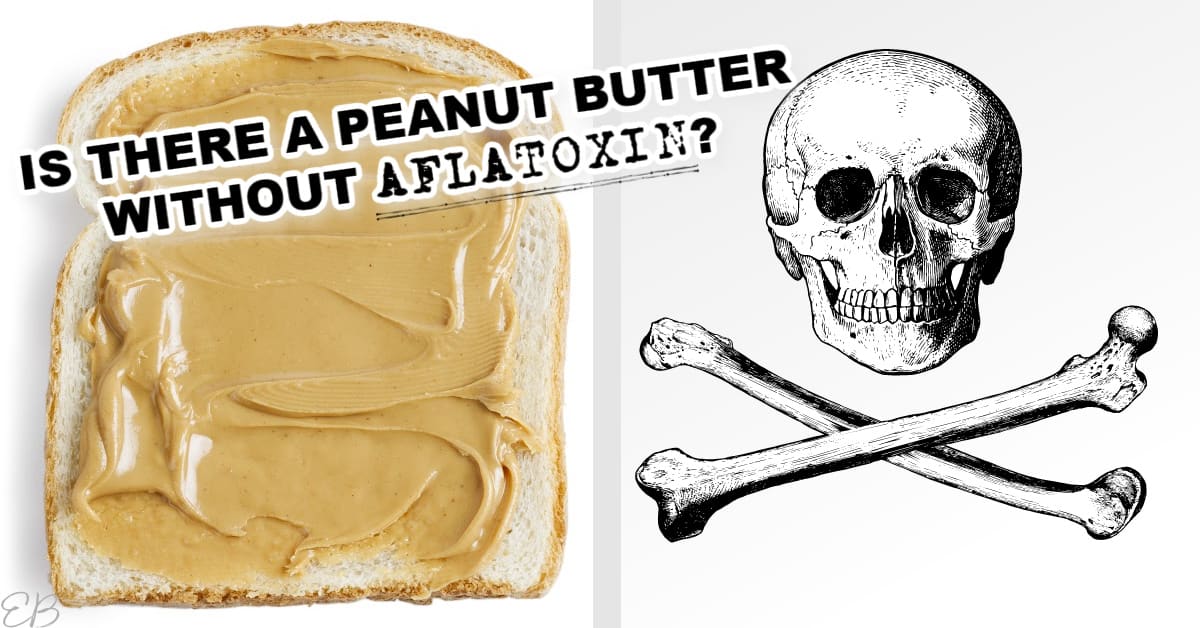 Does all peanut butter have aflatoxins
From JIF to Trader Joe's, how much mold is in your peanut butter?
I decided to find out.
I sent two leading brands to a lab that specializes in the country's best aflatoxin testing. The testing they use is the gold standard for trace analysis of toxins.
In addition to JIF and Trader Joe's Organic Peanut Butter, I sent them four other samples so I had points of comparison:
homemade peanut butter from roasted peanuts
peanut butter from soaked, sprouted and roasted peanuts
homemade fermented peanut butter
raw Jungle Peanut Butter (claims to be 99% aflatoxin-free)
I fermented one batch because I wanted to see how much it would reduce aflatoxins compared to the other homemade and store bought peanut butters.
The results surprised me quite a bit, so let's look at the findings and lab work…!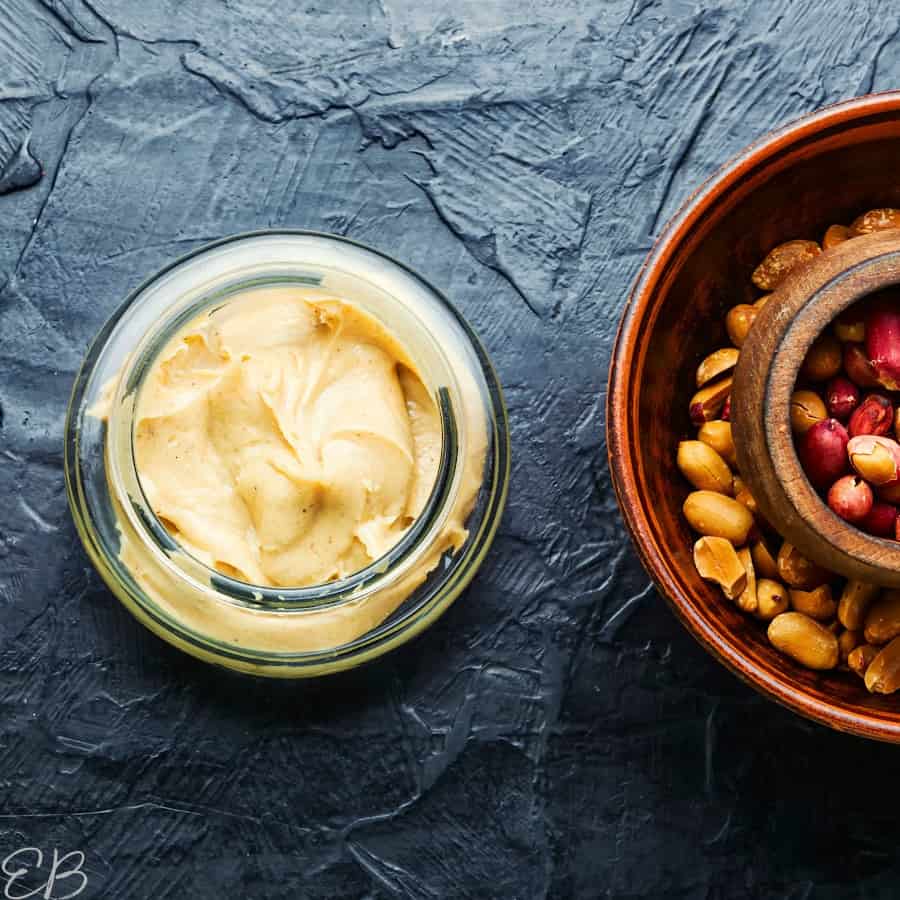 Should I worry about aflatoxins in peanut butter
What are aflatoxins?
According to the dictionary, aflatoxins are: "any of a class of toxic compounds that are produced by certain molds found in food, and can cause liver damage and cancer".
Aflatoxins may also produce allergic responses, digestive inflammation, autoimmune or heart issues, problems with growth and development and parasite infestation.
Several mycotoxins in agricultural products cause health hazards and death to people and animals. Aflatoxin is the most potent among mycotoxins.
Which foods have aflatoxins
From the National Cancer Institute, "Aflatoxins are a family of toxins produced by certain fungi that are found on agricultural crops such as maize (corn), peanuts, cottonseed, and tree nuts. The main fungi that produce aflatoxins are Aspergillus flavus and Aspergillus parasiticus, which are abundant in warm and humid regions of the world. Aflatoxin-producing fungi can contaminate crops in the field, at harvest, and during storage."
One of the reasons peanut butter is no longer considered healthy is: It's considered high in aflatoxins.
While many Americans have switched away from eating peanut butter for this reason, similar amounts of mold may pervade most other tree nuts, as well as corn, cassava and oats.
As we'll see, in addition to careful growing practices, proper handling, processing and preparation of foods is essential.
Does natural peanut butter have aflatoxin
The short answer is, yes. But, there are products that don't and ways to eliminate it.
As you'll see below, many considerations affect whether or not your peanut butter has mold.
How many aflatoxins are allowed in American food products
Under FDA regulations manufacturers can have a maximum of 20 PPB (20ug/kg) total aflatoxins in food products.
Aflatoxins are actually a group of 4 toxins: AFG1, AFG2, AFB1 and AFB2.
The sum of these 4 compounds cannot be greater than 20 PPB.
How they're measured
The value used in testing for aflatoxins is 1.4 ug/kg — or 1.4 parts per billion. So, the lab can quantify a total of 1.4 ug of total aflatoxins per kilogram.
To further convey how sensitive that is, percentages are parts per hundred.
From the FDA's website, "The FDA may consider peanuts and peanut products containing total aflatoxins greater than 20 micrograms per kilogram (mcg/kg) or parts per billion (ppb)".
In short, the testing method is very sensitive.
How much aflatoxin is safe
The safe limit of aflatoxins lies in the range of 4 to 30 ug/kg for human consumption. (source)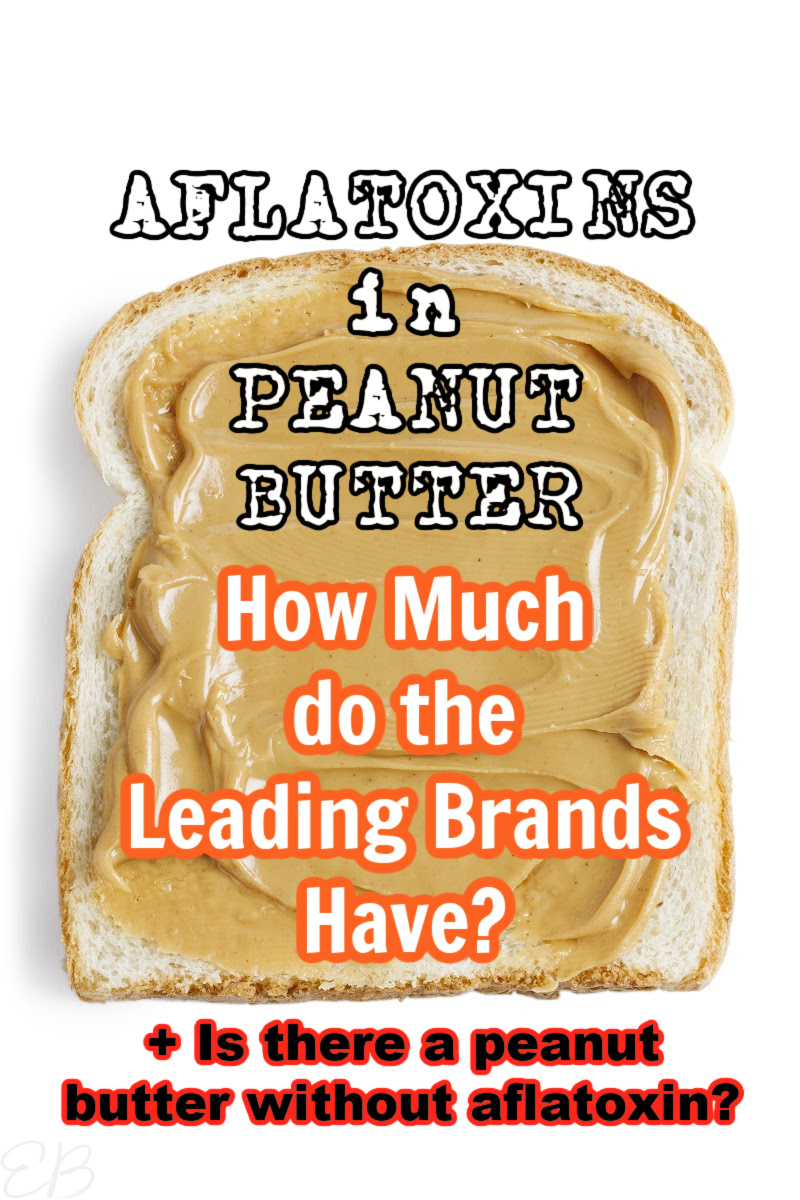 How to remove aflatoxins from peanuts
From an agricultural standpoint, there are some best practices that help to reduce or prevent the growth of aflatoxins. These include reducing moisture in growing areas and harvesting crops on time instead of delaying.
Once harvested, crops should be fully processed or stored in dry, cool places.
Peanut butter with lowest aflatoxin
Since aflatoxins are suspected in grains, nuts and legumes, including peanuts, the best way to reduce the mold is: de-hull, heat, cook and pressure cook. This can reduce aflatoxins by 50 to 70%.
For the most effective treatment: Ferment.
Fermenting can completely eliminate mycotoxins.
Fermented peanut butter has not only the lowest, but no, aflatoxins. (We'll talk more about what fermented peanut butter is below!)
Since most people do not want to ferment their peanut butter, I also provide other options.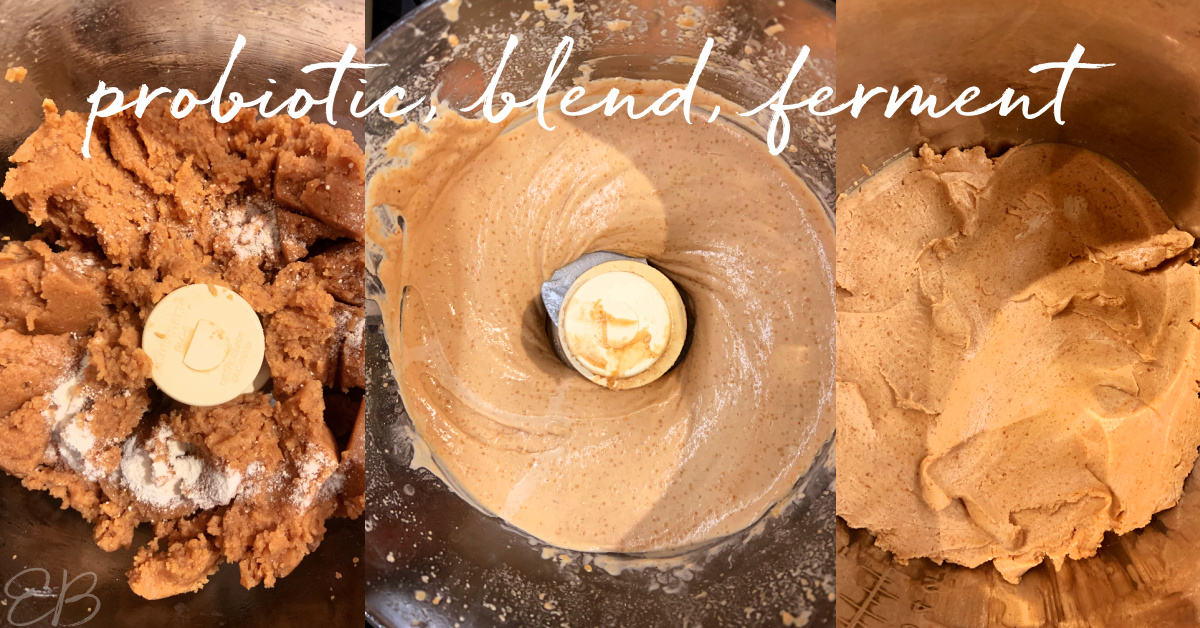 Modern farming
While fungicides in modern farming are dangerous for humans to use and consume, they do kill some aflatoxins that develop in the growing process.
This has led some people to conclude that organic peanuts may have more aflatoxins than conventional peanuts.
But as you'll see below, this is not necessarily true.
When buying peanut butter, nuts, legumes and grains
To reduce exposure to aflatoxins as a consumer, it's best to avoid these food items from overseas.
Try to buy from small, local and organic growers who care about their farm and produce, and who process their harvests efficiently and carefully.
Avoid the "grind-your-own" peanut butters that you see in natural food stores. These peanuts sit around for long periods of time exposed to various levels of moisture and temperatures, and are not measured for their aflatoxin levels.
How much aflatoxins in peanut butters tested
When I first set out to test the aflatoxin levels in peanut butters, I expected to see high numbers. Because we're all told peanut butter is high in aflatoxins.
However, American standards are relatively stringent on aflatoxins. So, it's not surprising, in retrospect, that most peanuts and peanut butters have relatively low aflatoxin counts.
I did not test all of the conventional peanut butter products available.
If I had, I suspect that most of the leading brands would have showed a very similar amount of aflatoxins to the amount found in the leading American brand: JIF.
Because any amount of aflatoxins may become problematic when consumed, some measurable amount of aflatoxin is likely still relevant, especially for those who eat the product on a regular basis.
These two peanuts butters showed detectable aflatoxin content:
JIF brand was found to have 6.28 ug/kg of aflatoxins. If I had tested Skippy and other leading processed brands with added ingredients, I suspect the results would have been similar. I would never eat these products as a result (and also because they contain other ingredients, including hydrogenated oils, that are clues we should avoid this food either way: Sugar, Fully Hydrogenated Vegetable Oils [Rapeseed And Soybean], Mono And Diglycerides, Salt).
Bulk organic peanuts from Amazon. I purchased these raw peanuts, roasted them myself, and then made peanut butter. The aflatoxin content in these peanuts was 2.12 ug/kg.
This is very interesting and helpful information because it means, of course, that most plain roasted peanuts on the market likely have aflatoxins up to the limit allowed by the U.S. government.
I wish I had also tested Maranatha brand's organic peanut butter. I have since read that they use Valencia peanuts and claim their product is virtually aflatoxin-free. It would be nice to know for sure.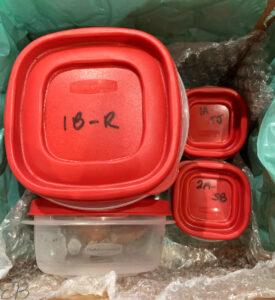 Which peanut butters did not contain aflatoxins
The following peanut butters tested did not contain aflatoxins high enough to be measured:
Trader Joe's organic peanut butter
Homemade peanut butter from these peanuts that I first soaked, sprouted, de-hulled and then roasted
Homemade peanut butter from these same peanuts that I fermented, after soaking, sprouting, de-hulling and roasting, to reduce any potential molds that may have existed
Organic Jungle Peanut Butter, which claims to be 99.9% aflatoxin-free. I thought I'd find out for myself if this was true, and it is.
I fully expected to see a small amount of aflatoxins in Trader Joe's product as well as some small variation in aflatoxin content between the jungle peanuts, sprouted and fermented products.
So, I found it at least slightly encouraging that none of the above products contained measurable amounts of aflatoxins!
Is aflatoxin-free peanut butter healthy
So, that's the question that remains.
If you're going to eat peanut butter, fermented peanut butter is the healthiest option. That's because it contains no mold whatsoever.
I sent two fermented peanut butters to the lab, one fermented for 15 hours and the other for 24 hours. Both came back with no detectable aflatoxins, so the shorter fermenting time is acceptable.
Fermented peanut butter also contains probiotics, and any other antinutrients, such as oxalates, are greatly reduced or eliminated.
For non-fermented peanut butter, follow these tips:
Be sure your peanuts are de-hulled, soaked, sprouted and roasted. This ensures the easiest to digest and most nutritious alternative to fermenting.
Choose Valencia or Jungle peanuts because they are both more carefully grown and less likely to have aflatoxins.
Also choose Valencia because instead of just PUFAs (omega-6 polyunsaturated fatty acids), Valencia peanuts contain monounsaturated fats that help to lower triglycerides. Valencia peanuts also contain all nine essential amino acids and the antioxidant resveratrol. (source)
Enjoy plenty of omega-3 rich foods the same day you eat peanut butter. This means good quality fish and pasture raised and finished beef.
Never purchase the "grind-your-own" peanut butters that you see in natural food stores. These peanuts sit around for long periods of time exposed to various levels of moisture and temperatures, and are not measured for their aflatoxin levels. Similarly, do not buy peanuts and grind your own, unless they're raw and you plan to sprout and roast them.
How to reduce aflatoxins in the body
A few herbs and supplements can help to detoxify the body of aflatoxins. My preferred choices include:
Why to limit the amount of peanut butter you eat
How bad is peanut butter for you?
Personally, I would not eat store-bought peanut butter, even with undetectable aflatoxins. That's because the products may still be rancid.
The exception to this is Jungle butter, which I believe is handled with more care. (Maranatha brand may be acceptable, too, their organic product with only 2 ingredients. I hope to have it tested in the near future, at which point I'll update this article.)
If you make your own peanut butter with sprouting or fermenting, still consider limiting the quantity:
Peanut butter is high in omega-6s. These are polyunsaturated fatty acids that we should greatly limit in our diets, otherwise inflammation erupts. If you eat a lot of chicken or nuts, your diet's omega-6 ratio is already eschew. If you eat a lot of pasture-raised beef, good quality seafood and very little chicken, you may have a little more room for nuts or peanuts in your diet.
Is there a peanut butter without aflatoxin?
The answer is, yes! It's fermented.
Learn how to make Fermented Peanut Butter here, and hear more about what it tastes like, too.
You can Pin this post here: