I may receive a commission if you purchase through links in this post. I am not a doctor; please consult your practitioner before changing your supplement or healthcare regimen.
Up to four herbs can be put into Dandelion and Nettles Detox Tea. They each have different properties and benefits, not the least of which is detoxification. One to two glasses of this iced (or hot) tea is beneficial to drink daily each spring. This post looks at dandelion's and nettles' properties, as well as burdock's, hibiscus's and red clover's. You'll love the way they cleanse the liver and stimulate other organs for improved wellness and even immune boosting. I'll show you, too, how to make a large batch of tea, an overnight decoction, so you have enough in your fridge to last you for a week at a time.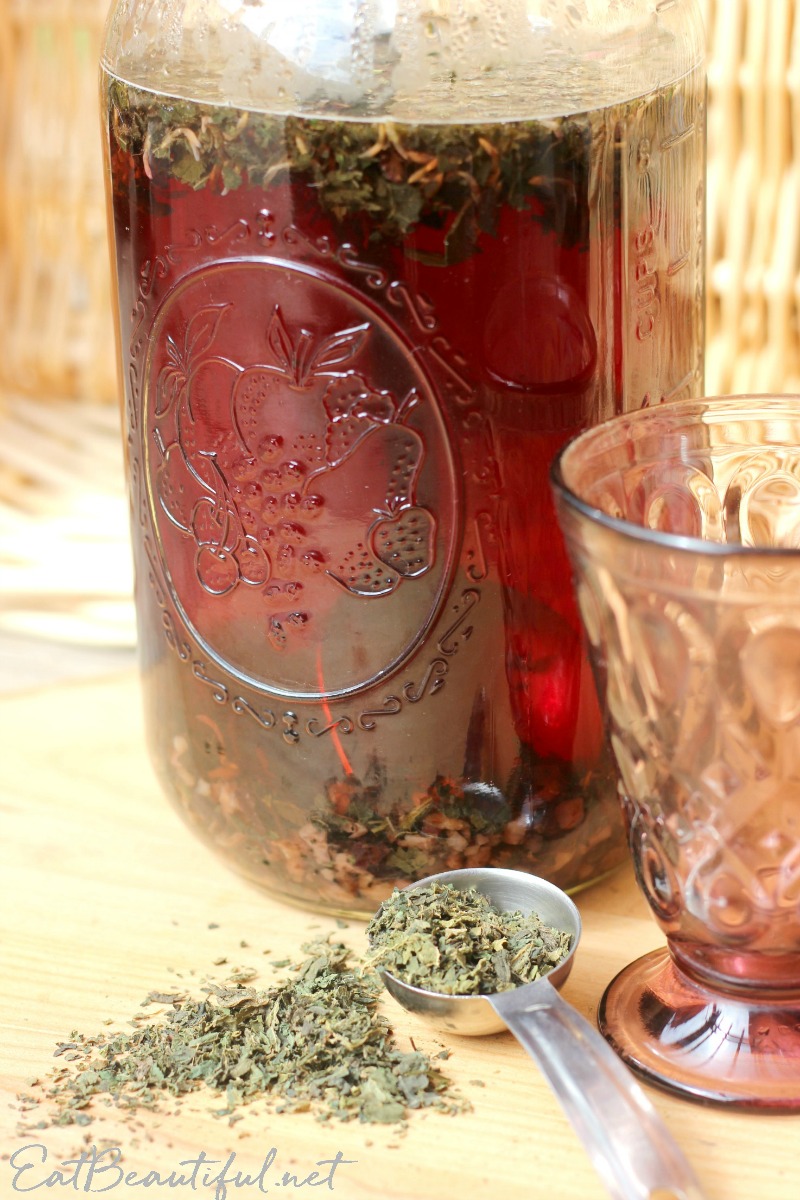 What is a decoction? Decoction means we boil the roots to get at their properties. You'll see this tea is both a decoction and an infusion: Two of the herbs are boiled, and then continue to steep overnight. The other two herbs, which are leaves (not roots), steep only.
Dandelion's properties
Dandelion fights inflammation. It lowers cholesterol, blood sugar levels and blood pressure, and improves digestive function. The root cleanses the liver, and the leaf aids the urinary tract. Dandelion can be used for PMS. Dandelion boosts energy levels and the immune system for better overall health.
Iconic herbalist Susan Weed says of dandelion's effects on the immune system, "The immune system is a network of cells and cell products that defends the body against disease-causing organisms such as bacteria, viruses, parasites, and cancer cells… Dandelion root tincture (20 drops, 2-3 times a day) actually increases the production of interferon, a protein that inhibits viral multiplication and activates T-cells" (source).
Tea is the most ancient way of harnessing an herb's constituents and a more economical way of enjoying its benefits. (You can find the tincture here.)
Nettles' properties
I keep nettles in our herbal brew year round. In the winter, my boys sip on a hot blend of nettles, peppermint, alfalfa and hibiscus. (In the spring I brew this blend, with hibiscus added for flavor, color and vitamin C.)
Nettles hydrate the body with a rich mineral profile. The herb helps to decrease mucosal secretions, joint pain, and hay fever. Nettles address eczema, gout, anemia, urinary tract problems and chronic illnesses like cancer, diabetes and AIDS. Nettles improves circulation, flushes out toxins and helps to boost the metabolism and energy levels.
Burdock's properties
One of my favorite herbs, burdock cleanses the blood and liver. It stimulates the kidneys, the lymphatic system and the immune system, gently. It can help with eczema, acne and has anti-aging properties for the skin. Burdock is used to address gout, cancer, AIDS and diabetes.
Red Clover's properties
Red clover is rich in nutrients and a strong blood purifier. Red clover is used to treat stubborn spasmodic coughs (often left over from winter), skin issues, menopause, bone density, ulcers, tumors and improves cardiovascular health. Red clover tea can be used as a cold remedy.
Amazingly, each of the herbs listed above has anti-cancer properties. There are more reasons than one to use a daily brew of powerful, detoxing herbs.
Hibiscus in Dandelion and Nettles Detox Tea
If you'd like your tea to be bright, rosy red and with strong notes of citrus and berry, I highly recommend that you add hibiscus, too! Hibiscus is by far my favorite herbal tea to drink iced. My boys drink lots more wellness herbal teas when I add the fruitiness of hibiscus to the blend, and so do most adults! Both the flavor and the appearance make us remember (because we like it!) to drink our daily brew. Lightly sweeten for a special treat. As you may know, hibiscus is very high in vitamin C, and an excellent addition to one's daily diet, aiding the immune system and gut health. (Find hibiscus here.)
Dandelion and Nettles Detox Tea recipe
Print Recipe
Overnight Decoction of Dandelion and Nettles
You'll need two 1/2-gallon mason jars for the tea.
Ingredients
2

Tablespoons

dandelion root

2

Tablespoons

burdock root

2

Tablespoons

dandelion leaf

2

Tablespoons

nettles leaf

2

Tablespoons

red clover

1

gallon

filtered water
Instructions
Place

½

gallon water, dandelion root and burdock root into large saucepan. Bring water to boil.

Simmer 20 minutes, then remove from heat.

Add remaining herbs. Cover. Let sit overnight.

In the morning, strain equal amounts into

½

gallon mason jars. (Each jar will be only half full.) Add remaining filtered water to each jar, to fill. Refrigerate, drinking 1-2 glasses daily.
Have you used herbs to detox before? Have you made an overnight decoction?
Also see the benefits of Red Root for spring detox here.
You might also like: