I may receive a commission if you purchase through links in this post. I am not a doctor; please consult your practitioner before changing your supplement or healthcare regimen.
What are the Safest Non Toxic Tea Kettles for 2024? I picked only 3 tea kettles!, because the others didn't make the cut! These plastic-free tea kettles are stainless steel, except one, which is made from borosilicate glass. None of my three recommended tea kettles are made in China!
Read on: I'm picky about what I cook my food on and heat my water with, and I want you to benefit, too!
What materials are safe to cook with
My husband and I replaced almost all of our pots and pans this year, because we learned that cast iron isn't safe. In this process, we needed a tea kettle, and actually found it a challenging process, to find one that was safe, affordable and good at what it's supposed to do: boil and pour hot water!
Seems simple enough, but actually, finding a good tea kettle is a challenging process. We love the one we ended up buying, and it's affordable!!
So this article shares with you the best tea kettle options, WHY they're the best, the downsides of other product options, as well as the one we chose.
Most importantly, the tea kettles featured in this article are healthy! — made of non-toxic, safe materials, because surprisingly, most aren't.
Is a tea kettle just for tea
No …
These kettles may be used to just heat water, and then be used for pour-over coffee, or whatever your kettle needs are.
But … not all safe tea kettles work well. In fact, many have faults with functionality or durability. This article takes you one step deeper into being satisfied with your purchase, AND finding an affordable option, if that's important to you.
Why to avoid metal tea kettles, other than some stainless steel
What got me started in this process, as mentioned, was learning that cast iron is actually dangerous to cook with (read more here).
This led (no pun intended) me to the dangers of metal cooking pots and a research paper on metals commonly found in most tea pots: aluminum, lead, nickel, iron, copper and cadmium — which end up migrating into the water and tea.
Other toxic and endocrine-disrupting substances like PFOA, PTFE and PFAs can also be present in tea kettles. These chemicals are emitted from man-made coatings, often found on cookware, and thus, in our food. Knowing this, none of us should heat water for tea in saucepans, either, coated with one of these synthetic compounds.
Are electric tea kettles safe
My personal opinion on this is, No. Or at least, they're not ideal.
Chemical adhesives
The reason is: To seal the base and the body of the pot, chemical adhesives, plastics and/or silicone are used. While even the best manufacturers say no BPA touches our water, as we know, BPA is just one compound we need to avoid.
All electric tea kettles contain chemical adhesives as well as more plastic overall than the non toxic tea kettles I share below in this article.
Also, every electric tea kettle I investigated is made in China, where safety regulations are not reliable (and human rights violations occur on a massive scale).
Plastics
Most electric tea kettles contain plastic or silicone that's exposed to high heat, and the water we'll be drinking. (Sometimes, the plastic or silicone is inside, at the base of the tea kettle, where plastic is used to seal the water chamber.)
While very convenient, tea kettles that expose plastic to boiling water expose us to chemicals in plastic that cause:
As mentioned, BPA-free plastic is not safer. As one source clarifies, "Replacement bisphenols are structural BPA variants with similar biological effects".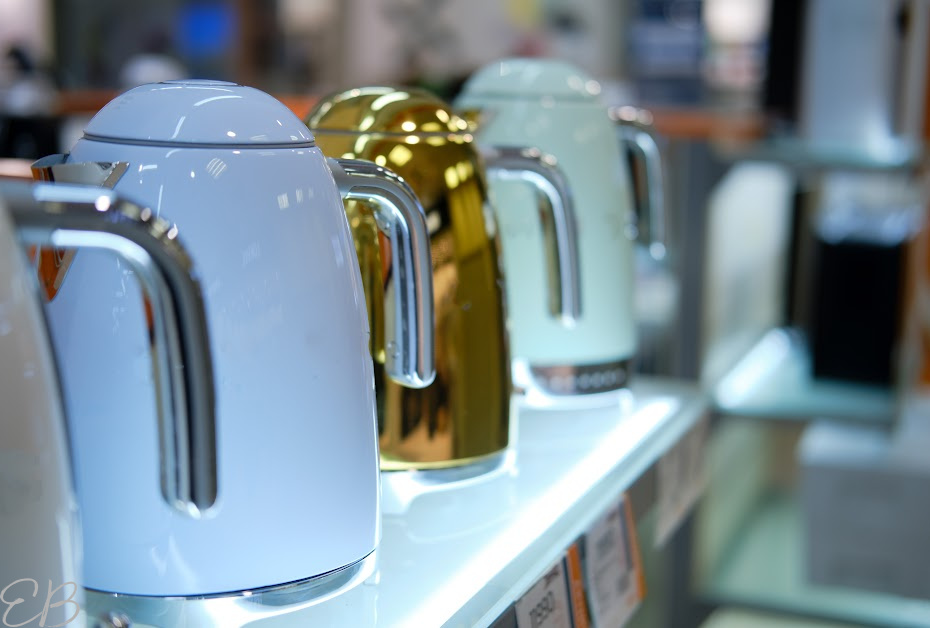 Conclusions on electric tea kettles
Even the electric tea kettles with minimal plastic use chemical adhesives — and are less likely to last as long as the simpler design of a stove top model.
Benefits of electric tea kettles include:
convenience
they boil water quickly,
and you can now find models made of mostly stainless steel or glass.
Nonetheless, for me, the cons and risks outweigh the convenience.
Are plastic tea kettles safe
So, it probably goes without saying, but just to clarify: The above information about electric tea kettles that have a small amount of plastic exposed to water means that — all-plastic tea kettles are also NOT safe.
We don't want our food or water exposed to plastic, especially not plastic that is heated repeatedly, as plastics degrade into the heating water.
Additionally, plastic is bad for the environment. So while it could be argued that our society could not function as it does without some plastics (at least for now), we can certainly avoid all optional uses of the material.
What stainless steel tea kettles are safe
When looking at stainless steel options, be sure to choose 18/8 or 18/10, which designate they're made for healthy food preparation. These may also be labeled 304 and 316.
Yes, stainless steel cooking vessels are sold that are not made from these, so be sure your tea kettle and other cooking vessels designate this important detail; otherwise, they are not non-toxic.
What is borosilicate glass
While most safe tea kettle options are made from the highest quality stainless steel, one exception exists: clear glass made of borosilicate glass.
Happily, the clear glass tea kettle I share in this article is also the least expensive recommended option, and my personal favorite!
Borosilicate glass is reputed to be the safe glass to use for food prep.
In fact, in studying different cooking materials, borosilicate glass is one of the, if not THE, safest food surfaces from which to cook or eat!
Here are some quick facts about borosilicate glass:
Borosilicate glassware is made from silica and boron trioxide. (Borosilicate glass is made by heating a mixture of silicon dioxide and boron trioxide at temperatures above 1,700° Fahrenheit [926° C] for about three hours.)
This strong durable cookware can withstand high temperatures without breaking, unlike regular glass.
It is non-toxic, non-porous and safe for stove, oven or microwave.
Pyrex is one form or brand of borosilicate glass.
Top 3 Safest Non Toxic Tea Kettles for 2024
Okay, on to the list of recommended tea kettles! I chose just three that are my favorites, that I would buy for myself. None of my Safest Non Toxic Tea Kettles are made in China!
You'll see below; I own option #3 and am very happy with my purchase.
Below my top 3 picks, I also listed some other popular tea kettles and why they didn't make the cut.
1. Alessi
The Alessi Kettle is in my Top 3 best picks category for: good looks, excellent functionality (boils water quickly) and safe materials. It is also on sale right now.
Other Pros: Not made in China, made in Italy.
Cons of this pot are: It's expensive, and the whistling (albeit adorable) bird/dragon is reported to not whistle well. Some people also reported their birds breaking. Hand wash only.
My personal note: The Alessi Tea Kettle is an excellent choice if you don't mind the high price tag and the fact that it doesn't whistle well. The only reason I passed this one by is I decided I didn't want to spend this much on a tea kettle.
2. Quickone Takei
This Japanese made kettle is a great bet for both price and functionality.
Pros of the Quickone Takei: Made in Japan, very affordable, boils water quickly, wide base.
Cons: Handle folds for storage which can feel dangerous to some when pouring, as it could cause a spill or burn. (Probably not a big deal for most people.)
My personal note: The Quickone Takei is a really excellent choice, with a low price and great functionality. The only reason I didn't choose this pot is I decided I'd prefer glass, since all my other cookware is metal.
3. Café Brew Collection Borosilicate Glass Stove Top Whistling Tea Kettle
In looking closely at all the leading stainless steel tea kettles, I happily stumbled on one glass tea kettle! … This kettle is made of borosilicate glass.
This Borosilicate Tea Kettle is my favorite pick and recommendation, and it's the one I ended up choosing for our family. We
all have different priorities after safety, so here are the pros and cons so you can decide for yourself:
Pros: Extremely affordable at $18.99, non-toxic in every way, made in Germany, dishwasher safe (top rack), a very uncomplicated decision, pours beautifully – no dripping, very cute/handsome retro look, easy to use, whistles well, but you can also see when the water boils because it's glass. Handle and lid are easy to use and not hot to the touch. With so many metal cooking vessels, I appreciate the safety of using glass for my tea kettle.
Cons: Not AS pretty as some of the fancier or more expensive stainless models. May feel more fragile to some users. Requires very inexpensive add-on trivet needed for electric ranges (but not necessary with gas). (We personally chose an electric range for health reasons, and did buy the trivet add-on. The trivet is simply added to the same order by the company and is easy to use.) Does not boil water as fast as some stainless steel kettles.
TIPS: Heat using smaller burner. The larger burner made the handle too hot for one buyer. Or just move the kettle to one side so the handle doesn't hang over any main heat source. Read the General Product Use, Cleaning & Care + the Product Safeguards, and you'll have no problems.
Tea kettles I didn't pick and why
All Clad
When I first started looking for a new tea kettle, I went to the All Clad website, because I love their pans. I quickly found, from almost all bad customer reviews, that their tea kettle just wasn't made with the same attention to detail. Sharply marked down, I can only hope the company is liquidating their old stock to replace it with a new design.
Le Creuset
Made in China, this manufacturer coats their stainless steel product with an attractive enamel that isn't food safe, but that does erode over time. The colorful surface touches the spout where water comes out, and it chips predictably over time. The company does offer an all-stainless option, but it is still made in China, and I don't love that the majority of the company's products are made with a non-safe material.
Fino
Despite saying it's made in Japan, Fino seems to actually be made in China. One reader reported it gave the water a strange taste, so I'm not game for that risk.
Caraway
I wanted to love this one, because it's pretty, sleek, safe, has a partial mind toward sustainability and comes in a variety of pretty colors, but disadvantages include: made in China, very expensive, inside measure marker discolors with use, it's very hard to refill when hot (two pots in a row) and most importantly, it drips water when you stop mid-pour! This, to me, is the single most important feature of any tea pot after safety: No tea pot should drip water. This is an important sign of quality in Japan. Cheap tea pots drip. Well-made ones do not.
Among the Safest Non Toxic Tea Kettles for 2024, what's your favorite and why?
You can Pin this article here: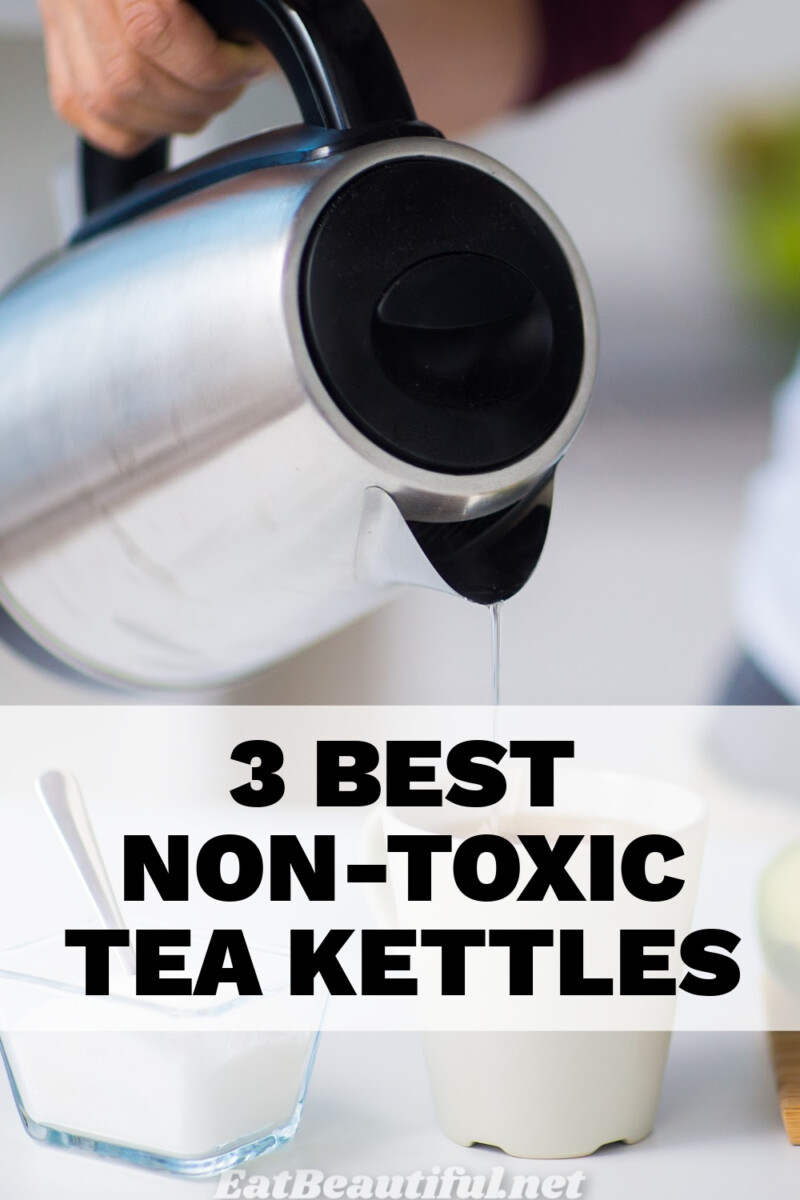 Find lovely tea recipes: