I may receive a commission if you purchase through links in this post. I am not a doctor; please consult your practitioner before changing your supplement or healthcare regimen.
Why I Switched from Cast Iron and What Pans are Best and Safe Instead? shares why cast iron puts too much iron into the body. Even though many of us thought this was the best kind of pan out there for natural cooks, we were wrong.
Let's look at the best alternatives and why: ceramic, stainless steel and even air fryers.
(I have not included pressure cookers, like the Instant Pot, in this discussion because they're not a stove top or oven-type cooking tool; they are more similar to slow cookers and saucepans, dissimilar to how cast iron skillets are most often used.)
It's an exciting day in the Stevens' household when, after 20+ years of using cast iron, we get rid of them and instead wholly embrace all the best alternatives!
This is something I've known I wanted to do for a long time, but it took being on a new wellness diet to really bring home the importance of not getting too much iron from my pans.
With that conviction, I finally made the leap, stopped using them completely and even bought two new pans. Here's what you need to know …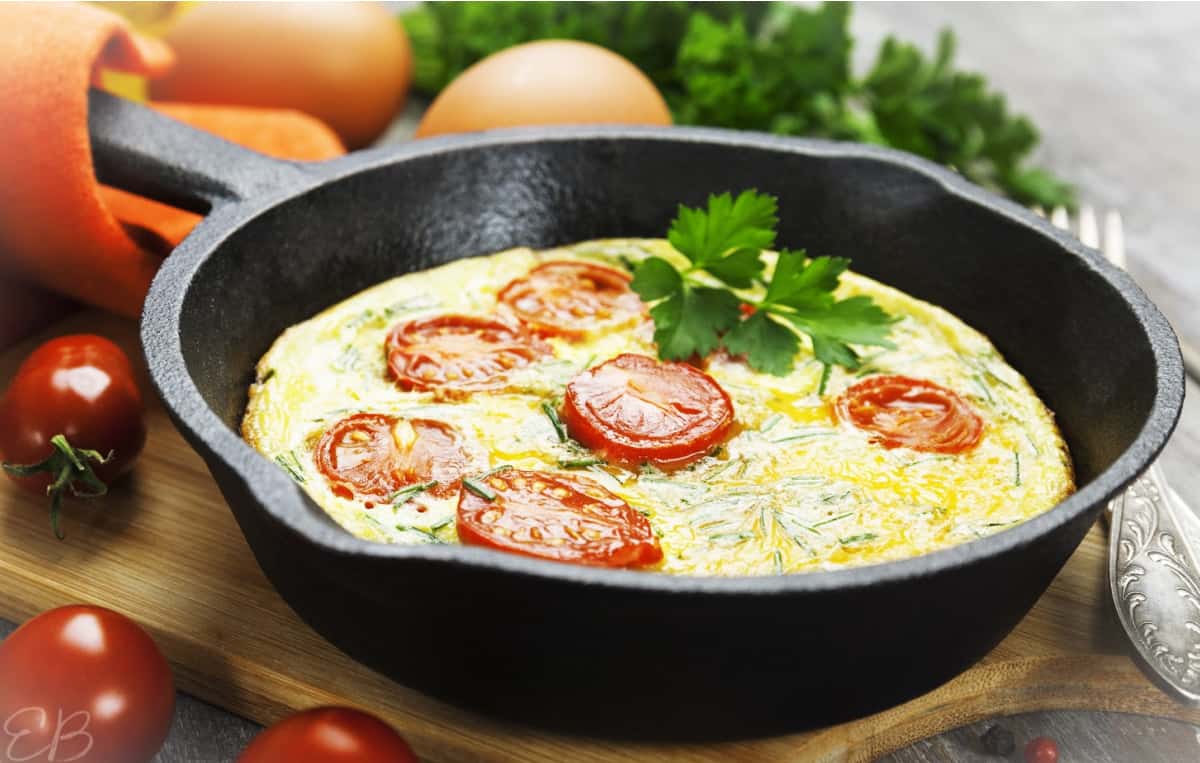 What's wrong with cast iron pans
For years, in the natural cooking community, we've been told to use cast iron — so we all switched over to cast iron, right?
We know we don't want Teflon or other man-made products that can leach into our foods. And we know that certain natural materials, like aluminum or copper, are metals we don't want in our foods either.
But what makes cast iron dangerous?
Cast iron is dangerous because, while cooking, iron leaches from the pan into our food.
Our foods then contain iron, that the body does not absorb or store well.
While some people are vulnerable to iron toxicity, no one should have excesses of iron in their blood.
When is iron most likely to come out of cast iron skillets into our foods?
Like aluminum, iron reacts with acidic foods. This includes not only tomatoes and citrus, but even natural foods frozen or canned with citric acid. (I observed this many times when cooking with artichoke hearts.)
Iron sloughs into our foods when the meal preparation is wet. Even with a proper seasoning, simmering foods in cast iron or allowing water to sit in them, allows the metal to seep into our meals.
Beyond these well documented settings when iron is likely to leach from cast iron skillets, other testimonies exist of patients, including infants, with dark or black bowel movements from only using cast iron pans occasionally, such as once a week to make bacon.
Symptoms include fatigue and lack of energy (not just black poop).
Caution to avoid cast iron when cooking for kids
Use of cast iron when cooking for young children can actually be dangerous. This truth is too little known and has been under-emphasized.
Is cast iron good if you're anemic (and more on children)
No, it still isn't, and here's why: While cast iron may put iron into your blood, someone struggling with anemia has low levels of iron storage. Iron in the blood does not translate to the body being able to store it.
Too much iron in the blood, from cast iron cooking or otherwise, can cause toxicity. This makes cooking with cast iron especially dangerous for children.
As Columbia University medical team says, "Children under age three are particularly susceptible to iron toxicity, and symptoms include nausea, diarrhea, and hemorrhaging. To be on the safe side, avoid cooking foods for young children in iron pots."
While iron from a cast iron skillet may or may not help someone with anemia temporarily, more iron in one's food isn't the best approach to this health diagnosis. Instead, ideally liver health and the cause of anemia are addressed.
Enameled cast iron
If you happen to have enameled cast iron, it has been found to have unsafe levels of cadmium and lead, including and especially reputable brands like Le Creuset.
What Pans are Best & SAFE??
Why choose ceramic pans
Ceramic pans are one good choice in cookware if they're 3rd party tested for contaminants.
We finally invested in our first ceramic cooking vessel. It's less good for pancakes and burgers, but quite good for sauteing, stews, casseroles and wet preparations.
You can read Xtrema's Product Testing here, if you're interested in how they test and the safety of using it.
Xtrema has a unique coupon (deals vary) for Eat Beautiful readers that usually includes: (HERE): 20% off all items site wide, and 35% off large sets. Use code EATBEAUTIFUL at check out.
Pros of Xtrema Ceramic Pans: They're beautiful. When they heat up, they stay warm for even cooking for a really long time. Functional for both stove top and oven cooking. Very good customer service. Many sizes and shapes for various cooking needs. A great alternative to stainless steel for anyone with an extreme nickel allergy. (All-Clad, mentioned below, has the least nickel issue of any U.S.-made stainless steel pan, but for those with extreme nickel allergies, Xtrema provides a great alternative.)
Cons: You can not use high heat. Metal cooking utensils are best avoided, such as metal spatulas.
Why choose stainless steel
Not everything can be made in Xtrema Ceramic Pans, because we need to scrape some things! For example, I love to make crispy, thick, juicy burgers, and they flip best with a metal spatula.
My first two pans that were very high quality that weren't cast iron were stainless steel.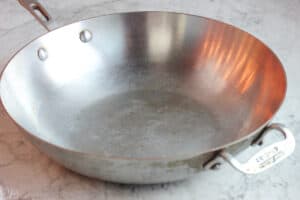 My favorite pan is the highest quality multipurpose pan — similar in size to a large skillet — but with rounded high sides like a wok. (Here is their updated model.) I can flip burgers in it, sauté, make medium-size batches of soup and more. I love this pan. If you only need one new pan, this is the best all round performer.
But if you just need a classic fry pan, here's a great one for a good price. And here's a deeper sauté pan.
Eventually, I also got another All-Clad pan — it's my broad and deep stockpot with lid (HERE), perfect for cooking pasta and making soups, but not too deep, so I can also braise or sauté in it, before adding other ingredients. If I could only have two pans, I'd choose this as my second, as it functions well as a Dutch oven.
Main reason for choosing stainless steel cookware: No heavy metals leach into food. Safe, time-tested, reliable metal that functions well. Very versatile for stove top and oven, high heat and comes in a variety of shapes and sizes. Relatively affordable. Choose a reputable brand for the best cooking experience, such as All-Clad, or one with a copper core, for the best heat conduction. All-Clad is the highest quality stainless steel pan in the U.S. This means the least issue with nickel, which is a concern with cheaper stainless steel pans.
How to make any pan non-stick (for eggs and more)
Possible cons: Not non-stick without learning how. — See this video where I share how to make any pan non-stick, in which I use my All-Clad pan to cook scrambled eggs. (I made this video in 2016, so I apologize for it being a little long and shot vertically for a Periscope. ?‍♀️) So, it's not really a con. It's easy to make All-Clad pans non-stick for cooking eggs and more. Also: For someone with an extreme nickel allergy, any stainless steel pan may be a problem, but All-Clad to the least extent.
Why choose an air fryer
I don't have an air fryer. If you have one already, great! If you don't, I'll at least share with you why they're worth considering.
I personally haven't purchased one because I'm a minimalist in some ways. We loved living in our tiny house, and I got rid of a lot of gadgets to make that move.
But since we moved back into a full-sized home, my doctor advised our diet not to be as high in fat as I used to enjoy, (because fat is not beneficial when detoxing fat soluble toxins).
So, main reason to consider getting an air fryer: air fryers are made of stainless steel, great for cooking chickens, other meats, side dishes, even making baked goods, without added fats and without any dangerous cooking surfaces touching our food.
Which air fryer to choose: Choose an air fryer made of stainless steel. I've heard good things about this one, that doubles as a toaster oven.
Is it time to replace all of your cast iron pans yet?
You can Pin this article here: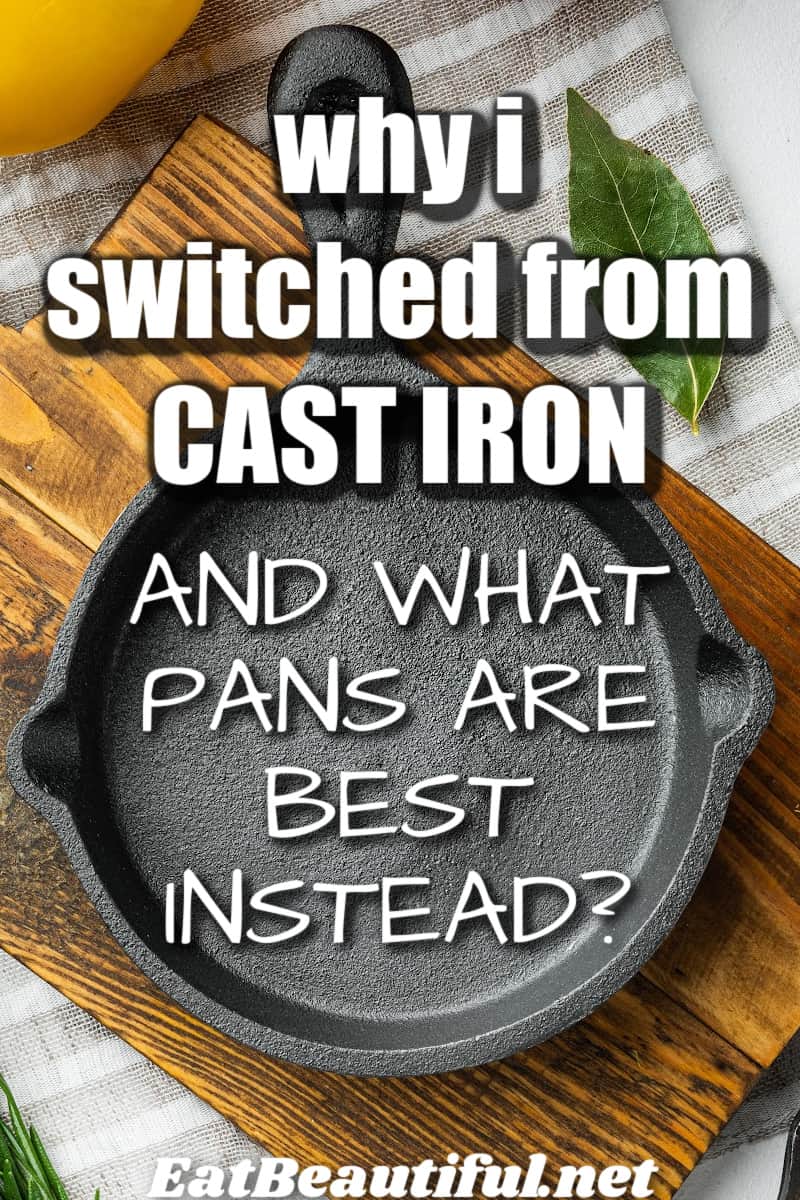 Similar health and cooking related posts