I may receive a commission if you purchase through links in this post. I am not a doctor; please consult your practitioner before changing your supplement or healthcare regimen.
This article looks at the Best and Worst Foods for Anxiety and Depression and shares some surprising insights on how to reduce or eliminate symptoms largely through diet.
All the nutrition gurus are telling you to "eat the rainbow", right? Lots of leafy green vegetables, orange bell peppers, red goji berries, yellow winter squash and super foods of every color are the order of the day.
Most of these foods are high in a toxin that actually increases anxiety and depression for some people — especially when combined with an unseen and often-unspoken of compound.
Worst foods for anxiety and depression: 1. Foods high in phytoestrogens
Big agricultural companies and many in the media encourage a plant-based diet. While some plants can be gentle and support brain health, many do not.
In short, any foods high in phytoestrogens can cause an imbalance of hormone levels causing anxiety, depression and moodiness.
A small segment of the population may benefit from these foods (namely certain older women in menopause). But most of the population needs to be cautious about eating too many of these foods. And some of us should avoid these foods completely.
To learn more about phyto (and xeno) estrogens, and for a more complete list of phytoestrogenic foods, read this article.
Briefly, avoid, or trial a removal of, these extremely estrogenic foods if you suffer from anxiety or depression:
sesame seeds and tahini
flax seeds and flax seed meal
all soy products
other nuts or seeds, to a lesser extent, may be problematic as well: such as pistachios and sunflower seeds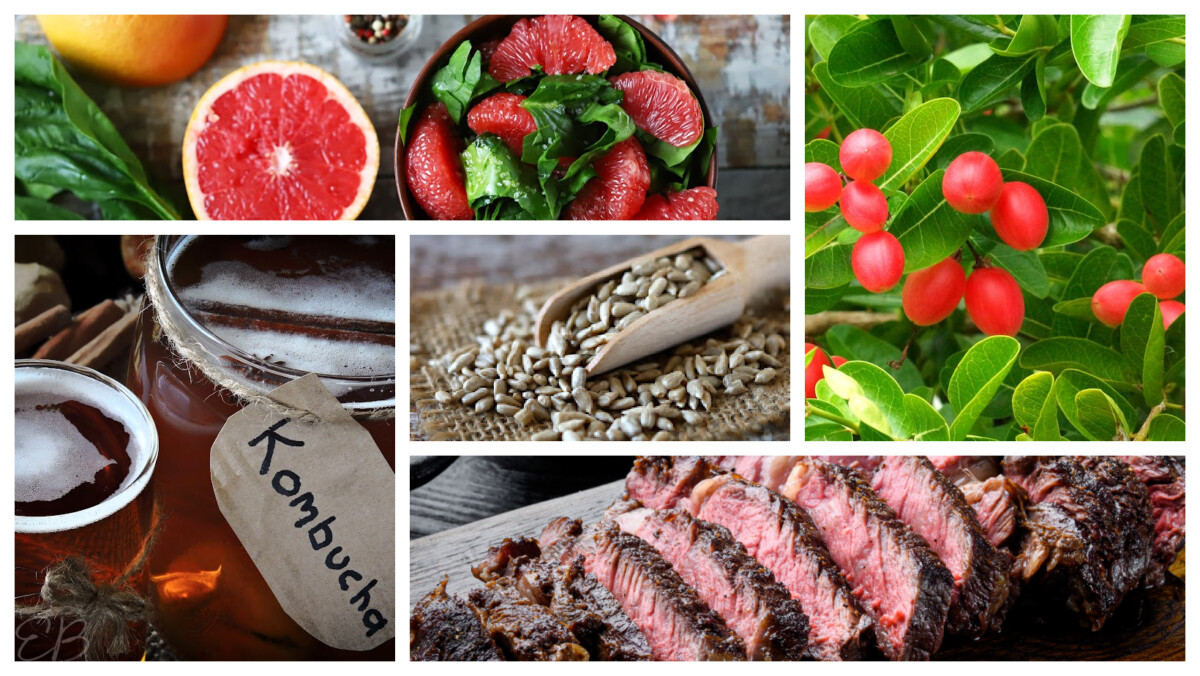 Worst foods for anxiety and depression: 2. vitamin A + stearic acid
Vitamin A used to be considered essential for human health, specifically: eye, skin, bone, the immune system and fetal development.
But now, frequent hip fractures in adults who supplement with vitamin A, plus a myriad of other symptoms, have scientists beginning to question this assumption.
While scientists have extensively studied acute vitamin A toxicity (such as someone eating a moose liver and dying shortly afterwards), they are only beginning to study what happens when humans load up on high doses of vitamin A regularly.
Either way, all medical science agrees: The liver stores excess vitamin A, and excess A causes toxicity in various forms:
The acute and chronic effects of vitamin A toxicity are well documented in the literature. Emerging evidence suggests that subtoxicity without clinical signs of toxicity may be a growing concern… (source)
And:
Vitamin A is a fat-soluble vitamin, which is stored in your body. This means that excess consumption can lead to toxic levels. (source)
Vitamin A stores in the liver. When the liver is full, vitamin A stores in other tissues (eyes, skin, fat and organs).
Symptoms from too much dietary vitamin A
What's interesting is that several hundred people, starting a few years back, began to see dangerous inconsistencies in adopting current dietary trends and their own health results.
Loading up on Matcha Lattes causing depression? Lots of beef liver and sweet potatoes causing anxiety and rosacea?
So this group started an experiment to eat a diet very low in vitamin A to see what would happen. Because the researchers involved studied how vitamin A detoxifies, they also eliminated sources of stearic acid, which exacerbates the toxicity.
(I was, and am still, in this group. The details of this concept were more of a theory when we started. You can read about the diet here.)
The results of a low vitamin A diet done the right way
Many dietary considerations must be taken into account when detoxing vitamin A — compounds and dietary choices that affect how and if vitamin A can be eliminated.
For me, and many others, the results of this detox process were life changing and health promoting.
Interestingly, in this group, we did not see anyone's eye sight or skin conditions worsen. Just the opposite.
Instead, mental health issues improved. (Rosacea went away.) For me, my depression disappeared within 2 days, and another family member's anxiety was gone within 2 weeks.
(We also used neurofeedback to reduce anxiety. I'll be publishing a very detailed article on that in the coming weeks, written by my practitioner.)
Why vitamin A and stearic acid cause depression
Excess vitamin A, and one of its precursors, retinoic acid, through medications, supplements or foods, can cause brain swelling and pressure on the back of the eye that correlate with depression.
Stearic acid activates pro-inflammatory cells through activation of a retinoid (vitamin A) receptor. Put another way, stearic acid increases retinoid receptor activity.
A diet high in stearic acid exacerbates vitamin A's toxicity.
Foods high in stearic acid include beef tallow, cocoa butter and virgin coconut oil.
You may already know which foods are high in vitamin A, but if not, they tend to be the most colorful foods, like sweet potatoes and kale, as well as animal foods like liver, fish oil and cod liver oil.
You'll find a full list of foods to avoid on a low A diet here.
Sources 1, 2, 3, 4, 5, 6, 7, 8
3. Processed foods that cause anxiety and depression
It's not hard to guess what other foods affect anxiety and depression.
How about modern processed foods that cause inflammation? Yes, that's right:
junk foods — High in stearic acid, hydrogenated oils, man-made additives and flavor enhancers like MSG, processed food ingredients are all linked to anxiety and depression.
alcohol — Long known to cause depression, drinking alcohol regularly is like self-medicating with something that's making you sicker. Anxiety is part of the loop and need for more.
refined sugar — Sugar and alcohol behave similarly in the body, creating unnatural highs and lows to mental health, as they influence neurotransmitters, increase inflammation and agitation and cause hormonal imbalance.
table salt — Try sea salt instead.
refined grains — Too many refined grains deplete vitamin B1 and do not provide additional vitamins needed for ideal brain function and mental health. (source, source)
artificial sweeteners — Diet drinks and artificially sweetened foods have been shown to correlate with depression. (source, source)
energy drinks — These have been shown to increase stress, anxiety and depression. (source)
processed meats (source)
fruit juices and other sweets — Continual peaks and drops in blood sugar levels trigger the release of adrenaline and cortisol into the bloodstream, causing anxiety. If you forget this and take in too much sugar, try going for a brisk walk (or exercise in another way) to use up some of the energy and prevent the crash that can otherwise come afterward.
caffeine — Though well-loved by even health foodies, caffeinated drinks stimulate the central nervous system, causing peaks of energy and dips of anxiety and/or depression. Caffeine can also inhibit the absorption of vitamins, including B vitamins.
Best foods to eat for anxiety and depression
After eliminating processed foods and foods high in vitamin A and stearic acid, what foods are best for mental health?
How well we digest specific foods is unique to each individual. Everyone has food intolerances, so there is no one size fits all diet. If you know you're sensitive to potatoes, for example, avoid them.
Similarly, those with weak digestion may need to avoid certain grains initially, but be able to introduce them after a couple of months.
This is what happened to me. After many years on a grain-free diet, I was able to reintroduce all of the grains listed below successfully.
(Many of my other health challenges are gone now, too. I used to have MCAS, or a histamine sensitivity, and that went away after two weeks on the low A diet.)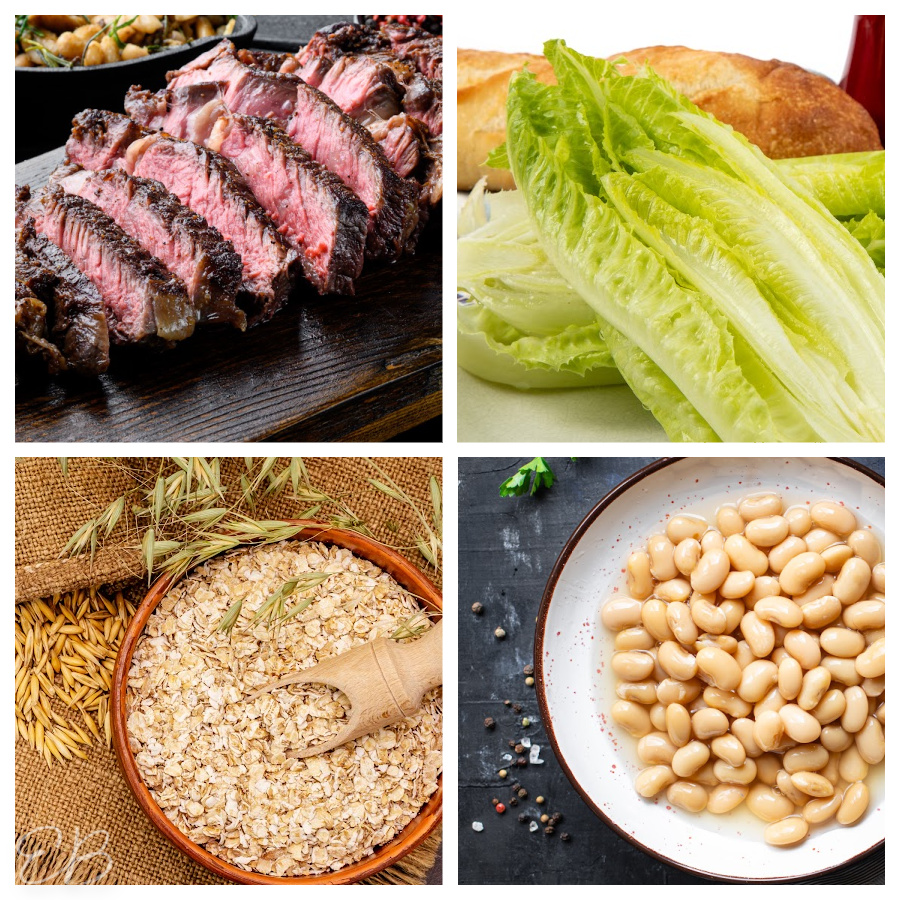 Here are some of the main nutrient-dense foods that can help to support mental health:
Grass-finished beef — This is different than grass-fed beef, which has become a term with no legal checks. Anyone can claim their cows are grass fed, but actually feed them primarily grain. This results in a cow with unhealthy omega-6 fats. Read more on this topic here.
Wild game — Red meat wild game that forages in clean wide open spaces is high in omega-3s and B vitamins.
Carbohydrates — Buckwheat, oats and barley (if grains are tolerated), parsnips and soaked, pressure-cooked beans (like this), and for some: peeled Russet potatoes and/or white rice.
Fresh or frozen berries, peeled apples, grapes and raisins, dates, bananas and fresh lemon or lime juice.
Romaine lettuce, peeled cucumbers, fresh or dried mint, dill, peeled cooked zucchini, cooked mushrooms and ginger root.
Small amounts of Kerrygold butter or refined avocado oil.
Mint tea and small amounts of kombucha or jun.
A balanced diet of whole foods, not super foods, is necessary for relieving anxiety, depression and supporting long-term mental health.
Additional Sources
You can Pin this post here: