I may receive a commission if you purchase through links in this post. I am not a doctor; please consult your practitioner before changing your supplement or healthcare regimen.
What is Butter Tea? I'm SO excited to share with you this ancient traditional beverage and its just as exciting, but in some cases additional and MUCH better, health benefits! Butter Tea, and its non-butter variations, is Paleo, Primal, Keto, AIP, GAPS and Whole30.
You've likely heard of Butter Coffee and its close relative Bulletproof Coffee?
For the last five years, butter coffee has been the rage among grass-fed butter, ghee, coconut oil and MCT oil advocates, as well as those on ketogenic diets, seeking healing or weight loss. Blending these fats into one's coffee makes it creamy and provides the health benefits of those fats (think: MCTs and CLAs). Butter coffee is filling; it can improve the metabolism and provide energy to both the brain and body. The flavor is satisfying and the fat doesn't separate out, as one might think. Often those who get shaky from coffee don't when drinking the amended version.
Now, we dive into the tea version of that concept! The tea version is newer to the West, but it's an older tradition overall ….
Jump to Recipe
I love recipe innovation and it comes about naturally in our kitchen, with the way we eat and cook, and sometimes with food restrictions! About four years ago, apparently in ignorance, I created Butter Tea, just by accident; intuitively it evolved. I'm not sure I realized that it was already a thing 😉 … and very much so in other countries!
This post looks at butter tea's origins in Tibet and also explores teas from other parts of the globe and their influence on our health and traditions.
Why is Butter Tea Healthy?
Butter Tea contains all the healthfulness of butter, ghee and/or coconut oil and MCT oil. Therefore, Butter Tea contains medium-chain triglycerides (MCTs), which are great for yielding energy and burning fat. Butter and coconut oil provide much needed cholesterol, which helps our bodies to make key hormones, and both are anti-inflammatory.
Kerrygold Butter and Wild Yak Ghee (here) contain high levels of conjugated linoleic acid (CLA), because they're grass-fed. This compound helps to protect against cancer. Cows, or yaks for that matter, fed solely on grass have 500% more CLA! (source 1, 2 and 3)
My version of Butter Tea contains gelatin, which creates a fine foam, lends some excellent amino acids and is great for so many health goals: gut healing, hunger satiation, muscle health, skin, hair, nail and bone health, increased athletic performance, stress recovery; and gelatin helps the body to detoxify.
A bit of sea salt adds trace minerals for better cellular function and overall energy.
Lastly, the tea itself matters. My doctor shared with me recently just how high tea is in polyphenols! She encouraged me to enjoy my favorite Jasmine Green and others. Tea provides a wonderful source of antioxidant protection:
Green tea is made from unfermented leaves and reportedly contains the highest concentration of powerful antioxidants called polyphenols. Antioxidants are substances that fight free radicals — damaging compounds in the body that change cells, damage DNA, and even cause cell death. Many scientists believe that free radicals contribute to the aging process as well as the development of a number of health problems, including cancer and heart disease. Antioxidants such as polyphenols in green tea can neutralize free radicals and may reduce or even help prevent some of the damage they cause … In fact, the antioxidant effects of polyphenols seem to be greater than vitamin C. (source)
Regarding GI health, the University of Maryland Medical Center states,
Green tea may help reduce inflammation associated with Crohn's disease and ulcerative colitis, the two types of IBD. If green tea proves to help prevent colon cancer, it would also help those with IBD because they are at higher risk for colon cancer.
Surprisingly, tea is also a prebiotic that feeds our microbiome, encouraging gut flora diversity. I started drinking this Pique tea brand because of its purity and the company's standard of quality. Pique's quality ensures the absence of fluoride and mold, and they even measure their tea's polyphenol content.
High polyphenol content means more food for our good gut bacteria! ( … and no complications from fluoride or invisible molds that other tea producers ignore or don't prevent). Polyphenols also have anti-viral properties that fight off harmful pathogens. Check out Pique's beautiful flavors and selection HERE.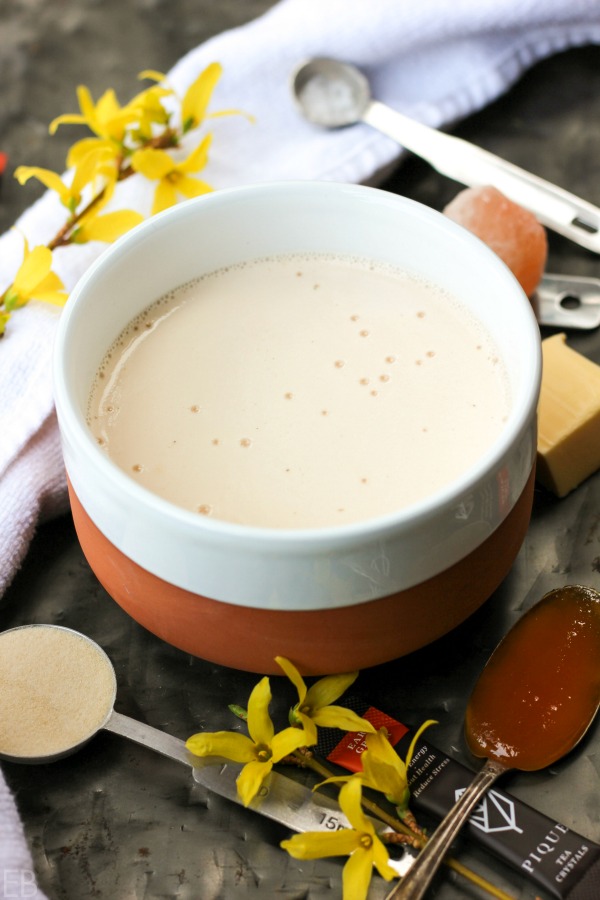 Many functional practitioners are now discussing the primary role of blood sugar levels in disease causation. (source) The University of Maryland Medical Center says,
Green tea has been used traditionally to control blood sugar levels. Animal studies suggest that green tea may help prevent the development of type 1 diabetes and slow the progression once it has developed. In people with type 1 diabetes, their bodies make little or no insulin, which helps convert glucose or sugar into energy. Green tea may help regulate glucose in the body.
Keto or do intermittent fasting? Learn how to use butter tea alongside a Keto diet and/or intermittent fasting here. Regarding weight loss,
Clinical studies suggest that green tea extract may boost metabolism and help burn fat. One study found that the combination of green tea and caffeine improved weight loss and maintenance in people who were overweight and moderately obese. Some researchers think that substances in green tea known as catechins are responsible for the herb's fat-burning effect.
Yak Tea
Yak tea dates back to 7th century Tibet. Due to the severe climate and high altitude of Tibet, vegetables were scarce. Tibetans drank variations of yak tea and learned over time about the nutritional benefits of tea and yak butter! The phytonutrients and antioxidant effects of tea were recognizable, and butter tea became indispensable culturally and nutritionally. (source)
Additionally, yak butter tea contains mineral salt, providing trace minerals, fatty acids, vitamins A and D and all the other nutrients for which we love butter now! Tibetans also value the caffeine and warmth that yak butter tea provides. (source)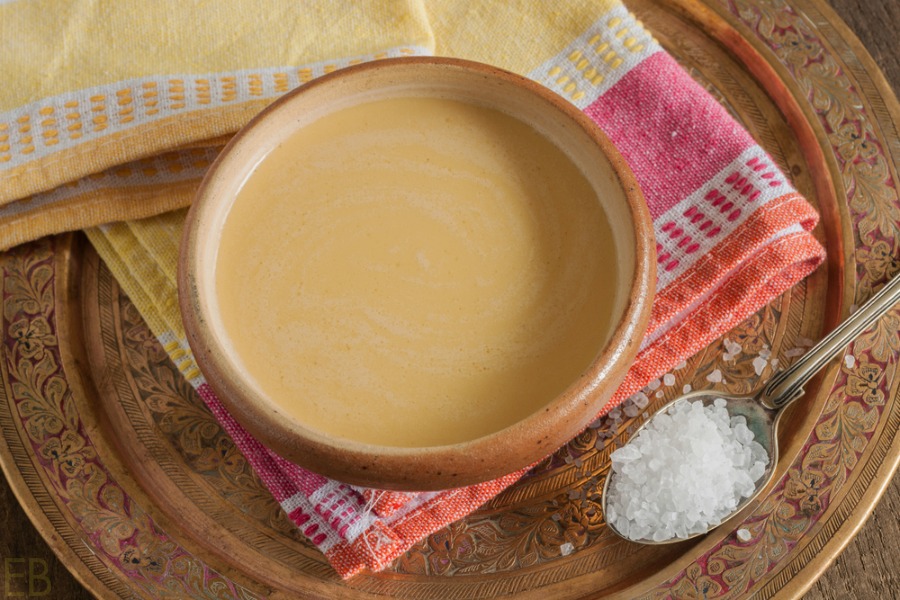 One woman wrote about her time in Tibet:
I stayed with … her family in Tibet for four days in June, and every morning, without pause, she'd serve me a creamy bowl of yak butter tea for breakfast. In the early hours, she'd make a batch of crude black pu'erh tea — a fermented dark tea from China — brewed along with a great deal of salt. Then, a fat serving of yak butter would go into a bowl along with toasted barley powder and milk curds, and she'd pour the tea in until the liquid nearly reached the rim. I'd mix it all together with my chopsticks and sip. It was creamy and substantial — overflowing with healthy fats. The highland barley gave it a nutty finish, and in those four days, yak butter tea was something I looked forward to immensely in the mornings. (source)
The Matcha Option
While departing from Tibet's butter tea, similarly matcha tastes lovely with butter blended in and is certainly a nutritious choice. Matcha, interestingly, is native to China and made its way to Japan in about 1100. Today it has lost its appeal in China but is an important part of the Japanese culture.
Here's my new recipe for The Very Best Matcha Butter Tea Latte. This chlorophyll-rich beverage is creamy, full of calming l-theanine and provides very gentle, steady caffeine that doesn't cause the shakes. What a beautiful cup and morning ritual. Learn more about the best matcha here.
What kind of tea
When making butter tea, the traditional choice is a fermented black tea. For this reason, if you already enjoy black teas, I recommend Pique's Sacred Lily Oolong, Organic English Breakfast or their lovely Organic Earl Grey. If you need to avoid caffeine, this Butter Tea recipe turns out SO well with their Rooibos Immunity Elixir. I love all tea, but Jasmine moves me the most; I love butter tea made with Pique's Jasmine Green Tea.
You can really follow you heart on this one! Enjoy! (Take a look here at Pique's tea selection. These little boxes are magically pretty, so much fun to open, and you'll love the little tea crystals and pouches in which they come. All Pique's tea's are triple toxin screened.)
Print Recipe
Butter Tea (with Yak Ghee Butter Tea and Non-Dairy Variations) — Paleo, Primal, Keto, AIP, GAPS, Whole30
Butter Tea, and its non-butter variations, is Paleo, Primal, Keto, AIP, GAPS and Whole30. Enjoy this wonderful, delicious source of antioxidants and polyphenols.
Instructions
Pour the water into a small saucepan. Sprinkle the gelatin evenly over its surface. Wait one minute, or less, for it to dissolve.

Heat the water, stirring, until the mixture is steaming but not yet simmering, and the gelatin is fully dissolved. The water may look foamy.

Place your Pique tea, tea bag or loose tea into the hot water. (Because Pique's tea is instant crystals, you can actually skip this step with their product, if preferred, and simply place hot water and tea into blender with the next ingredients [Step 5].)


Set aside the gelatin water for 5 minutes, to steep and cool slightly.

Place the tea (strain first, if loose tea is used), butter (or coconut oil etc.) and sea salt into the blender. Blend for 30 seconds. (Always use caution when blending hot liquids. Start at lowest speed, and increase gradually to medium-high speed. Alternatively, use a stick/immersion blender.)

Serve this foamy, creamy treat. Makes two small servings or one big mug of Butter Tea. Sweeten your tea, if desired, to taste.
Notes
*2 servings of tea: If you're using Pique brand tea, this means to use two packets, especially if using the black teas. You can use just one packet with Jasmine Green, if preferred. With any other tea brand, yes: Use two tea bags or two times the amount of loose leaf tea. This ratio ensures the correct flavor. This recipe makes two small butter teas, or one large.
*BPT and BPC stand for: Bulletproof Tea and Bulletproof Coffee
Nutrition
Serving:
12
ounces
|
Calories:
158
kcal
|
Protein:
5
g
|
Fat:
15
g
|
Sodium:
19
mg
A Snack
As mentioned, this recipe contains gelatin, for its added health benefits. The tea, therefore, can also be chilled for a cool Butter Tea gelatin treat! The butter does not separate as the tea cools, but remains a creamy benefactor to the tea's body. If I forget to drink my whole cup, I'll pop the leftovers in the fridge, and my kids will surely eat it!
Let me know how you enjoy this recipe and what other flavors of tea you use. We've had so much fun enjoying several of the Pique Tea flavors over the last month or so. My personal favorite tea is Jasmine Green. Learn about the benefits of green tea

here

.
Related articles you may like: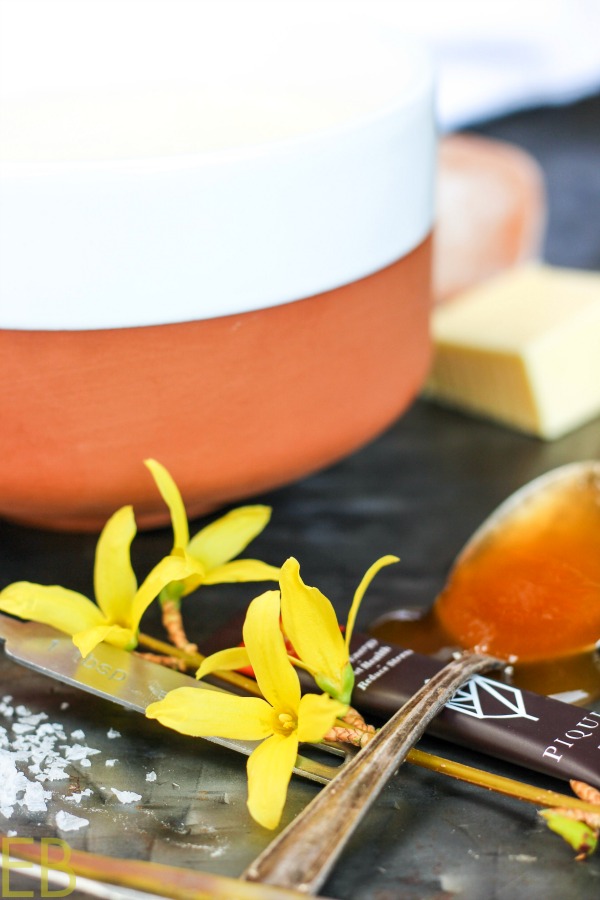 Footnotes from Intro:
*Bulletproof Coffee is unique from Butter Coffee in that it intentionally uses coffee beans that are processed with only clean cold water, to avoid the growth of mycotoxins, essentially molds.
**The ketogenic diet was designed in 1924 by Dr. Russell Wilder of the Mayo Clinic and is now a proven, effective treatment for epilepsy. Since that time the diet has also been used to heal or treat many neurological disorders and is also used to obtain dramatic weight loss.