I may receive a commission if you purchase through links in this post. I am not a doctor; please consult your practitioner before changing your supplement or healthcare regimen.
High in nourishing, healing fats, rich in grassy, soothing flavors, this calming Matcha Latte is everything a morning cup should be: healthful, delicious and … frankly, addictive. Not really, it's just SO delicious and healthy that it's habit-forming.
Enjoy this recipe — better than most matcha recipes you'll find? Yes: creamier, more balanced in flavor and made with the perfect, highest quality matcha. Everyone you know will love this version: It's legal, safe and perfect for Paleo, AIP, Keto, Whole30, GAPS and Vegan folks, with slight variations for your unique dietary needs.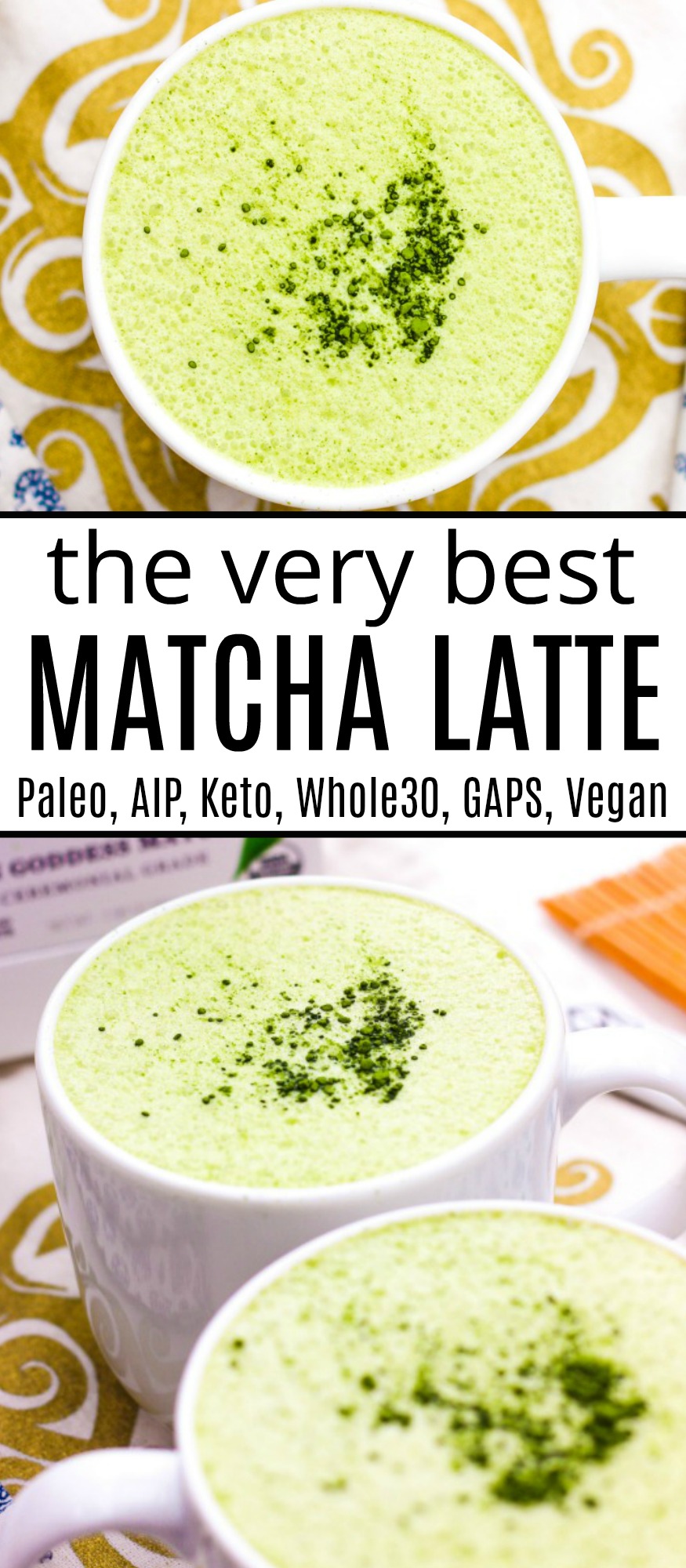 Jump to Recipe
The Matcha Experience
My husband and I have decided that we love this Matcha Latte more than a great cappuccino, more than the best hot chocolate, more than great jasmine or black tea. It's our favorite cup, and that's saying something. Because a hot cup of our chosen creamy something is one of the week's greatest pleasures.
Recently, while I waited for my first box of Pique's Matcha Tea to arrive in the mail, I decided to order a vegan matcha latte from our favorite French bakery. I knew Pique's quality was going to redefine matcha for me, so I thought why not create a point of contrast, so I could really understand the taste and experience difference? Well, I could hardly finish the bakery's version of a matcha latte. I'm not sure where they buy from, but while they have mastered beautiful pastries, I think they are pinching dimes with their matcha choice. It was just plain bad, a dull color, nothing vibrant or grassy in the flavor. Mission accomplished, LOL: Boy, was I excited for Pique's Matcha Sun Goddess to arrive — the name had me yearning for something of myths born tangible.
And yet, my actual Pique experience exceeded expectations. If you like matcha (like I always have) but aren't sure if you've had great matcha, I hope you'll treat yourself to this healthful experience. Pique has actually been life-changing for my whole family. We simply can't go back to our old teas. Can't. The superior quality of this Matcha in particular has raised the bar and created a new category in our monthly budget, seriously! We now budget for Pique. That's how much we love it, and that's how much better we feel drinking it.
Therefore, perhaps this post is more of a love song than anything else …
Matcha is Health Food
The first thing I love and notice when I drink Pique's matcha (other than the flavor experience) is the L-theanine content. Think: anxiety! or trouble sleeping! Think sleepy or sad. NOW: Think calming. And energy that lasts. In recommending calming and cheering Pique Matcha Tea, I'm sharing with you something that will actually beautify your day, all day (and leave you looking forward to your next morning cup).
Matcha is higher in the amino acid L-theanine than any other tea. (20 milligrams! per serving and bioavailable! I feel the results fast.) Pique's matcha tea plants are shaded before harvest to increase the leaves' chlorophyll and amino acid content. For this reason, Pique's tea is a beautiful green color; we are drinking the whole leaf!
In addition to chlorophyll (which helps the body to detoxify) and amino acids (which give matcha its umami flavor), matcha contains polyphenols and catechins (the powerful green tea antioxidant). Tea polyphenols are prebiotic in nature: They are consumed by our colon microbiota and improve gut and overall health. This fact is one reason why great quality tea really does improve our gut microbiome and help us toward improved health. (source and source)
Matcha, interestingly, is native to China and made its way to Japan in about 1100. Today it has lost its appeal in China but is an important part of the Japanese culture. And the culture of our home, ha! Americans are growing in our knowledge and love of this nutrient-dense, joyful leaf that brings harmony to the body, mind and gut.
Takeaways: Matcha is rich not only in the mood boosting amino acid L-theanine (calm happy energy!) and also in polyphenols (think colon health!), but also in chlorophyll (for detoxification!), catechins (antioxidants!) and additional amino acids (the building blocks of protein and umami flavor!). Read more here about what makes Pique's Matcha premium and ceremonial grade.
Butter Tea Latte
While most lattes don't contain butter (or coconut oil for dairy-free), the Bulletproof revolution has changed and improved the morning cup. We all know now just how healthy and satisfying fat is when it is blended into an a.m. hot beverage. Plus the creamy deliciousness!
Matcha is bit savory and is well suited to the butter tea latte concept. While departing from Tibet's butter tea, where butter tea originated, similarly matcha tastes lovely and complete with butter blended in. Matcha's umami flavor lends itself well to the recipe below, which also features a small amount of sea salt.
This recipe features not only the best butter (or coconut oil for dairy-free), it also features an essential ingredient (in my opinion) that puts this cup over the top: Cocoa butter. (Find the Fair Trade one I use here.) And for non-vegan drinkers, there's one optional ingredient listed below that creates an extra fine foam. The mouthfeel and flavor of this latte is unbeatable and so special. The fine foam of a latte also creates more open flavors, as it spreads out the subtleties so the tongue's taste buds can grab more of the nuances.
And wait until you see the color of this latte in person! I hope my photos have captured that to some extent. This latte is not just matcha-green, but there is a small amount of blue in the green (that increases over time as you sip), almost like a hint of spirulina, a truly amazing feat of beauty, integrity and quality in this product that reveals its potent nutrition.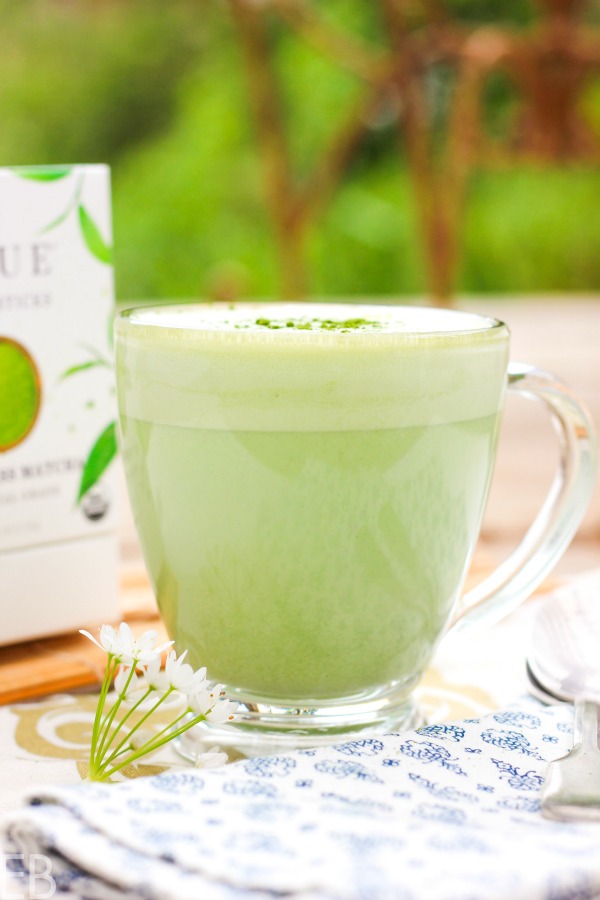 Caffeine?
Some of you will find this fascinating, as I do: I used to be sensitive to caffeine. I had to avoid all black teas, which I love, and I always chose decaf. coffee when I had coffee. I didn't drink any tea unless it was herbal. Caffeine made me shaky, agitated and overly productive (in a not-good way).
Then, about two months ago, I had a third visit with a cranial sacral practitioner. He said my hypothalamus gland was firing way too much (no kidding, this really rang true!). He worked on my head for an hour. I left with a headache that slowly dissipated over the coming days. But do you know what I gained? My insomnia was gone! And I can now drink caffeine with no shakiness. JOY!!!! Yes, one of those eureka visits that changes your life like no other modality or supplement.
I do not get a caffeine buzz from this Matcha Latte. For those of you who enjoy tea or coffee regularly, I think you'll find this matcha provides a gentle boost of joy in your spirit but no jolt. That energy lasts for me all day and feels amazing.
On matcha's caffeine, Pique says this: "Turns out not all caffeine is created equal. The caffeine in tea binds to antioxidants forming a larger compound which slows its absorption rate and results in a time-release effect. Calming l-theanine also counterbalances the energizing effects of caffeine. So, no jitters or headaches and definitely no caffeine crash!" I'm amazed to have experienced this truth myself! Calm energy exists, and what contentment and productivity this cup imparts to my day.
Paleo, AIP, Keto, Whole30, GAPS, Vegan
This classic Matcha Latte is amenable to virtually every wellness diet! In the bullet points below, I give a preview of the recipe to further clarify for each diet the slight variations you'll choose as you make your version.
Paleo: Everything about this recipe is Paleo. If you're broadly Paleo, just choose your milk and fats below based on whether or not your body tolerates dairy and what forms. I personally use raw, A2, grass-fed milk or macadamia nut milk.
AIP: You'll use coconut milk to make this recipe and coconut oil for the fat.
Keto: Your milk can be a favorite nut milk, coconut milk, heavy cream or even water, because we add more fat either way.
Whole30: The main thing is to omit the sweetener. Regarding Whole30 and cocoa butter, which is used below, cocoa products may be used in savory settings; so cocoa butter is fine for Whole30 as long as it's not sweetened. You'll love this creamy, grassy treat that's not sweet but that is truly nourishing, wholesome and umami satisfying. In fact, this Matcha Latte is one of my favorite Whole30 recipes.
GAPS: Choose your favorite nut milk or coconut milk. Similarly, your fat is going to be whatever you know your body likes at this stage of healing: butter, ghee or coconut oil. Also the cocoa butter is very gentle and will be fine for most, but sub for more of the other fat you chose if you prefer.
Vegan: You'll use your favorite nut, seed or coconut milk. Your fats will be coconut and cocoa butter. And your sweeteners can be cane sugar, stevia, honey if you choose to use it, or possibly agave.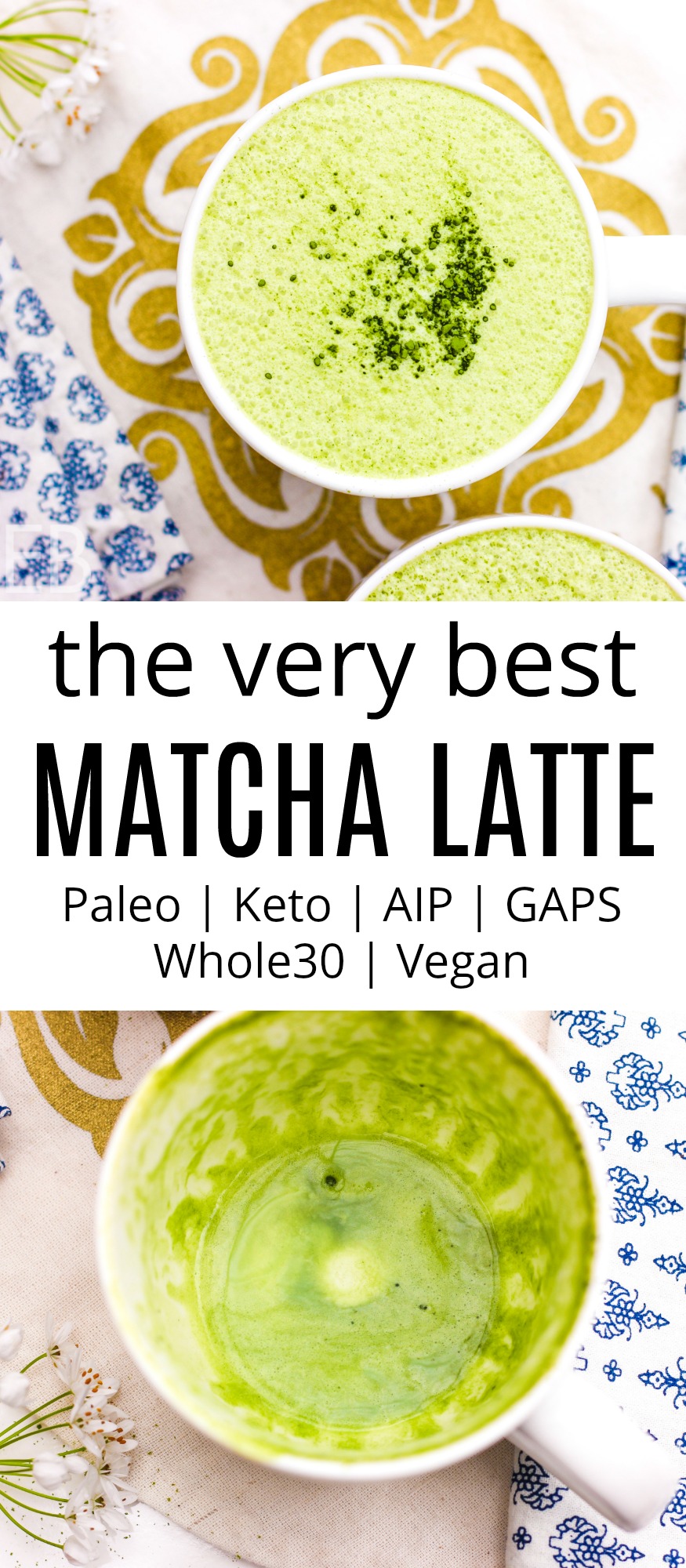 Sweetener?
I'm going to be a teeny bit lengthy on this subject, just so you know where I'm coming from in designing this latte. And then you can choose what's best for your taste buds and your body. Typically I use very little to no sweetener in my daily foods. And this cup is meant to be healthy, so why add sweetener to a matcha latte at all?
Two ways exist to enjoy matcha: One is with sweetener, and one is without. Obviously for Whole30, the choice is obvious, or if you avoid all sweets. Otherwise, the benefit of a sweetener in my mind is not to create dessert in a cup. Certainly with matcha you can do that, and you can add extra to this recipe if you want a huge treat.
But the main point of a sweetener in this recipe is to heighten the flavor of matcha. I give Keto options below, either stevia or stevia + your favorite low-carb sweetener. A small amount of raw honey for Paleo, GAPS and AIP makes the overall cup more delicious!
Personally, and I give this option below, I like to use part raw honey + a tiny amount of stevia. My husband doesn't use stevia himself (but he loves my version), and I know many people who don't like it; but used very sparingly, stevia adds sweetness without adding fructose, and the flavor of stevia (used thus) is undetectable.
I choose this option so I'm getting less fructose to protect my blood sugar levels, as I eat mostly savory foods, and this seems to be the perfect balance for me. But you, you can decide: no sweetener, all honey, part honey part stevia, only stevia, part stevia + part low carb sweetener, or a vegan sweetener like cane sugar or agave. I find maple syrup and coconut sugar to be too dark and distracting from the grassy lightness of matcha.
Quality
Yes, Pique's matcha is pricey. Here's what they say: "A word about price: Quality matcha powder is a premium product. Because of the way leaves are grown, shaded, harvested and processed, the quality of the matcha tea will be reflected in the price. A high-quality matcha can only be harvested once a year! So if you find matcha tea for cheap, it's probably because the leaves are of a lesser quality and weren't properly processed – which means far fewer health benefits." You will love reading more about matcha and Pique's quality here.
Lastly, in closing, before you read the recipe below, I want to say that if you purchase Pique's Matcha Tea, you will not regret it! It may even change your life like it's changed mine. I know that sounds dramatic, and it is! I LOVE this tea. Pique's Matcha is basically a wellness supplement that happens to taste amazing and boost one's mood. It's worth the price. It brings extra happiness and health. Pique's Matcha is a beautiful cup that is created with many steps of care and love by each grower and handler all the way up to your own two loving hands that make this special brew. I perfected this recipe and shared it with my family. Now I share it with you. Enjoy, rest, love, sip: creamy, foamy, frothy, grassy, roasted, umami. Green hugs!
The Very Best Matcha Latte — Paleo, AIP, Keto, Whole30, GAPS, Vegan
Print Recipe
The Very Best Matcha Latte — Paleo, AIP, Keto, Whole30, GAPS, Vegan
This recipe can be doubled or tripled to make 2-3 servings.

Ingredients
1-

¼

cups (10 ounces)

milk : coconut milk, nut milk or raw milk (or other preferred non-dairy milk); for Keto, you may also use 1 cup hot water +

¼

cup heavy cream, instead of nut or coconut milk, if preferred

1

packet

matcha

: 1 Pique packet of Sun Goddess Matcha Tea

2-3

teaspoons

sweetener

: use preferred low carb sweetener for Keto/Low Carb; for Paleo: part honey and part stevia, to taste; or cane sugar for Vegan; omit sweetener for Whole30 or for a grassier, mild flavor

1

tablespoon

butter

or ghee + 1 tablespoon cocoa butter pieces; or 1 T. coconut oil for Vegan/dairy-free + 1 tablespoon cocoa butter pieces (2 tablespoons fat total)

1

generous pinch

sea salt
Instructions
In small saucepan, heat milk and cocoa butter over medium heat, stirring occasionally, until milk is too hot to touch and cocoa butter is melted, but do not simmer milk. Pour heated milk into blender. Add butter (or coconut oil) and sea salt. Add Pique Matcha packet and preferred sweetener. Starting on lowest speed, blend milk and butter (always use caution when blending hot liquids). Increase speed to medium-high, and blend 15-20 seconds.

Serve matcha latte with fine foam on top. Enjoy!!


Variation: To increase fine foam (non-vegan), add 1 tablespoon gelatin to the blender (on top of milk and butter) before blending. (I recommend this gelatin because it's pesticide-free and sustainably-sourced.)

Notes
Here

's the Fair Trade Cocoa Butter I use and love.
The nutritional facts that follow are for the Keto/Low Carb version of this recipe because my keto readers need this data most often. For the lowest carb version of this recipe, use the water option for your liquid, plus your low carb sweetener.
Nutrition
Calories:
103
kcal
|
Carbohydrates:
1
g
|
Protein:
1
g
|
Fat:
11
g
|
Saturated Fat:
7
g
|
Cholesterol:
30
mg
|
Sodium:
488
mg
|
Sugar:
1
g
|
Vitamin A:
350
IU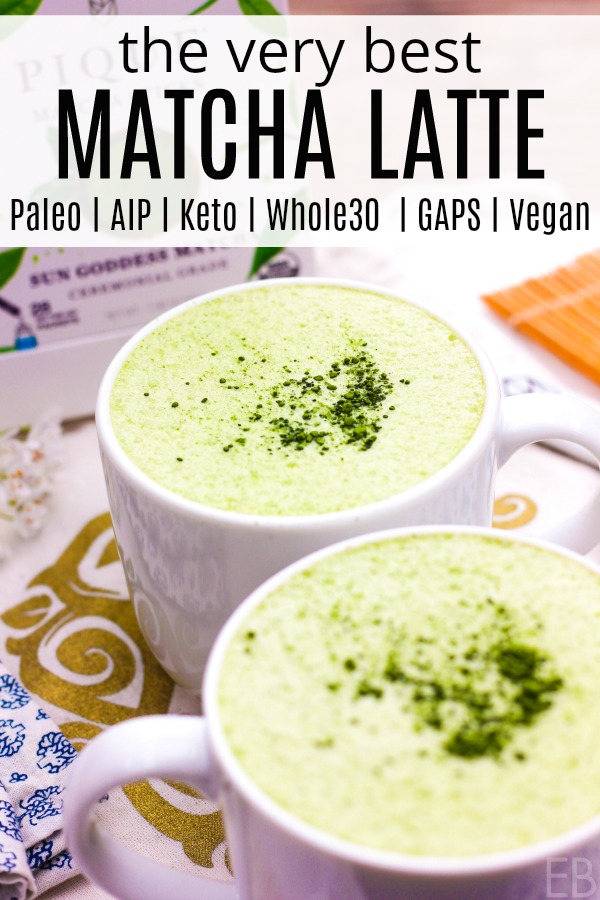 I'd love to hear your experiences with

Matcha

. Let me know when you taste Pique's teas! They are truly the best, and it's fun to share something so special and health giving. (You can see all of Pique's tea products

here

.)
If you're looking for a great iced matcha, try this copycat Starbucks Matcha Latte recipe.