I may receive a commission if you purchase through links in this post. I am not a doctor; please consult your practitioner before changing your supplement or healthcare regimen.
While Bulletproof Coffee has been popular for some time, it's less commonly used, but an effective tool, to support the process of intermittent fasting. Enjoy this Keto, Low Carb, Paleo and GAPS recipe that allows you to lose fat and gain energy! Just 3 ingredients and five minutes of prep time provide a satiating breakfast and heightened performance for your day's goals.
How Intermittent Fasting with Bulletproof Coffee works
The basic principle of intermittent fasting is this: After 12 hours of holding on to fat, the body allows it to be released. By skipping one meal, or in this case enjoying bulletproof coffee for breakfast, a longer fast of 18 hours gives the body 6 hours to usher out fat and cleanse the liver.
Our digestive system is allowed to rest, which allows the body to remove fat cells and toxins!
As Tom Cowan says in his article for the Weston A. Price Foundation, "…in those final six hours you are creating an anti-inflammatory, anti-insulin and glucagon-rich environment. It's probably the best anti-aging strategy you can adopt." Cowan continues by saying that caffeinated coffee (with a Bulletproof-style preparation) does not alter the hormonal process of intermittent fasting and may even help it.
Bulletproof Coffee recipe
The recipe that follows is the "cleanest" version of bulletproof coffee, specifically designed to aid intermittent fasting. This recipe does not contain any sweeteners, any cocoa, any additional flavorings.
Yet, it's delicious and yes, you can even make it with decaf.
If you'd like to try Bulletproof Coffee with flavor and nutritional variations, see 10 Bulletproof Coffee Add-ins.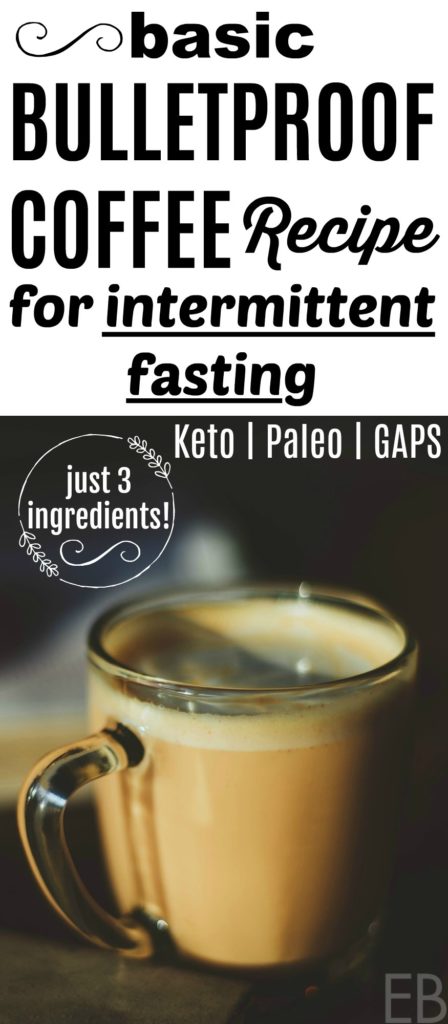 Print Recipe
Basic Bulletproof Coffee
Basic Bulletproof Coffee gives you the simple ingredients and instructions to start having your breakfast in a mug! Try intermittent fasting with this great nutritional tool that will help your body to shed pounds and gain energy.
Ingredients
1

12 ounce cup

hot coffee

decaf or regular

1

Tablespoon

unsalted butter

or ghee, grass-fed (make sure it's unsalted)

1

Tablespoon

MCT oil

or coconut oil (also see Recipe Notes for source)
Instructions
Place hot coffee in blender.

Add unsalted butter and MCT oil. Put lid on blender.

Use caution when blending hot liquids. Start on lowest speed.

Blend 12 seconds, increasing speed to medium.

Serve.
Nutrition
Calories:
214
kcal
|
Carbohydrates:
1
g
|
Protein:
1
g
|
Fat:
25
g
|
Saturated Fat:
7
g
|
Cholesterol:
30
mg
|
Sodium:
2
mg
|
Sugar:
1
g
|
Vitamin A:
350
IU
Have you tried intermittent fasting? What about Bulletproof Coffee? I'd love to hear your experiences.