I may receive a commission if you purchase through links in this post. I am not a doctor; please consult your practitioner before changing your supplement or healthcare regimen.
Fermented Peanut Butter is a great homemade recipe that allows you to eat peanut butter without aflatoxins. Fermenting also reduces oxalates, adds probiotics and makes the nutrients in peanut butter more bioavailable.
If you choose to ferment with Valencia peanuts, you'll also have a peanut butter lower in PUFAs and higher in monosaturated fats.
I hope you love this tangy condiment as much as we do! Terrific in the usual settings with jam, honey or chocolate, but also good in savory foods.
This recipe is great for many diets, including Ancestral, Gluten-free, Keto, GAPS and Vegan.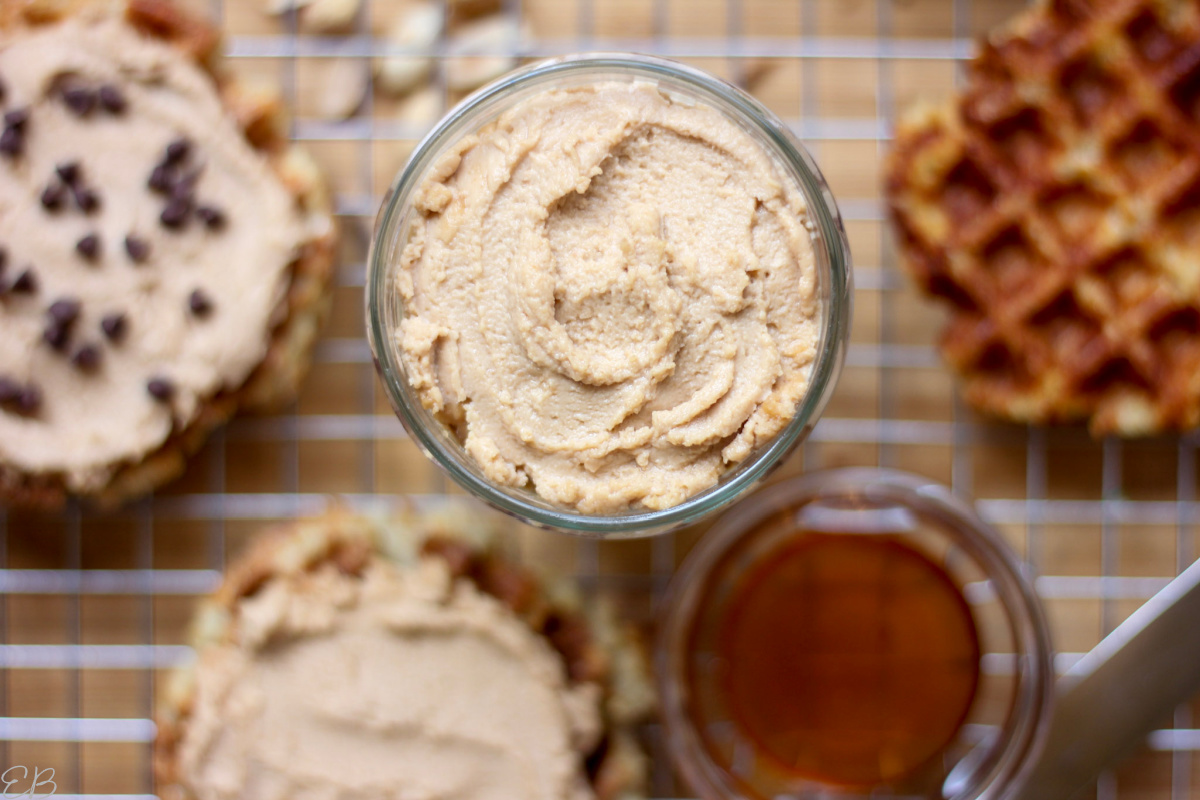 What are aflatoxins in peanut butter
Aflatoxins are a family of toxins produced by specific fungi that are found on certain crops. Grains, nuts, peanuts and dried figs are considered some of the worst sources.
Aflatoxins are very dangerous and not at all safe or healthy to consume on a regular basis.
You can read more about aflatoxins in peanut butter and how much the leading brands have here.
When people avoid peanut butter, aflatoxins are one of the main reasons.
However, when peanut butter is fermented, it has zero aflatoxins. Fermentation has been proven to eliminate aflatoxins, but I also sent my Fermented Peanut Butter to a lab that specializes in this kind of testing to be sure.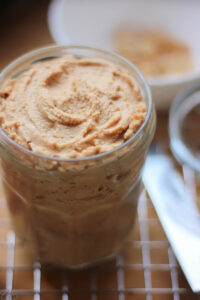 Ingredients in Fermented Peanut Butter
It is possible to make Fermented Peanut Butter from peanuts or from store bought peanut butter.
The better choice is to make it with peanuts, because you are then controlling your ingredients and processes better. Most store bought peanut butters may be rancid or have other quality control issues.
Therefore, this recipe uses peanuts.
To make Fermented Peanut Butter with peanuts, you'll need:
peanuts — Ideally, buy organic peanuts that are raw, and then roast them yourself, which I show how-to in the Notes section below the recipe. (Optionally, you may also sprout them first, which includes soaking them overnight and then dehydrating them.) See more below the recipe on which peanuts to buy.
water — This ingredient is surprising but important. Without water, the probiotics get trapped in the matrix of peanut butter fat and can not (and will not) proliferate. Adding water also makes the peanut butter creamy and little less peanut-y in flavor, which allows the tangy flavor to balance it.
sea salt — Optional.
probiotic — Use a probiotic that you know is alive and you know works well for inoculating fermented foods, like this one. Or, use a vegan probiotic designed to make dairy-free yogurt.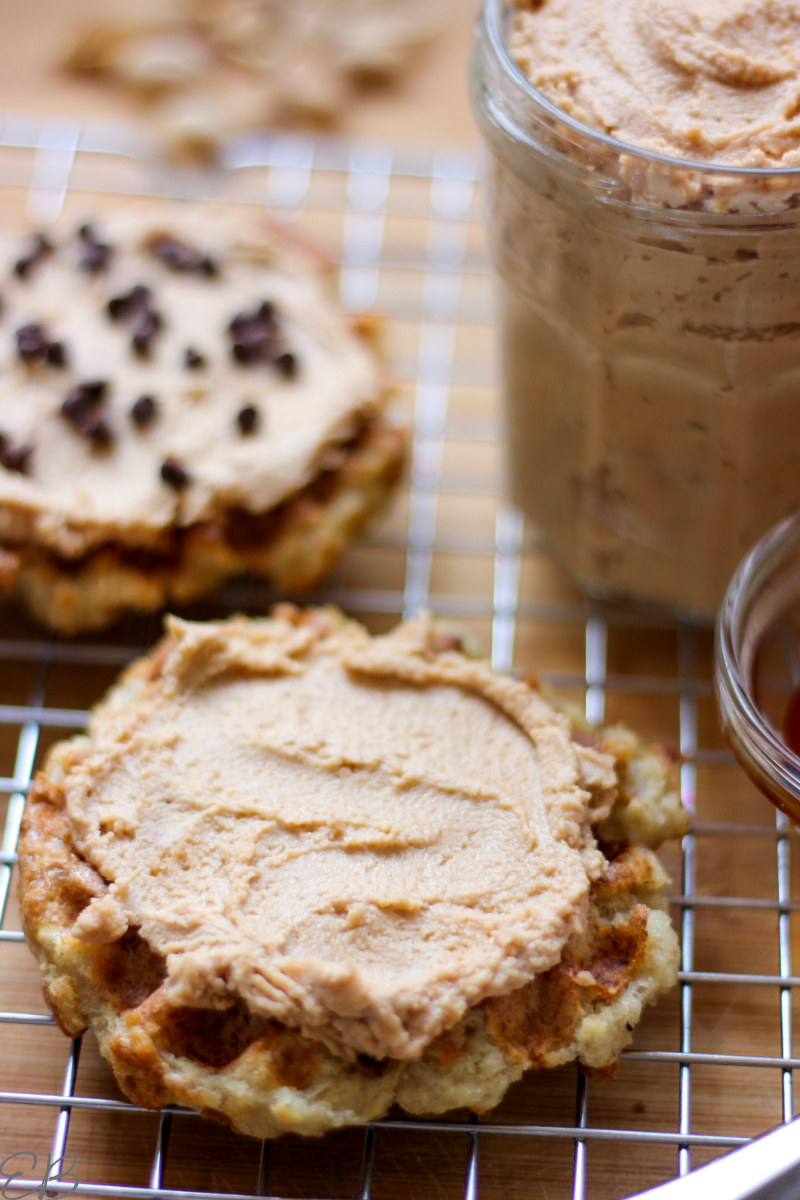 How does Fermented Peanut Butter taste
I find it pleasantly tangy, almost like it has a little lemon juice added, or similar to yogurt.
It will not be to everyone's liking, especially if you are expecting to taste a JIF or Skippy type peanut butter.
But if you are used to learning to like new things and enjoy natural flavors, you'll find it quite good. Also, if you typically like yogurt or tangy foods, I think you'll like it.
Most who enjoy natural foods and yogurt will find it very delicious and satisfying.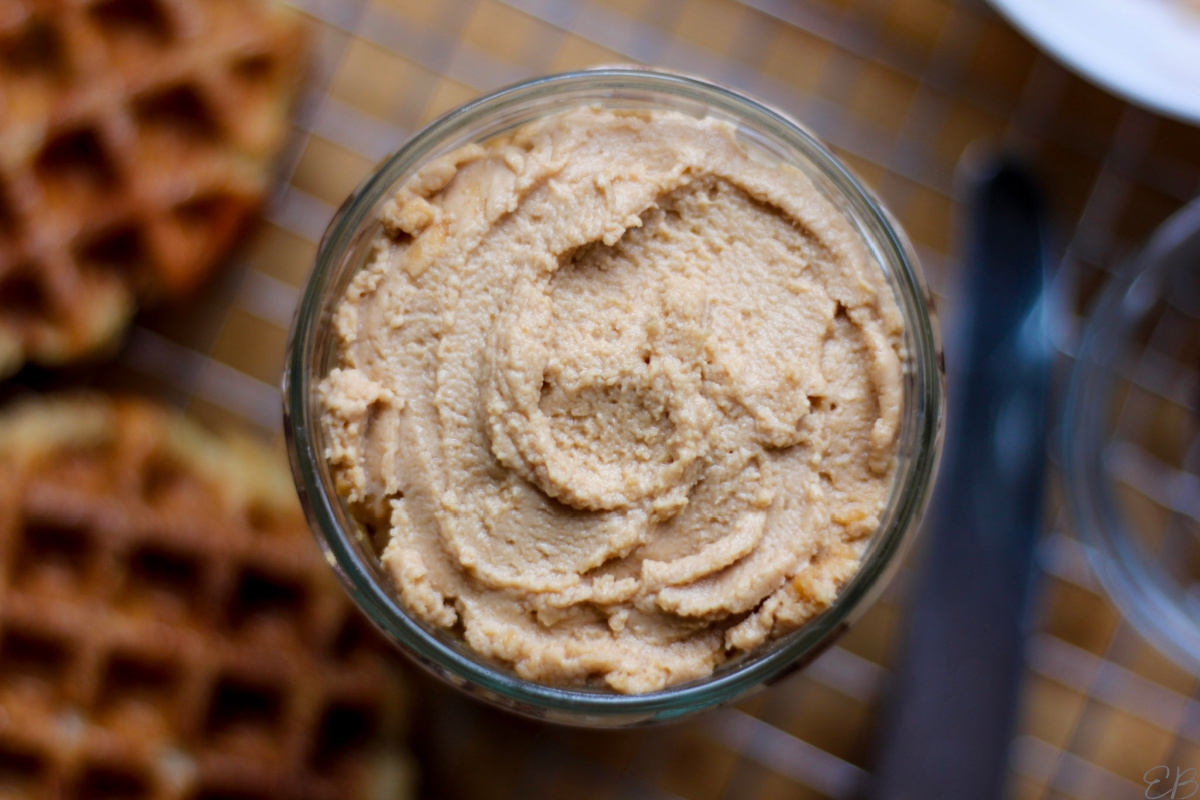 How to make Fermented Peanut Butter
Making Fermented Peanut Butter is an easy and fast process:
Place peanuts in food processor. Process until peanut butter forms.
With motor running, gradually add in water until it's fully incorporated.
Remove lid, and add probiotic. Blend again just briefly.
Move peanut butter to fermenting container, and cover: This can be a jar, yogurt maker or even an Instant Pot insert, if you have the Yogurt setting on your machine.
Keep in warm steady location, such as a yogurt maker, seed mat or Instant Pot.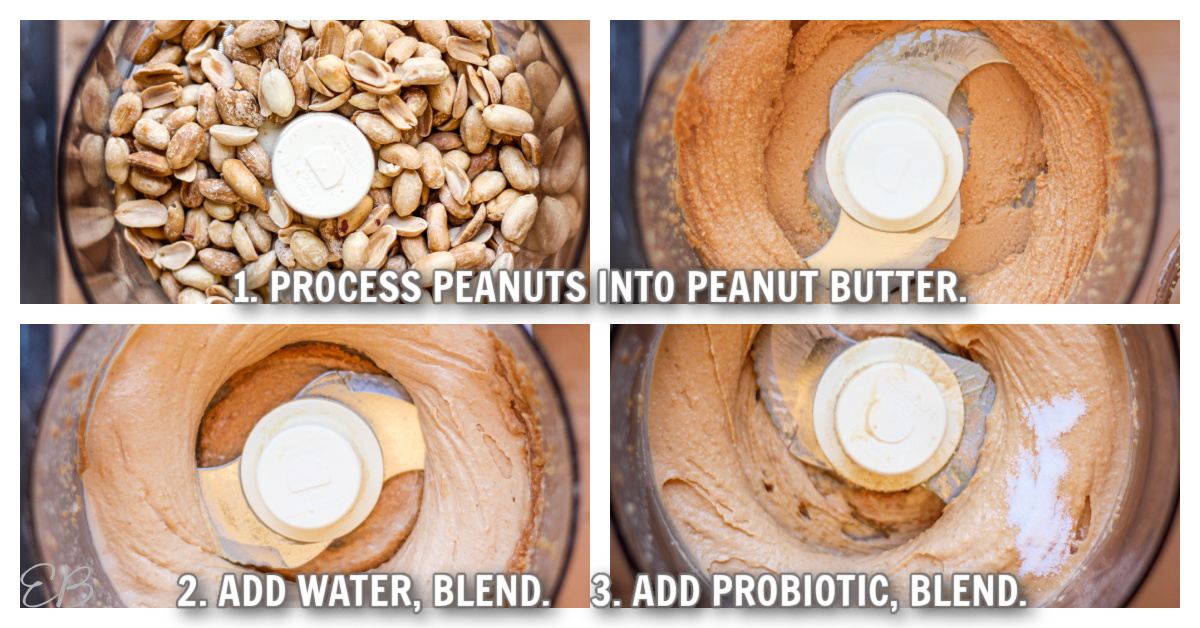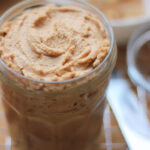 Print Recipe
Fermented Peanut Butter recipe
Fermented Peanut Butter is a great homemade recipe that allows you to eat peanut butter without aflatoxins. Fermenting also reduces oxalates, adds probiotics and makes the nutrients in peanut butter more bioavailable.
Ingredients
Instructions
Blend roasted (and de-hulled, if needed) peanuts and optional sea salt in food processor until peanuts become peanut butter.

With motor running, gradually add water through the feed tube. Blend until water is fully incorporated and peanut butter is creamy. Take off the lid. Use a spatula to scrape the sides and bottom so they get mixed in with the next step.

Sprinkle in probiotic, and blend just briefly to mix.

Transfer peanut butter to fermentation vessel or glass jar. Cover loosely. Place in steadily warm location for about 15 hours. (If you have an Instant Pot with a Yogurt setting, you can ferment directly in the insert pot, if you like.) Note: Your peanut butter may have a darker "skin" over the surface after fermenting, which is fine; it's just darker and firmer where it was exposed to the air. This can be stirred in or ignored.

Transfer to fridge, or eat immediately. Store Fermented Peanut Butter in the fridge for 1 month, or possibly much longer.
Notes
Learn how to soak and "sprout" your peanuts here.
Sprouting raw peanuts simply means to activate them, creating a more digestible peanut. You will not actually see a sprout.
How to roast peanuts
Preheat the oven to 350 degrees F.
Spread peanuts in a single layer on a large rimmed baking sheet.
Roast about 10 minutes, until golden brown and glossy with fat.
Allow to cool fully before processing into peanut butter.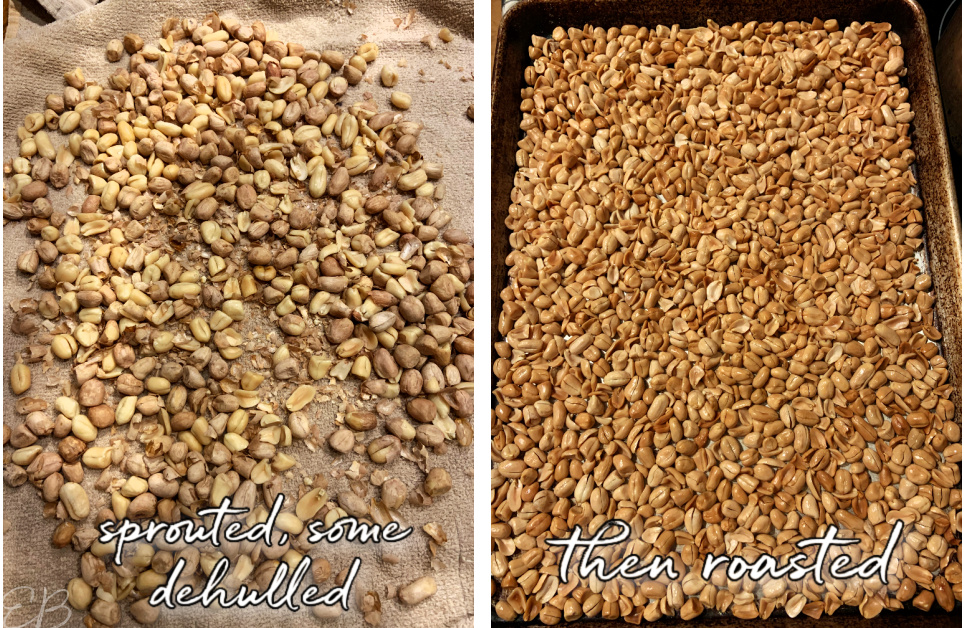 Nutrition
Calories:
104
kcal
|
Carbohydrates:
1
g
|
Protein:
5
g
|
Fat:
9
g
|
Saturated Fat:
1
g
|
Sodium:
36
mg
|
Potassium:
136
mg
|
Fiber:
2
g
|
Calcium:
20
mg
|
Iron:
1
mg
You can Pin this recipe here: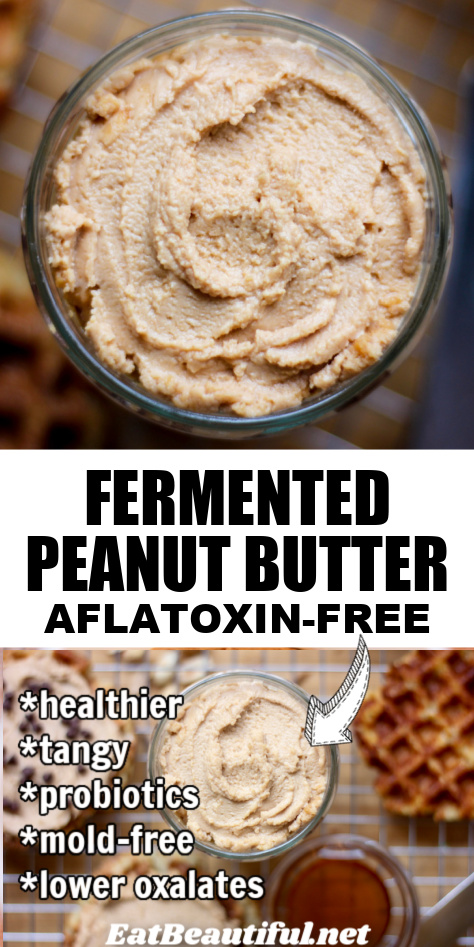 Similar recipes I think you'll enjoy: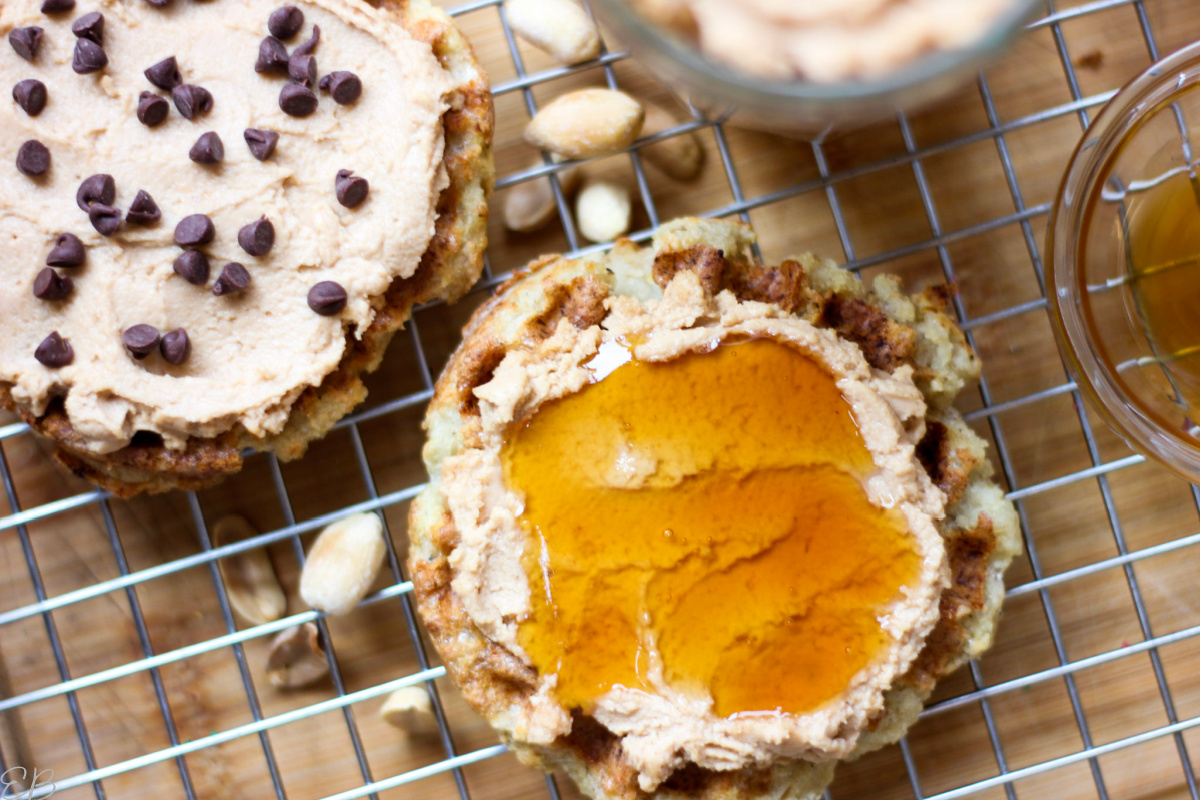 Which peanuts to buy
Firstly, why is it important to buy organic peanuts?
Peanuts are soft, porous legumes that absorb the soil contents which surround them. Grown underground, they absorb pesticides. Conventionally grown peanuts are a heavily sprayed crop.
Oftentimes, they are also grown in regions of high humidity where aflatoxins grow best.
Organic peanuts are often grown in the Southwest where humidity is not a problem. And if you buy Jungle or Valencia, they are often grown on bushes above ground.
I'll share a few links to good peanut options. All of these are organic and raw.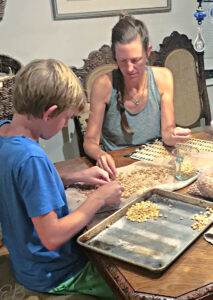 Raw Spanish Peanuts (need to be hulled) — These are a good option if you plan to soak, sprout and de-hull yourself. To the side here, you can see a photo of me sharing the de-hulling process with my boys, which was actually a lovely activity.
Raw Jungle Peanuts — I have not yet used these myself, because I bought another variety in bulk. But I look forward to trying these as well. You could probably try and make purely raw fermented peanut butter with this variety of peanut. All others I'd roast first.
Raw Valencia Peanuts — Lowest in PUFAs, which helps to keep the diet more balanced with omega 3:6 intake.
Note: I specifically do NOT recommend this source, as it tested positive for detectable aflatoxins. Although still very low and surely fermentation eliminates the mold, I don't trust the product knowing it contains detectable levels.
Are peanuts healthy
Peanuts are high in vitamin E, magnesium, phosphorous, zinc, potassium and calcium.
Fermenting makes all of these nutrients more bioavailable.
As mentioned, if you choose Valencia peanuts, they are also lower in polyunsaturated fatty acids and higher in monounsaturated fats. The fat profile of peanuts makes them a food to eat in moderation.
Lastly, peanuts are high in protein and very low in carbs. This makes them a great snack food, and makes Fermented Peanut Butter a healthy condiment for most people, including those on a Keto diet.
Additional Sources
https://cdn.intechopen.com/pdfs/22035/InTech-Methods_for_detection_and_quantification_of_aflatoxins.pdf
http://www.sixwise.com/newsletters/04/12/12/peanuts-most-are-carcinogenic–amp-pesticide-contaminated-but-there-are-safe-sources.htm