I may receive a commission if you purchase through links in this post. I am not a doctor; please consult your practitioner before changing your supplement or healthcare regimen.
Fermented Almond Butter is a delicious, tangy condiment that's even healthier than regular almond butter. The benefits of fermenting almond butter are: probiotics, fewer anti-nutrients, better digestibility, elimination of any mold, poison or other unseen contaminants and more nutrition from the almonds.
Plus, Fermented Almond Butter makes eating more fun, because it's adventurous and zippy.
You'll LOVE how easy it is to ferment almond butter! No special equipment is needed, and it will be ready to eat the next day.
Fermented Almond Butter is great for most diets, including Paleo, Keto, Ancestral, Gluten-free, GAPS and Vegan.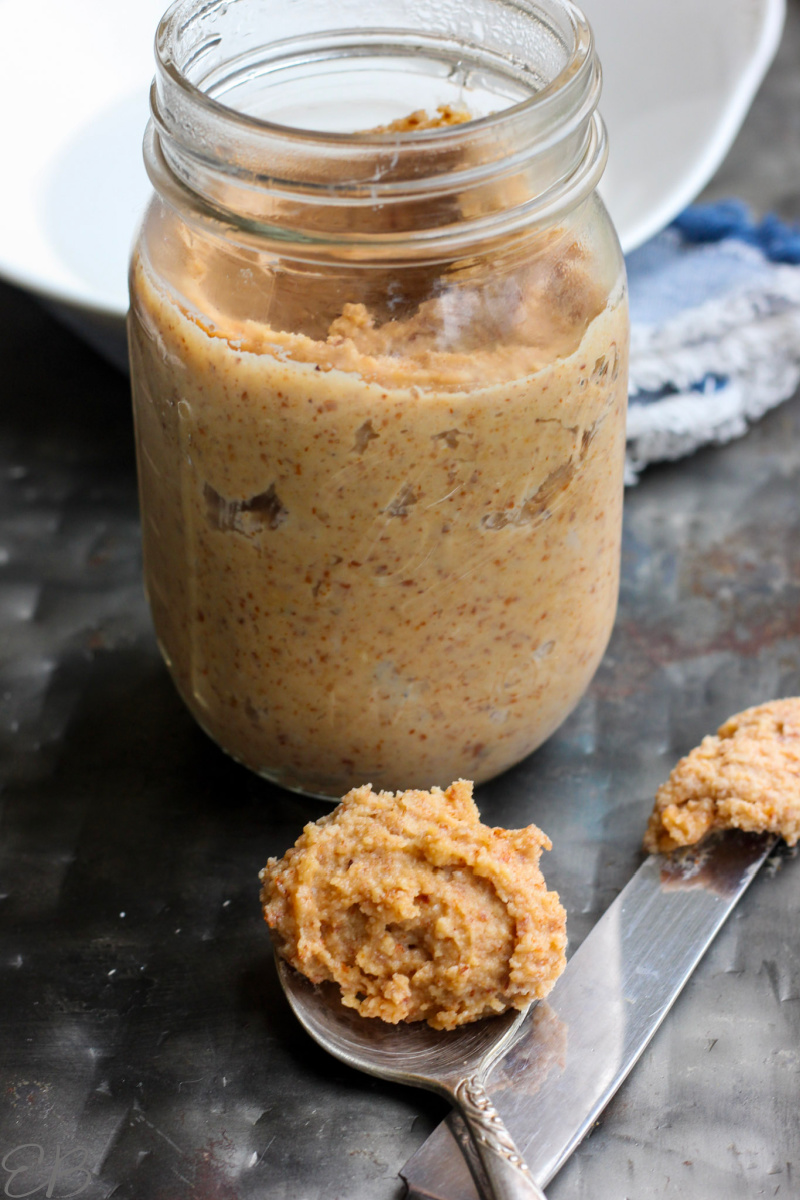 Ingredients in Fermented Almond Butter
almonds — Preferably raw and then sprouted. But you may also use roasted. See the recipe below for more on how to sprout or "activate" your almonds, if you choose the raw route.
water — Just a littler water is needed in the ferment to give the probiotics room to move, grow and proliferate. You may also sub the water for a probiotic liquid like water kefir or coconut water.
sea salt — Optional.
probiotic — Use a probiotic that is alive and you know works well for inoculating fermented foods, like this one. Or, use a vegan probiotic designed to make dairy-free yogurt.
Skins or no skins on your almonds
You can decide when you make almond butter if you want to remove the skins first or not. This option presents best if you decide to soak and dehydrate your nuts, which is called sprouting or activating them. This process reduces anti-nutrients like lectins and phytic acid.
Most anti-nutrients in almonds are found in their skins, so just soaking to remove the skins in worthwhile.
If you don't want to remove the skins, the sprouting process is that much more important.
However, a big part of why we're fermenting is to reduce anti-nutrients — so just leave the skin on, and ferment if you're not trying to be extra careful.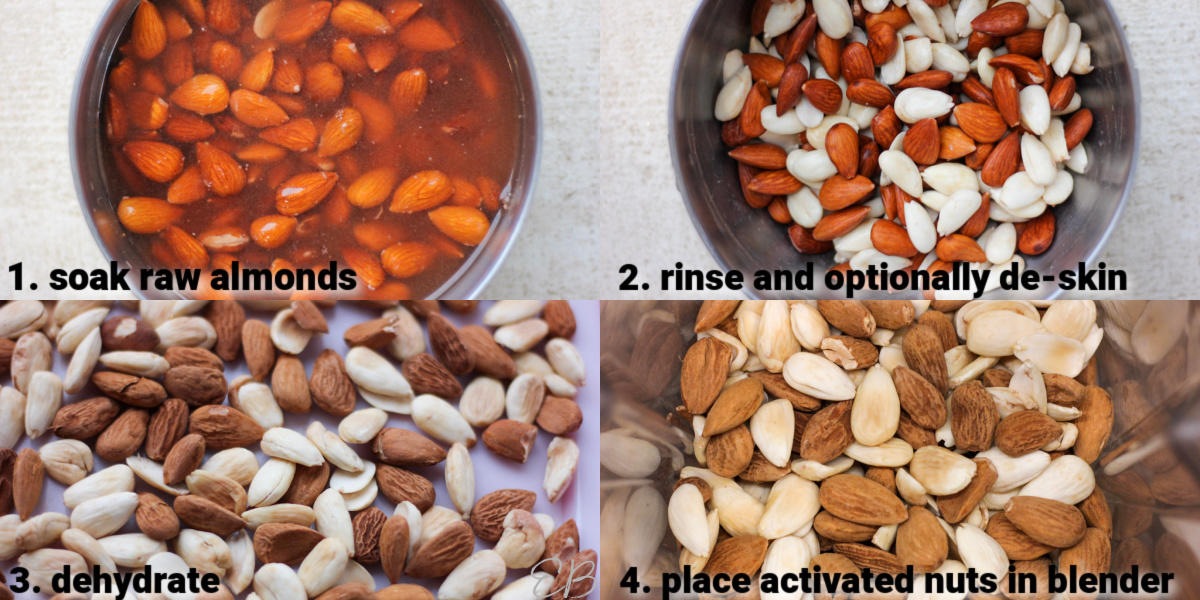 Variation
Instead of almonds, you may use this recipe as a template: use any other nut and several of the larger seeds, such as sunflower or pumpkin.
How to make Fermented Almond Butter
Making Fermented Almond Butter is super easy and fast:
Place almonds in food processor. Process until almond butter forms.
With motor running, gradually add in water until it's fully incorporated.
Remove lid, and add probiotic. Blend again just briefly.
Move almond butter to fermenting container, and cover: This can be a jar, yogurt maker or even an Instant Pot insert, if you have the Yogurt setting on your machine.
Keep in warm steady location, such as a yogurt maker, seed mat or Instant Pot. (If you don't have one of these, you can also warm the inside of a thermos with hot water, and use it once emptied again, or place your container in another consistently warm location.)
Your Fermented Almond Butter is ready after an overnight ferment, about 12 to 16 hours. The longer you ferment, the tangier your almond butter will become.
If you want a really lemony spread, ferment for the longer period of time. If you want the health benefits but not an overly tangy almond butter, choose 12 hours.
How and where to use Fermented Almond Butter
Enjoy Fermented Almond Butter in the same ways you enjoy regular almond butter:
But it's also great for other uses:
in salad dressings
whisked with water to make a quick non-dairy milk
stirred with cocoa/cacao and maple syrup to make a fun, easy ganache
in sauces, both savory and sweet
Print Recipe
Fermented Almond Butter
Fermented Almond Butter is a delicious, tangy condiment that's even healthier than regular almond butter. The benefits of fermenting almond butter are: probiotics, fewer anti-nutrients, better digestibility, elimination of any mold or other unseen contaminants and more nutrition from the almonds.
Equipment
food processor

or high-powered blender

fermentation vessel

jar, yogurt maker or Instant Pot (no plastic is preferred)

yogurt maker

optional, or seed mat, or IP with Yogurt setting
Ingredients
2

cups

almonds

See how to optionally sprout or "activate" almonds in the Notes section below. (I chose to remove the outer husks on about half of my almonds. You can leave yours on or take them off for better digestion and nutrition.)

½

cup

water

or you may also use water kefir; you may use a little more water if your almonds have all their husks (up to

¾

cup; add enough water to have a creamy smooth spread that's still thick)

½

teaspoon

sea salt

optional

2 to 3

capsules probiotic

depending on size and strength, or Vegan yogurt starter
Instructions
Place almonds in food processor or high-powered blender (such as a Vitamix or Blendtec). Blend until pulverized into nut butter. Use a wooden utensil to scrape sides into middle.

Add water, and process again, scraping down the sides once during this time. Process until mostly smooth and creamy. Add probiotic. Blend again briefly.

Transfer to fermentation vessel or glass jar. Cover loosely. Place in steadily warm location for about 15 hours. (Photo below shows almond butter on warm seed mat. If your kitchen is cold, wrap your jar with a towel. If you have an Instant Pot with a Yogurt setting, you can ferment directly in the insert pot, if you like.) Note: Your almond butter may have a darker "skin" over the surface after fermenting, which is fine; it's just darker and firmer where it was exposed to the air. This can be stirred in or ignored. Enjoy!

Refrigerate for up to 1 month, or possibly longer.
Nutrition
Calories:
103
kcal
|
Carbohydrates:
1
g
|
Protein:
4
g
|
Fat:
9
g
|
Saturated Fat:
1
g
|
Trans Fat:
1
g
|
Sodium:
32
mg
|
Potassium:
126
mg
|
Fiber:
2
g
|
Sugar:
1
g
|
Vitamin A:
1
IU
|
Calcium:
47
mg
|
Iron:
1
mg
You can Pin this recipe here:
Similar recipes you might enjoy:
Are almonds healthy
Sadly, conventionally grown almonds have more glyphosate residue than most other foods.
Most have also been treated with propylene oxide gas, which is carcinogenic and banned in Mexico, Canada and all of the E.U.
One more reason why fermenting is healthy
If all you can afford is conventional foods (instead of organic), fermenting is your best friend! That's because good bacteria transform and destroy toxins!
One other thing to remember when buying almonds, try not to source them from California (unless you buy this sustainable crop).
I know that might sound strange, but two reasons exist: one, California is a dessert, and you wouldn't believe the way water is fought over in that state to grow almonds … when in reality, they should be grown somewhere else, like where they grow natively!
Secondly, no almonds coming out of the U.S. are actually raw. Pasteurization is the law. You can't actually sprout or activate California grown almonds, even if they are labeled, "Raw".
Try buying almonds from Spain, like these.
The last issue to consider when you decide how many almonds you're going to eat is their fatty acids. As you may know, healthy diets emphasize omega-3 fats. Almonds are the opposite; they're high in omega-6s. I still enjoy almonds, though. I just make sure to eat plenty of fresh, high quality fish, grass-finished beef (not just "grass-fed"), and I don't overdo almonds.
Read more here about why most almond butter is bad for you, in contrast to Fermented Almond Butter sourced from natively grown almonds.