I may receive a commission if you purchase through links in this post. I am not a doctor; please consult your practitioner before changing your supplement or healthcare regimen.
Why IS most almond butter bad for you? Almond butter replaced peanut butter in many people's pantries years ago, touted as being healthier. Americans also love almonds themselves for snacking. Almond flour is quite common in gluten-free and grain-free baking. Almond milk replaced soy as the most popular dairy-free milk. Are we operating off of misinformation?
Certainly it's common to see Internet headings like, "Almonds: the World's Healthiest Food."  These sites, when looked at, inevitably include a list with the nutritional profile of such foods: they are full of vitamins and minerals and fiber!  We are supposed to be dazzled, convinced, and most people are. However, the claims are narrow in their approach and understanding of nutrition.
If almonds are eaten seldomly and in moderation, after the proper handling and treatment, they are nutritious.  Most natural foods when handled and prepared properly can be a blessing to our bodies, (food allergies and diseases aside, for the moment). But we have to know the whole food, its idiosyncrasies learned by former generations and forgotten as of late; and we have to eat the food amidst a balanced diet.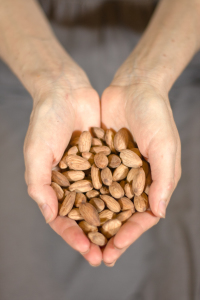 WHAT'S HEALTHY?
This article will look at almonds specifically, but also put forward ideas about how to shop for certain foods, and how and why to avoid factory-made convenience foods that are advertised as healthy.  Ironically, these "healthy" foods can be as dangerous, and should be as repellent, as driving through McDonald's.
When it comes to the foods we eat, we can't trust the labels on packages to tell us what's healthy.  We were all unknowingly entrapped in that sci-fi game for decades, even fifty years, ever since the post-World War II food culture, when boxed foods first came into vogue.  Words like, "healthy," "all natural," and "gourmet" have lost their meaning and irony has made those words hint at the lie: most packages that brag they are healthy, should actually be avoided.  "Healthy" and the actual contents of the factory-made food are antonyms.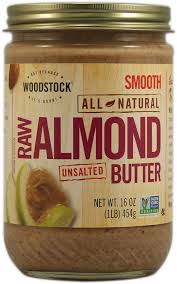 Therefore, sadly, even Paleo[1] favorites like almond butter, almond meal, and almond milk are not healthy.  If these three ubiquitous Paleo ingredients are made at home, using certain trustworthy old-fashioned techniques, which we'll discuss below, and eaten in moderation, then they are indeed health foods!  But who ever brainwashed us into thinking that store-bought, factory-made almond butter was health food?
My daughter just reminded me this morning that I, too, used to say that almond butter was a better option than peanut butter.  (Peanuts are another issue entirely, a topic for another post.)  But what was wrong with my assumption was I was assuming that all almonds and all almond butter were healthy.  They taste healthy; they seem healthy…
Some of you might feel threatened or sad at the thought that one of these frequently relied upon ingredients actually isn't good for you.  It takes us all a bit of swallowing and time to digest new information that we don't want to hear.  But the good news about my blog, and about me, is that my major message is one of hope: ALTERNATIVES.  If we have alternatives that we love, it is not as hard to leave behind old favorites or former comfort foods.
I am so excited to share beautiful, revolutionary baking recipes with you that are truly full of nutrition, easy to digest, and prepared using knowledge-based methods from local and organic ingredients.  Almond butter and meal can be temporary steps, like Bob's Red Mill-type gluten-free mixes, after giving up gluten and learning to live without it.  What follows in this article and in life is the next step when and if you're ready.
Firstly, I'd like to be very specific about the problem with almond products.  There are two main issues that actually make them disease and cancer-causing convenience foods.  (But remember, when we're done discussing what's wrong with these easy foods, I'll share their healthy counterparts, how to make these foods at home, recipes of love and truth that you can feel confident about and love eating now and forever.)
DOES PASTEURIZATION MAKE ALMONDS DANGEROUS?
And are your almonds raw?
In 2007 legislation passed in the United States that required the pasteurization of almonds, due to two Salmonella outbreaks from California-grown almonds.  Pasteurization uses one of two methods: heating the almonds to temperatures of 200 degrees or higher or the use of propylene oxide gas, a "probable" carcinogen, as noted by the United States Environmental Protection Agency.  Yikes!  Most conventional almonds are undergoing this gassing process; and no U.S. grown almonds are raw!
(The one exception to this rule is that raw almonds may be sold in no larger than 100-pound quantities total per farm from farmer's markets.  But bulk almonds are grown only in a few states[2] in our country; so these raw ones are inaccessible to most and of course, are sold in very small amounts that aren't a significant monetary benefit to any farm.)
Update: In 2015 a chemical-free process for pasteurizing almonds using radio frequencies was approved! This is great news, as it's a natural alternatives for killing pests and molds. It is not used pervasively at this time, but at least it's an approved alternative to the more prevalent carcinogenic gases. (source)
Once we get that bagged almond meal, or blanched almond flour, its food value has been compromised significantly and it likely contains residues that are cancer causing.
What is shocking and fascinating is that the U.S. government took the same approach with the pasteurization of almonds and these Salmonella outbreaks as it took with the pasteurization of milk.  The conventional farming practices that contributed to the Salmonella outbreak in California were not addressed on a nation-wide scale.  As in, "Is it possible that the direction modern farming has taken contributed to this health hazard?  Should we look at modern conventional farming techniques and see where we've gone wrong?"
Heating and killing, or poisoning our food, is easier than addressing the labyrinth of trouble we've gotten ourselves into when it comes to conventional farming techniques.  Specifically, sustainably raised crops practice biodiversity wherein grasses and weeds actually help to prevent salmonella.  The newer mono-crop farming method of raising literally 70,000 pounds of one food per season is a risky sponge for infection.
As an informative article from cornucopia.org points out,
"This may be the first step in a slippery slope toward a sterile food environment that protects processors from lawsuits and facilitates industrial-scale food processing and distribution—which is exactly the kind of environment that facilitates bacterial contamination, but does not necessarily protect consumers from illness, while offering few food choices to consumers who prefer raw and unprocessed foods."
With the issue of raw milk, by the time it was outlawed[3] (which still shocks me to think about) cows were sitting or standing in their own feces in small pens while milk was mechanically being pumped from their utters[4].  This form of mass production was too profitable and convenient for the U.S. government to reconsider.  (But obviously the risk of milk being infected under these circumstances is scary huge.)  So the mass population's demise of health began in earnest instead.
That sociological decision, one that would affect the entire nation, was marketed ironically over the next five decades as America's super health food.[5]  We all drank milk for strong bones and protein.  It took about three generations before the health ramifications of eating large amounts of a food without living digestive enzymes and also laced with growth hormones took its toll.  (I will discuss more about the cause of food allergies and all of today's modern health epidemics in another post.)
But let's learn our lesson well.  We don't need to eat poisoned and dead almonds for decades.  Let's look at the history of milk, with many of us now drinking dairy-free milks or making sure our sources are grass-fed, raw, full of probiotics, and/or locally sourced.  We need to seek out whole foods, fresh foods.
ARE YOUR NUTS FRESH?
That leads to the second reason to avoid all commercially made almond butter, almond meal, almond flour, and blanched almond flour.  All nuts have a short shelf life.  They are prone toward rancidity.  This is especially true of walnuts.  But all nuts must be stored briefly or properly.  Do we think that big factories are mindful of this truth?
Rather they are looking at mass production, mass profit, and the effectiveness of a good label to make their product look healthy and desirable, not to mention a competitive selling price.
A competitive selling price, however, is not complimentary with having a knowledgeable health advocate on the company team to make sure that all almonds are made into butter quickly after harvest and then frozen to prevent further aging of the nuts' components.
Nor are most nut companies these days soaking and sprouting their nuts before creating their meals and butters, although we are beginning to see a few companies do this who sell from health food store shelves.
What's wrong with a good rancid nut?  Until you've eaten lots of GOOD soaked, sprouted and dehydrated nuts you won't necessary taste the difference.
But rancidity in food is not something to ignore.
Paul Pitchford of Healing with Whole Foods: Asian Traditions and Modern Nutrition writes that possible complications from eating rancid nuts include,
"irritation to the linings of the stomach and intestines; the oils in them cannot be digested or assimilated efficiently; poor immunity, cancer and other chronic diseases; destruction of vitamins A, E and F in the food plus those stored in the body; gall bladder and liver complaints."  And Andrew Weil, integrative medical specialist, says of the rancid oils found in nuts, "They're carcinogenic, pro-inflammatory and very toxic."[6]
My kids were not happy when I first learned the truth about almond butter.  It had been a comfort food to them ever since we embarked on a limited healing diet.  First we gave up peanut butter, and now, not this!  So here's my shocking confession: occasionally I let us eat it as I weaned and educated them.  I had peace by making a habit that was going to stick into a process.  I will emphasize that we didn't do this often.  But I knew our bodies can deal with a small amount of toxins and it was emotionally helpful for them to transition to only having homemade almond butter, which does have a different quality.
Eventually I weaned us of almond butter altogether. I literally never buy or make it. But we love sprouted nuts and seeds and homemade sprouted nut and seed butter alternatives. I give recipes for these below.
HOW MANY ALMONDS ARE SAFE TO EAT?
The last important issue to discuss and be mindful of when eating almonds, and most nuts, is the quantity consumed.  The bad news about almonds is that their omega-6 to omega-3 ratio is heavy on the omega-6 side.  The typical American diet is already heavy in omega-6s, which is why so many doctors now recommend foods and supplementary fish oils high in omega-3s, to get the balance back to where it should be.
The ideal ratio of these necessary fats in our diet should be anywhere from 1:1 to possibly 4:1.  Many Americans today eat a diet that is 30:1, heavy on the omega-6 side.
Where is the imbalance coming from?  Grain-fed meat, too much chicken (and skinless boneless chicken breasts- oy!), and lots and lots of polyunsaturated oils that in some cases we are still being told are good for us: grapeseed, sunflower, safflower, corn, peanut, soybean, margarine, and hydrogenated or partially hydrogenated oils, as well as canola oil.  (If you are still cooking with these oils, please stop and replace them with grass-fed butter or ghee, olive oil, coconut oil, avocado oil or fat rendered from sustainably-sourced meat.)
You take this typical American diet and you add the advice that "almonds are healthy" and you are just adding another fat imbalance and digestive challenge to the problem.
However, if our diet is remedied to more of a Paleo or Weston A. Price[7] style of eating and we emphasize eating lots of organic vegetables and wild-caught seafood, grass-fed eggs and meat, good fats, pre-digested or no grains, fermented foods and cod liver oil[8], and we enjoy a handful of sprouted almonds a couple of times a week, or use them in baking, we are in good shape!
I think the main message here is actually really simple and just takes a little practice and some recipes: stop eating factory made food.  This includes rotisserie chickens from Costco and other local markets, (save for a few exceptions) that are basted in, or injected with, cottonseed and other harmful oils.
Fresh, living ingredients raised correctly, with care and knowledge, prepared with homemade techniques are the rule of the day for restored or improved health.
Please look for local companies that you can support that are doing this.  In our city I know of 3-4 restaurants total that practice these ethics.
Here's a shocking exercise: look at the ingredients in your local market's salads and soups.  You will surely find polyunsaturated oils.  My guess is that even natural markets do not have the knowledge to avoid these oils; or their profit margin issue makes it difficult to stick to olive oil and other safe choices.
(Any consumption of these polyunsaturated oils should be limited, by the way, to the expeller-pressed, no heat technique; and these oils should not be used for cooking, only cold preparations.)  Mention this issue of oil choice to your local markets and restaurants so we can see change over time!
As promised, it is time to talk about how to make real foods work in real day-to-day life.  My cookbook, EAT BEAUTIFUL: Grain-free, Sugar-Free and Loving It promises many lovely feasts, baked goods you can feel great about.  Below I share additional component recipes, like how to make homemade nut and seed butter and simple sprouted nuts or seeds for snacking. Keep in mind the California component, when seeking out alternatives to almonds: that it's a dessert providing water it doesn't have to thirsty trees. It is better to find nut or seed alternatives to almonds.
When buying any nut or seed, in order to make these recipes, it is necessary to buy from sources with a quick turnover.
(Here in Eugene, OR I buy from Hummingbird Wholesale, in bulk.  I believe that Sundance Market also has a fast turnover on their nuts.)
If you are someplace like Trader Joe's and want to take advantage of their excellent nut selection and prices, I recommend one simple step to help protect yourself against rancidity.  I don't recommend this with a nut from a market that doesn't have a fast turnover rate for their nuts (where the nuts are sure to be rancid), but from a market like Trader Joe's where the turnover is likely a fast one and you just want to show that extra ounce of precaution: add 1 tsp. vitamin C crystals  to your soaking water.  The soaking method is taught below.
As I launch into recipes for how to prepare your nuts, (and grains follow this same principle,) I'd love to share why this is necessary.
Phytic acid is found in grains, seeds, and nuts, which can combine in the intestinal tract with minerals and "block their absorption.  This is why a diet high in unfermented whole grains may lead to serious mineral deficiencies and bone loss…Soaking allows enzymes, lactobacilli and other helpful organisms to break down and neutralize a large portion of phytic acid in grains."
Sally Fallon, author of the revolutionary book Nourishing Traditions, goes on to say that the nutrition in the grains is improved by soaking.  Grains, nuts, and seeds also contain enzyme inhibitors which protect the seed but are hard to digest.  Soaking neutralizes these enzymes and increases the nutrition available.
In short, we are making the nuts and seeds more digestible; we are making their nutrients accessible; and we are preventing mineral loss that the phytic acid would have caused.
A helpful insight is that the digestive mechanism, our body's way of breaking down and assimilating nutrients, can actually be broken down over time.  If we abuse and overuse it with nuts and seeds and grains that have not been predigested, this havoc takes years of strict healing diets to heal.  Better to begin healing or prevent damage now through sprouting.
Soaked, Sprouted, Dehydrated "Crispy" Nuts
Soaking and Sprouting
For every 4 cups raw seeds or nuts, cover with room temperature filtered water and 2 tsp. sea salt.  Leave overnight; then drain and rinse well.
Dehydrating
Use any soaked nut or seed that has been duly drained and rinsed.  Toss with optional sea salt to taste and place in your dehydrator or low temperature-capable oven, 145 degrees or lower, preferably 105 degrees or lower.  For some nuts, such as macadamia or hazelnut, this process of completely drying out the nut can take as long as 72 hours.  For smaller seeds, 24 hours may still be necessary.  To check your nuts' doneness, let one or all cool to room temperature.  Then eat one.  It should be very dry and crispy, no softness or chewiness to the inside.  With the exception of walnuts, (which should still be stored in the refrigerator or freezer because their oils go rancid more quickly,) the nuts will have a good shelf life and may now be stored in a sealed container in your pantry.
Homemade Nut Butter
2 cups sprouted, dehydrated nuts or seeds
2 T. extra-virgin coconut oil, lard, cocoa butter, avocado oil or olive oil
Place ingredients in food processor or high-powered blender and blend for about 8 minutes, depending on desired consistency.  Alternately, add the following optional ingredients:
2 T. local raw honey
Celtic sea salt, to taste
1 t. vanilla extract
2 t. cinnamon
This recipe will thicken up in your refrigerator more than commercially made nut butter, but not much.  It is scoop-able and spreadable.  It will have a subtle coconut flavor if you use extra-virgin coconut oil.  I highly recommend adding the sea salt, about 1/8 tsp.
Homemade Nut Meal
Simply blend your sprouted, dehydrated nuts in a food processor or high-powered blender for less than 2 minutes, pulsing as necessary, preventing the nut butter stage from beginning.
To make blanched almond meal, take soaked wet almonds and squeeze each individual one between your thumb and index finger.  You'll get the hang of it; the white nut will pop/squeeze out of its skin.  This task is time consuming but can be fun to do with kids helping.  Then dehydrate your "blonde" nuts.  The purpose of this preparation is that the nut is even easier to digest without its skin.  But also the white nut yields a different effect for baking, natural candy making, and snacking.
---