I may receive a commission if you purchase through links in this post. I am not a doctor; please consult your practitioner before changing your supplement or healthcare regimen.
Paleo Pumpkin Pancakes are that classic pumpkin pancake recipe you've been looking for — large, tender-cakey and moist, like you remember, but better. Made with cassava flour and high in protein, these favorites are healthy to boot.
Paleo Pumpkin Pancakes are a long-earned recipe that I had to work on several times to get JUST PERFECT. You will love these, and your family will love them too!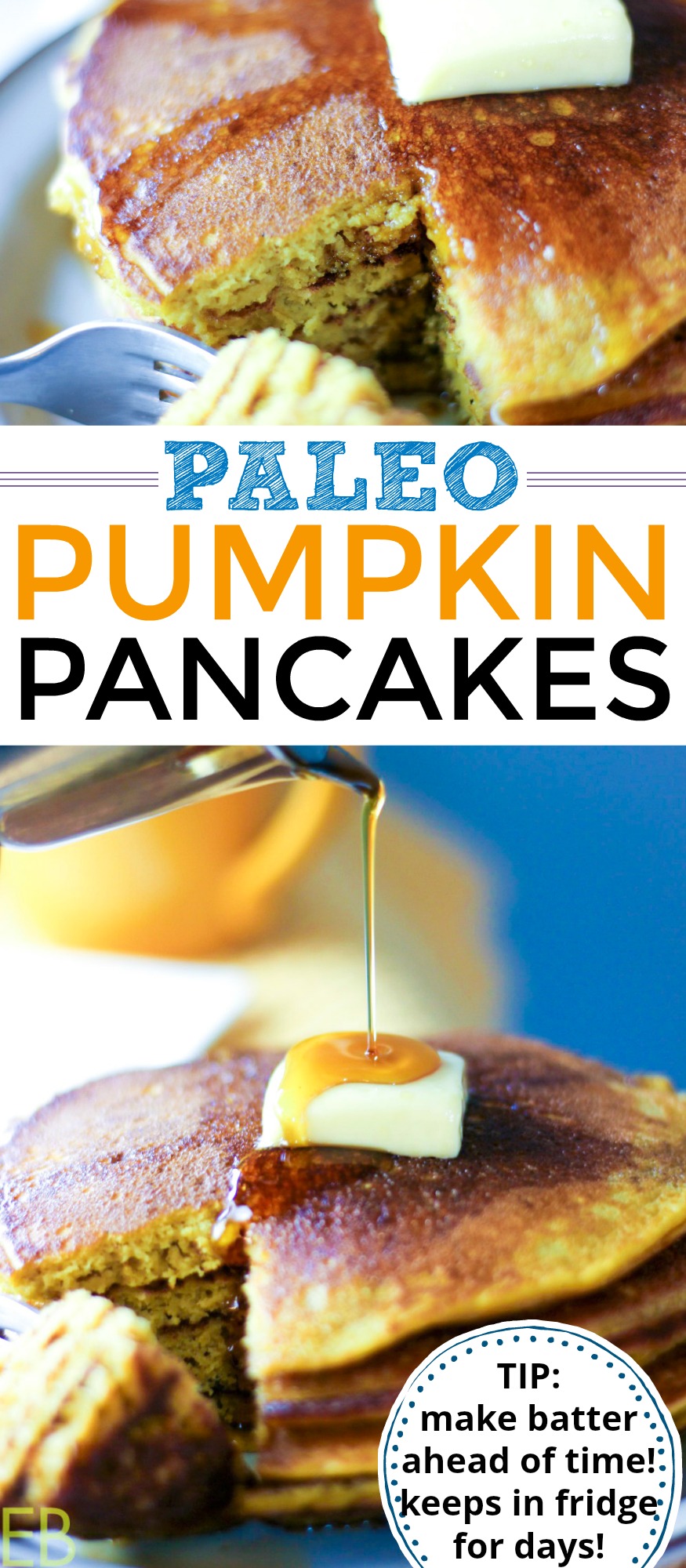 Paleo Pumpkin Pancakes
There are some big perks to being a food blogger:
You get to eat what you photograph.
Your family's meals are often made while you're "at work."
You sometimes get to eat while you photograph.
You get to eat Pumpkin Pancakes.
Your kids tell you (and you AGREE) that these are seriously the best pancakes they've ever eaten.
This makes you happy.
Your job makes you happy.
And you eat more Paleo pancakes. 😉
With lots of butter.
Today you photographed a coffee mug. It did indeed have coffee in it. You also get to drink the coffee while you eat the pancakes.
So yes, I like my job — especially on a morning when I'm photographing Paleo Pumpkin Pancakes made with cassava flour. 🙂
The history of pancakes
Until these, the best pancakes I'd ever eaten were served to me a looong time ago. 🙁 By my mom. 🙂 She used to make us buckwheat pancakes. They seemed perfect, and they were delicious.
Then one day I went to a friend's house. We were served white, fluffy Krusteaz (badly spelled "cutely" spelled food names ALWAYS mean fake ingredients) with some kind of nasty "whipped topping" from a container. I was confused. I ate them; but they were not good.
Now I'm all grown up, but I still love good pancakes …
When I got Otto's cassava flour in my life I tried several times to make great pancakes. They were never quite right. We ate a lot of attempts.
But then I finally succeeded.
And now, 🙂 we are REALLY happy with this recipe.
The pancakes in these photos? I ate them like 25 minutes ago. And I'm still smiling.
I feel HAPPY. I feel energetic. I feel cozy and full. I'm saving the leftovers for my husband, because I know he'll feel loved by them and love them.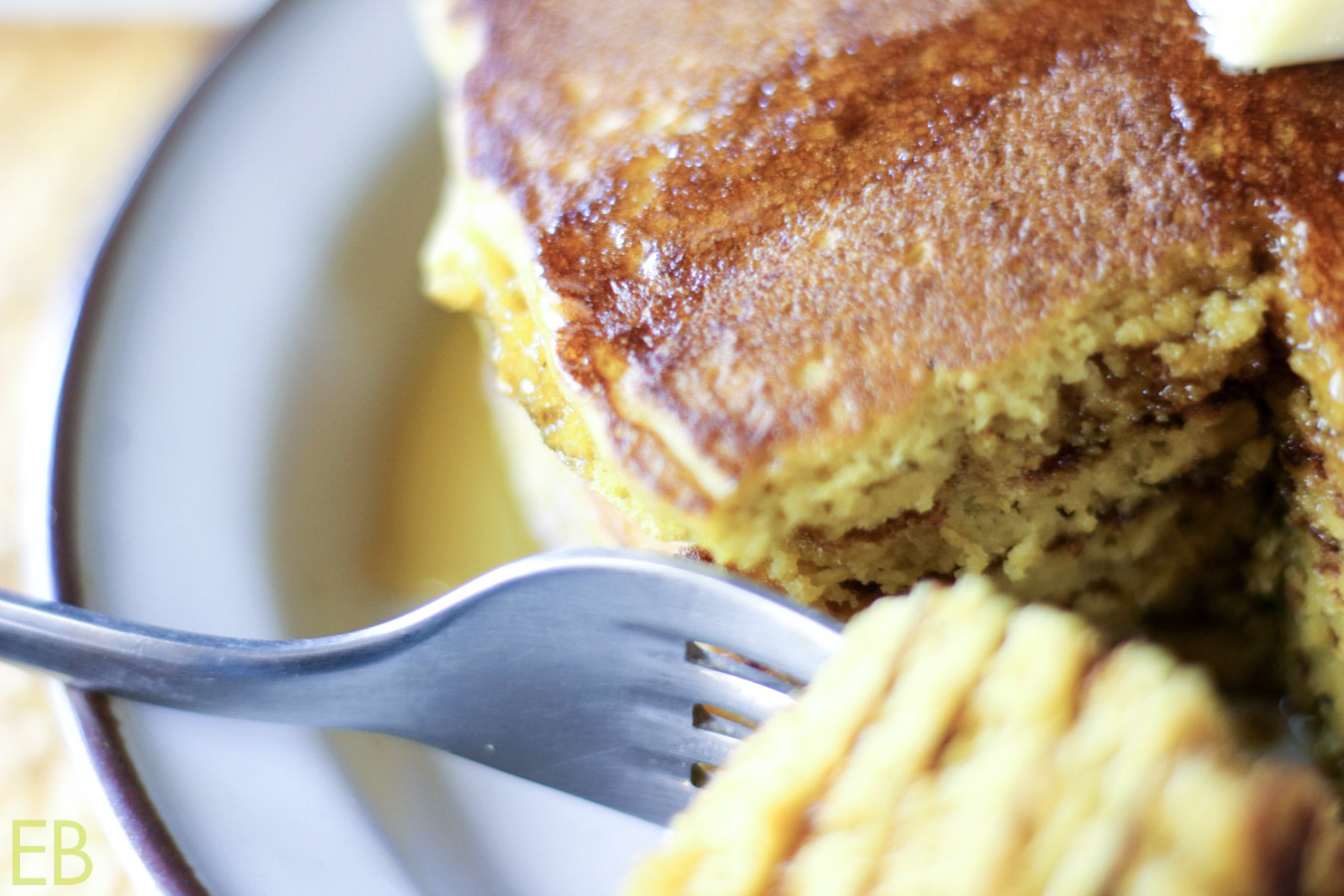 Paleo Pumpkin Pancakes ingredients
This recipe features cassava flour, to make that delicious cakey, traditional pancakes texture, that's also healthy. I only recommend Otto's or Bob's for this recipe. Other brands are too starchy, and you won't end up with the same results. Otto's is my preferred product.
In addition to cassava flour, this recipe uses some great high-protein ingredients: eggs, collagen (great amino acids for joint, skin and gut health) and your favorite non-dairy or well-sourced dairy milk.
Whipped up in the blender, Paleo Pumpkin Pancakes also include:
canned pumpkin — but you can also use leftover winter squash if you prefer
fat of choice — ghee, butter, coconut oil, lard or avocado oil are all good options
honey or maple syrup — coconut sugar would probably be fine too
baking soda and sea salt
These basic staples in the right ratio, whirled together in the blender, make the perfect breakfast hot cake!
Variation: If you'd like Pumpkin Spice pancakes, with cinnamon and ginger etc!, that variation is found in the Recipe Notes below the recipe itself. I made these pancakes without traditional fall spices, because they taste just lovely how they are. But there's always a time when you want those autumnal/wintry flavors.
Stacked pancakes
Do you know about stacked pancakes? Yes, you can stack your pancakes. But the history is very old-fashioned. Please forget about the Michael Landon-starred show called Little House on the Prairie.
Have you ever read the book series by Laura Ingalls Wilder?? I kid you not: They are literature. They are the best books in the world, almost. They are SO good. Children's books teach us all about what is right and good in the world. They contain more wisdom than most of the silly modern fiction books now available.
Laura's husband Almanzo grew up on the most amazing (not exaggerating) farm in New York state. There is a lot of FOOD TALK in these books, a lot! His mom made donuts that flipped themselves. She made sauteed apples and onions. She sent the kids to school with homemade bread stuffed with sausages and butter. She made them stacked pancakes. When Almanzo grew up and became a homesteader, before he courted Laura, he used to make stacked pancakes for he and his brother Royal. They survived on pancakes.
Read these books to see the full glory of a lost, hard, but idyllic and wonderful world.
How to make stacked pancakes
And/or make these stacked pancakes: Yes, you layer butter and maple syrup as you go. You cook a pancake, put it on a plate, put a bit of butter and syrup, and each time a new hot pancake comes off the griddle you stack it and do the same. The flavor, the texture, the juicy cake with butter oozing out is unparalleled.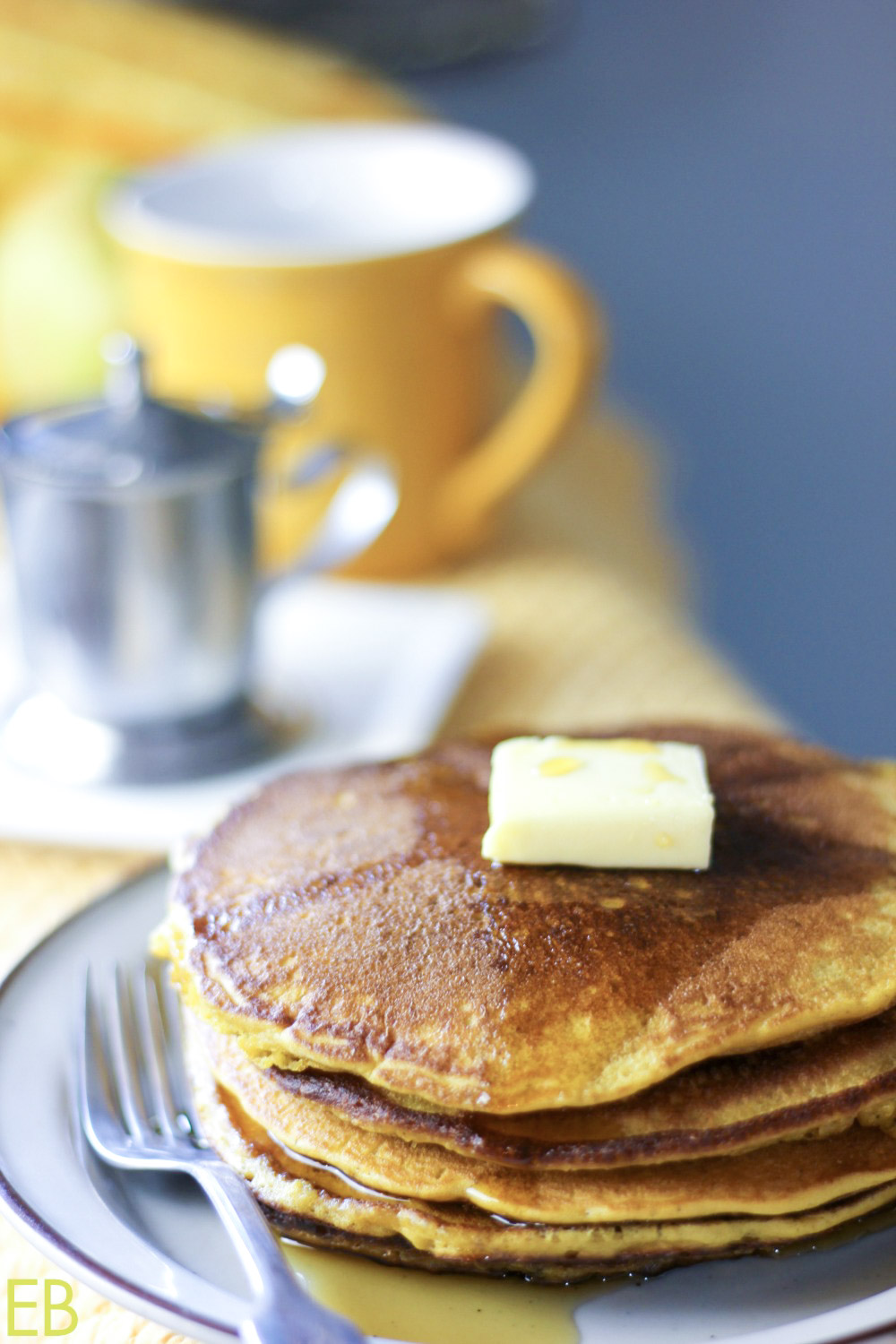 Sourdough version
If you'd like to "pre-digest" the cassava flour in this recipe to make it even gentler and more nutritious, see the Notes section below the recipe.
There, I give the Sourdough Pumpkin Pancakes variation.
Print Recipe
Paleo Pumpkin Pancakes (cassava flour, with sourdough variation)
These Paleo Pumpkin Pancakes are that classic pumpkin pancake recipe you've been looking for — large, tender-cakey and moist, like you remember, but better. Made with cassava flour and high in protein, these favorites are healthy and made quickly in the blender.
Equipment
frying pan or large skillet
Ingredients
4

eggs

½

cup

pumpkin

canned (organic and BPA-free lining) or leftover winter squash

½

cup

cassava flour

Otto's, see link below

¼

cup

collagen

Perfect brand preferred, see link below for discount code

¼

cup

milk

of choice (OR use soured milk if you want to make a sourdough batter; then let the batter sit out for 4 hours, then in the fridge for 2-5 days; see more on this in Notes section below.)

¼

cup

butter

melted, or melted lard, melted coconut oil or avocado oil

1

Tablespoon

honey

or maple syrup

½

teaspoon

baking soda

, sifted

¼

teaspoon

sea salt
Instructions
Place eggs in blender. Add pumpkin, milk, honey, cooled fat (if melted first). Add collagen, cassava, sifted baking soda and sea salt. Blend for 5-10 seconds. Scrape sides of blender. Blend 2-3 seconds more.

Heat griddle or cast iron skillet over medium-high heat. Add 1 Tablespoon high heat fat: lard, butter, ghee or avocado oil. Pour batter into desired size pancake and reduce heat to low. Wait until edges dry out a bit and bubbles appear all over the wobbly-looking surface of raw batter, about 4-5 minutes. Flip and cook again on second side until done, about 2 minutes more.

Finish cooking all pancakes, adding more fat to pan occasionally, (stacking them on a plate and layering with butter and maple syrup as you go, if desired). Batter will make 6 good-sized (pretty big) pancakes, enough to feed 3. Or make smaller pancakes if preferred.
Notes
Here's where to buy Otto's Cassava Flour.

I buy 20 lbs. at a time, hehe! GOOD stuff! Free shipping, family-owned small business. 🙂
Here's where to buy Perfect Collagen.

They give 10% off to Eat Beautiful readers. 🙂 Use the coupon code BEAUTIFUL10 at checkout.
Pumpkin Spice Variation
Add to the blender 1 teaspoon cinnamon,

½

teaspoon ginger,

¼

teaspoon each: allspice, cloves and nutmeg
Double the recipe + Sourdough option
Double the recipe for a larger crowd.
You can also make this batter ahead of time, so the prep. is easy when life is busy.
This works especially well if you use sour milk (if you drink raw milk), because it makes the batter into a mild sourdough over time, which reduces phytic acid, making everything about the pancake more nutritious.
Sourdough Paleo Pumpkin Pancakes instructions
Assemble the whole batter early, as outlined in the main recipe above. But sub in

¼

cup sauerkraut juice or non-dairy whey for the milk. 
Let the batter sit on the counter for 4 hours (safe by health department standards); then put it in fridge overnight or for up to 3 to 4 days.
The added benefit to making Sourdough Pumpkin Pancakes is: the pancake batter is ready when you want to eat, no prep needed at all. Just heat the pan or griddle, and cook up the cakes.
Nutrition
Calories:
399
kcal
|
Carbohydrates:
25
g
|
Protein:
27
g
|
Fat:
22
g
|
Saturated Fat:
12
g
|
Cholesterol:
261
mg
|
Sodium:
664
mg
|
Potassium:
174
mg
|
Fiber:
1
g
|
Sugar:
8
g
|
Vitamin A:
2470
IU
|
Vitamin C:
2.7
mg
|
Calcium:
94
mg
|
Iron:
2.3
mg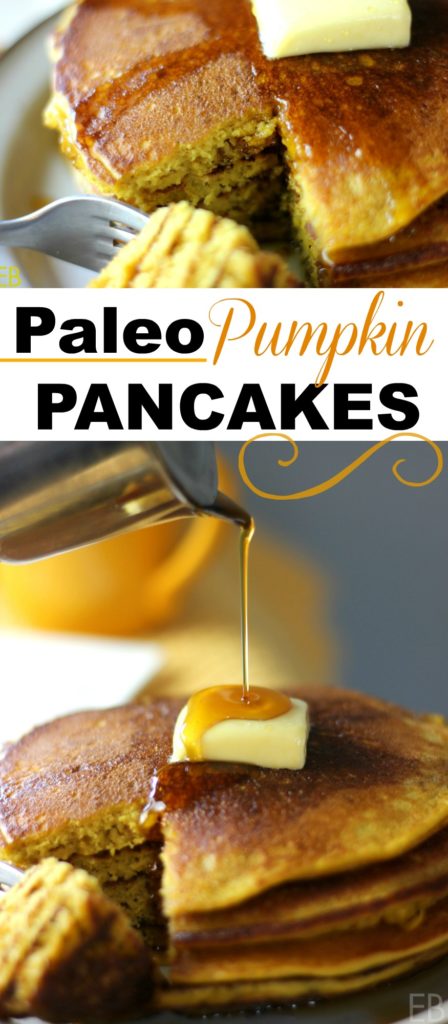 Similar recipes I think you'll love: