I may receive a commission if you purchase through links in this post. I am not a doctor; please consult your practitioner before changing your supplement or healthcare regimen.
Paleo & AIP Cassava Flour Waffles are a staple in our home that I know you'll love too! Made in one bowl, this egg-free baked good (with an eggs-included variation) is simply fabulous! Cakey white cassava flour, crispy edges, lots of complex carbs, good fat and protein, this is the perfect grain-free breakfast!
Jump to Recipe
This recipe is also the one my mom makes for herself 7 days a week. I think it's worth sharing because it has so many allergy-friendly variations — and it's a simply terrific breakfast staple … especially if you're egg-free and/or AIP!
But, my son who can eat eggs – the egg-free version is his favorite.
Protein in Paleo & AIP Cassava Flour Waffles
I love getting the right macronutrients into my family and me each morning for breakfast! I feed three athletic guys, and we all need to start our days right with lots of great quality carbs, protein and fat.
Because my youngest son is egg-free, I often make our baked goods without eggs. This Paleo & AIP Cassava Flour Waffle recipe is really nice, because it can be made either way — with or without eggs. The main AIP recipe printed below is egg-free, but if you look in the Recipe Notes section below it, you'll see the eggs-included version of the recipe that my mom makes for herself. Both are really good.
In the absence of eggs, I serve these waffles with meat on the side. I always cook up sausages or meat patties of some kind with breakfast, or I make a hash.
But meat only covers the essential amino acids our bodies need for protein!
Ironically, what are called "non-essential amino acids" are just as needed by our bodies, but we need to supplement our diets to get these nutrients.
So I add everyone's well-loved supplement, Collagen Peptides, to our waffles. Not only do we get the support we need for joint and tissue health and repair, collagen improves the texture of certain grain-free baked goods. So both the texture and nutrition of Cassava Flour Waffles improves with the addition of collagen. Don't leave it out of this recipe; sorry, it's not optional. 😉
Find my favorite Collagen Peptides here. Perfect Supplements is the only company that stringently tests for pesticide residue in their collagen. So we can be sure we're getting a product that doesn't interfere with our body's ability to detox (which is one of the harms of glyphosate). If you want the best collagen, choose Perfect Supplements' product. I truly believe it's the best out there.
(Perfect Supplements is also a small family-owned company with lovely folks running the company. You can buy directly from Perfect Supplements here, and use my code BEAUTIFUL10 at checkout for 10% off your entire order.)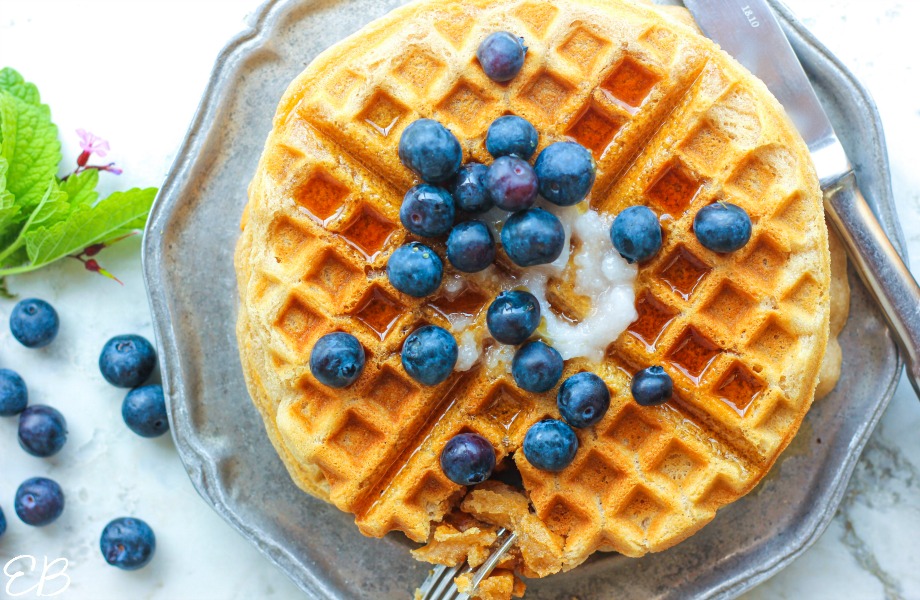 Which kind of cassava flour to use to make Paleo & AIP Cassava Flour Waffles
This part's important…
I am partial to Otto's for many reasons. I do think their quality control is the best, and they're a small family-owned business. In this time when big businesses are richer and more powerful than ever, it's that much more important to buy directly when we can. Here's a link to Otto's. I buy their bags in bulk to save money. You'll find great customer service and the best cassava flour available.
If you're looking for another brand, you can also use Bob's. But do not use Terra Soul or Anthony's, as these products are very starchy (which means, the cassava flour behaves more like tapioca flour in recipes). The cheaper cassava flours save money by harvesting larger roots. Unfortunately, this often results in 1) a different outcome in our baked goods and 2) mold grows more readily on older roots, which are often left in the fields before harvest.
You can read more about cassava, how it's grown and processed here. All the research I did for that article only made me more loyal to Otto's attention to quality.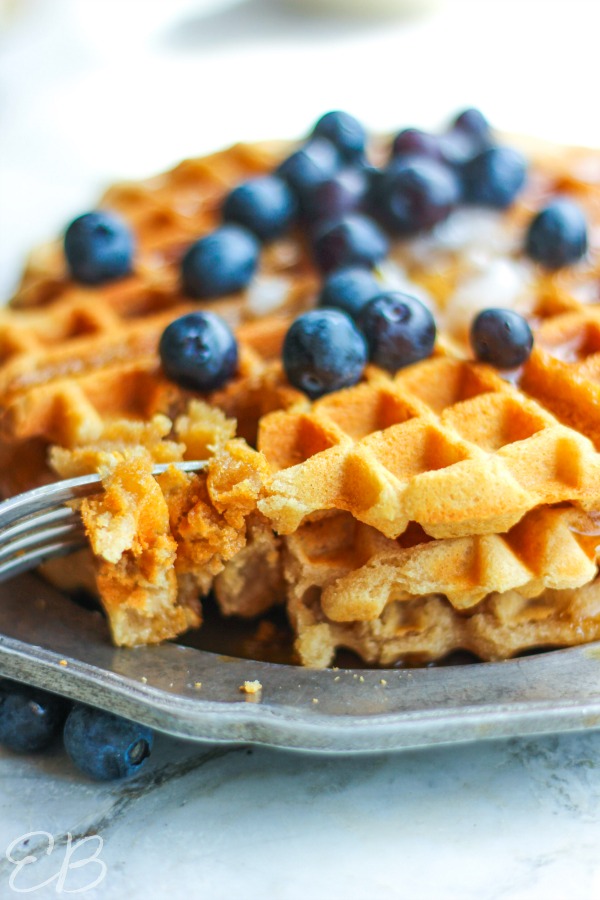 Other ingredients in Paleo & AIP Cassava Flour Waffles
In addition to cassava flour and collagen, these simple ingredients are mixed in one bowl:
coconut milk, tiger nut milk (for coconut-free) … or raw milk if tolerated
ghee or coconut oil (for dairy-free); or use Kerrygold butter if tolerated
a small amount of sweetener (you can choose your favorite granulated sweetener: maple sugar or coconut sugar)
cinnamon, baking soda and sea salt
How to make Paleo & AIP Cassava Flour Waffles into sourdough batter
To make this recipe even gentler to digest and more nutritious, the sourdough process is easy and actually fun to create and watch. The mixing process is the same, you just add one extra ingredient and allow the batter to ferment.
One easy approach to this process is to make and eat the batter on Day 1, but to let the batter ferment after that. So Days 2-4, you'll have sourdough batter. This recipe makes 4 waffles. So, if you're cooking for more than one person, you can double or triple this recipe to make that work.
The extra ingredient we add to this recipe to inoculate the ferment is a probiotic liquid. You can use:
sauerkraut juice (from plain probiotic fermented cabbage, no garlic or other strong flavorings in it)
OR whey (from a dairy-free yogurt: simply place yogurt in cheesecloth-lined colander overnight, nested over a bowl, to catch the whey [or a dairy yogurt, if tolerated] )
If you tolerate dairy — You can also try this recipe, which is the Primal version of these waffles: It uses Parmesan cheese to create an amazing texture in the waffle batter (more like a French pastry), not to be missed out on if you eat (aged) cheese.
Which waffle iron to choose
Since so many waffle irons are now coated with Teflon, which waffle iron to buy if you're in the market?
A new technology coats waffle irons with ceramic. Here's a good one to consider with great reviews.
Print Recipe
Paleo & AIP Cassava Flour Waffles (one-bowl)
Paleo & AIP Cassava Waffles are egg-free (with an eggs-included variation) and simply fabulous! Cakey white cassava flour, crispy edges, lots of complex carbs, good fat and protein, this is the perfect grain-free waffle!
Ingredients
2

cups

cassava flour

, Otto's brand (or Bob's might work fine, but don't use Terra Soul or Anthony's brands because they're starchier and you'll get different results)

2

cups

milk

of choice (coconut or tiger nut milk for AIP)

6

Tablespoons

ghee

or coconut oil (or butter if tolerated), melted and cooled slightly

¼

cup

collagen

peptides, Perfect Supplements brand

2

Tablespoons

maple sugar

or coconut sugar

1

Tablespoon

apple cider vinegar

1

teaspoon

cinnamon

(optional)

½

teaspoon

baking soda

, sifted

½

teaspoon

sea salt
Instructions
Plug in waffle iron, to pre-heat.

Add all dry ingredients to large mixing bowl. Stir to mix.

Add wet ingredients. Mix well. (The batter will be thick, which is important for this egg-free recipe to succeed, so don't thin it with extra milk.)

Optional, depending on if your waffle iron is truly non-stick: Spray waffle iron with coconut oil spray or something similar. Add the correct amount of waffle batter for your iron, usually about

⅔

full because it will expand. (I use 5 ounces of batter on my waffle iron.) Cook about 4 minutes, until golden brown on top.

Serve with maple syrup or preferred waffle toppings!
Notes
Variation with Eggs
2 cups - 2-

¼

cups milk of choice
2 cups Otto's Cassava Flour

¼

cup -

½

cup Perfect Supplements Hydrolyzed Collagen

¼

cup coconut oil or butter, melted and cooled slightly
2 eggs
2 Tablespoons maple sugar, coconut sugar or maple syrup
1 teaspoon to 1 Tablespoon cinnamon (optional)
½ teaspoon baking soda

½

teaspoon sea salt
Mixing instructions are the same as above.
Sourdough version
The ingredients are the same as in the recipes above: You can make the egg-free version, or the version with eggs, into sourdough. THE ONLY DIFFERENCE IS: You're going to replace

¼

cup of the milk with your fermented product of choice, either sauerkraut juice or whey from yogurt (can be non-dairy).
In a medium-large bowl whisk together the dry ingredients. Set aside.

In a medium-size bowl whisk together the wet ingredients, including the kraut juice or whey.

Pour the wet into the dry and fold together. 

For the AIP, egg-free version, store the batter on the counter overnight, loosely covered (ideally in a warm location). Sour for a minimum of 10 hours or overnight. Then cook or refrigerate.

For the version with eggs, store batter in the fridge (in a half gallon canning jar if you wish), loosely covered, for the week and bake as needed. Store for a minimum of 24 hours to sour the dough, to reduce phytic acid. Store longer for a stronger sourdough flavor and greater reduction of anti-nutrients, about 3 to 5 days.

Bake as directed above in the main recipe.
Nutrition
Calories:
548
kcal
|
Carbohydrates:
58
g
|
Protein:
29
g
|
Fat:
23
g
|
Saturated Fat:
14
g
|
Cholesterol:
60
mg
|
Sodium:
578
mg
|
Potassium:
32
mg
|
Fiber:
2
g
|
Sugar:
8
g
|
Vitamin A:
700
IU
|
Vitamin C:
3
mg
|
Calcium:
123
mg
|
Iron:
4
mg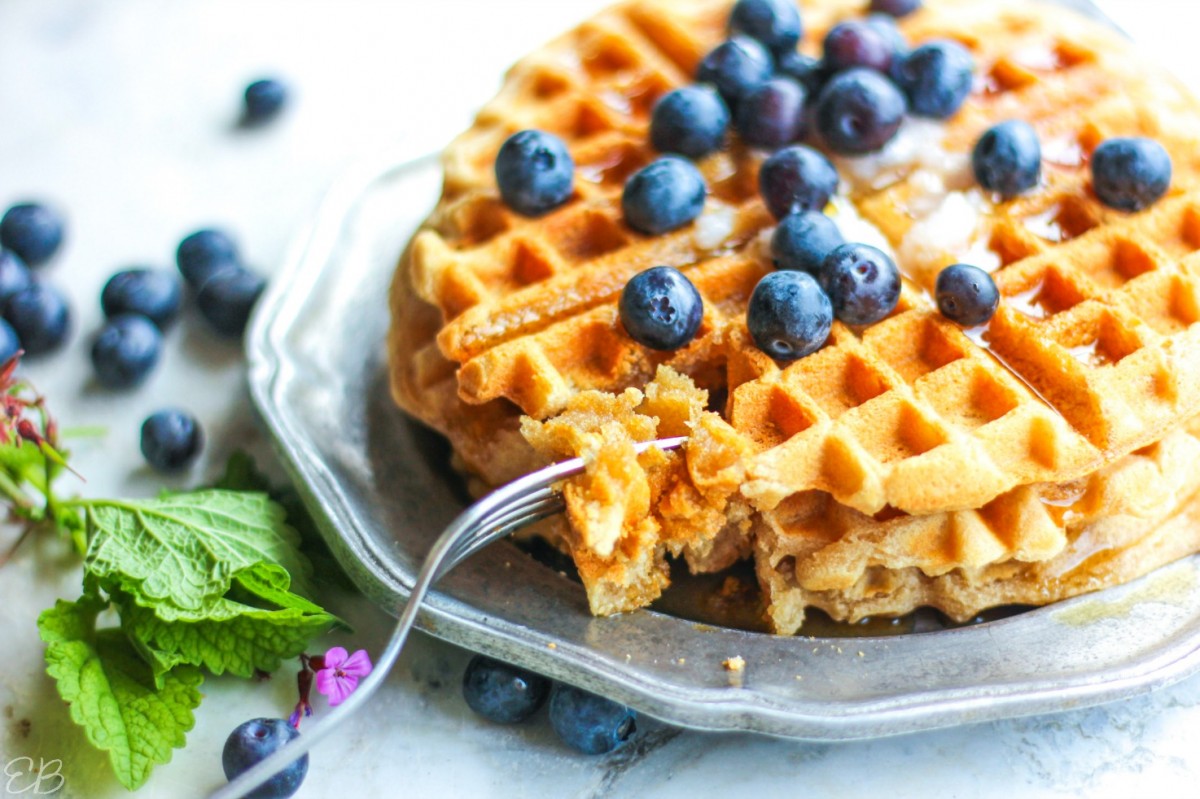 Other waffle recipes to try: