I may receive a commission if you purchase through links in this post. I am not a doctor; please consult your practitioner before changing your supplement or healthcare regimen.
Just 5 minutes to mix together pantry-staple ingredients, and you have the BEST fun breakfast, snack or dessert! With a dairy-free option, Best Keto Chocolate Chaffle is Low Carb, Paleo, Gluten-free and super allergy-friendly. A delicious, easy treat!
Also, if you don't have a chaffle maker, you can make a Chocolate Chaco! in your waffle iron (chaffle + taco) … filled with ice cream! (Scroll down to see more on this!)
Jump to Recipe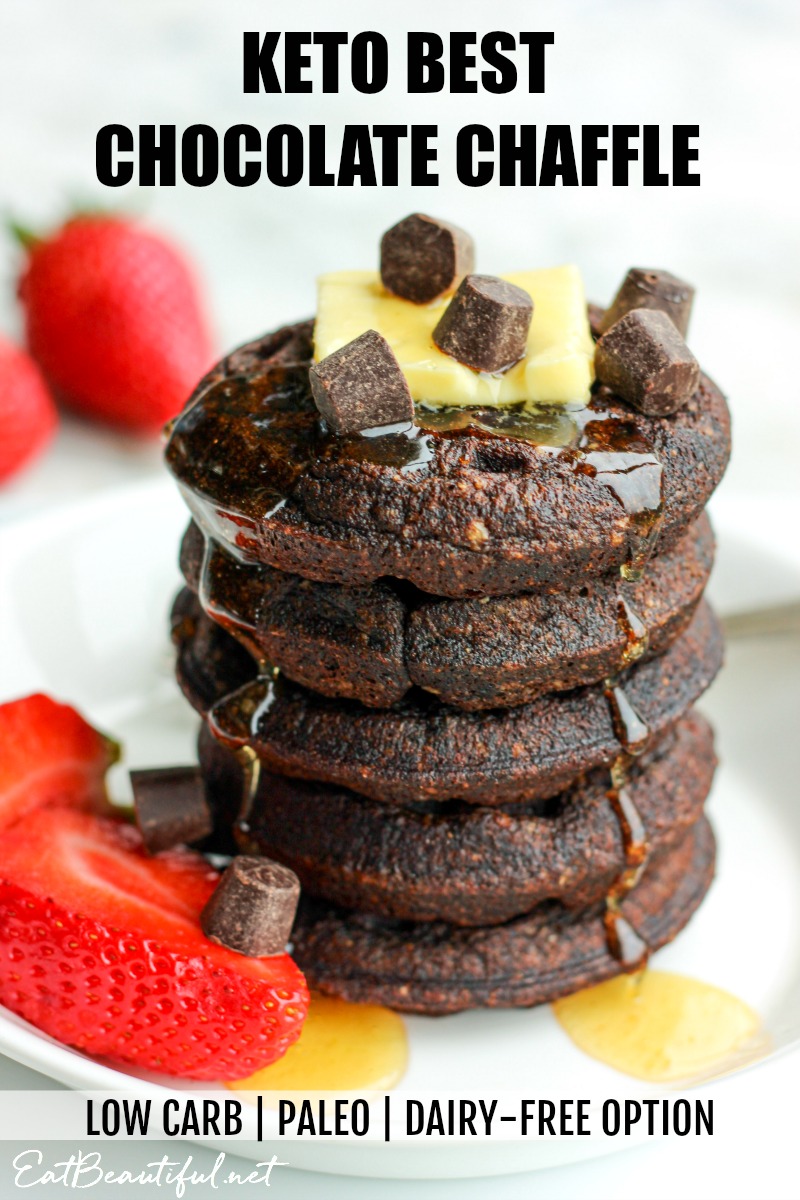 What's a chocolate chaffle?
The usual chaffle formula combines eggs and cheese and puts them on a waffle or chaffle iron to make a healthy, easy keto and low carb breakfast! Chaffles can be made with any kind of grated cheese. Added ingredients can change the texture slightly, but the basic recipe has just two ingredients.
Additional flour of some kind makes chaffles even better. Anything from nut flour, coconut flour or psyllium husk powder can be used to make the chaffle texture perfect.
Best Keto Chocolate Chaffles also add cocoa powder. Chocolate Chaffles can be made mini, like most chaffles, or full size if you prefer.
We'll talk more about toppings and fillings, but Best Keto Chocolate Chaffles are great served with just butter and syrup. They're also great made into an Oreo-style Ice Cream Sandwich (they taste great frozen!) or filled with sweetened cream cheese frosting!
Ingredients in Best Keto Chocolate Chaffle
While most chaffle recipes use cheese, not all do! This recipe I find to be better for a chocolate version of chaffles: Instead of cheese, it uses butter OR coconut oil. No cheese = easier pantry staples and more allergy-friendly + better tasting.
Other than that, this chaffle recipe is very similar to other chaffle recipes — using a few extra ingredients to create just the right texture.
You'll love these mini chocolate chaffles: crispy on the outside, a bit like an Oreo when frozen with ice cream (amazing) or topped with cream cheese frosting (oh yes!) and tender in the middle! SO good!
Here are the ingredients used in this recipe:
egg white — By using just the white, we get a crispier chaffle, a little like an Oreo cookie and definitely an ideal chaffle texture.
cocoa powder — Fair Trade cacao makes a rich, dark batter. (For the Paleo, GF and VAD versions, you can also sub toasted carob powder if you wish.)
granulated sweetener — For Low Carb, this recipe uses erythritol or your favorite low carb granulated sweetener. For Paleo, GF and VAD, you can use either coconut sugar or maple sugar.
flour of choice — Three options work for this recipe! You can use blanched almond flour. You can also use any seed or nut butter + water (I give this variation in the recipe below.) For this option, I like to use tahini; it's super convenient, healthy, and you don't notice the flavor one way or the other. Lastly, for just the Paleo and GF versions, you can use cassava flour if preferred. (Update: For GF and VAD, white rice flour works as well.)
fat of choice — I like to use butter, but for dairy-free, you can also use coconut oil in this recipe. (It's exciting to have a dairy-free chaffle recipe!)
psyllium husk powder — Just a bit creates the right texture in this recipe. Make sure to use husk powder (like this).
baking soda and sea salt — Baking soda leavens but also adds crispiness to these chaffles. Sea salt for heightened flavor.
Which chaffle maker to choose
Most people make their chaffles on the Dash chaffle maker (find it here), or a similar one. That's a great choice and very affordable. This recipe makes two chaffles on a Dash-style iron.
I recently started using the ChurWaffle Maker (find it here), which I love. It makes 6 small chaffles using this recipe. (The ChurWaffle iron is a great size if you love mini chaffles, like making chaffle appetizers or plan to make hand-size ice cream chaffle sandwiches!)
If you don't plan on getting a chaffle maker, see the photo below. This is how we started eating Chocolate Chaffles — as chacos! (Chaffle + taco!) Use a normal waffle iron. Fold the warm, cooked chaffle in half, in a taco shape, while it's still warm. Let it cool a bit, then place it in the freezer. Fill with homemade or store bought ice cream for an amazing dessert that's super fun to eat!
Substitutions and variations for Best Keto Chocolate Chaffles
To make this recipe fit various diets, Best Chocolate Chaffles can be Keto & Low Carb, Paleo, Gluten-free or VAD. As mentioned, Chocolate Chaffles can also be made with or without dairy! So yes, substitutions work great in this simple combination of ingredients!
Follow these variations, depending on your diet:
Keto and Low Carb, simply follow the main Keto Chocolate Chaffle recipe below!
For Paleo: Use the main recipe below, but if you wish, use cassava flour in place of the blanched almond flour or the nut/seed butter option. The Paleo version of this recipe also uses maple sugar or coconut sugar.
To make dairy-free: Simply use coconut oil instead of butter in this recipe.
Gluten-free: Use any of the recipe options for flour, but you may also use white rice flour (find organic here) in place of the blanched almond flour.
Lastly, cocoa-free: Sub toasted carob powder (not low carb) if you don't want to use real cocoa. (1:1 ratio) VAD: use carob.
Scaling the Best Chocolate Chaffle recipe up
This recipe doubles beautifully and easily! Just double the recipe, if needed.
If you double the batter, do you need to cook it all up? Can you make just the batter ahead of time? Best Chocolate Chaffle batter firms up a lot in the fridge. You CAN make the batter ahead of time and cook it up each day, but know that the batter will get hard in the fridge and soften in the chaffle iron as it cooks. You may need to gently push the iron down to smoosh the batter. (In contrast, the batter is soft when it is fresh.)
Alternately, you can double Best Keto Chocolate Chaffle batter, and then cook up all the chaffles, saving some for later.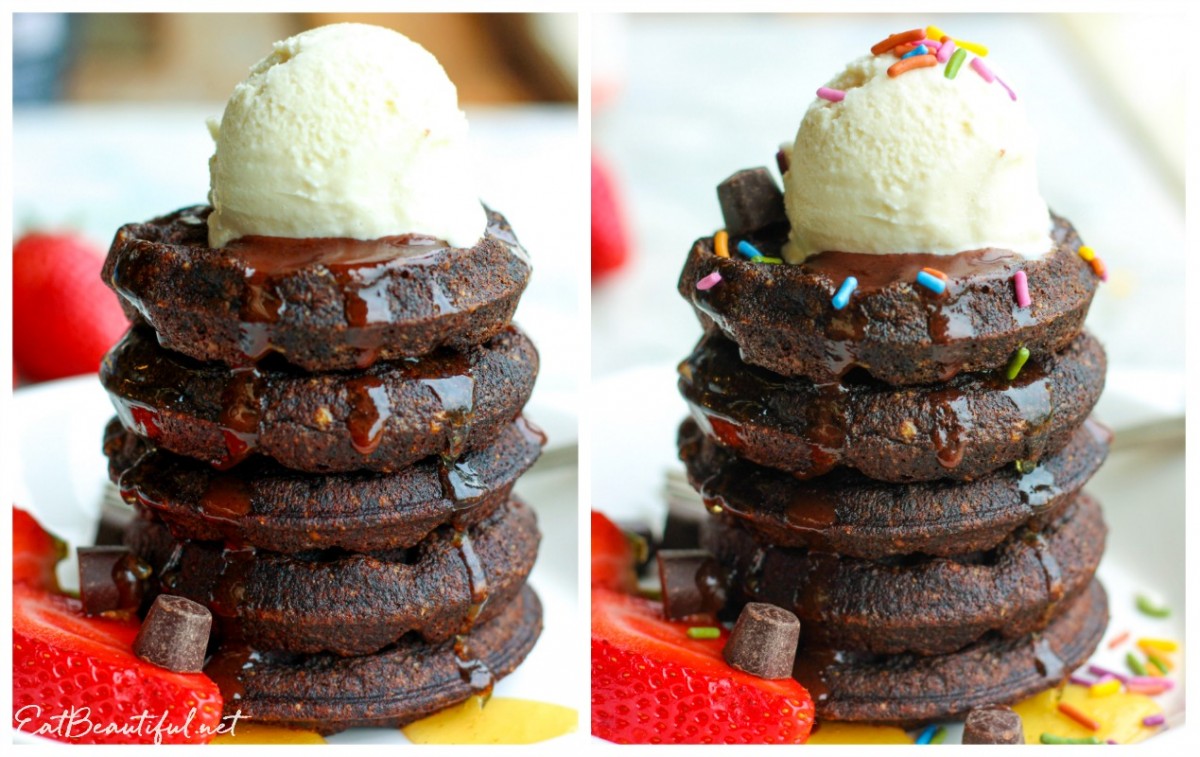 How to store Best Keto Chocolate Chaffles
If you make extra Chocolate Chaffles to store for future use, place them in an airtight container.
Refrigerate leftover cooked chaffles for up to 5 days.
How to freeze Best Keto Chocolate Chaffle
To freeze, Keto Chocolate Chaffles, place them in an airtight container.
Freeze for up to 4 weeks.
How to reheat Best Keto Chocolate Chaffle
To reheat refrigerated or frozen Chocolate Chaffles:
Place refrigerated chaffles in preheated waffle iron for 1 minute, or until heated through.
Alternately, place in toaster oven or low temperature oven on low heat until warmed through, about 10 minutes.
For frozen chaffles, defrost on the counter for 1 to 2 hours or overnight in the fridge, sealed. Then proceed with one of the above two options: heat in chaffle iron briefly or in toaster oven or low temperature oven on low heat until warmed through, about 10 minutes.
How to serve Chocolate Chaffles
Well, here's the fun part!
Serve Best Keto Chocolate Chaffles like this:
Pile high with your favorite waffle toppings: syrup, berries and sweetened whipped cream.
Make sweetened sour cream, by stirring in stevia or monk fruit, to taste. This tastes incredible on Chocolate Chaffles!
On top of sweetened whipped cream or sour cream, add Low Carb fruit jam, yum! Or berries.
Top with Keto and Paleo Vanilla Ice Cream! and optional toppings.
Make ice cream sandwiches!!! This Best Keto Chocolate Chaffle was specifically designed to taste great when frozen. Follow this recipe to make Chocolate Chaffle Ice Cream Sandwiches! (see photo below) 🙂
Print Recipe
Best Keto Chocolate Chaffle (Low Carb, Paleo, dairy-free option)
Seriously delicious breakfast, snack or dessert, this Best Keto Chocolate Chaffle is SO good and SUPER easy to make! Grab your easy-to-find pantry staples, and have this ready in 10 minutes! (With dairy-free option!)
Equipment
chaffle iron, mini chaffle iron or waffle iron

small mixing bowl
Ingredients
2

egg whites

¼

cup

cocoa powder

, Fair Trade only

2 Tablespoons to

¼

cup

low carb granulated sweetener OR for Paleo, use maple sugar or coconut sugar (use less or more sweetener according to preference; 2 T. is plenty;

¼

cup makes Chocolate Chaffles a lot like chocolate cake!)

¼

cup

blanched almond flour OR 3 Tablespoons tahini (or nut butter) + 3 Tablespoons water OR for Paleo:

¼

cup cassava flour may also be used

¼

cup

butter

, melted OR coconut oil for dairy-free

2

teaspoons

psyllium husk powder

½

teaspoon

baking soda

, sifted

⅛

teaspoon

sea salt
Instructions
In small bowl, combine all the dry ingredients.

Add the wet ingredients. Stir together well.

Preheat chaffle iron. Add batter.

Make 6 extra mini chaffles (ChurWaffle iron), two normal size chaffles (Dash-style maker) OR make one large waffle and fold it over if you want a filling. To serve, fill with sweetened cream cheese (frosting), sweetened whipped cream or sour cream, ice cream, or top with butter, syrup, berries etc.
Notes
Net carbs are reflected in the following nutritional data.
Nutrition
Serving:
1
serving (6 tiny chaffles, 2 regular size chaffles, or 1 full size waffle)
|
Calories:
634
kcal
|
Carbohydrates:
3
g
|
Protein:
7
g
|
Fat:
46
g
|
Saturated Fat:
29
g
|
Polyunsaturated Fat:
2
g
|
Monounsaturated Fat:
12
g
|
Sodium:
109
mg
|
Potassium:
267
mg
|
Fiber:
8
g
|
Sugar:
1
g
|
Calcium:
77
mg
|
Iron:
1
mg
Recipes similar to Keto and Paleo Best Chocolate Chaffle: