I may receive a commission if you purchase through links in this post. I am not a doctor; please consult your practitioner before changing your supplement or healthcare regimen.
This Keto & Low Carb Chaffle Recipe round-up provides 20 of the best chaffle recipes for easy and delicious snacks, meals, sides and desserts! Also learn the most important tips for making great chaffles.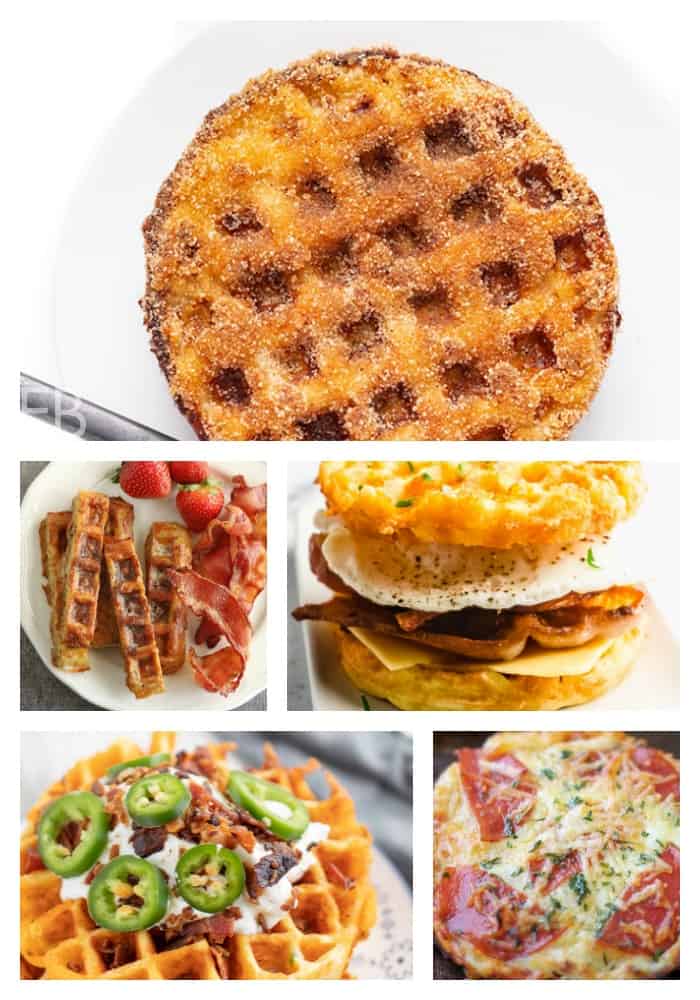 What's a chaffle
Our family's been making these for years, even before chaffles had a name. Imagine my surprise when I realized chaffles were a thing!
We love chaffles because they're nutrient dense, made from two ingredients (or more if desired) and super fast to assemble and cook — even for one person.
Combining eggs and cheese and putting them on a waffle iron makes a healthy, easy keto and low carb bread! (Also gluten-free, Primal and GAPS diet-friendly if the cheese is well-sourced and aged [like Gruyere].)

Chaffles can be made with any kind of grated cheese. Added ingredients can change the texture slightly, but the basic recipe has just two ingredients!
We've found that additional flour of some kind makes chaffles even better. Anything from nut flour, coconut flour or psyllium husk powder can be used to make the chaffle texture perfect.
With just a few ingredients, chaffles provide a great alternative to bread for making:
folded or traditional sandwiches
stacked high-fat, medium protein waffle meals
a side for dipping into soups and sauces
Baked chaffles can even be used for a great pizza base! Just top your chaffle with your favorite sauce, grated cheese, veggies and meat, bake to melt the cheese and voila! Super yummy dinner.
Waffle irons actually infuse steam into the chaffle batter, making chaffles fluffy and tender. Chaffles are good enough to eat out of hand, yet wonderful with various toppings.
How many carbs in chaffles
Most chaffles are served as mini waffles. Each mini waffle, on average, contains 2 grams net carbs. Most people enjoy eating two chaffles per meal, so about 4 net carbs per meal.
Which waffle irons work best for chaffles
Moderately deep waffle irons work best, like Belgian waffle irons. I have found a few that seem to work particularly well:
What are the best tips for making great chaffles
Experiment with using only the egg white (2 egg whites for every one egg, in addition to the small amount of flour, the cheese, leavening and sea salt). Both egg white and baking soda help to create a crispy exterior. The cheese ensures a crispy, rich exterior and tender middle.
Use finely grated cheese if you want a more uniform textured chaffle.
If using cream cheese, it should be gently softened to room temperature or just a little warm, so it mixes in smoothly.
Let the batter sit for a few minutes before cooking chaffles, especially when coconut flour is added. The mix will thicken as the coconut flour absorbs moisture. Thicker batters turn out better.
For a crispy exterior on savory chaffles, grease your waffle iron, then sprinkle cheese before adding batter. Add more cheese on top. Then bake. (I'm quirky, so I even like doing this with sweet chaffles.)
Cook chaffles to golden brown to ensure a crispy exterior, about 3 to 4 minutes.
Make sure your waffle iron is preheated and turned up to maximum heat.
How to store and reheat chaffles
Cook your chaffles as usual. Allow to cool completely.
If you'd like to refrigerate your chaffles, simply wrap and seal them well.
To freeze chaffles, place several chaffles on a cookie sheet (spread out) or single chaffles on a plate. Freeze until firm. Then transfer chaffles to air tight plastic bags or storage containers with airtight lids.
Reheat leftover or frozen chaffles in a toaster oven or air fryer.
Topping suggestions for chaffles
Eat for breakfast topped with sour cream, fresh berries and a drizzle of your favorite syrup.
Eat for lunch folded in half (if a full sized waffle is used) around aioli, lettuce, leftover or lunch meat and cheese.
Top with ground meat, lettuce, tomatoes and guacamole to make a tostada.
Make a simple quesadilla by melting cheese on top and folding over, delicious! Add leftover shredded chicken or favorite veggies if desired.
Top with fried eggs. Add fresh herbs and sausage.
Make "biscuits and gravy" by topping chaffle with sausage gravy.
Make pizza: Use low carb tomato sauce or your favorite cheese sauce, cheese, pepperoni or your other favorite toppings.
For gourmet flavors, top with chèvre, bacon pieces or prosciutto and fresh herbs. Add a fried or poached egg.
Make chaffles into burger buns. Add avocado and other favorite burger toppings.
I also add ingredients like cauliflower rice (to get extra veggies) and diced onions or green onions to my savory batters.
For dessert, top chaffles with chocolate chips or stir them into the batter before baking.
Add canned pumpkin and pumpkin pie spices to the batter.
Chaffles are straightforward and creative! The options are limitless. Any kind of hot sandwich or tortilla concept, any dish with bread and toppings can serve as an inspiration.
You'll love serving chaffles not only for breakfast, but also for lunch and dinner. And who isn't searching for a high-fat or moderate protein snack without the carbs? Chaffles are perfect.
Enjoy the following recipes for specific great ideas!
Basic Chaffle Recipes
Easy Keto Chaffle Recipe (just two ingredients)
Easy Keto Chaffles (with recipe guide for up to 4 eggs/8 chaffles)
Savory Chaffles: Dinner, Lunch and Breakfast
Keto Chaffle Recipe (scroll down a bit to see the Chaffle Taco)
Keto Chaffle Breakfast Sandwich
Chaffle with Keto Sausage Gravy
Savory Side Dish Chaffles
Keto Chaffle Garlic Cheese Bread Sticks
Easy Keto Cheesy Garlic Chaffle Bread
Parmesan Garlic Chaffles 3 Ways
Sweet Chaffles (for breakfast or dessert)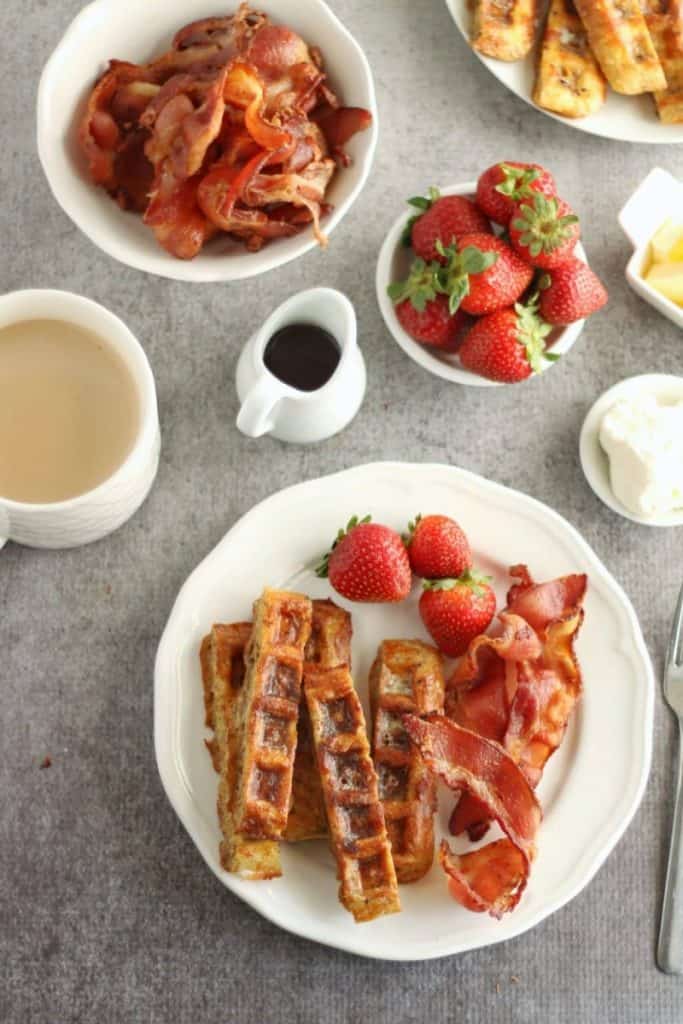 Chaffle French Toast Sticks (serve with butter, or for dessert, dip into (or spread with) homemade Ganache Chocolate Sauce for chaffle fondue!)
Best Chocolate Chaffle (so good!)
Chocolate Croissant Chaffles (Pain au Chocolat, so fun!)
Chocolate Chaffle Ice Cream Sandwiches (incredible!)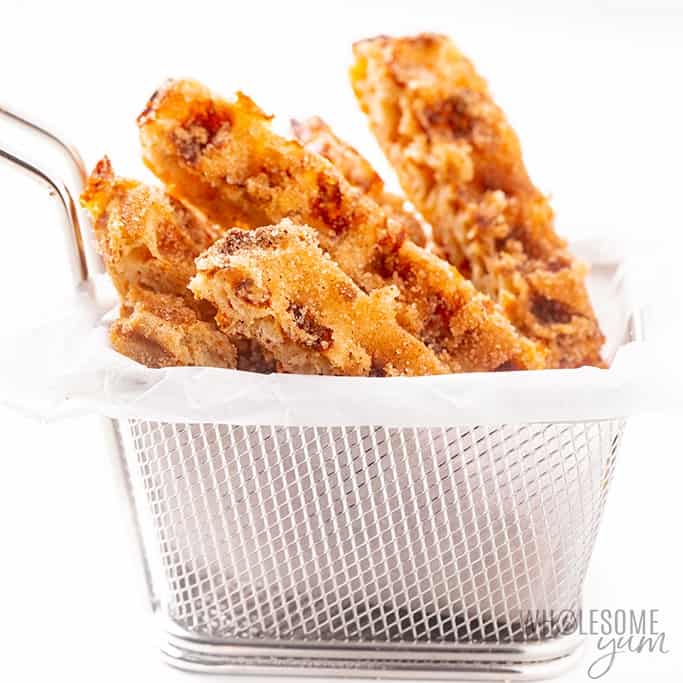 What's your favorite way to eat chaffles?
Looking for more Keto and Low Carb recipe round-ups? Find excellent quality collections here: