I may receive a commission if you purchase through links in this post. I am not a doctor; please consult your practitioner before changing your supplement or healthcare regimen.
Keto Hot Pockets are made like chaffles, so they're the easiest hot pockets to make! Just 5 minutes to create the batter, 2 minutes on your waffle or chaffle iron, fill, fold and bake! This special meal is quick and utterly delicious!
Keto, Low Carb, Primal and Gluten-free, you can also make this recipe GAPS-friendly. See the recipe for details.
With just 2 grams net carbs and convenient ingredients, maybe you'll make these today!?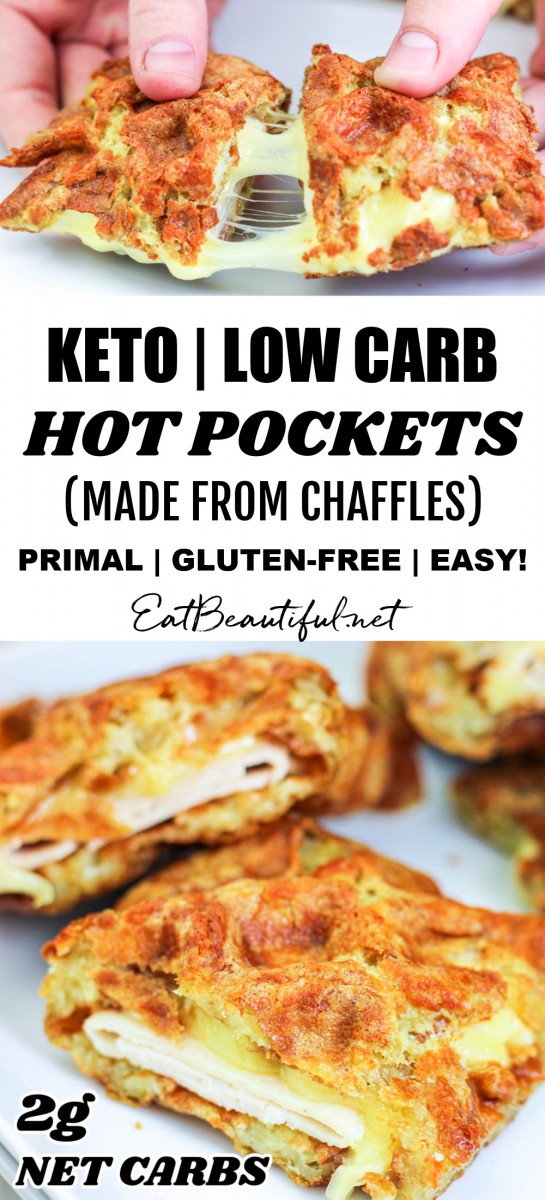 How Chaffle Hot Pockets came to be
As you may already know, chaffles are simply waffles made with mainly cheese and egg. With as few as two ingredients, you can make a sweet or savory meal that's easy and nutrient-dense.
And what are "Hot Pockets"? They're a boxed processed food that's a lot like folded over sandwich-meets-pizza.
My mom cooked gourmet food for our family and almost-never purchased processed foods. So, I've actually only had homemade "hot pockets", never the kind you heat in your microwave. Hot Pocket's a good name, though. It captures so much!
HOT POCKETS ARE OLD FASHIONED MEAT PASTRIES
I raised my kids on easy gourmet food and great books! Oftentimes, the books we read shaped the foods I felt like cooking. We've read aloud from the 19th century Little House books or loved Medieval books like Goose Girl — wherein pastries wrapped around meat are the daily fare.
Our family loves nothing more than savory meat pastries!
So for me, this recipe is a fun way to bring together a Keto copycat Hot Pocket and old world meat and cheese inside buttery pastry dough!
How to make Keto Hot Pockets
What elevates this recipe to EASY is the waffle part of the recipe. Waffles are a family favorite because: there's no clean-up! No standing over a hot burner. And no rolling out of dough! Yet, they're utterly delicious and satisfying — and can even be made savory (like these).
My Easiest Keto Hot Pockets recipe combines the best of all worlds.
Most hot pocket copycat recipes require the dough to be rolled out. Not so here. Instead, the waffle iron smashes and half-cooks the easy batter.
(By the way, here's the waffle iron I use to make the larger Hot Pockets.)
Fold the meat and cheese inside. Crimp the edges easily. And finish cooking each Hot Pocket in the oven.
The finished pastries slide out of the oven with only 10 minutes work!
Ingredients in Easiest Keto Hot Pockets
The main ingredients in Keto Hot Pockets are the ingredients that go into chaffle recipes:
eggs
cheese: I use a combination of mozzarella and parmesan. You can use all mozzarella if you prefer. I like the texture the parmesan lends to the finished "pastry dough".
a few flours: coconut flour OR blanched almond flour + a little psyllium husk powder
melted butter or olive oil
baking soda
After cooking for just 2 minutes on your waffle iron, you'll fold the dough around the final ingredients:
ham or turkey
your favorite cheese: cheddar, mozzarella, jack or Gruyere (Swiss)
optional Dijon mustard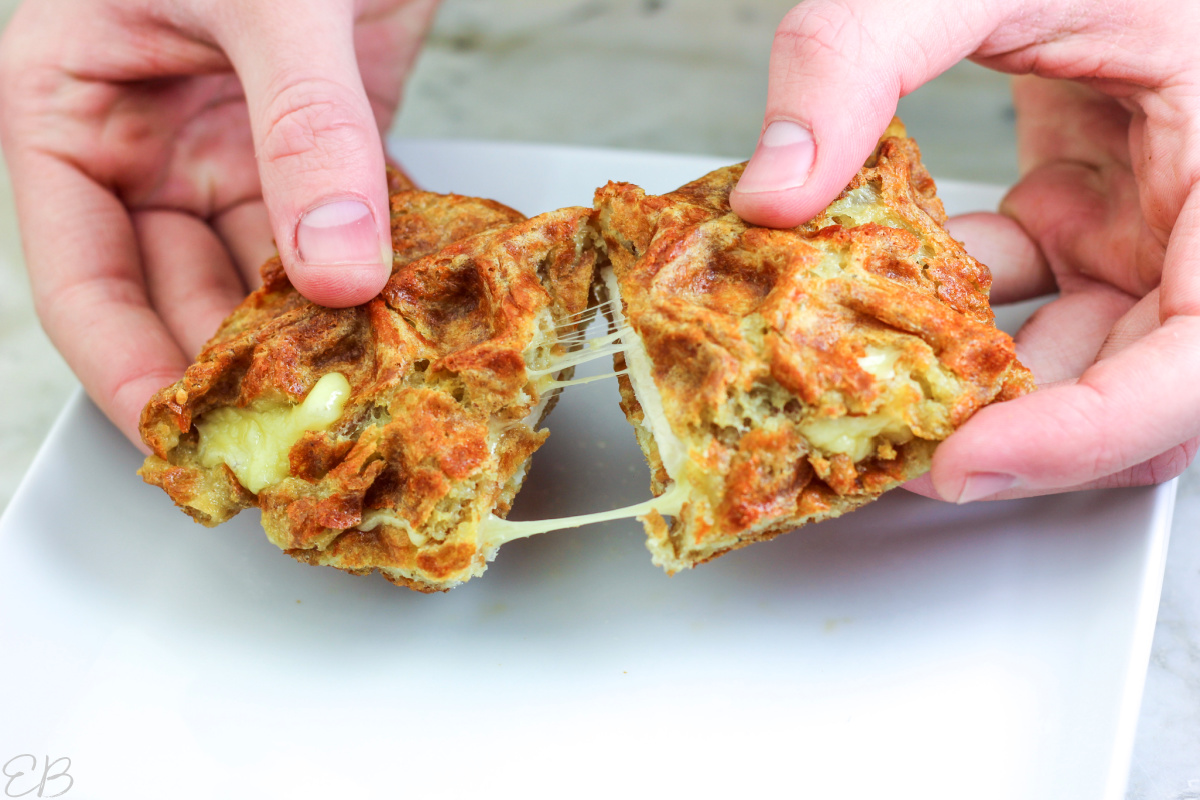 Variations
Of course, you can be creative. Use pepperoni or other Hot Pockets ingredients. Add favorite sandwich fillings.
To make the Italian version, here's Keto Chaffle Calzone.
Keto Hot Pockets are perfect on their own. But if you like dressings and dips, find 80+ Keto Condiments here.
How to store and reheat leftovers
This recipe makes two medium-size Keto Hot Pockets.
If you have leftovers, just wrap them well, and refrigerate for up to three days.
To reheat, place on a parchment-lined baking sheet. Heat in a 325 degree oven for 10 to 15 minutes until heated through and the cheese is melted.
Print Recipe
Easiest Keto HOT POCKETS! (Made like CHAFFLES!, Primal, GF)
Keto Hot Pockets are made like chaffles (before being baked), so they're the easiest hot pockets to make! Just 5 minutes to make the batter, 2 minutes on your waffle or chaffle iron, fill, fold and bake! This special meal is quick and utterly delicious!
Servings:
2
servings (2 medium size hot pockets)
Equipment
waffle iron or chaffle iron

oven

small mixing bowl
Ingredients
2

eggs

1-¼

cups

mozzarella cheese

grated (For GAPS, use an aged cheese, like Gruyere, or aged cheddar.)

¼

cup

parmesan cheese

4

teaspoons

coconut flour

or ¼ cup blanched almond flour

1

Tablespoon

butter

melted, or avocado/olive oil

2

teaspoons

psyllium husk powder

(Omit for GAPS.)

½

teaspoon

baking soda

sifted (Omit for GAPS.)

2

big slices

cheese

or

½

cup divided (Aged for GAPS.)

2

slices

ham

or turkey (For GAPS, use leftover non-deli meat.)

2

teaspoons

Dijon mustard

optional (Omit for GAPS.)
Instructions
Preheat oven to 350° Fahrenheit. Line a small baking sheet with parchment paper. Preheat chaffle or waffle iron.

In a small mixing bowl, stir together all of the chaffle ingredients: eggs, mozzarella, parmesan, coconut or almond flour, butter or oil, psyllium husk powder and baking soda. The batter will be very thick, with lots of cheese and a little hard to stir.

Scoop batter onto preheated chaffle or waffle iron. If using a waffle iron, shape the batter into a thick square, so the finished Hot Pocket will be rectangular. Use about ⅙ of the batter for (small) chaffle iron or ½ of the batter for full size waffle iron. (I prefer to cook this recipe on a full size iron, so there are fewer Hot Pockets to make, just 2 total = less work.) Cook for less than the usual time it takes to make a chaffle or waffle — only about 2 minutes.

Transfer the partially cooked chaffle to a baking sheet. Optionally, spread one side of the chaffle with Dijon mustard. Add ham or turkey and cheese slice. (Don't over-fill the chaffle, or it will be harder to seal.)

Fold over the chaffle. Crimp or seal the edges by pressing them together with the edge of a spoon or tines of a fork. (The dough crimps together easily. But it won't seal like raw pastry dough, yet it will hold in place well and seal in spots. Don't worry if it seems to break a little in a few spots.)

Move the baking sheet to the preheated oven. Bake for 8 to 10 minutes. (Continue with any remaining batter, depending on how many Hot Pockets you're making. It's okay to add unbaked Hot Pockets to the baking sheet with others that are already baking. It's also okay for one Hot Pocket to bake a little longer than another one. Just remove before it gets too dark. Use an offset metal spatula to transfer Hot Pockets into and out of the oven.)

Serve!

*

Don't forget to comment on this recipe below so we know how you liked it! Thank you!
Nutrition
Calories:
499
kcal
|
Carbohydrates:
2
g
|
Protein:
33
g
|
Fat:
35
g
|
Saturated Fat:
20
g
|
Trans Fat:
1
g
|
Cholesterol:
261
mg
|
Sodium:
1441
mg
|
Potassium:
215
mg
|
Fiber:
6
g
|
Sugar:
2
g
|
Vitamin A:
997
IU
|
Vitamin C:
1
mg
|
Calcium:
540
mg
|
Iron:
2
mg