I may receive a commission if you purchase through links in this post. I am not a doctor; please consult your practitioner before changing your supplement or healthcare regimen.
Keto Chocolate Croissant Chaffles are a cross between the flaky croissants we love (with wonderful air pockets in the pastry dough) AND easy-to-make chaffles! … with chocolate in the middle!
While chaffles aren't quite flaky like croissants are, the goal with this recipe was to create a pastry like dough filled with melted chocolate. One of my favorite bakery treats of all time is Pain au Chocolat. So, here's a Keto, Primal and Gluten-free version — which, of course, is much faster and easier to make.
For those of you who are new to chaffles, what is a chaffle? A chaffle is just a waffle made of cheese and eggs, BUT, you'd never know it! Chaffles manage to be delicious with sweet toppings (or in this case, fillings!), in addition to being naturally low carb, while rich in fat and protein. And, as mentioned above, chaffles are easy and fast to make (one bowl!).
Ingredients in Keto Chocolate Croissant Chaffles
What makes Keto Chocolate Croissant Chaffles pastry-like is one simple ingredient: parmesan cheese.
Parmesan has a higher melting point than butter or mozzarella (the cheese most commonly used in chaffle recipes). The higher melting point means that the parmesan doesn't melt right away in the chaffle (or waffle) maker. This creates air pockets between layers of the pastry dough.
The result is a chaffle that's both rich and light.
In addition to parmesan and mozzarella cheeses, the remaining ingredients in Chocolate Croissant Chaffles are:
1 egg
coconut flour or blanched almond flour — You choose; both work great.
butter
granulated sweetener
psyllium husk powder — Okay to omit for the Primal version of this recipe, but I recommend you include it for the absolute best texture.
baking soda
chocolate chips!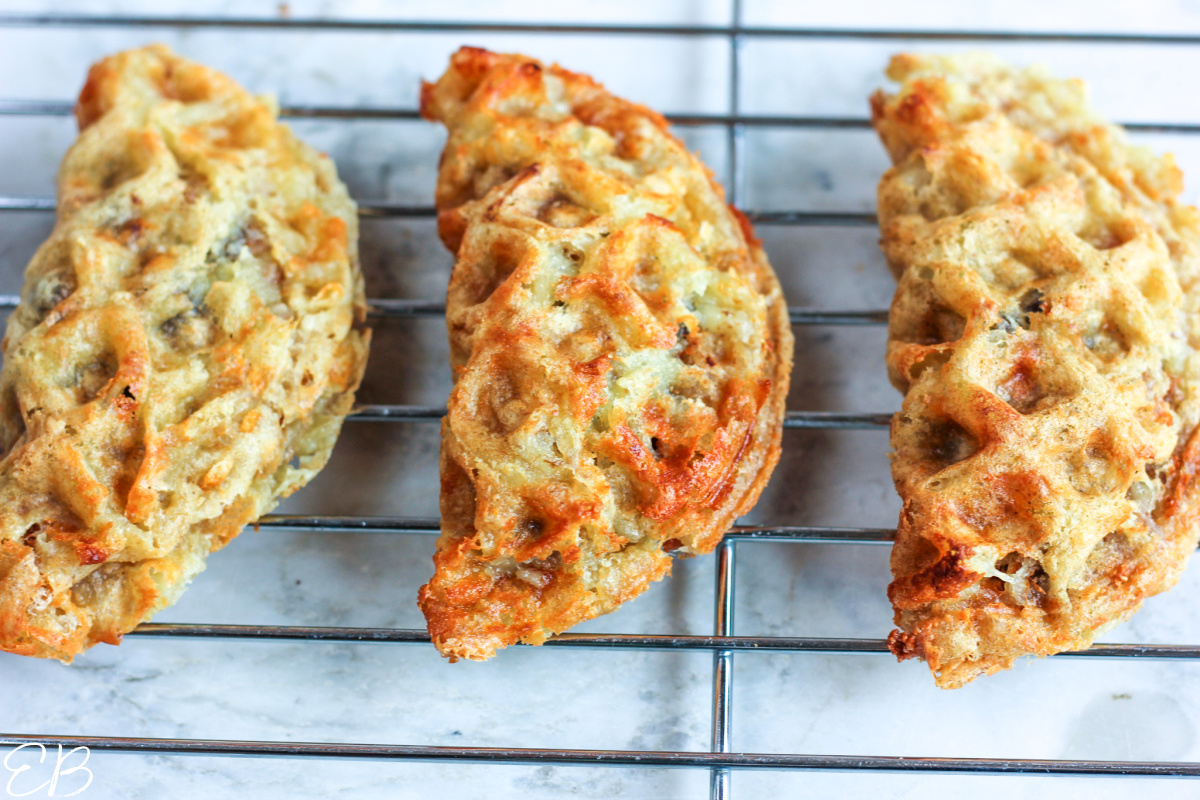 Which chocolate to use
Keto Chocolate Croissant Chaffles use 1 tablespoon of chocolate chips for the filling of each chaffle. Our family was surprised by just how much 1 tablespoon is — it's a BIG pocket of melted chocolate, actually, quite a lot!
I've experimented with which chocolate chips taste best. Personally, we lean toward darker chocolates in general.
During our experimenting, we liked a combination of semi-sweet and unsweetened chips in our chaffles. We felt that all semi-sweet was too sweet for such a large amount of melted chocolate in one place.
You can use whichever chips you like best! If you like your chocolate sweet, you might like to use all semi-sweet chips.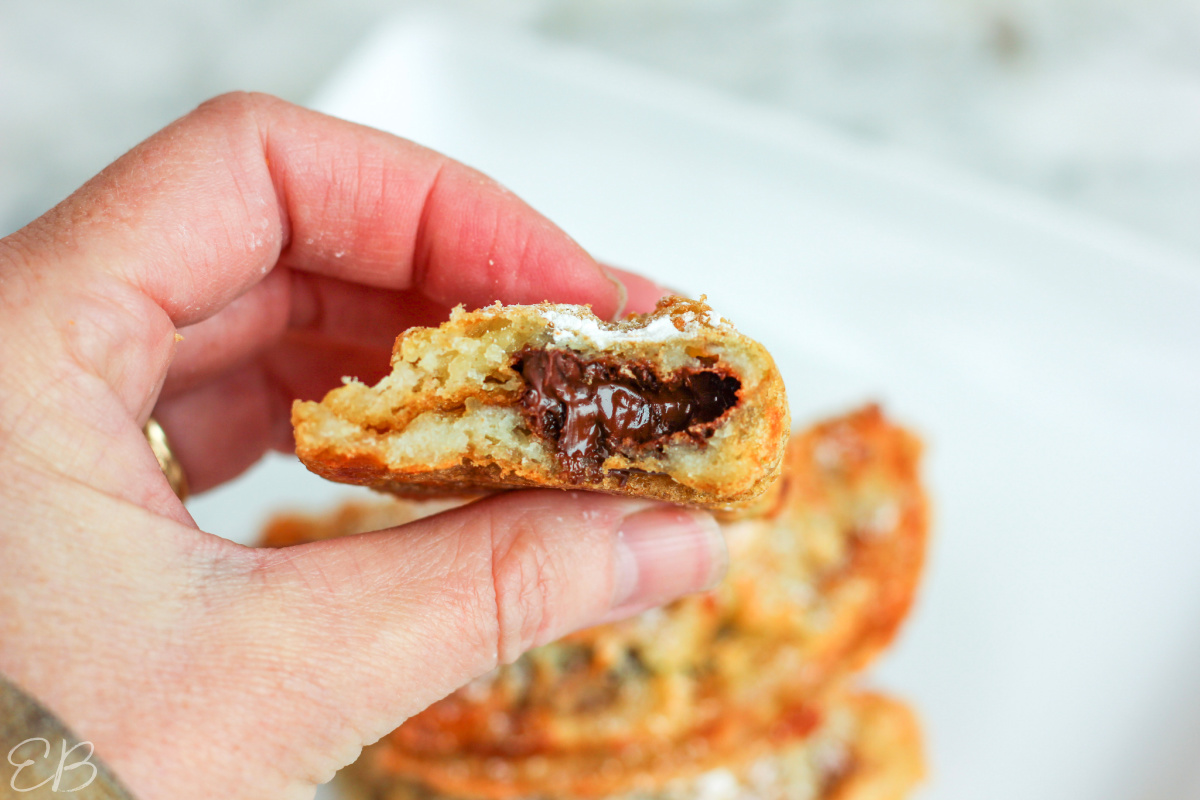 How to make Keto Chocolate Croissant Chaffles
For those of you new to chaffles, there is such a thing as a chaffle maker. But, you can also use your waffle maker; you'll just need to improvise a bit more. Chaffle makers are very inexpensive, if you decide you'd like one. I've never regretted getting ours! Once you start making chaffles, they're a fun, healthy, quick meal option you'll want to keep making.
This recipe is easy and straightforward. I also made a video, though, so you can see the folding over process of the half-cooked chaffle and how that part plays out, since it's the "new idea" part of the recipe.
Step 1: In a small bowl, stir together all of the ingredients, except the chips.
Step 2: Preheat the oven AND your chaffle (or waffle) iron.
Step 3: Use 1/3 to 1/4 of the batter to make your first chaffle (1/3 of the batters spills out a tiny bit. You can eek out 4 chaffles from the batter if you prefer.) After it cooks for about 2 minutes, transfer the partially cooked chaffle to a work surface, and fill with 1 tablespoon of chocolate chips. Place the chips on one half of the chaffle. Fold the chaffle over. Simply crimp the edges with a fork, tip of a spoon or even your fingers, to seal.
Step 4: Transfer to a baking sheet, and place in the oven. Bake 5 to 8 minutes, but you can even go a little longer with no problem.
Continue making the remaining chaffles in the iron, then transferring to the oven once filled with chips.
It's okay if some of the chaffles are in the oven longer than others. This recipe is very forgiving and works great!
When all of your Chocolate Croissant Chaffles are baked, allow to cool a little and, if you wish, dust with powdered sweetener.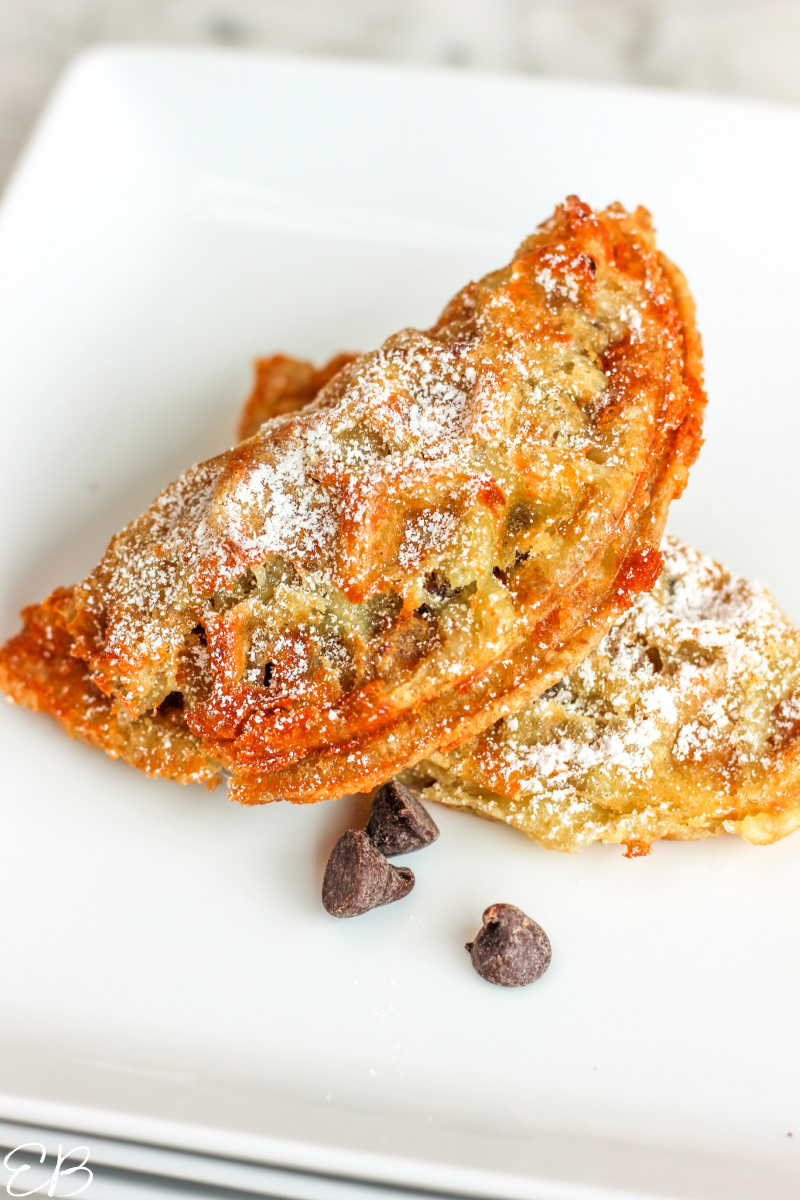 How to reheat leftover Chocolate Croissant Chaffles
Store leftover Chaffles in the fridge, in a well sealed container.
We like to reheat leftovers, for the best texture of the pastry. And they reheat well.
To reheat, preheat the oven to 350 degress Fahrenheit. Place Chocolate Croissant Chaffles on a parchment lined baking sheet. Bake 5 to 8 minutes, until crispy on the outside and heated through.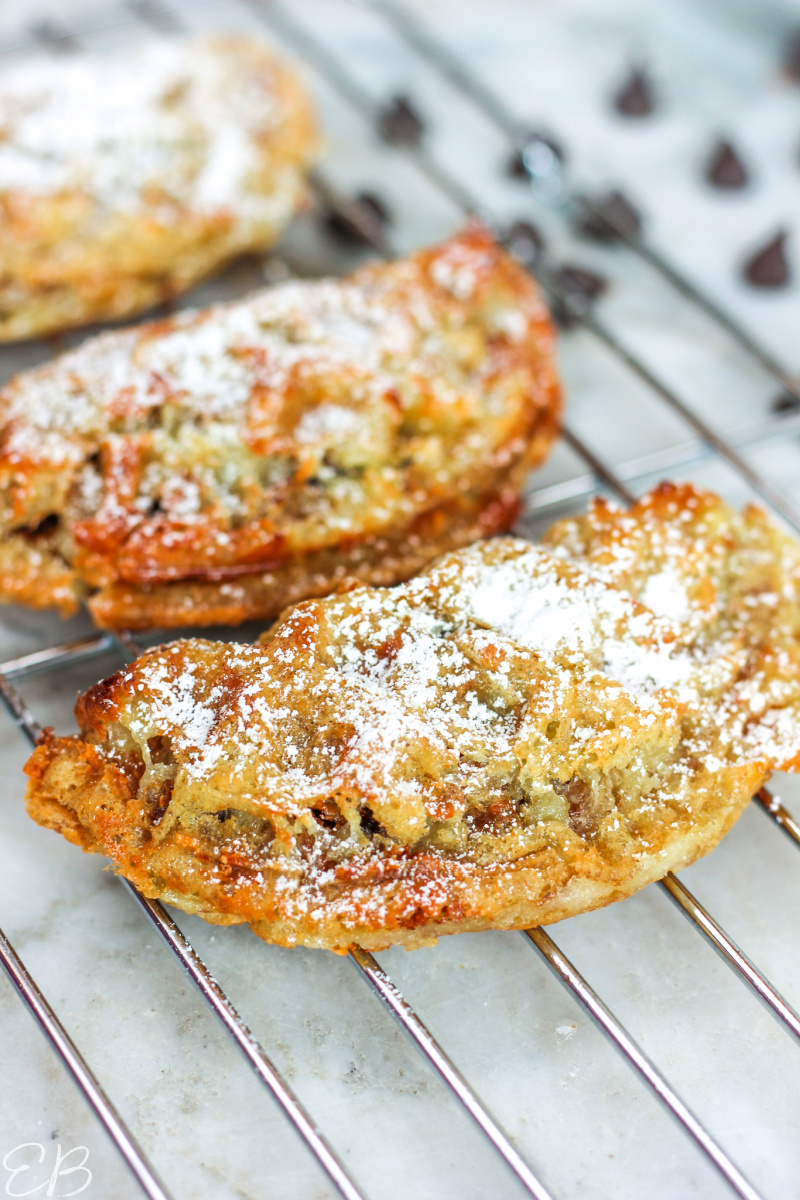 Print Recipe
Keto Chocolate Croissant Chaffles (Primal)
Chocolate Croissant Chaffles are a cross between the flaky croissants we love and easy-to-make chaffles! All with chocolate in the middle!
Equipment
chaffle maker (or waffle iron)

oven
Ingredients
1

egg

½

cup + 2 Tablespoons

mozzarella cheese

grated

2

Tablespoons

parmesan cheese

1

Tablespoon

granulated sweetener

low carb for Keto, or coconut sugar for Primal

2

teaspoons

coconut flour

or 2 Tablespoons blanched almond flour

½

Tablespoon

butter

melted

½

teaspoon

psyllium husk powder

¼

teaspoon

baking soda

sifted

3 to 4

Tablespoons

chocolate chips

depending on if you make 3 or 4 chaffles with the batter
Instructions
Preheat oven to 350 degrees Fahrenheit. Line a baking sheet with parchment paper. Set aside. Preheat your chaffle maker by plugging it in.

Combine all of the ingredients, except the chocolate, in a small mixing bowl.

The dough makes three Chocolate Croissant Chaffles, so scoop only

⅓

of the batter onto the hot iron. Lower the lid for 1 to 2 minutes, then remove the first chaffle to a work surface or your prepared baking sheet. Place 1 Tablespoon chocolate chips onto half of the chaffle. Fold over chaffle, and loosely seal the edges by pressing together with fingers or a utensil (fork or spoon), so the chocolate is now enfolded in the turnover. If you haven't already, transfer chaffle to baking sheet. Bake in preheated oven about 5 to 8 minutes, until golden brown and hot through. Meanwhile, cook remaining chaffles in the same way, and add each one to the baking sheet (in the hot oven) with a spatula. (Remove the first chaffle shortly after the second one has been added to the oven, and so on.) Allow baked Chocolate Croissant Chaffles to cool slightly or completely. Dust with powdered sweetener, and serve.
Nutrition
Calories:
215
kcal
|
Carbohydrates:
2.5
g
|
Protein:
11
g
|
Fat:
17
g
|
Fiber:
2
g
Looking for more chaffle recipes? Enjoy these favorites: