I may receive a commission if you purchase through links in this post. I am not a doctor; please consult your practitioner before changing your supplement or healthcare regimen.
Keto dinner recipes abound, but what if you're on a tight budget? These 50+ Easy Keto & Low Carb Meals on a Budget help you plan dinners that are not only reliably delicious, but also thrifty! These meals are also Paleo and GAPS diet friendly.
But what if you already buy "cheap" keto groceries?
The object of this post is to take shopping one step further: to buy sustainable groceries that are healthier for our bodies and the planet. The keto diet was designed to improve wellness, so it's important to prioritize *quality* when being thrifty! 🙂
Read below 7 tips for quality food keto shopping on a budget, followed by 50+ recipes!
Tips for Eating Quality Keto Food on a Budget
My priority when feeding our family is to choose sustainable meat and produce, because I care about how animals are treated, I care about clean water, and I don't want pesticides in the foods we eat. 🙂
We can buy responsibly raised foods and still save money!
Tip #1
Use the most economical meat and vegetables you have on hand or can access.
If a keto stir fry recipe calls for chicken, for example, but you have elk steaks, those will work too: Just slice the steaks into strips, as you would chicken breast.
Wild meat, like deer and elk, save us so much money on our grocery bill, and the meat is often healthier, being truly free range and high in omega-3 fatty acids. If you can hunt, do: Hunting saves money, the meat is healthy, and hunting is environmentally friendly (because it discourages urban sprawl and habitat destruction and encourages animals maturation in a happy, natural setting).
Regarding flexibility with vegetables, if a stir fry recipe calls for cauliflower but you have lots of peppers and eggplant in your garden, use those. Many substitutions will not affect the outcome of a recipe and can save money.
Perhaps quite obviously, buy and use veggies you find on sale. For example, we eat lots of organic cauliflower, celery and asparagus from Trader Joe's each fall, winter and spring … and lots of garden produce from my mom's garden in the summer. We buy bulk cauliflower rice at Costco year round and will start our own garden this spring for vegetables like fennel and fresh herbs that are expensive to buy.
Which markets offer the best discounts on produce?
Grocery stores vary depending on where you live, but here are some stores to look for with low prices: Costco, Trader Joe's, Aldi, your local discount grocery store, and big box stores like Walmart. You can also access the Flipp app. This app shows you the stores' weekly ads in your area and allows you to load digital coupons if you already carry loyalty cards to those stores.
Which produce items can safely be purchased from conventional growers?
Avocados, eggplants, cauliflower, broccoli, cabbages and asparagus! See this list for the Clean 15 and this for the Dirty Dozen list.
Want to buy and support local?
For those who prefer supporting small, local markets — shop around for 10% senior discounts or other promotions that local stores can afford to offer, including their discounted vegetables.
Also consider getting annual CSA boxes that support a local farm and offer local, in-season produce at a reduced price. Request a low-carb mix of vegetables. Most farms are happy for your loyalty and willing to work with your dietary needs. CSA boxes save lots of money each month, but you do need to be willing to eat more of certain vegetables each season.
Tip #2
Have you heard of grocery pickup? This feature is offered by big box stores and allows you to order your groceries online. You simply order, designate a pickup time, follow the signs to the parking lot pickup area and arrive! A grocery store staff member will bring your groceries out to you. This option, of course, allows you to shop in bulk (getting the low prices that big box stores offer) and removes the temptations that can happen within a grocery store.
You can order exactly what's on your list and nothing more. This approach results in less temptation and fewer snack and convenience foods. Grocery pickup also saves energy, especially for those with young children.
Tip #3
Save all your meat bones to make meat stock.
This rich broth is nourishing, healing food, and also very flavorful. Meat stock makes a great base for stews, soups and sauces. Meat stock is higher in fat than bone broth or store bought broth, so it's perfect for the keto diet! Keep your bones, and any fat or meat attached to the bones!, in the freezer until you're ready to use them.
Learn how to make the most economical meat stock and bone broth here. The recipe contains stove top, slow cooker and Instant Pot (pressure cooker) instructions and gives guidance on how to avoid rancid fat when making bone broth.
Tip #4
Go to certain markets for the best dairy.
The keto diet typically uses lots of cream, cheese and butter. While most keto recipe sources will simply use the cheapest dairy they can find, my goal with this post is to combine the need to budget with the need, from a health perspective, to source ingredients well. Dairy products from feed lots are dangerous food, high in omega 6s, full of antibiotics that cause antibiotic resistance in humans and lacking in the essential nutrients we find in pasture-raised dairy: vitamins K2, D and E. We need to budget for slightly more expensive, quality dairy and then choose the best prices on those quality products.
What quality dairy to buy?
Buy Kerrygold butter, (unless you make your own from A2, raw, pasture-raised cream). Kerrygold is the best pasture-raised butter available commercially. In our town, I buy Kerrygold from Costco or Trader Joe's for the best price. (Trader Joe's is better because they offer unsalted butter. While sea salt is health food, salted butters, including Kerrygold's, usually use table salt, which contains additives like fluoride and bleaching agents. I simply sprinkle sea salt on my unsalted butter.) Pasture-raised butter is higher in conjugated linoleic acid (CLA), a fatty acid linked to weight loss.
Find a local, grass-fed, raw milk farmer for cream! This ingredient is one of life's greatest treasures, and we do well to source it from grass-fed animals so the cream's healthy. If you can't access pasture-raised raw cream, be sure to avoid ultra-pasteurized cream, and look for grass-fed. U.S. residents, find raw, pasture-raised milk listings for your state HERE. 🙂
For cheese, look for French cheese from Trader Joe's, or buy Kerrygold cheddar from Costco or your local discount store. French cheese is A2 and pasture-raised, so it makes shopping for cheese easier. Trader Joe's has the best prices in our town on French cheese.
These well-sourced dairy products are more costly than their conventional counterparts, but you can take pride and feel peace in their life-giving nutrients. Let us know in the comments below if you've found a good store in your town for quality dairy.
Tip #5
Eat lots of pasture-raised eggs, vegetables and fats.

Use eggs in place of meat for some meals, because they're more affordable. While many recipes have meat as the centerpiece, pasture-raised eggs are less expensive and offer great nutrition: Vitamins D, E, K2, B12, folate, riboflavin, zinc, calcium, choline, and omega3 fatty acids.
Regarding vegetables, we need vegetables for their vitamins, minerals, fiber and for a healthy gut ecosystem. Meat isn't needed at every meal, and certainly isn't required at dinner. Because most of us enjoy meat at dinner, use less in recipes, and include more veggies. The brassicas (cabbage, kale, cauliflower, broccoli etc …), for example, are rich in vitamins such as Vitamin C and folic acid, and minerals such as potassium, iron and selenium.
Focus on vegetables with lots of fat on them. Little known fact: The more variety of veggies we eat, the happier our microbiome! Improve gut health with lots of veggies and lots of variety of vegetables! Add fat for the keto diet but also because fat helps the nutrition in vegetables to better assimilate.
Tip #6
Consider intermittent fasting with bulletproof coffee. This breakfast treat saves money on groceries, is satisfying and helps provide our taste buds with a warm, cozy drink — or in hotter months, this drink can be made cold. Intermittent fasting usually means eating less overall, which saves money on food.
Tip #7
Know what you plan to eat each week — by choosing recipes and keeping your other meals simple.
Then avoid buying snack foods and packaged foods at the grocery store, even if they're on sale. Stick to the whole food ingredients that your simple meals and recipes require.
50+ Easy Keto & Low Carb Meals on a Budget
What follow are 50+ budget-friendly dinners! Enjoy, and please come back to comment below; I'd love to hear which are your favorites. The recipes are grouped into the following categories: Instant Pot (here's the one I have), Casseroles, Meat and Seafood Dishes, Stir Fries, Comfort Foods and Soups.
Some of the recipes are more frugal than others. For example, you might choose a seafood recipe below for a special occasion but not for an average weeknight; seafood is more expensive than other options, but the recipe is still more economical than other seafood recipes, and it's nice to have a few nicer meals for variety or festive dates. Also keep in mind the number of servings in a recipe. While a casserole may be more expensive to assemble than a soup, the casserole likely has at least 8 servings, which makes the recipe affordable because it provides enough food for two dinners.
And remember to eat lots of salad at dinner! Lettuce is low in carbs, cheap, filling (yes, surprisingly!) and great for our health! Eating lots of lettuce (with plenty of extra-virgin olive oil) makes the main dish go further, which helps to save money.
The following meals cost between $5 and $15 to serve four people, depending on the recipe and how the meat and other ingredients are sourced. They are not as cheap as some very plain or poorly sourced keto dinner recipes, but still quite economical, especially when some of the above tips are used! As you'll see, these recipes are all delicious!
Remember, if you have hunted meat, bulk meat, or meat you have raised yourself, that ingredient will make any of the meat-focused meals below extra cheap. Same goes for garden-grown or foraged produce. Some meals that seem expensive will still be cheap if you get the meat or veggies for next to nothing.
Keto Instant Pot meals on a budget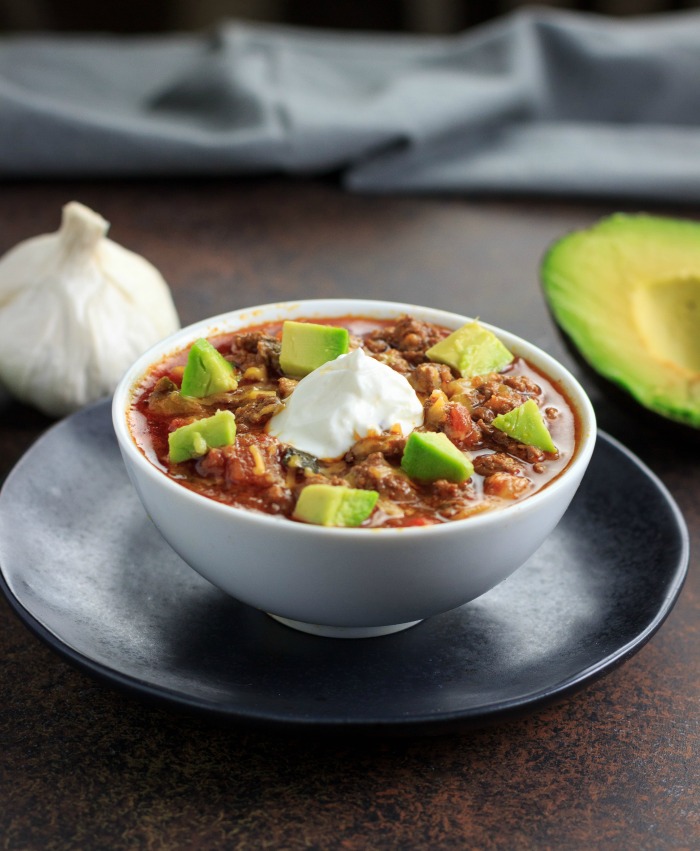 Instant Pot Chile Verde with Pork
Instant Pot Lemon Garlic Chicken
(Serve over/alongside romaine lettuce or cauliflower rice to keep this meal thrifty and filling.)
Instant Pot Low Carb Meatloaf
(I recommend using this insert for your meatloaf, instead of the tin foil; here's why.)
Instant Pot Keto Bacon Cheeseburger Soup
Instant Pot Buffalo Chicken Soup
Casseroles on a budget
Mexican Lazy Cabbage Roll Casserole
Easy Bacon Cheeseburger Casserole
Another variation ~ Bacon Cheeseburger Casserole
Easy Chicken Casserole with Green Chilies
Cauliflower Chicken Au Gratin Casserole with Bacon
Broccoli, Ham and Mushroom Keto Bake
Cheesy Cauliflower Shepherd's Pie
Bacon Chicken Caesar Casserole
Meat and Seafood Dishes on a budget
Cast Iron Skillet Chicken Thighs
Lemon Garlic Butter Shrimp
(Served over bowls of cauli rice with sautéed spinach or a green salad. Look for sustainably-sourced frozen shrimp that's about $9 a lb. or less.)
Keto Quarter Pounder (Burgers!)
Pork Chops in Creamy Garlic Sauce
Low Carb Meatballs Italian Style
Baked Turkey Zucchini Meatballs
(Big batch for freezing some.)
Stir Fries and Stove Top Skillet Meals on a budget
Low Carb Ground Chicken Stir Fry
Sausage Taco Cauliflower Rice Skillet
Miscellaneous Comfort Foods on a budget
Low Carb Pizza Chicken
(Optionally, add chopped veggies like broccoli and red bell peppers to the pan halfway through step 2.)
Chaffle Calzone (extra easy dinner!)
Cauliflower Calzones
(If you wish, cut these in half, and serve with a big salad on the side.)
Chorizo Stuffed Spaghetti Squash
Avocado Pepperoni Salad
(Serve this when avocados are on sale. Serve on top of lots of lettuce with olive oil for a bigger meal and more fiber.)
Keto Soups and Stews on a budget
Tom Kha Gai (Thai coconut chicken soup)
What's your favorite economical dinner?
Looking for more GREAT keto meal recipes? I've got you covered:
What about more information on the Keto diet?
Want more great Keto soups and stews? Check out my new cookbook, recommended by Maya Krampf of Wholesome Yum! This cookbook will help you create the most exciting Keto soups and stews on a budget!