I may receive a commission if you purchase through links in this post. I am not a doctor; please consult your practitioner before changing your supplement or healthcare regimen.
Easy Low Carb Mexican Lazy Cabbage Roll Casserole is Keto, Primal and Gluten-free, with a Paleo, Whole30, dairy-free variation that's easy. A delicious, satisfying meal with just 20 minutes of prep time, everyone will love this recipe!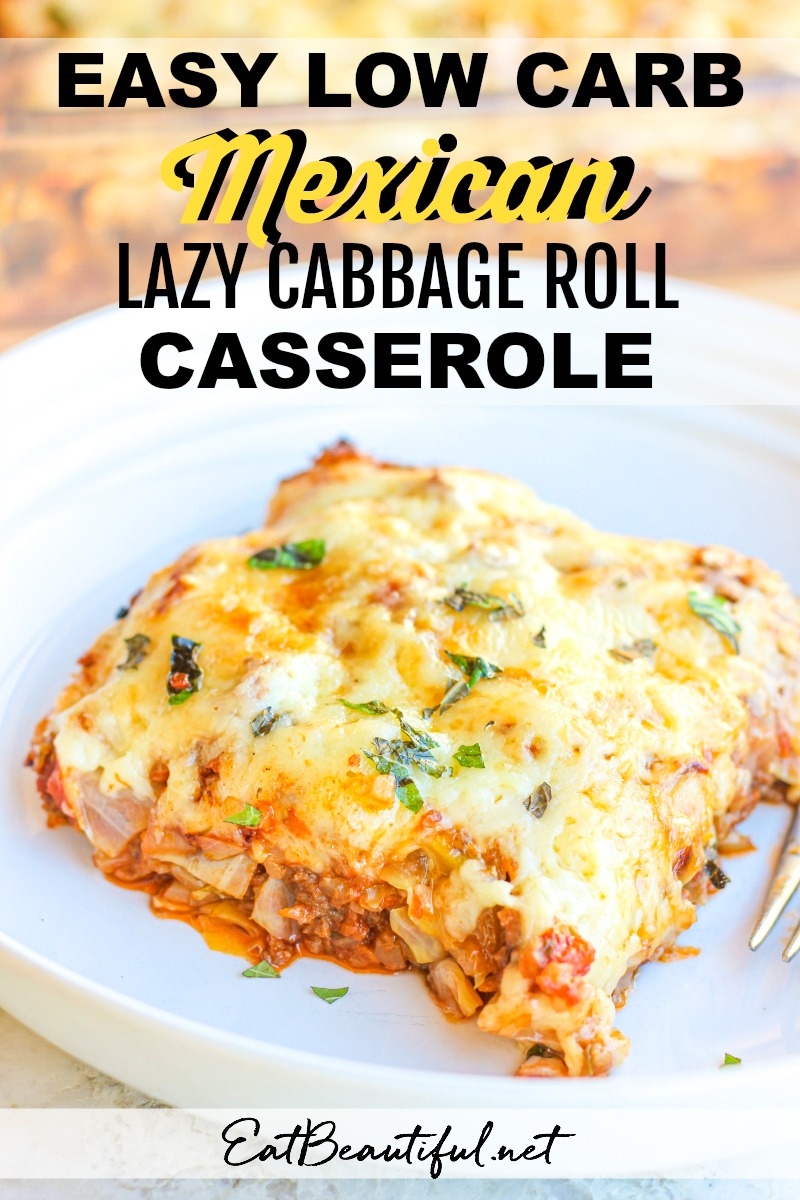 Jump to Recipe
Low Carb Mexican Lazy Cabbage Roll Casserole
Have you heard of Lazy Cabbage Rolls? I first saw them on one social media or another and was instantly impressed by the idea! I have made cabbage rolls, and they take a lot of time! While the result is fun, it's just not worth it to me, especially at the end of day, when I don't have hours and endless energy to make dinner!
I looked at various versions and short-cuts of Lazy Cabbage Roll Casserole and like all of them. Each cook adds her own ideas on how to limit the steps and still make a delicious casserole. Funny thing is: I think this version of Low Carb Mexican Lazy Cabbage Roll Casserole is better than the actual rolls I used to make!

And the process is simply surprising — very little pre-cooking or prep work!
I decided to make a Mexican version of the Russian and Italian classic, because, if it's possible, we love Mexican food more. I grew up close to Mexico, often ate authentic Mexican dinners … and now my husband loves Mexican food.
The Italian classic was easy to change over, using Mexican spices and either mild or spicy salsa, plus a few other small changes. I know you and your family will LOVE this version too. Add sour cream and fresh cilantro, as optional garnishes.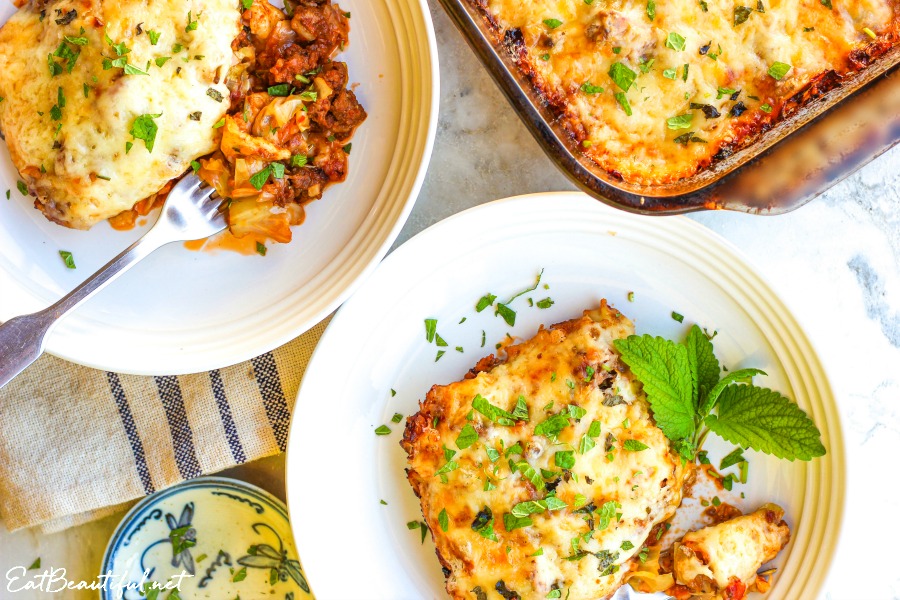 Ingredients and easy steps to make
Low Carb Mexican Lazy Cabbage Roll Casserole
One of the BEST parts of this recipe is that it uses raw, chopped cabbage (no pre-cooking!). That means, one less step and a super fast prepping of the ingredients!
Instructions
In a large pan, you cook up 1-1/2 pounds ground beef and cauliflower rice. I use frozen cauliflower rice, because it's faster and easier.
Ingredients
Then you simply stir in the rest of the ingredients, pour them into your casserole dish and bake! Here are the other ingredients that get stirred in:
salsa — Choose a jarred salsa that's mild, medium or hot, depending on your taste preference.
tomato paste — This ingredient has a great rich flavor and helps to create the right thickness in the casserole (it won't end up soupy!).
herbs and spices — Popular, easy to access Mexican spices that everyone loves include oregano, cumin and optional chili powder.
cheese! — (optional) After an initial baking, the whole casserole is topped with your choice of cheddar or jack, or your favorite melting cheese. Then it's baked again briefly for a gooey-topped comfort food that's yummy to look at and delicious to eat.
Low Carb and Keto
Mexican Lazy Cabbage Roll Casserole serves eight people. If you have a smaller family, you'll love the leftovers, even cold!
Each serving has 9 grams net carbs — perfect for low carb and even for keto. The few carbs come from the salsa, tomato paste, cabbage and cauliflower rice.
This recipe is also Primal, Gluten-free and even works for Paleo and Whole30 if you leave the cheese off the top. Such a fun meal for various dietary needs.
If you're dairy-free, I recommend topping this casserole with a generous and pretty drizzle of Spicy Guacamole Sauce or a cashew/pine nut-based cilantro-cream sauce! (Soak cashews or pine nuts [for low carb]; purée with water, avocado, fresh cilantro, garlic, sea salt and lime juice!)
Tips when making Mexican Lazy Cabbage Roll Casserole
Chop your cabbage small (about 3/4″ square to 1″ square) by first cutting the cabbage into slices. Then cut the slices perpendicularly so you get little squares. This is pretty fast and ensures a quick and even cooking time for the casserole.
Use store bought jarred salsa. Look for an organic product with clean ingredients.
Use frozen cauliflower rice. I buy organic from Trader Joe's or Costco. Use 12 ounces or 2-1/2 cups. If you prefer to make your own cauli rice, rice about 4 cups from most of a small cauliflower; then sauté over medium-high heat for 8 minutes in a tablespoon of butter or avocado oil.
How to serve Mexican Lazy Cabbage Roll Casserole
So many great accompaniments for Mexican casseroles! Try some of these:
shredded lettuce on the side
if you like it spicy, dice fresh jalapeños or use pickled probiotic jalapeños for delicious probiotics with your meal
less spicy?, do like they do in Mexico, and serve with fresh diced raw onion and radishes
serve with sliced avocados or guacamole
top with sour cream or Lime Crema
make and serve with a side of fresh Pico de Gallo con Avo
How to reheat and store leftovers of Easy
Low Carb Mexican Lazy Cabbage Roll Casserole
Leftovers of Mexican Lazy Cabbage Roll Casserole are actually good cold. But, understandably, we all like to have hot leftovers at least some of the time.
Because this dish makes eight servings, you may even wish to serve this meal more than once for dinner.
To reheat, cut the casserole into serving-size squares and place into another smaller oven-proof dish. Cover. Heat in a 300 degree oven for about 20 to 25 minutes, until heated through to the center.
To store leftovers in the freezer, I like to take a similar approach: I cut the casserole into serving size squares. Then I cut (or tear) square pieces of parchment paper. Use a storage container with lid that will fit all the pieces. Place each square of leftover casserole on one square of parchment in the storage container.
When frozen, each piece is easily removed from the storage dish to be reheated or brought to work for lunch. Store leftovers in the freezer for up to 3 months.
Store leftovers in the fridge for up to 5 days.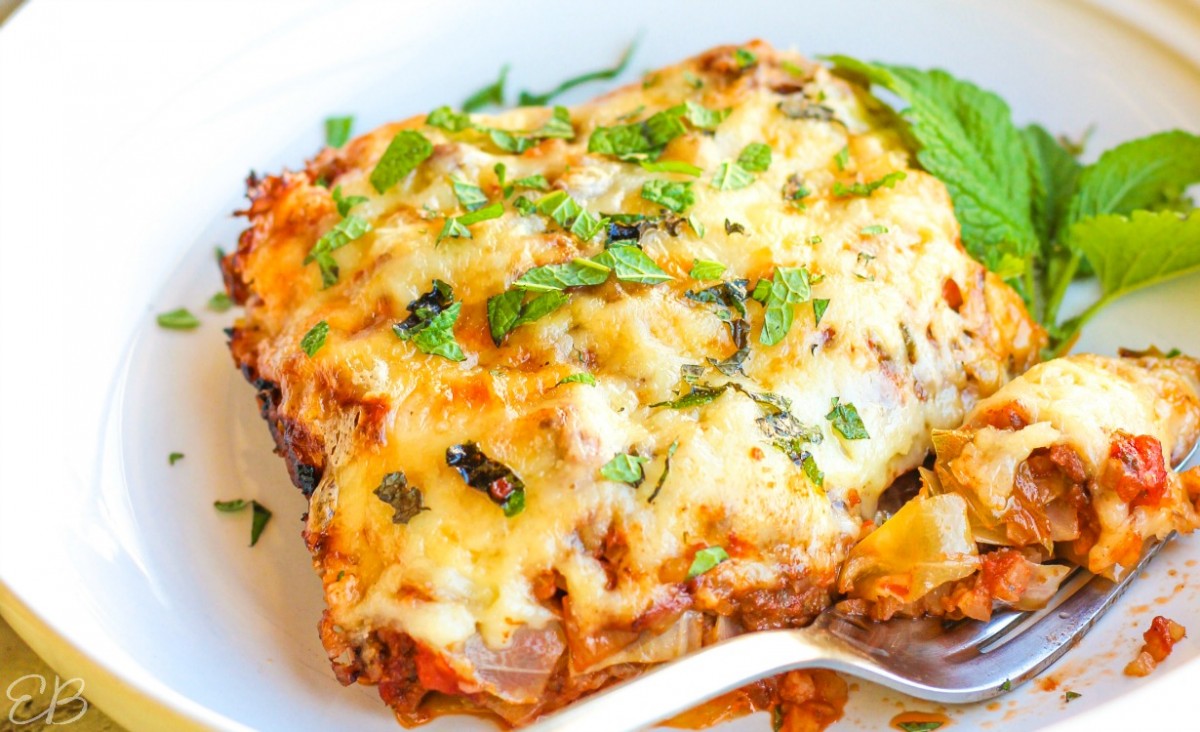 Print Recipe
Easy Low Carb Mexican Lazy Cabbage Roll Casserole
Easy Low Carb Mexican Lazy Cabbage Roll Casserole is Keto, Primal and Gluten-free, with a Paleo, Whole30, dairy-free variation that's easy. A delicious, satisfying meal with just 20 minutes of prep time!
Equipment
large sauté pan

9x13 glass baking dish
Ingredients
6

cups

cabbage

thinly sliced then chopped (a little less than 1 medium head)

1-

½

pounds

ground beef

2

cups

salsa

: jarred red, mild, medium or spicy

12

ounces

frozen cauliflower rice

¼

cup

tomato paste

2

tablespoons

avocado oil

or fat of choice

1

Tablespoon

oregano

2

teaspoons

cumin
1-

½

teaspoons

sea salt

1

teaspoon

chili powder

optional

½

teaspoon

garlic powder

¼

to

½

teaspoon

black pepper

, according to preference

3

cups

cheddar cheese

or jack, grated, or other favorite melting cheese (optional: omit for Paleo, Whole30 or dairy-free)
Instructions
In large sauté pan, cook cauliflower rice in 1 Tablespoon fat for 8 minutes over medium heat to melt and reduce water content. Remove cauliflower rice to a plate or bowl; set aside.

Preheat the oven to 350 degrees F.

Add ground beef, remaining fat and sea salt to same sauté pan over medium-high heat. Cook, breaking up meat with a spatula, until most of the pink is gone, about 5 minutes. Add cauliflower rice, herbs and spices: oregano, cumin, optional chili powder, garlic and black pepper. Sauté an additional 2 to 3 minutes until fragrant. Remove from heat.

To same large sauté pan (or use large mixing bowl if sauté pan isn't big enough), add raw chopped cabbage, salsa and tomato paste. Stir well. (See Process Photos below in Recipe Notes.)

Pour into a 9"x13" glass baking dish. Spread out and smooth the top slightly.

Bake for 30 minutes.

Top with grated cheese. (Cheese optional: if not, continue baking without it.) Bake for about 15 minutes more, until the cheese is well melted and golden brown and the casserole is cooked through, bubbly on the sides, hot and tender in the middle.

Serve on its own or with optional condiments: sour cream, cilantro etc. For dairy-free, drizzle with dairy-free crema or serve with avocado/guacamole etc.
Notes
Process photos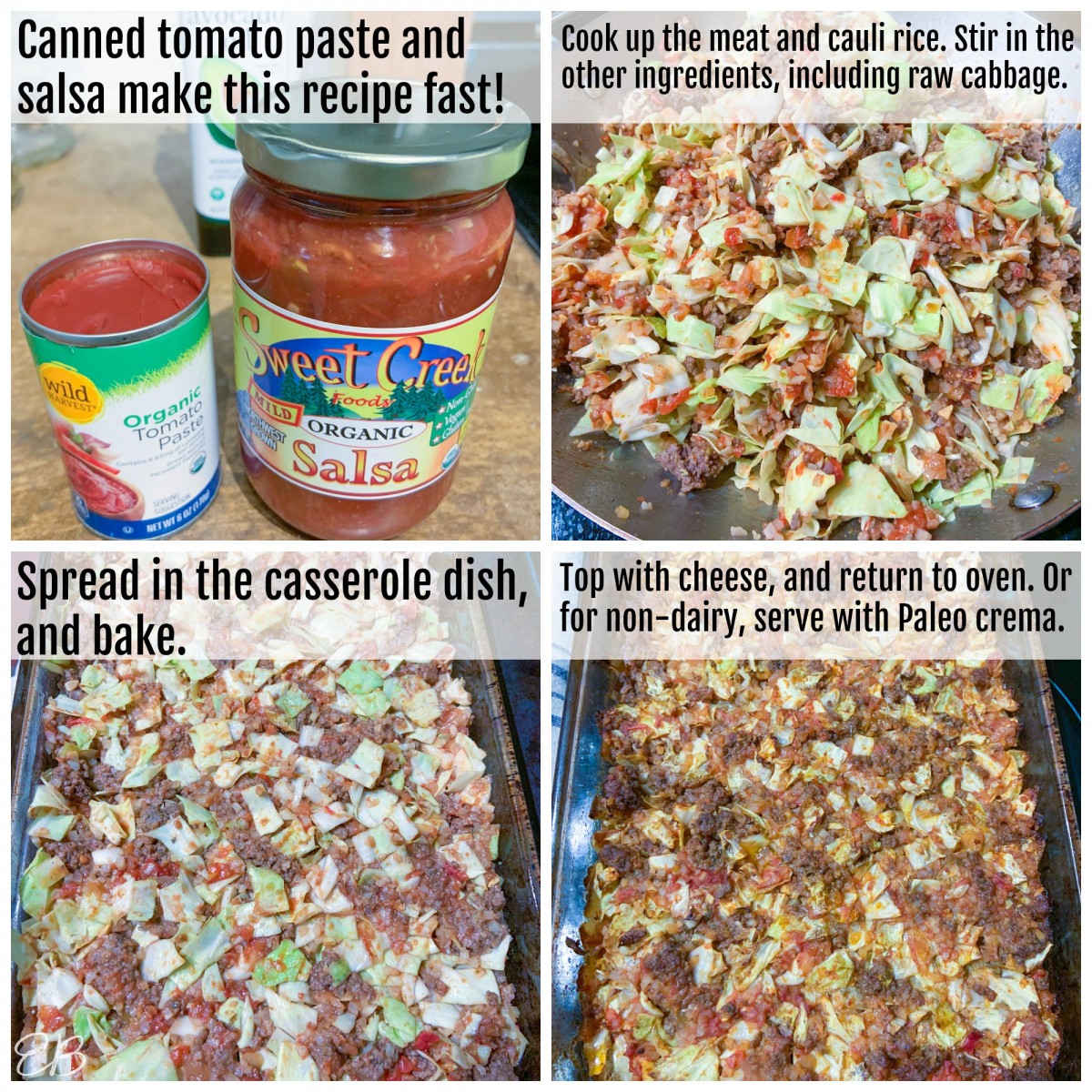 Nutrition
Calories:
317
kcal
|
Carbohydrates:
9
g
|
Protein:
19
g
|
Fat:
24
g
|
Saturated Fat:
11
g
|
Cholesterol:
65
mg
|
Sodium:
983
mg
|
Potassium:
677
mg
|
Fiber:
4
g
|
Sugar:
7
g
|
Vitamin A:
1004
IU
|
Vitamin C:
51
mg
|
Calcium:
382
mg
|
Iron:
2
mg
I think you'll also enjoy these Low Carb Mexican reader-favorites: