I may receive a commission if you purchase through links in this post. I am not a doctor; please consult your practitioner before changing your supplement or healthcare regimen.
Instant Pot Buffalo Chicken Soup is that decadent, reliable recipe that's easy to cook for friends or family, any night of the week. A dump and cook recipe that's big on flavor, with simple healthy ingredients.
Simply put, Buffalo Chicken Soup is one of my all-time favorite dinners, and this recipe is the best ever version.
You'll love how fast and easy it is to add the ingredients to your Instant Pot. You'll love the rich, high fat base that's ever-so-flavorful! And you'll love the happy family and friends that gratefully eat such a satisfying meal.
Buffalo Chicken Soup is Keto, Primal and Low Carb, definitely gluten-free, and folks from every dietary background will enjoy this special comfort food.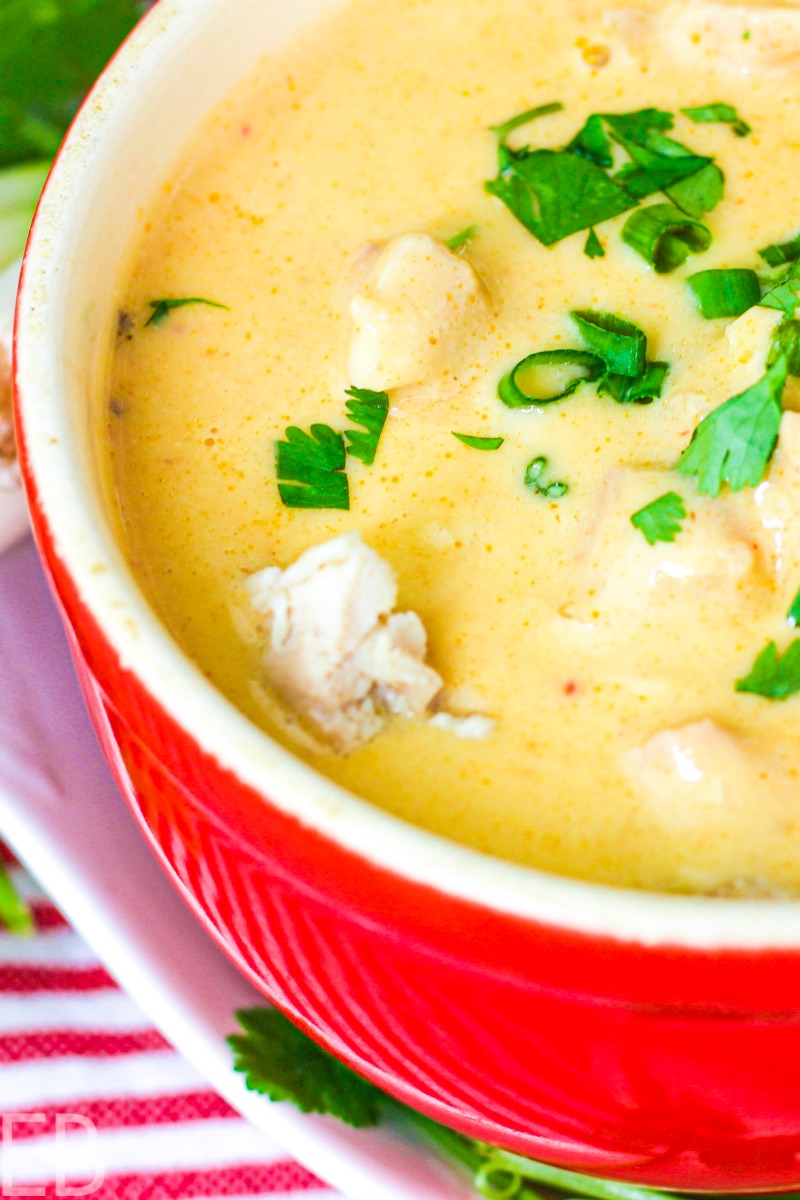 Buffalo Chicken
I didn't grow up eating buffalo anything, certainly not chicken wings. But my imagination and curiosity were provoked with the thought of combining a beautifully made organic hot sauce with heavy cream and cheddar. "Wowza" on the comfort food scale.
I was further intrigued at the thought of cooking all of this goodness in the Instant Pot, because I LOVE meals I can make for my family that they love yet that are easy for me to assemble during our busy days.
In creating this recipe, I made the soup three times to get the base nice and thick. You'll notice in the recipe that a whole head of cauliflower is puréed into the base. This gives the soup a thick, satisfying texture, but you'd never know it was there: All that good fiber and veggie-nutrition is just an added, hidden bonus.
How to serve this soup?
Couple of options when you serve this soup:
You can just ladle and serve with the optional condiments.
You can roast additional cauliflower to stir in or ladle the soup over. This is delicious and nice, if you're so inclined. I give directions below on how to quickly and easily roast a head of cauliflower. Cauliflower is one of the yummiest roasted veggies.
You can also serve this soup over cauliflower rice or regular white rice (for gluten-free/no eating restrictions).
I recommend you choose one of these three options.
How to prepare chicken for the soup
Most buffalo chicken recipes shred the chicken, which I think is great when the chicken goes on a sandwich.
But it's not so great in soup. You just don't want a lot of stringy pieces of meat getting all tangled with melted cheese and hanging out of your lips while you're trying to eat. No.
So we cut our chicken into nice chunks, and all happy order is restored.
Soup … cookbook + Meat Stock
I recently published my soup cookbook. If you love this recipe, I've filled my recipe book with similar creamy, cheesy, wonderful keto soups! So check it out if you need or want more creative and delicious, rich, satisfying meals that come together with little work.
But this Buffalo Chicken Soup had to be shared before the book published, because it was wooing me last fall and winter, and it's wonderful comfort food.
Meat Stock
Regarding soup bases, two main soup bases are the backbone to wellness soups.
One is bone broth, about which we've all heard a lot.
The other is less well known, and it's meat stock. Meat stock is my bone broth of choice because it's easier to digest than bone broth, more flavorful, very high in gelatin, faster to make, and meat stock is lower in histamines for those who are sensitive.
The cool thing about this soup is that the meat stock is formed while the soup cooks in the Instant Pot.
By placing together water, chicken and sea salt, and then cooking, we actually make meat stock. So you don't need bone broth to start this recipe; the making of it is built in.
Handy and healthy! Enjoy the flavorful base of this soup, made largely in part from the meat stock.
Keto, Primal and Low Carb
Keto and Low Carb mean this recipe is grain-free, FULL of fat (which I personally LOVE), low in carbs, and it contains an adequate amount of protein.
Similarly, Primal means grain-free, thumbs up to well-sourced dairy, and nightshades (like the hot sauce in this recipe) are okay if they work for your body.
Keto and Primal emphasize a lifestyle of wellness through diet, free of processed foods, made with real food only. Contrary to the dietary advice many of us received a few decades ago, Keto and Primal diets emphasize lots of healthy fat to lose weight and to find relief from a variety of diseases.
Here's a great article on Primal living.
I feel very blessed that amidst a restricted diet (in other ways), I can bask in lots of fat, dairy, meat stock and comfort foods like this soup!
Print Recipe
Instant Pot Buffalo Chicken Soup (Keto, Primal, Low Carb)
Instant Pot Buffalo Chicken Soup is equally at home serving friends or your own family for an easy meal! Keto, Primal and Low Carb means super satisfying, great fat and great flavors!

Servings:
6
servings (or up to 8 servings if served over rice)
Ingredients
3-3-

½

pounds

chicken thighs

boneless, skinless

7

ounces

cheddar cheese

(aboout 2 cups grated)

2

cups

water

1-

½

cups

heavy cream

preferably raw or not ultra-pasteurized

1

head

cauliflower

3

Tablespoons

hot sauce

(organic, I really like Organic Harvest Foods' red Jalapeño Pepper Sauce; see link below.)

1

Tablespoon

sea salt
1-

½

teaspoons

onion powder

1

teaspoon

garlic powder

1

teaspoon

oregano

dried or dried parsley

green onions

fresh, optional, chopped

cilantro

fresh, optional, chopped
Instructions
Layer the following ingredients into your Instant Pot insert in this order: water, chicken thighs, sea salt, hot sauce, onion powder, garlic powder, dried oregano. Then place the head of cauliflower on top of all.


Seal lid, making sure rubber ring is in place. Close steam vent. Press "Chicken" button and "-" button to reduce cooking time to 10 minutes.


When cooking time has elapsed, do a quick pressure release by first pressing the "Cancel" button. Then place a dish towel over the steam vent and open it. Take off lid.


Remove cauliflower and chicken thighs with slotted spoons. Set them on two large plates to cool slightly. Also remove 2 cups meat stock (the water that's now flavorful and nutrient-dense) to cool slightly.


Cut cheese into about 1-inch cubes. Add cheese and cream to blender. Add cauliflower. Top with slightly cooled broth. Purée 15 seconds on low speed and 15 seconds on medium speed.


Meanwhile chop cooling chicken into bite-size pieces, about six pieces per thigh. (Do not shred chicken.)


Return chicken and purée from blender to Instant Pot insert. Press "Sauté" button and "Adjust" the temperature to "Low" (see Recipe Notes below for more on how to adjust, if needed). Stir until soup comes back to temperature. Do not allow to simmer. Serve soup topped with optional green onions and cilantro.


Serving variations: If you want your soup chunkier, roast another head of cauliflower to add to the soup at the end. (Simply chop cauliflower into bite-size pieces, toss with 3 Tablespoons fat and

½

teaspoon sea salt in baking dish, and bake at 400 degrees for 20 minutes.) Stir into soup or ladle soup over roasted cauliflower in each dish. Other options: Serve soup over rice or cauliflower rice.

Notes
Nutrition
Serving:
1
serving
|
Calories:
477
kcal
|
Carbohydrates:
6
g
|
Protein:
29
g
|
Fat:
37
g
|
Saturated Fat:
16
g
|
Cholesterol:
173
mg
|
Sodium:
1668
mg
|
Potassium:
581
mg
|
Fiber:
2
g
|
Sugar:
2
g
|
Vitamin A:
720
IU
|
Vitamin C:
51.1
mg
|
Calcium:
289
mg
|
Iron:
1.5
mg
Want more spicy Keto, Primal comfort foods?! Try: