I may receive a commission if you purchase through links in this post. I am not a doctor; please consult your practitioner before changing your supplement or healthcare regimen.
Spaghetti Squash Fried Rice is a favorite-flavored Asian dinner everyone will love! This meal is Keto, Paleo, Whole30, Gluten-free, Low Carb, Low FODMAP and GAPS-friendly, with an easy AIP variation.
My favorite thing about it, other than the taste (and the fragrance while it's cooking!): Bake your spaghetti squash ahead of time (I outline the easiest methods below!), and then the squash is ready when you want to make dinner. With an already baked squash, this dinner takes just 15 minutes to make!
Jump to Recipe
What to serve with Spaghetti Squash Fried Rice
This is a one-dish dinner that's complete on its own.
But if you'd like to have more food or fun variety, this dish is lovely with fresh fruit such as pineapple or mango on the side. Not low carb options, though.
For low carb, include a simple Asian cucumber salad with sesame oil, apple cider vinegar and fresh cilantro.
You can also cook up more protein! This dish is extra exciting with large sautéed prawns.
Sautéed greens with garlic, such as baby bok choy or collard greens, is also a wonderful side dish.
Ingredients in Spaghetti Squash Fried Rice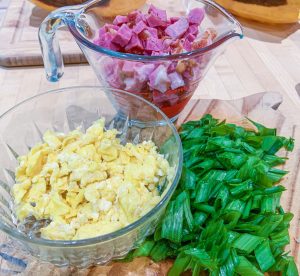 Only a few simple ingredients are needed to make this savory Asian dinner dish:
spaghetti squash
ground pork or ham (I have used ham hock, but store-bought, already cooked ham works well too.)
green onions (Greens only for Low FODMAP.)
sesame oil (I buy toasted sesame oil for its distinct and delicious flavor. Omit for AIP.)
ginger, garlic and sea salt (Omit garlic for Low FODMAP.)
eggs (Omit for AIP.)
coconut amino acids (Or you can use traditional aged fermented soy sauce, if you prefer.)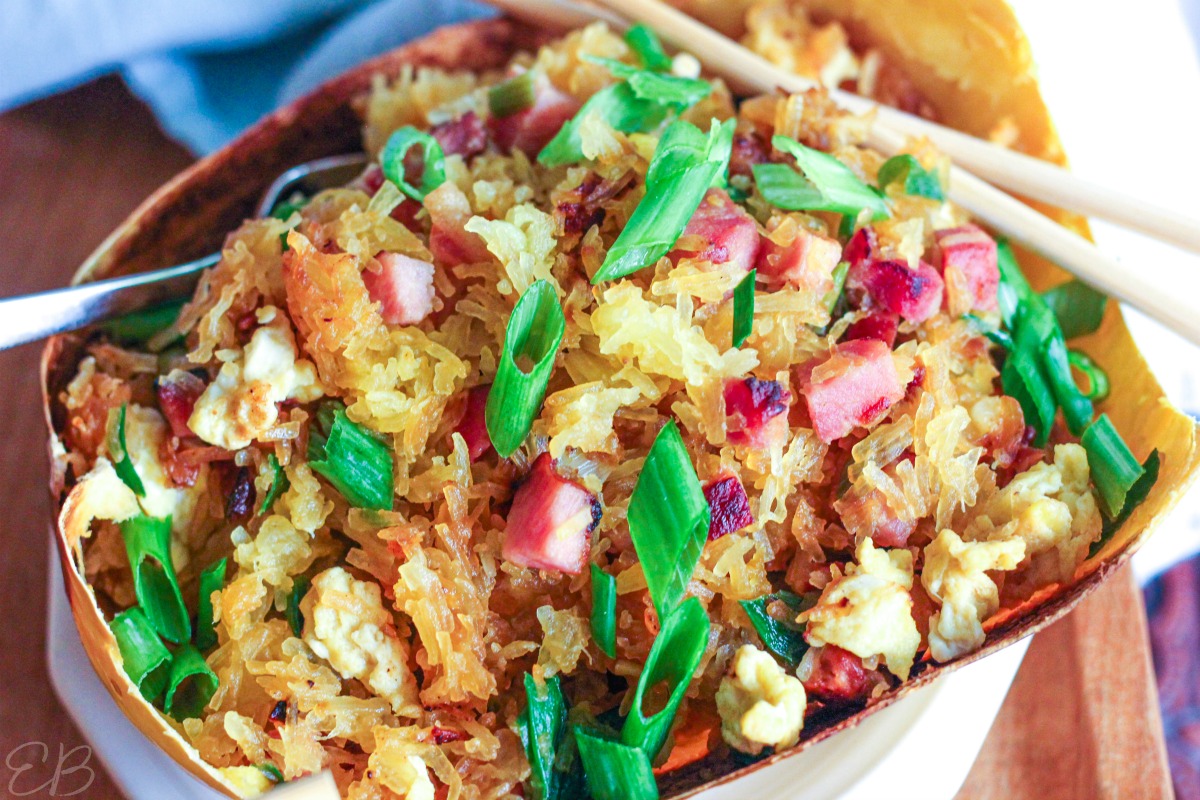 How to make Spaghetti Squash Fried Rice
A baked spaghetti squash is easy to "rice"! You simply scoop out the flesh and chop the "noodles" into short sections, JUST like rice.
(That's one reason I like this low carb version of fried rice better than the cauliflower version.)
We fry the rice, green onions, ginger and meat in sesame oil — infusing all with that wonderful Asian flavor. Garlic and sea salt are also added.
At the end, we add eggs, just like traditional fried rice, and coconut amino acids.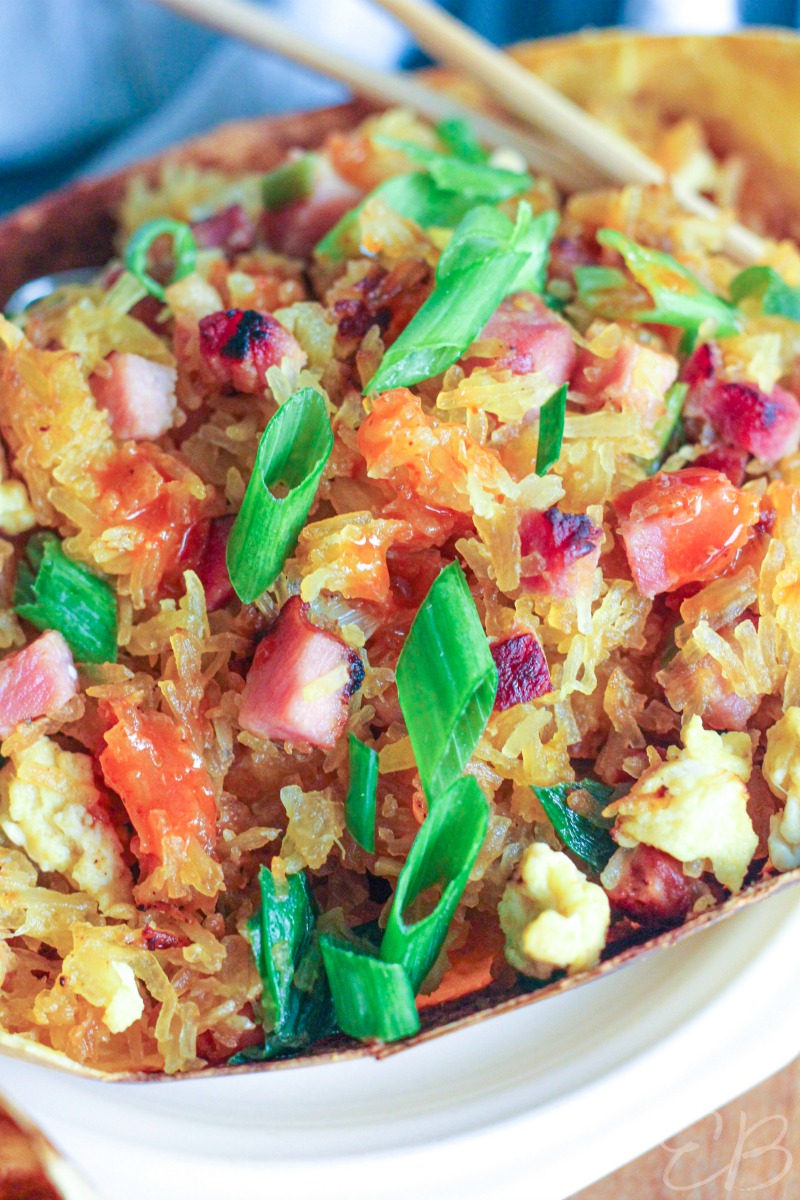 If you wish, you can garnish the dish with spicy Sriracha sauce. Optional (not AIP).
This simple dish is incredibly easy to assemble and fry up, and tastes delightfully exciting and satisfying.
How to store and reheat leftovers
It's easy to store and reheat leftover Spaghetti Squash Fried Rice. Simply cover well, and refrigerate up to 4 days.
To reheat, sauté over medium-low heat until warmed through.
If you wish, add some extra fat to a hot pan, and cook an extra beaten egg with the leftovers. This is nice for extra protein or if there aren't quite enough leftovers for a full meal.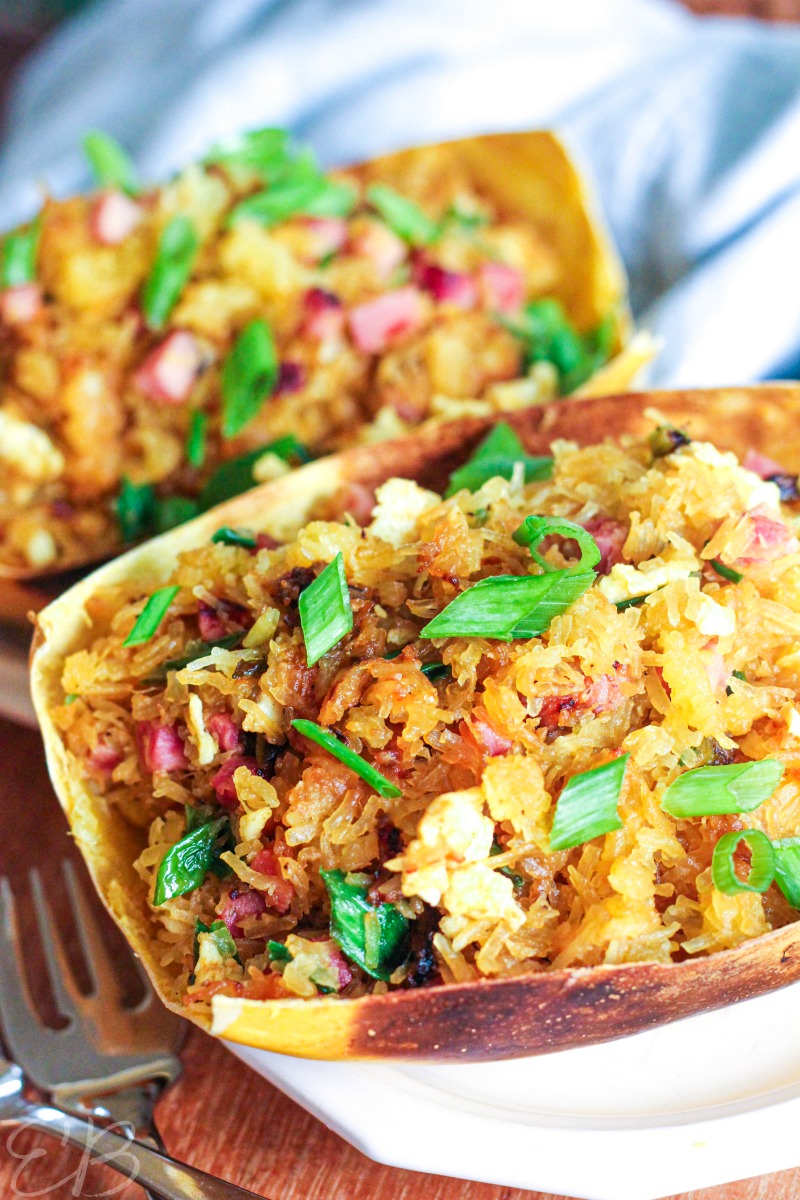 Print Recipe
Spaghetti Squash Fried "Rice" (Keto, Paleo, Whole30, GF, AIP, Low FODMAP, GAPS)
Spaghetti Squash Fried Rice is a favorite-flavored Asian dinner everyone will love! This meal is Keto, Paleo, Whole30, Gluten-free, Low Carb, Low FODMAP and GAPS-friendly, with an easy AIP variation.
Ingredients
1

medium size

spaghetti squash

(will yield about 6 cups spaghetti squash) already baked, see Recipe Notes below for How-to

1-

½

cups

pork sausage

, sautéed/fried up quickly in a frying pan with a few pinches of sea salt, OR diced ham (If starting with uncooked ham hock, simply cook it in your slow cooker or pressure cooker [I pop mine in with my short-cook bone broth ~ effortless!])

1

bunch

green onions' greens

sliced; you can use whole green onions if not low carb/keto; (Greens only for Low FODMAP.)

2

eggs

: scramble them ahead of time, with a little sea salt, in sesame oil, breaking them into small pieces as they cook (set aside) (AIP variation: omit eggs.)

¼

cup

sesame oil — toasted (AIP variation: Use avocado oil.)

2

Tablespoons

coconut amino acids

with more available at the table as a garnish if desired

1

Tablespoon

freshly grated ginger root

1

large clove

garlic

crushed or minced; omit garlic for Low FODMAP.

¾

teaspoon

sea salt
Instructions
Take one half of the winter squash and, using a large spoon, scoop out the entire contents in one section. Place it flat side down on a cutting board and make slices down, perpendicular to the rainbow-like arch of the squash's "noodles". Cut the strands close together so you "rice" the squash, having lots of short pieces. Continue until the entire squash half is "riced." Repeat with the second half of the squash.

Heat 2 Tablespoons sesame oil in large skillet. Add the pork, green onions and ginger and sauté over medium-high heat for 2 minutes. Top with spaghetti squash, sea salt (sprinkle it evenly over the squash) and garlic (evenly distribute). Reduce heat to medium. Fry the squash without stirring for 5 minutes.

Add remaining oil near the center of the pan and flip sections of the squash, using an offset metal spatula. Fry again for 5 minutes.

Flip the squash again, if needed, to evenly brown (some pans will allow the squash to actually brown more than others). Optionally, reduce the heat and repeat one final time, until all squash is golden, the pork is browned and the dish is fragrant. Fold in scrambled egg that was set aside. Turn off heat.

Garnish with coconut amino acids, sprinkling and stirring slightly. Serve. Optional: garnish with green onions and chili sauce (not for AIP).
Notes
How to Bake Spaghetti Squash AHEAD OF TIME for Fried Rice
Preheat the oven to 375 degrees Fahrenheit.
Cut the squash in half. De-seed the halves, rubbing the inside with animal fat, olive oil or ghee. Bake the halves face down on a greased cookie sheet until the squash is still al dente, not too soft, and until the strands shred easily and the edges are tinged with brown, about 40 minutes, depending on its size.
*If you have trouble cutting the whole squash in half* bake it whole for the first 20 to 25 minutes. Then, using hot pads or an oven mitt, remove it from the oven; cut in half and proceed with baking instructions as described — scooping out seeds, rubbing inside with fat and then baking for the additional time needed with the halves face down on a cookie sheet. The initial baking of it whole will make it very easy to cut in half.
*If you're in a hurry and don't want to mess with cutting the squash at all, just bake it whole for 1 hour.
Recommended tools
I like this offset spatula for flipping the Spaghetti Squash Fried Rice.
Here's a large cast iron skillet that works well for this and many recipes.
Nutrition
Serving:
1
serving
|
Calories:
320
kcal
|
Carbohydrates:
11
g
|
Protein:
9
g
|
Fat:
25
g
|
Saturated Fat:
6
g
|
Cholesterol:
103
mg
|
Sodium:
697
mg
|
Potassium:
381
mg
|
Fiber:
4
g
|
Sugar:
7
g
|
Vitamin A:
490
IU
|
Vitamin C:
6
mg
|
Calcium:
75
mg
|
Iron:
2
mg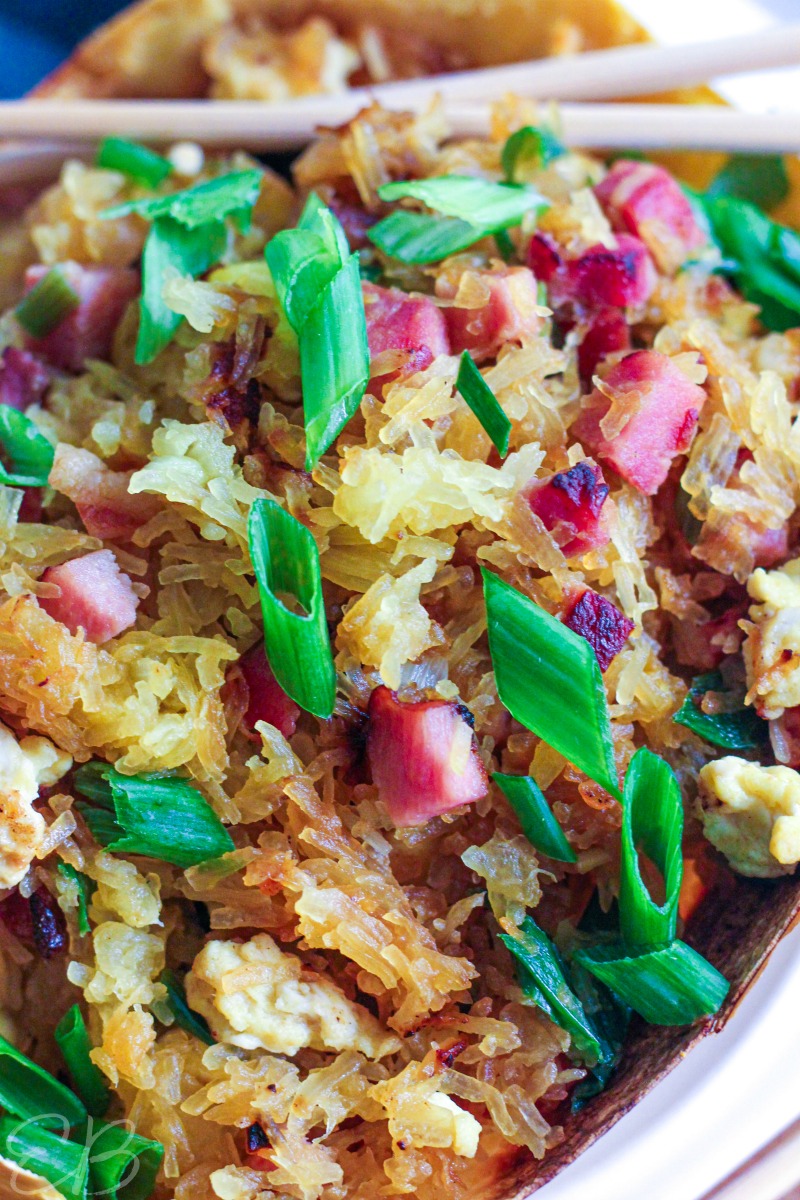 Similar dishes to Spaghetti Squash Fried Rice
If you're looking for more easy one-dish Asian dinners for Keto, Paleo, Whole30, AIP, GF, GAPS and more … I think you'll enjoy these recipes too: