I may receive a commission if you purchase through links in this post. I am not a doctor; please consult your practitioner before changing your supplement or healthcare regimen.
Served buffet style, these casual comfort food dinners will help everyone relax and enjoy your fun gathering! Guests can serve themselves, adding condiments as they visit with one another and fill up their drinks. These party food recipes are sure to please even folks that aren't Keto or Low Carb, because — Who doesn't love high fat nourishment? Cheese, cream, sausages, eggs, awesome spices and classic favorites (perfect for Super Bowl or game day gatherings!) are found amidst the following meals below: Casseroles, Bowls, Bites, Chilis, Soups, Stews and Fork & Knife Comfort Foods. Have fun choosing which dish below to make, and have more fun with the quick prep and watching your family and friends enjoy great food, camaraderie and entertainment! (Need Super Bowl Keto Appetizers too?! Here are 50+ appetizer recipes for your fun game day gathering!)
Casseroles
Enchilada Casserole (Instant Pot, Crock Pot or oven)
Chorizo-Stuffed Spaghetti Squash (multiply the recipe for a crowd)
Cauliflower-Chicken Au Gratin Casserole
Greek Meatloaf with Feta and Mint
Loaded Buffalo Chicken Casserole
Eggplant Parmesan with Pork Panko
Bowls (everyone builds their own; multiply the recipes for a crowd)
Shrimp and Chorizo Spaghetti Squash Bowls
Bites (Finger Foods)
3-Ingredient Instant Pot Ribs (use this or your favorite Keto BBQ sauce; I like this one because it's Keto but no erythritol which some of us are sensitive to)
Mexican Pan Pizza with Cheddar Cornbread Crust
Pepperoni Pizza with Fathead Crust
Classic Pizza (with egg-free crust)
Chilis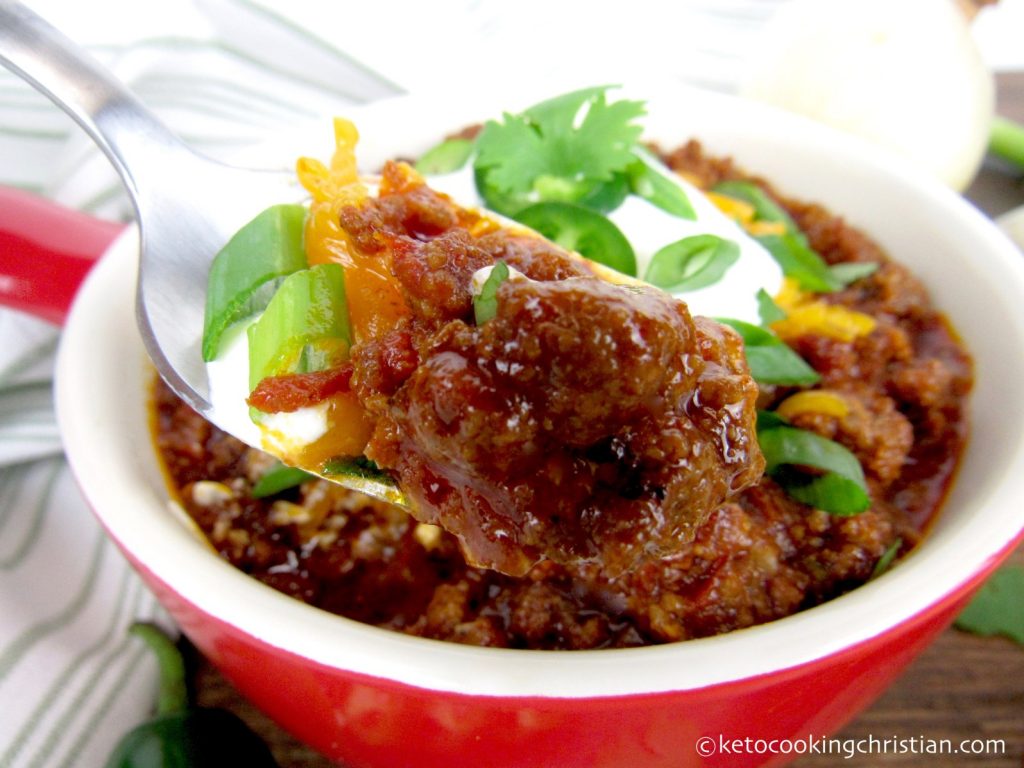 Instant Pot Green Chicken Chili (dairy-free)
Instant Pot White Chicken Chili (dairy-free)
Paleo Pressure Cooker White Chicken Chili
Instant Pot Creamy White Chicken Chili
Slow-cooker or Stove-top No-Bean Chili
Ground Beef and Sausage No-Bean Chili
Soups
Instant Pot Buffalo Chicken Soup
Instant Pot Bacon Cheeseburger Soup
Cabbage Soup (Crock Pot or Instant Pot)
Stews
Instant Pot Vegetable Beef Stew
Beef Stew with Cheesy Biscuit Crust
Instant Pot Belizean Chicken Stew
Fork and Knife Comfort Foods
Keto Steak (slice and serve on top of beautiful Caesar salads, or present from skillet with sautéed mushrooms: with toothpicks as an appetizer)
Slow-Cooker Meatballs with Raspberry Chipotle Sauce (see recipe #2)
Bacon Cream Cheese Cheddar Chicken
Instant Pot Country Style Ribs
Mexican Chicken Salad Stuffed Peppers
I'd love to hear about your Super Bowl gathering! What will you make, and do you have game day traditions?