I may receive a commission if you purchase through links in this post. I am not a doctor; please consult your practitioner before changing your supplement or healthcare regimen.
Keto Cheeseburger Bites are fun to serve, and everyone will be excited about dinner! Dip these cheesy meat muffins into Keto ketchup, or we love them with salad and any other favorite cheeseburger toppings like: bacon, blue cheese and fried eggs! Keto Cheeseburger Bites are Primal, GAPS and Gluten-free.
Also great for batch cooking, snacks, appetizers and lunch food!
Yet these Bites are GREAT on their own, a cheesy meal in your hand (although they're a little messy, so maybe a fork)!
This recipe makes a big batch! You can freeze any extras, or have them on hand for quick, nutrient dense food!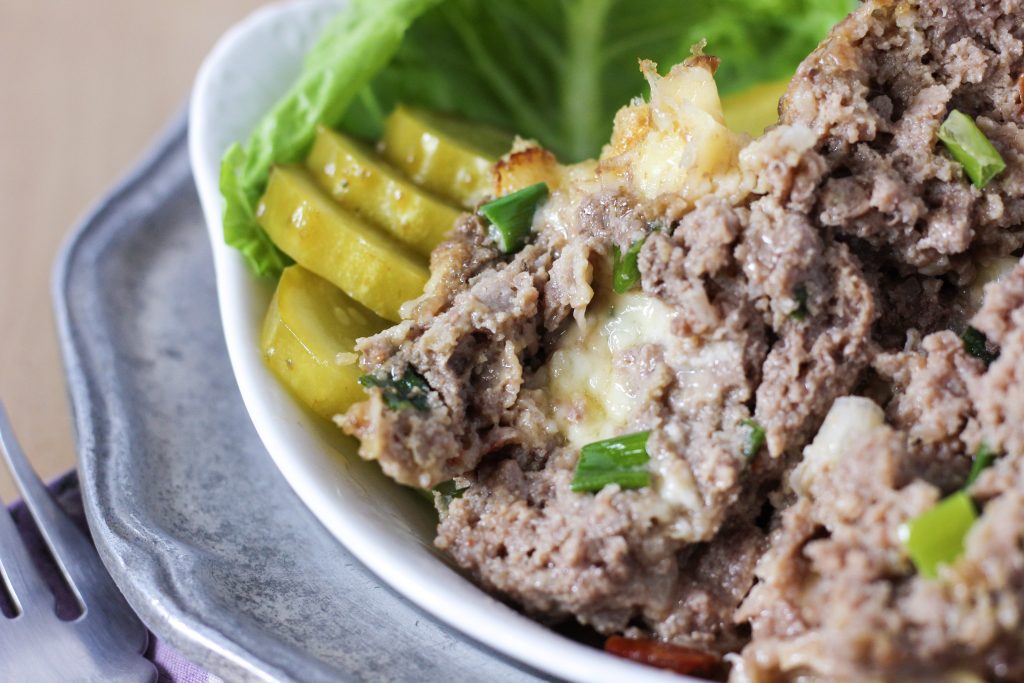 Keto Cheeseburger Bites
It's time to make burgers! These bites can be BIG or small: They can be a meal of oozing cheesy goodness, or they can be made in mini muffin tins for snacks or even a fun appetizer with dipping sauce!
You can also serve them with probiotic pickles (like Bubbies) or homemade probiotic veggie pickles (like these or these).
Egg-free
I've made them egg-free, not because I don't personally love eggs, but because a lot of Keto, GAPS and Paleo recipes contain eggs, and a lot of folks can't eat them. So it's just nice to have some recipes without, for those folks; and this recipe doesn't need them.
A moist recipe!
Keto Cheeseburger Bites are made with lots of heavy cream, or probiotic sour cream for GAPS diet.
You'll love the fall-apart meat and the fat the cream brings to these delicious morsels!
Print Recipe
KETO Cheeseburger Bites (Primal & GAPS)
Keto Cheeseburger Bites are fun to serve, and everyone will be excited about dinner! You can serve them with pickles, dip them into Keto Ketchup, or we love them with salad and any
other favorite cheeseburger toppings like: bacon, blue cheese and fried eggs.
Servings:
10
large muffins or lots and lots of little muffins (about 30)
Equipment
1-2 muffin tins (large or small muffins)

oven
Ingredients
2

pounds

ground beef

1

cup

heavy cream

or probiotic sour cream for GAPS

1

large

roma tomato

or 2 small, diced

1

bunch

green onions

diced

7

ounces

cheddar

, aged for GAPS or a good melting cheese: grate

⅓

of it, and chop the rest into 1 inch cubes

⅔

cup

nut flour sprouted, or blanched almond flour; also,

¼

cup coconut flour will probably work here too; comment below if you try this

½

cup

cauliflower rice

1

Tablespoon

apple cider vinegar
2-

¼

teaspoons

sea salt

¼

teaspoon

freshly ground pepper

1

teaspoon

baking soda

, sifted
Instructions
Preheat oven to 350. Line muffin pans with pan liners.

Combine nut flour, sifted baking soda, sea salt and black pepper in a medium size bowl. Set aside.

In large bowl combine: raw ground beef, heavy cream, apple cider vinegar, tomatoes, green onions, cauli rice and aged cheddar.

Add flour mix to beef mixture and stir together well until the meat is well broken up and lighter (not as heavy) in texture. (The baking soda and vinegar will react and create a lighter blend.) Do not over-mix; stop when the mixture is evenly combined.

Fill each muffin slot in muffin tin only halfway. Then add cubes of cheese, (equally distribute). Top off with remaining meat mixture.

When scooping meat into muffin tins: Use up to 6 ounces for each Muffin Bite, for larger ones; or 2 ounces for mini Bites. Bake in preheated oven 30 minutes for larger, or about 12-15 for smaller.

The cream and cheese will bubble out a bit during baking. Serve the Bites over salad greens and drizzle any of the creamy pan juices over your greens. Accompany by probiotic pickles (like Bubbies or homemade) and tomato slices, or baby tomatoes. Your salad greens can also be topped with blue cheese, bacon and/or a fried egg for more fun cheeseburger toppings. (Also see the Keto Ketchup link in Recipe Notes below.)
Notes
Here's

a Keto Ketchup, if you'd like a condiment for dipping.
Nutrition
Calories:
431
kcal
|
Carbohydrates:
4
g
|
Protein:
24
g
|
Fat:
35
g
|
Saturated Fat:
17
g
|
Cholesterol:
118
mg
|
Sodium:
422
mg
|
Potassium:
436
mg
|
Fiber:
2
g
|
Sugar:
1
g
|
Vitamin A:
625
IU
|
Vitamin C:
5.3
mg
|
Calcium:
189
mg
|
Iron:
2.3
mg
A bit on nutrition and ingredients, if you're interested, follows:
Which cheese to buy for the best digestion
When you go to buy cheese, if you can, buy Kerrygold brand or one from France.
These cheeses are often not more expensive, or only by a dollar or two.
The reason to invest that teeny bit extra? These cheeses are the healthiest: They come from cows of A2 heritage, the oldest breed, with a protein in the curd of the milk that's easier to digest. (You can read more about A2 cows here.) Kerrygold also raises their cattle on green pastures, they make delicious cheese, and it's sold at most markets.
Many consumers think they can't eat dairy without adverse symptoms. Try Kerrygold butter first, and see how you do. If you can tolerate Kerrygold butter, it is likely you'll flourish with Kerrygold cheese. French cheeses offer the same benefit: A2 and grass-fed/pasture-raised.
In contrast, American made, pastured-raised cheeses are from herds largely of A1 heritage and are much more apt to cause rashes and digestive distress.
For folks on the Keto and GAPS diets who are trying to improve their health, ingredients and digestion are the foundation of that healing! 🙂
What does Primal mean
Primal just means Paleo + dairy.
In our Paleo cafe we even used the word Paleo to describe sandwiches that contained great quality French cheese.
The point of Paleo is not to be dairy-free: It's to get back to older ways of eating, natural foods, raised on the land, with ancient methods and caring husbandry practices.
That should be at the heart of the Keto and GAPS diets, too. We need to buy what we can afford, but I believe we should budget for the best quality possible.
Cheese is Paleo, absolutely, if the cows are raised in an environment and mindset of sustainability, and they're of A2 heritage.
You can read more about why dairy-free Paleo is based on bad science here.
There are, of course, many who truly can't digest dairy, perhaps about 1/10 of the American population. (The inability to digest dairy is a food intolerance OR a food sensitivity. Read about the difference here.)
But then you have folks like me who helped to heal my body through the use of raw milk, aged cheese and homemade raw milk kefir.
We also have the beautiful Masai people of Africa who are free of modern degenerative diseases, but subsist largely off of raw dairy.
So if you can tolerate dairy, choose the best, for your health and the health of the planet.
Keto recipes often use lesser quality cheap dairy
The Keto community, especially those who enjoy the diet for the use of weight loss, often buy inexpensive cheeses and cream — dairy that comes from cows in feed lots.
Friends, if this is you, it may be time to switch. You didn't know, but now you do: Cows from feed lots get fed trash (literally), so their dairy is not a healing food. It may be high in fat, so it helps to produce those powerful ketones, but the fat is not good for your heart or overall health.
Considering the big picture of our bodies, we need the ketones and the quality dairy, to be nourished — and to support a world of empathy and sustainability.
Feed lots are one of the world's worst evils. (You can read more about feed lots here. It's not just hype or soap box drama; it's real, and we can help make change while also improving our health! :))
You'll love how moist and flavorful these Cheeseburger Bites are. Enjoy!!