I may receive a commission if you purchase through links in this post. I am not a doctor; please consult your practitioner before changing your supplement or healthcare regimen.
Keto Coconut Flour Waffles are perfect topped with syrup, butter and berries or a simple berry-stevia sauce (sauce recipe tips below). These low carb waffles are nut-free, so they're easy on digestion yet super satisfying when you want that carb-like-food! They're also a great source of healthy fat, protein and fiber. Keto Coconut Flour Waffles are Paleo, Low-Carb & GAPS-friendly.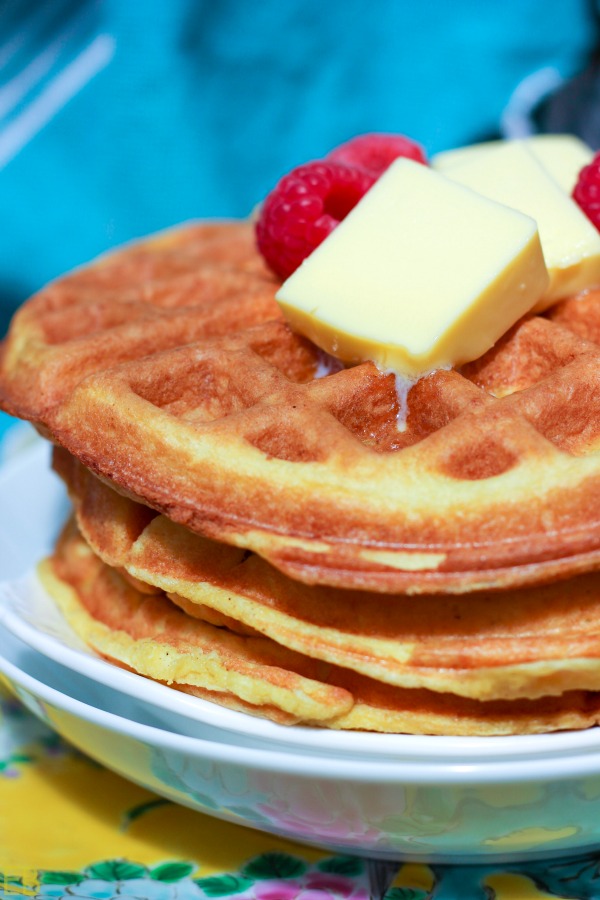 Two versions of this recipe: Keto, Paleo and GAPS
I made two versions of this recipe so it's more allergy-friendly for those who are sensitive.
You'll see the Ingredients and Instructions below in the recipe, but here's what to expect:
For those who digest cream cheese well, the primary recipe uses cream cheese.
The alternative (GAPS Diet) version (See the Recipe Notes) uses butter or ghee + cooked cauliflower rice (that gets puréed into the batter). (For dairy-free, use coconut oil in place of butter).
You'll see these variations below as you read the recipe. 🙂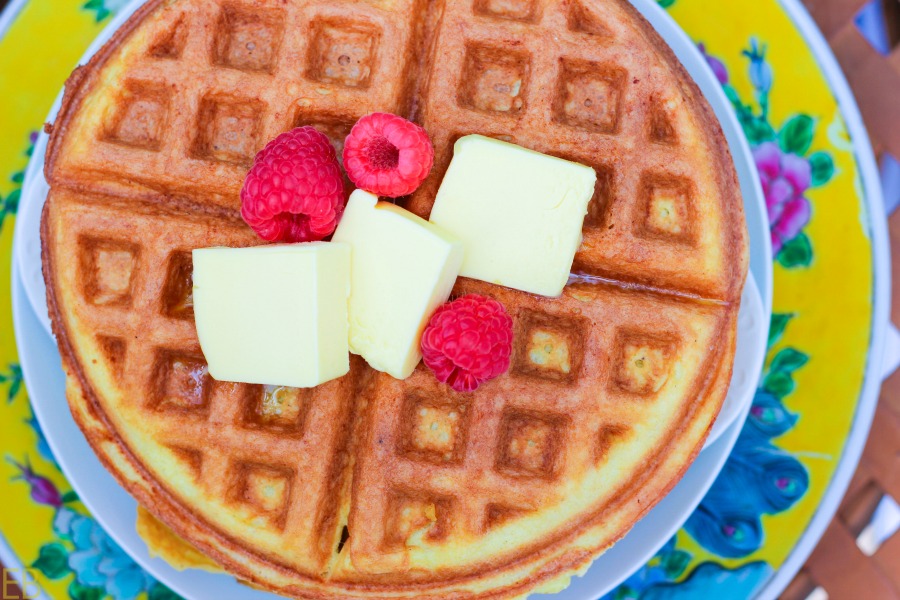 Can the waffles or the batter be made ahead of time?
One great feature of this batter is that it KEEPS in the fridge. Yes, you can make the batter ahead of time!
Here's what we do: Make a batch of batter. Pour it into a 4 cup mason jar. Place in fridge. In the morning, plug in your waffle iron. Make waffles (=zero work each morning). We do this 6 to 7 mornings a week in our home! Each morning the toppings vary, but the base is always the same and always zero work.
You can also make these waffles, wrap them well and freeze them. Simply place in toaster oven or microwave for about 30 seconds to defrost.
Pre-made waffles are great when you're on the go:
For lunch, fold these tender waffles around your favorite deli meat: Turkey, avocado and lettuce is great.
Or: bacon, cheese and tomato.
Use waffles for a super easy dinner instead of buying unhealthy fast food or convenience items.
Make the whole batch at breakfast and grab them for snacks when you need them.
Refrigerate leftovers with a small square of parchment paper between each one, in a sealed container.
Yes, this recipe makes a great Make-Ahead Keto, Paleo, GAPS, Low-Carb breakfast option.
What toppings are good?
SWEET TOPPINGS
In addition to syrup, butter and fresh berries, try Strawberry Topping, which is a simple, thick and delicious berry sauce.
These waffles are great smothered with lots of butter and a bit of peanut butter! Also try this Keto Chocolate Sauce!
I LOVE stirring a teeny bit of stevia into real probiotic sour cream or whipped cream. Sometimes I make it chocolate whipped cream; (I recommend putting this Fair Trade Cocoa on auto-ship by using the Subscribe and Save feature. You can set the subscription for every few months, or however often you need your cocoa!) This makes for a rich, satisfying, Keto eating experience that leaves the eater feeling SO satisfied.
You can also shave an unsweetened chocolate bar on top.
SAVORY TOPPINGS
I also love savory waffles: Top Keto Coconut Flour Waffles with scrambled eggs, butter, sea salt, diced tomatoes, crumbled bacon and cheese and fresh herbs.
Additional options in the savory department: butter, sea salt, fried eggs, green onions, sausage, salsa or pesto.
Go sweet or savory; you can't go wrong with waffles! So many options.
When I created this recipe, it was with the direct intent to make more Keto recipes that do not contain almond flour. Here's why:
Nut-free
As you know, this recipe is nut-free! It's hard to find Keto, GAPS, Paleo recipes that are nut-free, and it's an important subculture, if you will, of recipes.
As great as nuts are, nuts aren't great for everyone! They can tax the digestive system and prevent wellness. Coconut flour, for those whose bodies do well with coconut, which is most people, is a low-allergy food that provides dietary fiber and an ingredient "tool" to make nut-free Paleo bread, nut-free Keto bread and nut-free GAPS bread, or bread-like foods.
I'm super glad coconut flour exists, because even if it isn't amazing on its own, this recipe really transforms it — high in fat, lots of protein, and voilà: We have a simple recipe, soft texture and a bread-like treat for breakfast, or any meal, that isn't full of foods you have to moderate.
This recipe does contain butter or ghee; but if you can't have dairy, definitely you can sub in coconut oil.
Also, see more about the risks of eating too many almonds here.
What sweetener is used in this recipe?
Not everyone's bodies do well with polyols, or alcohol sugars. Sweeteners like erythritol can cause GI distress to some people with compromised health. While I'm glad polyols exist (they're a great cooking tool, too), I appreciate recipes without them or when they're optional.
For Keto and Low Carb: This recipe uses stevia or pure monk fruit, and erythritol is optional. I do recommend the erythritol version if it agrees with you for the very best traditional texture.
For Paleo and GF: Use maple sugar or coconut sugar. But it's optional and can be omitted for GAPS. If you can have it, that bit of granulated sweetener is a great addition to the recipe, so do include it. The unrefined sugar helps to create the best texture, not just sweetness.
What's the texture like?
It depends which version of this recipe you make.
The Keto and Paleo versions that contain a granulated sweetener have a crispy exterior and a tender middle.
The stevia-only version of these waffles have a soft texture. This tender version of the recipe means the waffles double really well as sandwich bread: Use them for lunches as well as for breakfast. Fold the waffles over, around your favorite savory fillings.
Print Recipe
Keto Coconut Flour Waffles (nut-free, GAPS, Paleo, low-carb)
High in protein and good fats, Keto Coconut Flour waffles are healthy enough for every day and versatile enough to enjoy any meal of the day.
Servings:
4
large waffles, or 8 smaller ones
Ingredients
8

eggs

8

ounces

cream cheese

, softened (OR see Recipe Notes for Paleo/GAPS version if you don't digest cream cheese well)

½

cup

coconut flour

2

Tablespoons

low carb sweetener

for Keto, maple sugar/coconut sugar for Paleo, and omit for GAPS

2

Tablespoons

butter

, melted and cooled (omit this ingredient if making the Paleo/GAPS version below in Recipe Notes)

½

teaspoon

baking soda

, sifted (optionally, omit for GAPS)

⅛

teaspoon

sea salt

15

drops

liquid stevia

or 1/16 teaspoon powdered stevia (or less, to taste)
Instructions
If eating immediately, plug in waffle iron to preheat. Or make waffle batter ahead of time, and refrigerate batter until ready to use. It keeps well in the fridge for several days.

Place all ingredients in a high-powdered blender and purée until smooth, stopping to scrape down the sides once with a rubber spatula, as necessary.

Pour the batter into the waffle iron, filling the hot plate only

⅔

full (batter will expand a lot), and cook according to manufacturer's instructions.

Top with butter and berries. (Or make a simple berry sauce by combining berries in saucepan with a small amount of water and stevia. Heat and serve.)
Notes
Paleo/GAPS Diet Variation (no cream cheese)
Cauliflower rice helps to make the texture of these waffles just right. I buy frozen cauliflower rice, simmer it for 10 minutes (in 1-

½

cups water); then I strain it in a fine mesh colander. You can use any cooked cauli rice; just pack it into your

½

cup measuring cup to measure.
INGREDIENTS
In place of cream cheese: Use

¾

cup unsalted butter or ghee, melted and cooled slightly

½

cup cauliflower rice, cooked and strained; pack it in the measuring cup to measure 
INSTRUCTIONS
Follow the instructions above, but add in the two ingredients listed here.
(You'll also see above to omit the cream cheese, and omit the extra butter 2 T. butter listed in the original recipe.)
Find the

waffle iron I use and love

here

. It's non-stick, with a ceramic coating, and a great price.
Nutrition
Calories:
194
kcal
|
Carbohydrates:
3
g
|
Protein:
13
g
|
Fat:
10
g
|
Saturated Fat:
4
g
|
Cholesterol:
327
mg
|
Sodium:
235
mg
|
Potassium:
181
mg
|
Fiber:
5
g
|
Sugar:
1
g
|
Vitamin A:
475
IU
|
Vitamin C:
9.7
mg
|
Calcium:
54
mg
|
Iron:
2
mg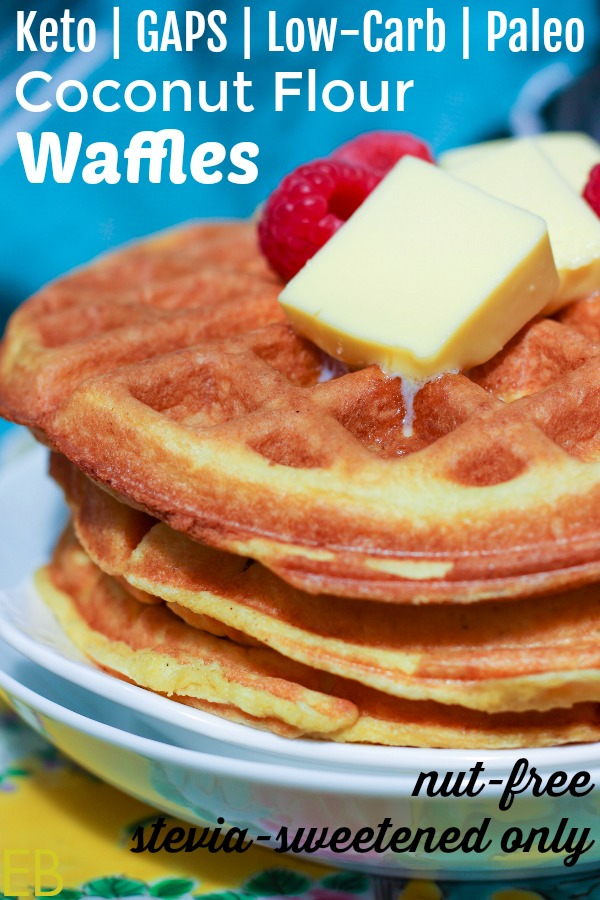 Love nut-free recipes? Here are some others you'll enjoy: