I may receive a commission if you purchase through links in this post. I am not a doctor; please consult your practitioner before changing your supplement or healthcare regimen.
Paleo Cassava Flour Sourdough Waffles uses fermentation to reduce antinutrients found in cassava flour. You'll love the make-ahead batter that makes morning waffles fast, easy and SO delicious: sourdough! This grain-free batter is Paleo, high in nutrition (great macronutrients!) and may become your new favorite daily staple.
This post also shares with you how to reduce phytic acid in other grain-free recipes (and I'm always happy to answer your questions below in the Comments section).
You can also learn about reducing antinutrients in seeds here.

Cassava and Phytic Acid
Most of us don't think about antinutrients when we think about cassava root and cassava flour. However, cassava has a high percentage of phytic acid.
Phytic acid is a storage form of phosphorus which is found in nuts, seeds, roots and tubers. It has the potential to bind calcium, zinc, iron and other minerals, making them less available for absorption. That's why it's considered an antinutrient (read: "anti-nutrition" because it interferes with the absorption of nutrients).
Phytic acid also decreases the body's production of digestive enzymes like pepsin. So for those of us adhering to a grain-free diet to help our guts heal, phytic acid really affects our digestion in a negative way. (source)
How to Create a Cassava Sourdough Starter
Fermentation is used in many traditional cultures to reduce phytic acid, yielding a much more nutritious food. Many of us use cassava flour liberally without this awareness.
For how often my family eats cassava flour, which is daily, I've started to ferment.
I tried creating a room temperature sourdough starter, but cassava isn't a grain; and it didn't work. I figured out a different method that works well. It's easy, too.
Paleo Cassava Flour Sourdough Waffles method
Cassava flour ferments well in the fridge when made into a batter that contains probiotics. The general principle is to mix sour raw milk (or sauerkraut juice at room temperature, which I discuss more below as a dairy-free option) into a batter or dough recipe and then to let the batter sit in the fridge for 3-5 days.
The probiotics in the sour milk or sauerkraut juice predigest the antinutrients in the cassava.
You end up with a deliciously sour dough. I use this method weekly with my grain-free waffle batter. I keep the batter in a mason jar. Once it's fermented, the batter provides an easy breakfast each morning.
Any recipe can be soured
You can also use this method when making any recipe that already contains a liquid like milk or water, by subbing in some soured raw milk or kraut juice. You don't taste the flavor of sauerkraut or sour milk, but the probiotics do their handiwork in the safety of cold refrigeration, which prevents mold from developing.
(See a few more recipe examples [how to convert them to sourdough] at the bottom of this post.)
Paleo Cassava Flour Sourdough Waffles
If your batter separates at all while sitting in the fridge, just give it a little stir before pouring and baking. You'll see lots of new air pockets throughout the batter, a testimony to the fermentation that's occurring.
Sourdough fermentation reduces phytic acid
In conclusion, the best way to neutralize phytic acid is through fermentation. And that's what sourdough is and does: It's the most effective means of reducing antinutrients.
Because of sourdough I haven't needed to reduce my consumption of cassava. My body LOVES this complex carbohydrate and the resistant starch it provides.
And I love the method used in this recipe because it's uncomplicated and requires no new cooking tools. Just stick it in the fridge, and the probiotics do the work for you.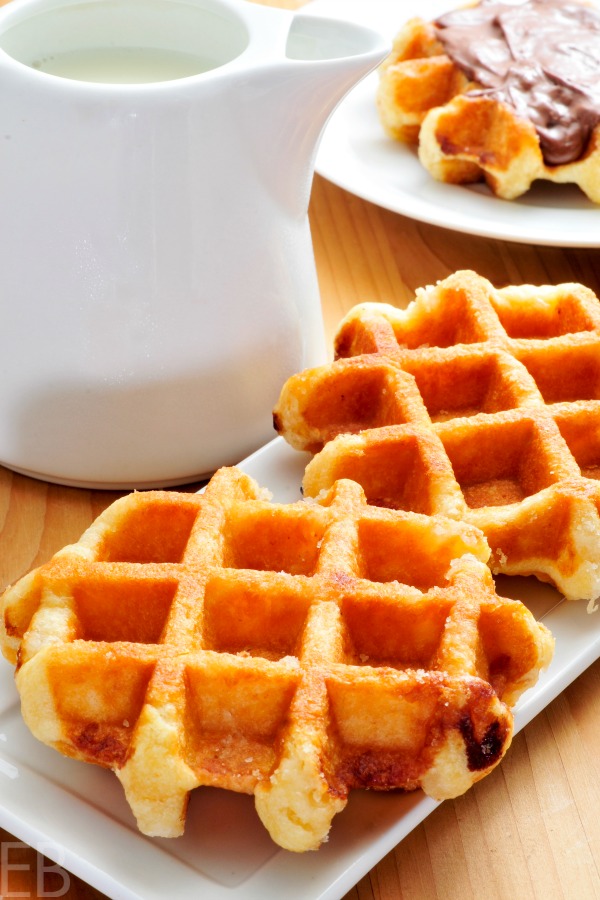 Paleo Sourdough Waffles with cheese …
The recipe below uses Parmesan cheese (much like chaffles do). Most eaters will not notice the cheesy flavor unless you point it out. The Parmesan creates an incredible texture internally and externally.
I make my dairy-free daughter's waffles without this ingredient. I often add in a smashed fruit or cooked, smashed veggie to hers instead, like pumpkin or banana or frozen cauliflower rice.
Dairy-free Sourdough Waffles using Sauerkraut Juice
Fermentation with sour raw milk works well in the refrigerator. But with sauerkraut juice it is better to ferment the batter at room temperature, in which case I wait to add the eggs and baking soda until ready to bake. This bread recipe uses this method.
Please see the Notes section directly below the recipe for the dairy-free version of this recipe.
Print Recipe
Paleo Cassava Flour Sourdough Waffles
Yes, you can make grain-free sourdough! This recipe teaches you how. Paleo Cassava Flour Sourdough Waffle batter is made ahead of time and keeps beautifully in the fridge for many days to easily bake in your waffle iron each morning — for a hot healthy breakfast!
Ingredients
1-

¼

cups

cassava flour

see link below in Recipe notes

4

eggs

pasture-raised preferred

1

cup

milk : sour and raw; or

¾

cup water +

¼

cup sauerkraut juice

1

cup

Parmesan cheese

grated (or other hard, aged cheese such as Romano, Pecorino or Asiago)

⅓

cup

butter

, melted and cooled slightly or lard, duck fat, ghee (or use avocado oil if preferred)

½

teaspoon

baking soda

, sifted

½

teaspoon

sea salt
Instructions
In a medium-large bowl whisk together the dry ingredients: cassava flour, baking soda, sea salt. Set aside.

In a blender or medium-size bowl puree/whisk together the wet ingredients: eggs, sour milk, melted fat. (*See Recipe notes below for the water + kraut juice combination option.)

Pour the wet into the dry and fold together. Add the parmesan and mix completely.

Store in the fridge, as batter, in a quart-size canning jar, for the week and bake as needed. Store for a minimum of 24 hours to sour the dough, to reduce phytic acid. Store longer for a stronger sourdough flavor and greater reduction of anti-nutrients, about 3-5 days.

To bake, heat waffle iron and use about 1/2-

¾

cup batter per waffle until you figure out if it's the right amount for your size waffle iron, without causing overflow of batter. (See Recipe notes for the kind of waffle iron I use.)
Notes
You can order Otto's Cassava Flour here.
Here's

a good waffle iron.
DAIRY-FREE RECIPE VARIATION (water + kraut juice combination)
For this variation, wait to add the eggs and baking soda. Assemble the recipe otherwise in exactly the same way, using kraut juice + water instead of the sour milk. (And omit the parmesan cheese, subbing in cauliflower rice, pureed pumpkin, or smashed banana.)
Allow the batter to sit out covered at warm room temperature about 24 hours, preferably in a medium-size mixing bowl.
Before cooking the waffles beat the eggs together in a small bowl. Dissolve the baking soda in 1 Tablespoon water. Add both the eggs and the baking soda to the batter and stir together well.
Bake waffles.
Nutrition
Calories:
180
kcal
|
Carbohydrates:
5
g
|
Protein:
8
g
|
Fat:
14
g
|
Saturated Fat:
8
g
|
Cholesterol:
114
mg
|
Sodium:
526
mg
|
Potassium:
82
mg
|
Fiber:
1
g
|
Sugar:
2
g
|
Vitamin A:
500
IU
|
Vitamin C:
0.2
mg
|
Calcium:
203
mg
|
Iron:
0.7
mg
Side note~ You can see below one of my breakfasts with this recipe … and that I use plenty of butter! 😉 I also top my waffles with fresh herbs, chevre and local honey. I love having the honey infused with herbal flavor!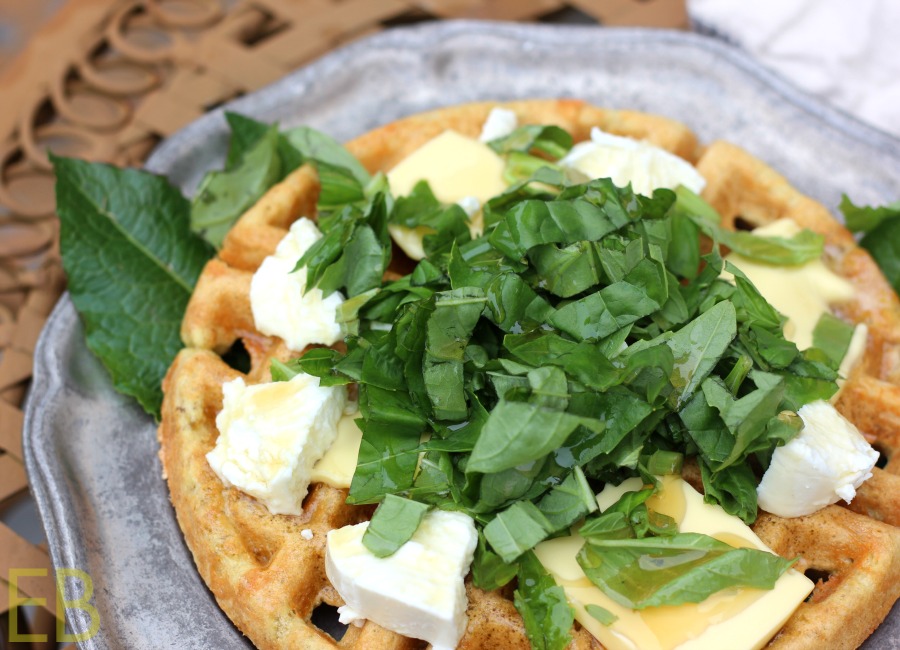 More Recipes Converted to Sourdough
Here's my favorite Pumpkin Pancakes recipe. All you do to make this one sourdough is to switch the 1/4 cup milk called for in the recipe to soured milk. Then refrigerate it for several days before frying up the cakes. Easy; but you do have to plan ahead.
In this AIP (egg-free, dairy-free, nut-free) Lemon Blueberry Coffeecake, simply sub 1/4 cup kraut juice (or soured raw milk if you've added dairy back in successfully) for a 1/4 cup of the coconut milk. Then pour the batter into the prepared baking pan, and allow the batter to sit out in a warm kitchen, covered, for 24 hours before baking.
It's not enough to be Paleo…
We have to think about digestion! So many Paleo folks load up on almond butter or almond flour. But those ingredients are not "predigested." Almond products tax the digestive system, in addition to being high in omega-6s.
My cookbook and a unique soaking method
If you want more great Paleo baked goods that will bless your body, and even help you in your healing journey, my cookbook uses a unique soaking method that's easy. In fact most of the baked goods are made in a blender, so batters come together fast. Check out all the 5 star reviews here. 🙂
Email me if you're not sure if the cookbook is right for you. I've designed it so you can buy the eCookbook if you are on a tight budget or prefer that format, here. Or you can get the hard copy here, if you prefer holding a cookbook with lots a helpful and beautiful photographs. *This cookbook is GAPS Diet-friendly, so it does not use cassava flour. Cassava flour is excellent when phasing off of the GAPS Diet.
Cheers: to one added simple step that allows our bodies to access and assimilate the nutrition our food offers…!