I may receive a commission if you purchase through links in this post. I am not a doctor; please consult your practitioner before changing your supplement or healthcare regimen.
Paleo & AIP Plantain Waffles and Pancakes are a healthy breakfast treat, full of good complex carbs — made with convenient pantry staples. Egg-free waffles can be tricky, but this recipe is easy to make, affordable and super satisfying.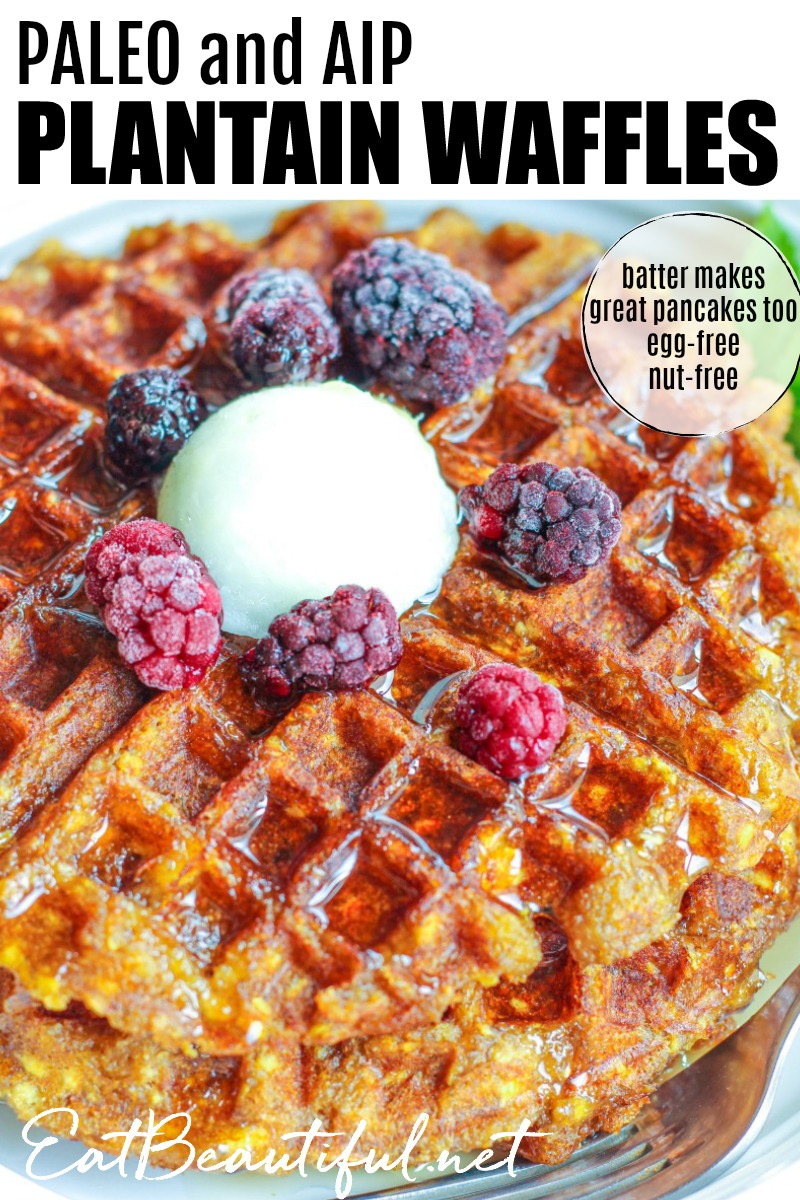 Plantains in waffles or pancakes
Plantains are a healthy starch worth loving. Paleo and AIP Plantain Waffles or Pancakes are gentle to digest and yet delicious for eaters of all ages. Amazingly, plantains are so starchy that very little flour is needed when baking with them. Similarly, you can make plantain recipes work without eggs. So they're excellent for those with certain eating restrictions.
And now, let's jump right into this recipe that is made just for you, my AIP, egg-free, nut-free, dairy-free friends! May you enjoy all that you can have. This recipe is all about living it up — with nutrient dense foods — within the boundaries that help you to flourish and heal.
Below, I give a few tips for this recipe.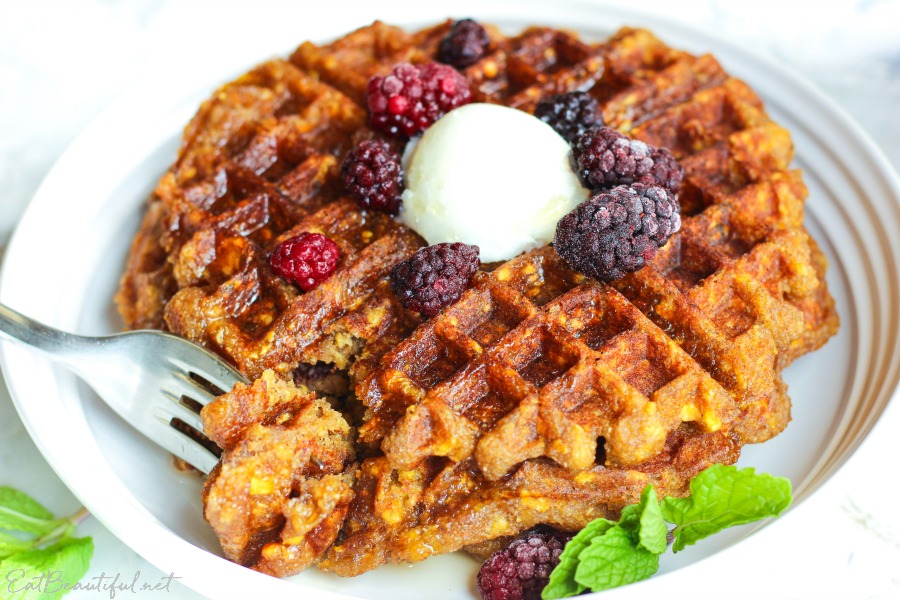 What color/ripeness of plantains are best
If you've cooked with plantains before, you know that different ripenesses are called for in different recipes:
Green, unripe plantains are very hard and used for their starch.
Ripe, yellow with black spots, or all black, plantains have less starch, are sweeter and purée more easily.
In this recipe, we use yellow plantains with black spots. Mostly yellow plantains retain some of their starch, which can take the place of flour. But they're still soft enough to purée into the batter consistency. (I do use grain-free flours in this recipe for the best textured waffle.)
If you use green plantains in this recipe, the recipe will still work. But green plantains tend to leave hard bits of plantain behind, so the batter is not completely smooth.
I don't recommend using black plantains either, as they are SO ripe that the waffle is too soft and comes apart too easily. Some starch in a partially ripe plantain is ideal.
How to peel plantains
Have plantains at room temperature.
Cut off both ends.
Cut in half length-wise.
Cut each half in half again, width-wise.
Insert thumb between flesh and peel and unwrap sticky peel.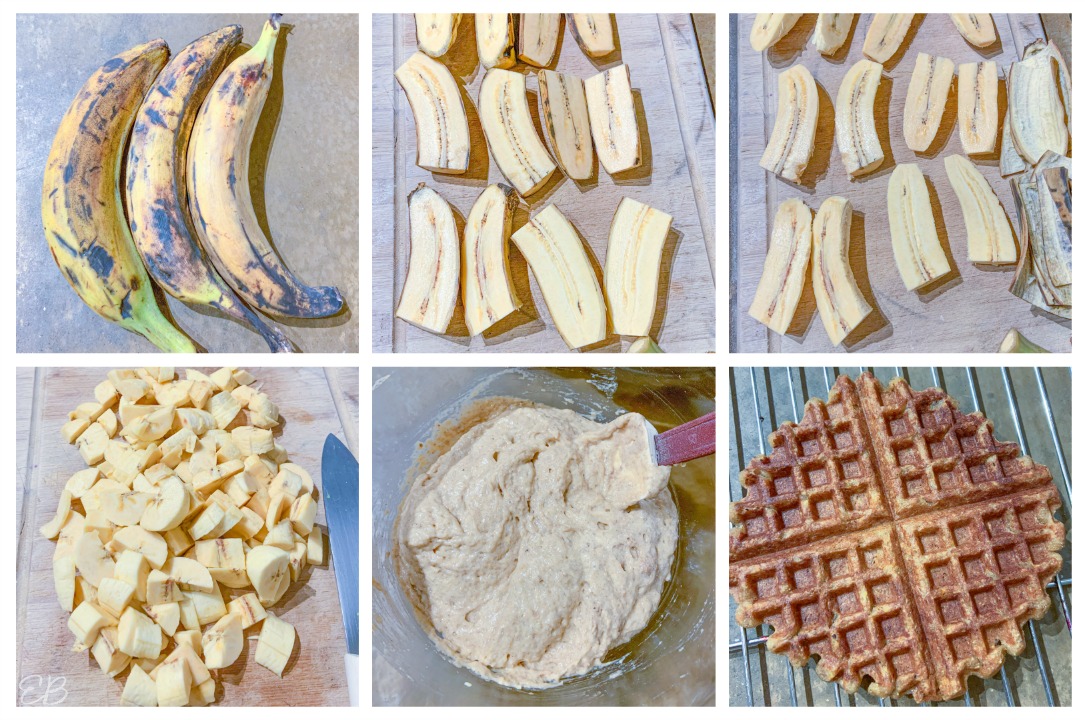 Ingredients in Paleo & AIP Plantain Waffles or Pancakes
In addition to plantains, these other ingredients help to make a lovely batter for either pancakes or waffles:
coconut oil — Good solid fat helps to create the right texture and also provides balanced macronutrients for a healthy meal.
arrowroot — Gives structure to the soft batter.
coconut flour — A bit of coconut flour helps to strengthen the batter and give it subtle cake-y solidity.
coconut sugar — Coconut sugar adds a rich note but also creates a good texture in the finished pancake or waffle.
apple cider vinegar — ACV reacts with baking soda to create rise in our baked goods.
gelatin — Gelatin binds everything together, in addition to the plantains doing this job.
cinnamon — Cinnamon is great for blood sugar levels, but also delicious with plantains.
baking soda and sea salt — Leavening and heightened flavor come from baking soda and sea salt.
Can you make substitutions to these ingredients?
Typically, I don't recommend subs in AIP or egg-free baked goods. But you can make a few that are minor:
Coconut oil can be replaced by another solid fat of your choice, such as lard or palm oil (or ghee if you re-introduce it on AIP).
Filtered water can be replaced by the milk of your choice.
Coconut flour can be replaced with tiger nut flour, by doubling the amount. (So 1/2 cup tiger nut flour.)
Coconut sugar can be replaced by maple sugar.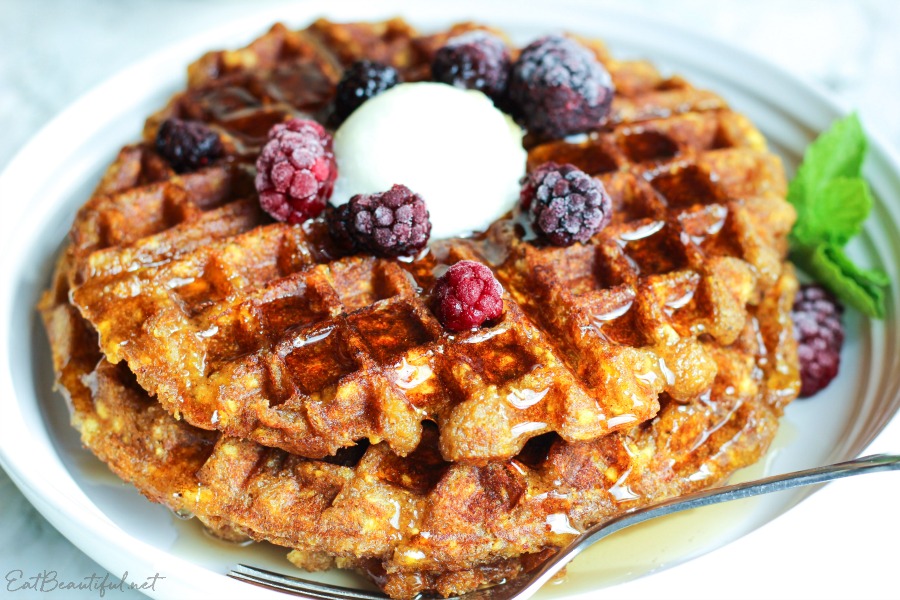 Other tips for success when making Plantain Waffles or Pancakes
The main tip to know when making any recipe with plantains is that ripe plantains burn quickly.
It's best to use low heat and check your pancakes or waffles a bit sooner than you might expect. Unlike other waffle recipes, you can not cook plantain waffles for 5 minutes. Check your waffle at 2 to 3 minutes depending on the iron. Open the lid slowly and peek.
Same goes for pancakes: Use a spatula to check it. You'll be fine using lower heat, but we aware.
Also, use grease or fat of some kind when you make the waffles the first time. (This is already indicated with pancakes.) You don't really need to with a new non-stick iron, but the plantain batter sticks a teeny bit. So open the waffle iron slowly, and use a bit of fat on top of the batter before shutting the lid to add peace of mind. You'll quickly see how the batter performs.
Riper plantains darken more quickly when fried. If you use one green plantain in this recipe, the batter is harder to get smooth, but you'll get a golden brown waffle more easily. The waffles in my photos used half ripe and half unripe plantain, but see the little light-colored bits? Those are the unripe plantain. So it's a trade-off. This waffle batter works either way (you can use 1 unripe plantain), just check the cooking waffles and pancakes sooner if you use all ripe fruit so they don't get too dark.
My family likes this recipe best with all medium-ripe plantains (yellow with black spots).
Print Recipe
Paleo and AIP Plantain WAFFLES or Pancakes
Enjoy the delicious flavor of plantain waffles or pancakes, grain-free, tender and delicious. Serve for breakfast, brunch, snack, dessert or even dinner! (Note: This recipe requires 3 medium ripe plantains — yellow with a few black spots. You may also use two ripe and one unripe plantain.)
Servings:
3
servings; see Recipe Notes
Equipment
bowl

waffle iron (or pan for pancakes)

blender
Instructions
Place the peeled, chopped plantains into the blender. Add the melted coconut oil, water and apple cider vinegar. Blend on low speed, increasing the speed slightly, until smooth, about 30 seconds.

Place all remaining dry ingredients in a large bowl: arrowroot, coconut flour, coconut sugar, gelatin, cinnamon, baking soda and sea salt.

Pour plantain purée in large bowl with dry ingredients. Stir together until well mixed.

For waffles: Plug in/turn on waffle iron. Cook according to manufacturer's instructions, adding about

¾

cup batter to iron per serving, depending on waffle iron's size. Typically makes 3 to 4 full size waffles. Note: Plantain batter burns more quickly than other batters, so check waffles early to be sure they don't burn. About 3 minutes cooking time per waffle.

*

For pancakes: Melt 1 T. coconut oil in a hot pan, and pour in the first batch of batter in

⅓

cup rounds, turning the heat to medium-low once the batter is poured in. Allow the edges to dry out a bit and some bubbles to form, as you would with traditional pancakes, then flip and cook on the second side (see photo below in Recipe Notes). Proceed in this manner until all the batter is cooked, keeping the first batch warm in a 200 degree oven until ready to serve. Note: Plantain batter burns more quickly than other batters, so check pancakes early before flipping to be sure they don't burn.

Garnish as desired: with pure maple syrup, lightly sweetened coconut butter, coconut oil, berries, applesauce etc. Serve alongside meat of choice.
Notes
Number of servings per recipe
This recipe makes about 8 medium size pancakes. It can serve 3 to 4 people if you have side dishes of meat and condiments.  If you want a big plate of pancakes for each person, then this recipe will serve 2. The recipe can be doubled.
Pancake process photo:
Nutrition
Calories:
235
kcal
|
Carbohydrates:
9
g
|
Protein:
4
g
|
Fat:
22
g
|
Saturated Fat:
19
g
|
Sodium:
884
mg
|
Fiber:
2
g
|
Sugar:
5
g
|
Calcium:
10
mg
More plantain recipes: