I may receive a commission if you purchase through links in this post. I am not a doctor; please consult your practitioner before changing your supplement or healthcare regimen.
Paleo & AIP Sourdough Sandwich Bread is tender, sliceable, flexible and versatile. This bread is high in resistant starch, easy to digest and low in antinutrients — thanks to the easy overnight sourdough process. Egg-free, nut-free, grain-free and dairy-free!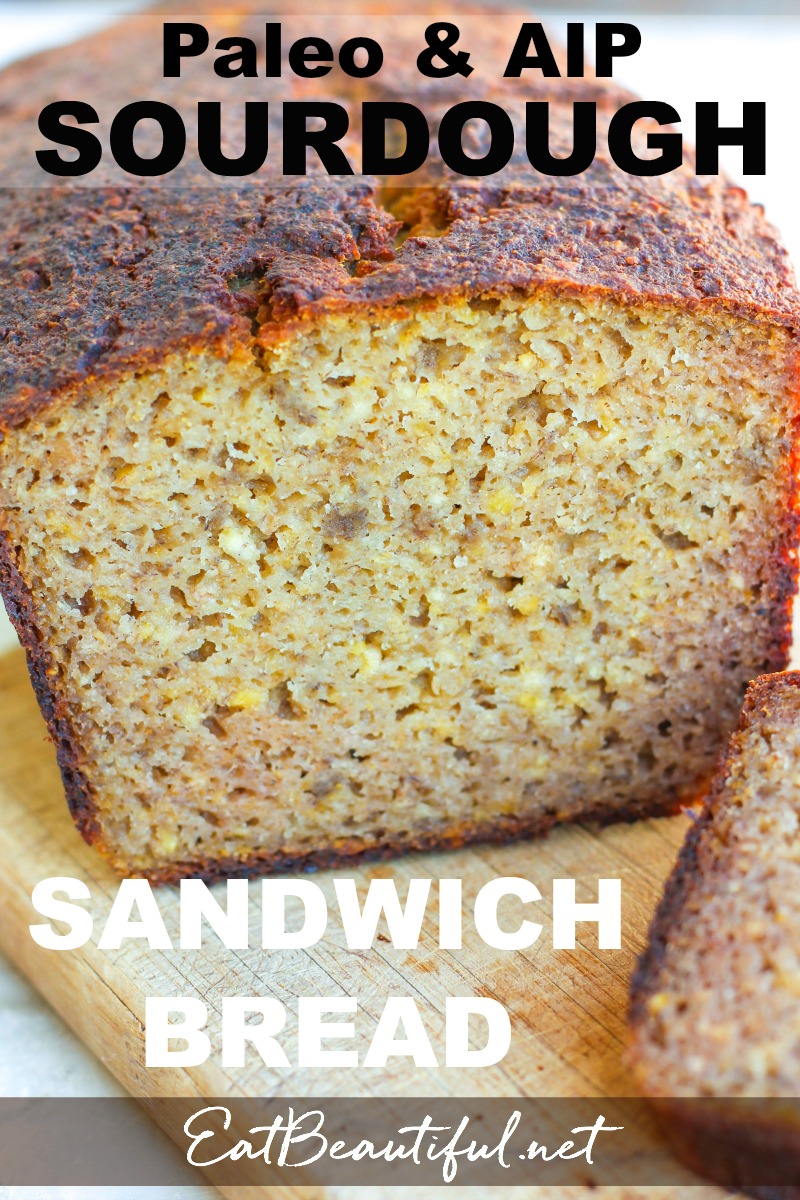 Jump to Recipe
I've actually been working on AIP Sandwich Bread for a long time, getting the ingredients and ratios just right. I'm happy to finally publish this exciting recipe for all of us to enjoy!
Ingredients in Paleo & AIP Sourdough Sandwich Bread
The key ingredients in Paleo & AIP Sourdough Bread are green plantains and tiger nut flour. Both ingredients help to yield a light texture in egg-free baked goods.
Other ingredients are: avocado or olive oil, sauerkraut juice (to create the sourdough process, more on this below), coconut flour, tapioca flour, gelatin, apple cider vinegar, baking soda and sea salt.
All of these ingredients are key players in creating a nutrient-dense bread recipe with the right texture.
Why breads need to be soured
First off, why does bread need to be soured? Souring is an ancestral technique that helps to make the ingredients in bread more digestible — and in some cases, safer.
In our recipe, it's both tiger nuts and green plantains that we want to affect.
Although it's little-discussed, tiger nuts do contain "antinutrients" — which bind to and limit the nutrition in our meals. (Phytic acid, oxalates, saponins and tannins can reduce nutrient absorption in the gut.) Additionally, some tiger nuts contain mycotoxins.

When we ferment tiger nuts or tiger nut flour, we are achieving three things: We are freeing up access to our meals' minerals; our bodies can better digest and utilize those minerals after fermentation. Secondly, we're getting more nutrition out of tiger nuts themselves. And thirdly, if your tiger nuts contain aflatoxins, fermenting greatly reduces them.
In regard to green plantains, fermentation breaks down their tannins, making them more palatable. Thus the bread doesn't taste of bitter bananas!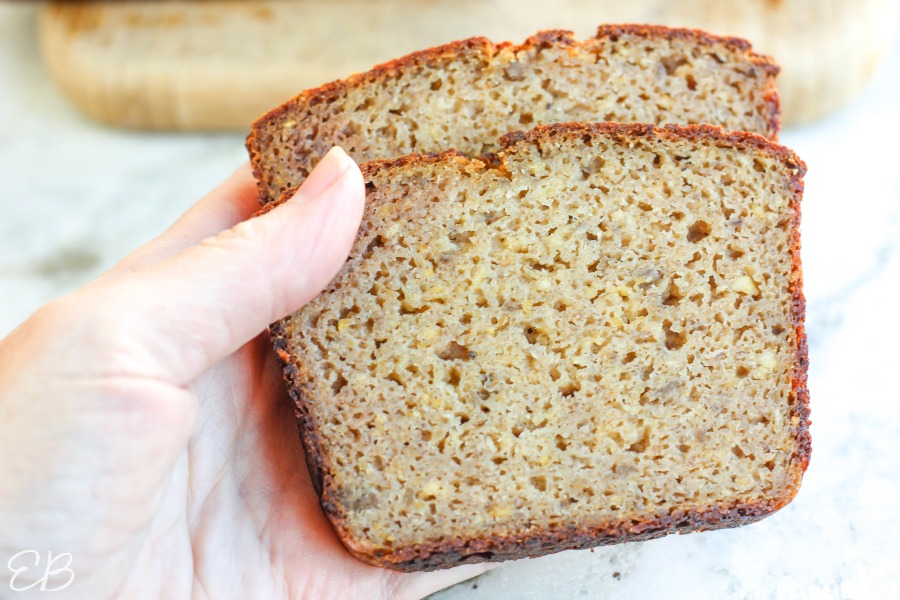 Nutrition in Paleo and AIP Sourdough Sandwich Bread
Tiger nuts are a low-allergy, nutrient dense tuber. High in fiber, iron, manganese, phosphorous, vitamin E and antioxidants, tiger nuts are also prebiotic, full of good fats (15% of their fat content is polyunsaturated and the other 85% is monounsaturated) and may even have antibacterial properties.
Plantains contain mucilage, tannins, and iridoid glycosides — which are thought to give it antimicrobial, anti-inflammatory, and expectorant properties. Plantains are a good source of potassium, magnesium, vitamin C, fiber and antioxidant compounds.
Both tiger nuts and plantains provide a healthy source of complex carbohydrates. Tiger nuts also provide some protein.
How to make Paleo and AIP Sourdough Sandwich Bread
Day 1: To ferment, purée green plantains with water and oil; then add your source of probiotics — usually sauerkraut liquid. Stir in tiger nut flour.
Sauerkraut liquid creates a sourdough starter that ferments overnight in a warm location, during which time antinutrients are broken down and the ingredients become more nutritious.
In the recipe itself, below, I give a few alternatives you can use, if you don't have probiotic sauerkraut on hand.
Day 2: Mix the ferment with the remaining bread ingredients, and bake. That's it!
The whole process only takes about 30 minutes of active cooking. The rest happens on its own.
Where to ferment? Place your inoculated plantain-tiger nut mixture in a glass or ceramic bowl. Place the bowl in one of several dark places (it's flexible!):
In a warm cupboard
On a heat mat (like this one), covered with a dish towel
Nested over your Instant Pot on the Yogurt setting, covered with a dish towel
Any other warm, dark place

How to store leftover Paleo & AIP Sourdough Sandwich Bread
Once baked, you'll likely eat your bread pretty quickly. But many on AIP are doing the diet "solo", without other family members. So you obviously need to store your bread to last for about a week. Here are a couple options:
Leave on the counter, sealed in a storage container, for 2 to 3 days.
Refrigerate, sealed in a storage container, for up to 5 days. However, once chilled, the bread become more crumbly; so ideally warm it, toast it or bring to room temp before eating.
To store for longer than 5 days, cool the baked loaf completely. Slice the entire loaf. Place in the freezer, unwrapped, for a minimum of 30 minutes. Then wrap and seal well. Freeze up to 3 months in storage container. Pre-slicing allows you to "pop" off one slice at a time, conveniently. Toast or warm slices before eating.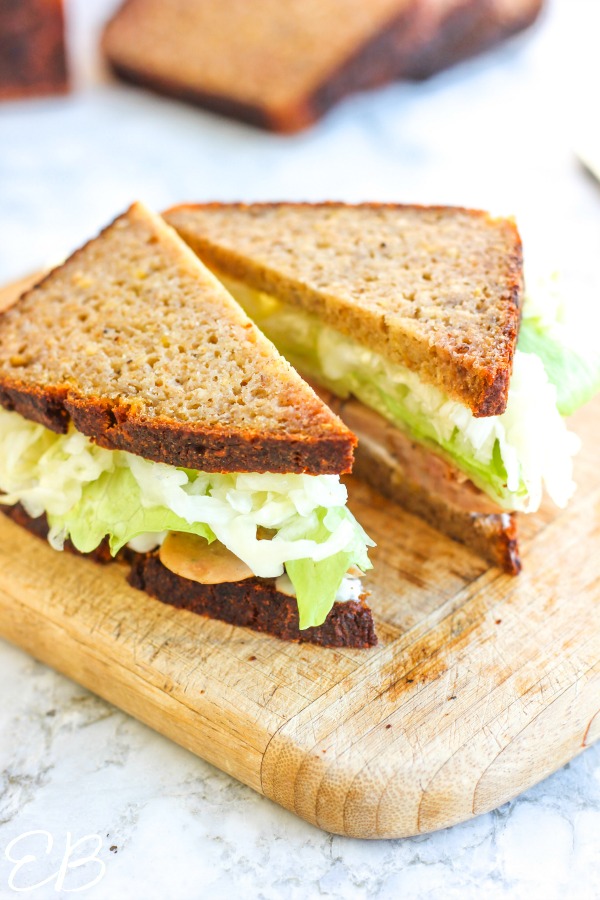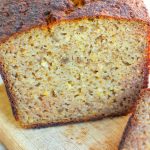 Print Recipe
Paleo & AIP Sourdough Sandwich Bread
A big loaf of sliceable Paleo & AIP Sourdough Sandwich Bread! Flexible texture, versatile uses, tender crumb. Enjoy this beautiful recipe and all the ways you can eat bread again.
Equipment
bread pan

blender or food processor
Instructions
Peel and chop green plantains. Place them in the blender. Add water and oil. Use a tamper, if needed. Purée until mostly smooth. (There will be some small bits because green plantains are pretty hard.) Add probiotic sauerkraut juice (or dairy-free whey), and purée again briefly.

Pour purée into large ceramic or glass mixing bowl. Stir in the tiger nut flour. Cover with dish towel and place in warm location overnight.

Next day: Preheat oven to 350 degrees Fahrenheit. Line a loaf pan with parchment paper. (I use a 7.5″ x 3.75″ pan, which is a little smaller than an average loaf pan.)

Add to the mixing bowl (with overnight fermented purée) remaining dry ingredients: coconut flour, tapioca flour, gelatin, baking soda and sea salt AND pour apple cider vinegar to one side.

Use handheld beaters or mix by hand. Combine well (without over-mixing). Batter will be light and aerated. Pour and scrape into prepared loaf pan. Shape the top first with spatula, then with fingers dipped in water (smooth the surface slightly). Bake 1 hour, then test for doneness: Loaf should be well-browned, and toothpick inserted into the center will come out sticky but clean (no wet bits). In my oven, the loaf takes 1 hour 15 minutes to cook. Allow to cool slightly in pan before removing to cooling rack. Cool completely before slicing.
Notes
Process photos:

Nutrition
Calories:
214
kcal
|
Carbohydrates:
13
g
|
Protein:
5
g
|
Fat:
16
g
|
Saturated Fat:
3
g
|
Sodium:
367
mg
|
Fiber:
3
g
|
Sugar:
1
g
|
Calcium:
4
mg
|
Iron:
1
mg
Looking for more great Paleo and AIP baked goods? I think you'll enjoy these, all egg-free & nut-free: