I may receive a commission if you purchase through links in this post. I am not a doctor; please consult your practitioner before changing your supplement or healthcare regimen.
5 Herbs for UTI Relief within Hours are fast-acting for urinary tract infections. You can make a tea from 3 to 5 of them, all of which have different roles and address the cause and solution. This article also discusses maintaining bladder and urethra health after a UTI.
Several years ago I had a few recurrent urinary tract infections.
They were an early warning sign of my leaky gut and interstitial cystitis (now resolved).
I found several herbs that when steeped or boiled, depending on the nature of the herb, made a healing tea that gave me complete relief within just a couple of hours. This recipe worked every time with quick, powerful convincing evidence that herbs are worth learning about.
I never saw relief from other methods; and I am surprised these five herbs haven't gotten more press due to their effectiveness. If you can't buy bulk herbs locally where you live, I've given links below to order the herbs.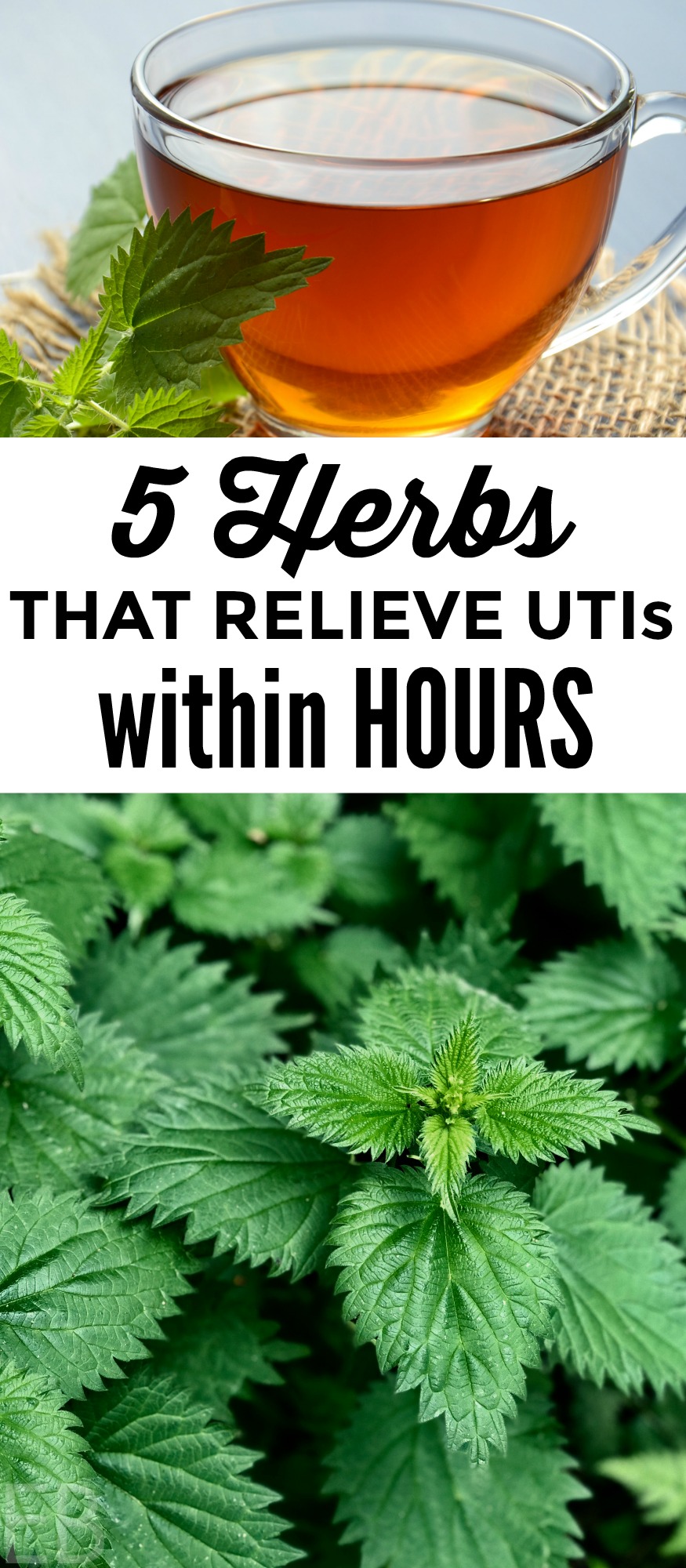 Herbal Tea for Urinary Tract Infections
Here's the DIY herbal home remedy:
Ingredients
Method
Choose at least four of the herbs listed. They all have different "powers;" so use them all if you can.
Any herb that is a twiggy root needs to be boiled, instead of being steeped. This is called a decoction. It will be necessary with the burdock and dandelion roots. Place these herbs in a medium size saucepan; and place 4 cups of filtered water in the pot as well. Simmer the roots for 30 minutes, covered.
Meanwhile, bring 3 cups additional water to a boil.
Place the remaining herbs in a tea pot or large heat-proof bowl with a pour spout.
When the plain water comes to a boil, add it to the herbs. Cover the bowl and let them steep for 10-15 minutes.
Add the bitter root tea, after it has boiled 30 minutes, to the teapot of steeping herbs and stir.
The tea will be extremely strong and bitter. Strain it as you serve yourself. Drink a mug as soon as it is cool enough.
Continue to drink the tea over the next two hours until it is gone. Your UTI should now be gone too.
Maintaining bladder and urethra health after a UTI
Here are some additional remedies and support after your UTI is resolved:
Consume great quality kefir or fully cultured plain yogurt (or homemade sauerkraut, if you are dairy-free), to help prevent future UTIs.
Herbs such as Pau D'arco (find it

here

) can also be consumed, 30-40 drops of the alcohol-based tincture, for adults, 3 times daily, for four days, to help kill any invasive bacteria.* Other remedies to rotate every four days if the issue persists are oregano oil (

here

), berberine (

here

), goldenseal (

here

), black walnut (

here

), Oregon grape (

here

), and grapefruit seed extract (

here

). I have used all of these over the past several years to kill pathogen overgrowth (read more here) and have found them all to be powerful and effective. (DE is also a great tool. Read more about DE here.) Do consult a physician for usage and dosage.
A porridge can also be made from 1 tablespoon marshmallow root (find it

here

) and a bit of warm water, even sweetened with a bit of stevia, to soothe symptoms.
Long term, consider your gut health and the bladder as an extension of your gut. I encourage you to read about the concept of vitamin A toxicity and my IC recovery story.
Please let me know how it goes for you. I have recommended this recipe to many friends over the years and it has worked quickly for all of them. Almost instant UTI relief. The herbs in this tea take an impossibly difficult situation and make you forget how bad it ever was. As always, please comment below …
UPDATE — Since I had two comments below about D-mannose I researched this remedy as well, to be able to share with you my findings. Here's a great article by Dr. Mercola on not only D-mannose, but why it is an effective solution for many people. (Find D-mannose here.)
I appreciate this insight! For me, although I no longer struggle with this issue, I still prefer using herbs, over a simple sugar. Keeping D-mannose on hand is a fine idea. But these 5 herbs, and others I list below, better address the causes of UTIs and therefore provide a more thorough remedy.
Additional herbs for UTIs
There are herbs, such as goldenseal (find it here) and Oregon grape (find it here) that do both needed jobs: they one, kill bacteria and strengthen the immune system and two, they also prevent the infectious E-Coli bacteria from sticking to the walls of the bladder and urethra, so they are rinsed off with urination.
It makes sense that those who struggle with UTIs are probably only seeing the tip of the iceberg. This one symptom may be a red flag. What underlying issues in your body may also need to be addressed? Leaky gut and pathogen overgrowth are often the root cause.
2018 Update — I have now heard from so many of you! Thank you for emailing or commenting to let me know how much you like this remedy! I also have a family member who recently needed this remedy. She found complete relief the same day from her symptoms. These herbs really are powerful, wonderful and fast!
Interstitial Cystitis
Many of you have asked me over the years how I put my interstitial cystitis into remission. Here's the article that explains my process and wonderful outcome of being well again. Best wishes to you!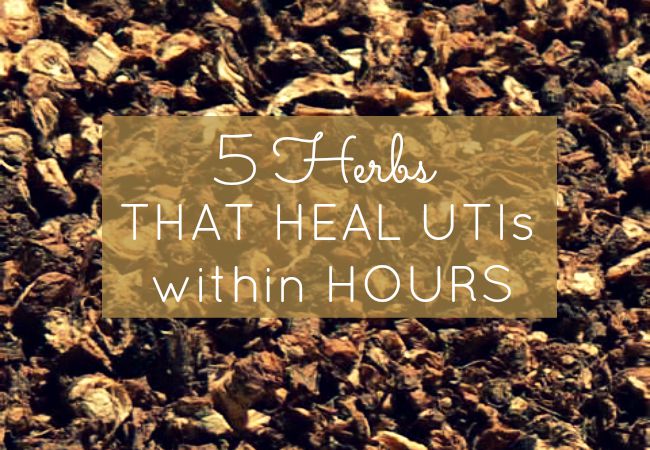 *Just a reminder, I am not a doctor; but am simply sharing from my own experience what has worked for me. This article is in no way meant to replace or serve as medical advice. Please consult a health care practitioner.