I may receive a commission if you purchase through links in this post. I am not a doctor; please consult your practitioner before changing your supplement or healthcare regimen.
How I Reversed My Hashimoto's is my story of the steps I took to regain my energy, put my autoimmune disease into remission and get my lab results back into the normal range.
I do not assume that everyone will be able to remove thyroid hormone medication on a permanent basis. But ultimately, I believe the causes of Hashimoto's and hypothyroid (as well as most thyroid conditions) can be addressed and affected, often times significantly.
We have options beyond medication, and they include lifestyle and dietary choices.
Even with medication, thyroid conditions may worsen if the causes are not addressed. And oftentimes, new autoimmune diseases will develop. That's why it's important we look at the cause of our conditions and try to change what we can.
What are Hashimoto's and hypothyroidism
They're different but related.
Let's just quickly set the stage:
In the brain, under normal circumstances, the hypothalamus gland produces a hormone (TRH) that tells the pituitary gland to make Thyroid-Stimulating Hormone (TSH).
TSH tells the thyroid to produce hormones: about 80% T4 and 20% T3. T3 is actually the more powerful and active form of thyroid hormone in the body. It is primarily produced in the liver where it is converted from T4. (We'll talk more about this later in terms of liver detox.) These hormones affect many body systems.
With hypothyroidism, the thyroid is unable to produce enough hormones, so the hypothalamus and pituitary glands, sensing low levels of these hormones produce more TRH and TSH, to signal the thyroid. High TRH and TSH but low T3 or T4 indicate hypothyroid.
As relates to point #2 above, some doctors miss the hypothyroid diagnosis because they only test for TSH and T4. But many people do not convert T4 to T3 well, and that is a common and problematic form of hypothyroid that requires a different form of intervention. (source)
Doctors also need to test Free T3, Total T3 and Reverse T3.
Hashimoto's
A diagnosis of Hashimoto's means another level of dysfunction: and that's antibodies.
Antibodies are usually produced by the body to fight off invaders, viruses or bacteria, for example.
In the case of autoimmune diseases, the theory is that antibodies attack one's own systems and organs. With Hashimoto's, antibodies attack the thyroid and decrease thyroid function as a result.
Therefore, sometimes Hashimoto's causes hypothyroid.
Because Hashi's is considered an autoimmune disease, when we try to put it into remission, it's important to have a 3-pronged approach:
As with any autoimmune disease, take extreme measures to reduce stress and inflammation.
Remove factors that reduce thyroid function.
Add elements that support thyroid function.
Let's look together at how I reversed my Hashimoto's in this way.
My Hashimoto's story
Similar to many who develop autoimmune diseases, I was on heavy antibiotics as a child, I wasn't breastfed, and my family already had a history of digestive issues. As a teenager, I got Epstein-Barr Virus.
Before having children, I had one autoimmune disease. After having my first child, a hormonal imbalance settled in, as did chronic stress and insomnia. After my second child, my digestion became impaired, and nutrient deficiencies started affecting me.
And after my third child, I became very sensitive to chemicals and environmental toxins.
Having children is one of the greatest blessings in my life (and well worth it), but has been very hard on my body.
Fatigue, lack of physical strength and energy, feeling cold, heavy irregular periods, and brain fog were my primary hypothyroid symptoms. I also felt moody, occasional depression and had dry hair and skin.
When my doctor told me I had Hashimoto's, I started crying. That makes me laugh a little now, but I remember feeling so discouraged and overwhelmed at the time. And I was very sorry to have one more autoimmune disease.
I started Nature Throid, which worked well for me. I took 1 grain. This prescription doesn't work for everyone. Read more here about the different thyroid medications commonly prescribed and the various thyroid disorders.
As with all of my autoimmune diseases (all 5 are in remission), I wanted to get to the root cause, and I wanted to feel better, if possible, without medication. I wanted to restore the natural function of my thyroid, the conversion in my liver of T4 to T3 and protect my thyroid from attack.
My timeline:
Started Nature Throid in 2014.
Worked hard on low stress and recovery, especially after the publication of my first cookbook, and in February of 2019, my doctor reduced my prescription to 30 mg (about half a grain) based on lab work.
April of 2019 started the low vitamin A diet (just in time to include VAD recipes in my second cookbook, which I wrote devoted to a low-stress process).
July of 2019, I went off of all thyroid medication, and never went back on, based on lab work and how I was feeling.
Here's how I did it.
1. Low stress … this is a must!
So much stress had crept into my life, not just from having babies, but from owning two separate businesses with my husband over the years. This meant financial challenges and working really long hours, not to mention many problems that arose with staff, machines breaking etc.
Importantly, stress is not so much external events, but how our bodies interpret what's going on around us. If we interpret an event as stressful, it's stress — even if it's not stressful to someone else!
Fight or flight
While taking adrenal supplements helped me feel better short term, I needed to exist in a "rest and digest" mode, instead of the "fight or flight" mode that so many of us adopt.
How many millions of Americans use beer, wine, chocolate, coffee or other "drugs" to finally relax or feel better each day? Tooo many! We need to exist in a place of rest without drugs.
MAKE CHANGES
When I realized this, I changed the way I worked significantly — how many hours I worked, how much time I spent at home (on purpose), how many errands I ran — everything.
I also ended a couple of relationships that weren't healthy — and allowed myself to heal from the stress those toxic friendships had caused. Forgiveness played a role here, too.
We truly do not take stress seriously enough. I believe that if you want to put Hashimoto's into remission, you must reduce stress dramatically all day everyday. Stressful "fight or flight" moments should be very rare.
Yes, this can be hard to navigate. So prayerfully proceed …
Otherwise, chronic stress causes an overactive hypothalamus gland, too much cortisol output and a weakened endocrine system — thus a slowed down thyroid, weight gain, poor sleep and more. (source)
LISTEN TO YOUR BODY AND NAPS
Many of us DO NOT listen to our bodies.
So, part of reducing stress is beginning to listen to our bodies better.
This means creating a lifestyle that allows naps, as needed, instead of perking up the body with caffeine.
I still take naps, usually about one every other day, oftentimes only for 10 to 20 minutes. But, they make a BIG difference. Naps reduce stress and fatigue, whenever it sets in — late morning, afternoon or evening.
I can now really FEEL stress when it begins to come on — so I can respond intentionally with what my body needs to reduce it: a walk, a bath, a nap, special breathing, a hug, prayer, stop working, laughter etc.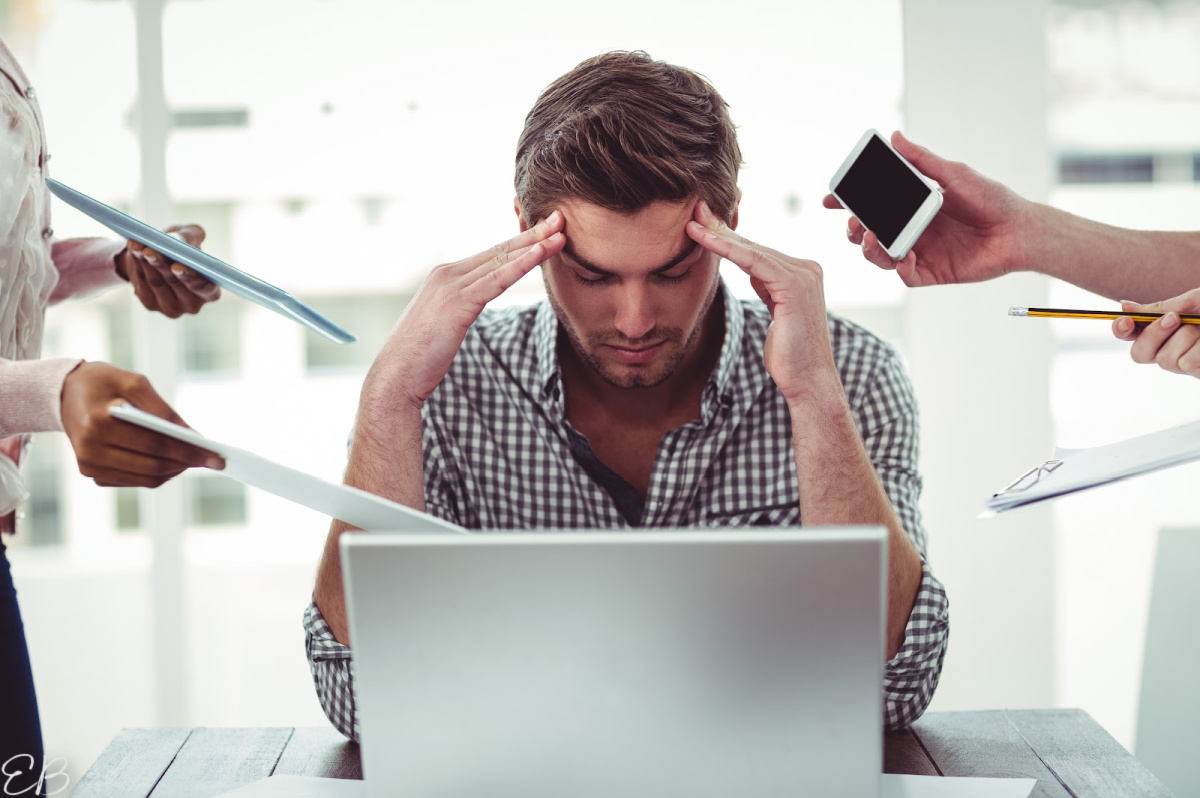 2. Leaky gut protocol
Intestinal permeability, or leaky gut, is now a common diagnosis. Due to various causes, the tight junctions of the gut are compromised, allowing proteins and other large molecules to leak into the bloodstream. These, in turn, are attacked by the immune system, as they're seen as invaders (not where they're supposed to be).
This immune system response is often a precursor to autoimmunity, a heightened and over-active immune response.
Overall, healing one's leaky gut is necessary.
I do not think people need to go on a strictly defined wellness diet to do this. But specific diets can be helpful in defining parameters.
In recent years, traditional approaches include these diets: Ancestral, Gluten-free, Low-FODMAP, AIP, GAPS, Keto and Paleo.
The goal is to reduce inflammation and allow healing to happen.
Personally, I did all of these diets at different times, and I also eliminated my food intolerance, which was very important to my process. (You can read more about that here.)
Diet
Choosing a diet to support thyroid health means cutting out inflammatory foods:
vegetable oils
sugar and extra sweetener
all processed foods
hard to digest grains — This will be different for different people. Some do well eliminating grains completely for a time. Consider hard to digest grain compounds that may prevent the gut from healing: oxalates, lectins and gluten.
nightshades — Foods in this family are notorious for causing inflammation.
Some people also benefit from eliminating one or more of these foods: nuts, seeds, eggs, dairy, citrus, chocolate, coffee, mined salt, all fruit and legumes.
Choose your diet by working with a doctor you trust. At this point in my journey, I suggest what I consider the best route, which is a low vitamin A and medium oxalate diet. You can reach out to Dr. Smith for lab work and to have a doctor on board with your process. Or, I take a limited number of clients for dietary consulting.
Adrenal precautions, carbs and the HPA axis
I think one contributing factor to developing Hashimoto's for me was a diet too low in complex carbohydrates. The first thing I did when going off of the GAPS diet was to introduce cassava flour … and I felt so much better. (source)
To support the hypothalamus, pituitary and adrenal axis (a trio of glands that help to regulate the thyroid), choose a diet that supports stable blood sugar levels and includes the right amount of carbs for your body.
Limit or avoid simple carbs, though, again, to keep stable blood sugar levels.
3. Supplements that support digestion and thyroid
Before going on a low vitamin A diet, I eliminated many of the above foods and took a few important supplements:
Gentian Root digestive bitters tincture — Low thyroid often means low stomach acid … and decreased absorption of nutrients. This unique 2-ingredient digestive bitters works better than most digestive aids. It stimulates the production of bile, helping to cleanse the liver and GI tract of toxins, improves the pH of the stomach for digestion and helps to shut necessary valves for proper GI function. (Find it here, or make your own here.)
Selenium — Required for proper thyroid function, "The literature suggests that selenium supplementation of patients with autoimmune thyroiditis is associated with a reduction in antithyroperoxidase antibody levels, improved thyroid ultrasound features, and improved quality of life." (source) I consider selenium a key mineral to supplement and still take it.
Magnesium — Mg helps to combat and prevent constipation, improves thyroid hormone production and improves circulation. (Find it here.)
Potassium — Hypothyroidism causes the body to lose potassium. When thyroid function is restored, potassium levels return. (Having both the serum and RBC lab tests done with your doctor may help you know your levels.) Not necessary for all Hashimoto's patients. (Find it here.) (source)
Zinc — Aids in the conversion of T4 to T3, and its absence has been linked with poor T3 conversion. Zinc is anti-inflammatory, reduces antibodies and boosts the immune system. It may also indirectly decrease reverse T3. A hair mineral analysis may help you to establish dosage. (source) (I use this one.)
B vitamins — Work with a doctor to find which B vitamins you need. Personally, I take B1, B3, and I formerly gave myself B12 injections, but I no longer need them.
Vitamin K2 — It may or may not be necessary, but K2 was and is something I take to balance vitamin D, Magnesium and Calcium levels.
In terms of probiotics, I took Saccharomyces Boulardii. It has been linked to these benefits:

improves thyroid function
directs T cells to support thyroid function
reduces inflammation
aids gut conversion of T4 to T3
4. Low vitamin A diet
Many practitioners tell us that vitamin A is needed for proper thyroid function. Here I'll cite several studies, and use myself as an example as well, to show you this isn't true.
These studies show patients who have low vitamin A levels and high thyroid hormone levels:
Personally, I have been on a low vitamin A diet since April of 2019. After several months on the diet, my doctor did lab work and took me off of my thyroid medication. She expected to put me back on it when the weather turned colder again, as my thyroid function usually dips too low when the weather is cold, but instead, I never needed to resume medication.
LIVER DETOX
Many people talk about liver detox and present many different ways to do it. A low vitamin A diet is a different approach to liver detoxification, but I believe more fact-based. (Read more about how and why here.)
Detoxing the liver of vitamin A better allows — frees up — the liver to convert T4 to T3.
And this!, I believe, is why going on the diet allowed me to go off of all thyroid medication and have renewed wellness.
LOW OXALATE
When I started the low vitamin A diet, I also started a diet lower in oxalates than I realized at the time. I do this intentionally now, but I did it unintentionally in the beginning.
The thyroid can be a repository for oxalate crystals. Autopsies in the 1970s and 80s show people who died with Hashimoto's, and their thyroids were full of oxalate crystals. Embedded in the organ, oxalates cause inflammation and dysregulate systems. (source, begin at 23:30)
Consider starting a medium oxalate diet for the long term to gently detox these compounds — and free up your thyroid to function better.
Oxalate crystals in the thyroid may be a much bigger causal factor in Hashimoto's than is yet realized.
5. Reducing estrogen
Estrogen surges have been linked to an autoimmune attack on the thyroid. (source)
I used DIM and Calcium D-Glucarate for years to keep my estrogen levels down, as I had other painful symptoms as well from too high of estrogen.
On the low A diet, I was finally able to go off of Calcium D-Glucarate. I still take DIM.
Estrogen fluctuations are one more trigger to consider, and balance if they're a problem for you.
6. Detoxing environmental toxins
Certain toxins like mercury can bypass our barrier system and cause an immune response — which then becomes chronic and overactive.
One of my favorite supplements that I started after beginning the low vitamin A diet is TRS. I still take it and plan to continue.
This nano-particle zeolite spray crosses the blood-brain barrier to detox heavy metals, plastics, estrogens and more.
You have to buy through a distributor, so I became one. You can use my link here if you'd like.
(I buy the three-pack to save money, and the company recommends doing the spray for 6 months minimum to see various effects. It's best to start the first day with 1 spray, then increase each day, assuming no major detox symptoms, gradually by 1 spray each day until you reach 5 sprays daily, 2 in the morning, 3 at night.)
7. Vitamin D from the sun or similar
Vitamin D has been shown to improve T cell function and reduce autoimmunity. (source)
Getting on the low vitamin A diet and learning from Dr. Garrett Smith, as well as Grant Genereux, helped me to finally have the courage to go off of vitamin D pills.
Vitamin D is a hormone, and taken orally raises serum levels, but does not get utilized properly by the body. It may even be toxic taken orally.
I started by using a good tanning bed with UVB rays responsibly, and then recently, I purchased a sun lamp (I chose the Fiji model here).
Conclusion — How I Reversed My Hashimoto's
As you go through the process of trying to reverse Hashimoto's or other thyroid issues, it's important to find the underlying issue(s) — because part of your approach needs to be focused on that particular cause.
Look into resolving things like SIBO, hormone imbalances, food sensitivities or intolerances, vitamin A toxicity, an overabundance of oxalates, vitamin or mineral deficiencies, pre-existing infections/illnesses, stress factors, leaky gut, environmental toxins and estrogen levels.
Regarding mindset, a couple of years ago, I was gifted with a phrase I remind myself of daily, as needed: Choose joy.
You can Pin this article here: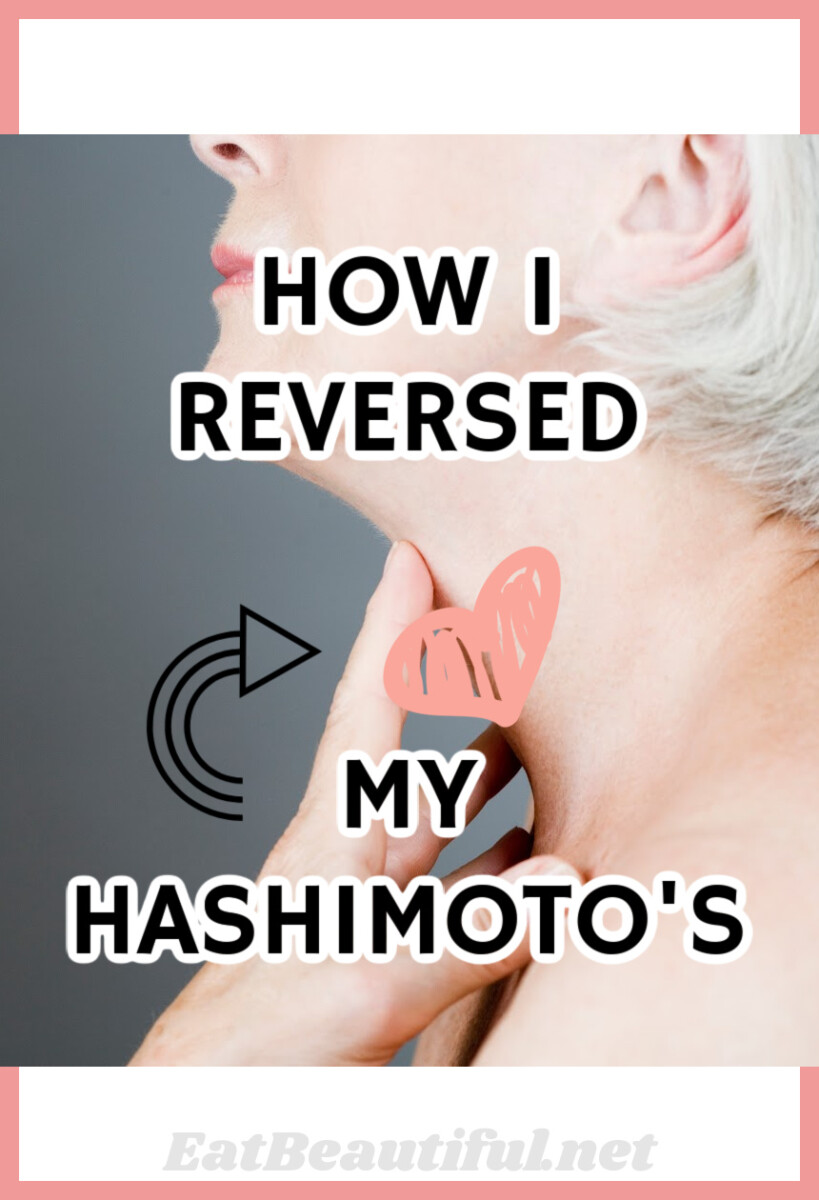 Additional Sources 1, 2, 3