I may receive a commission if you purchase through links in this post. I am not a doctor; please consult your practitioner before changing your supplement or healthcare regimen.
Gluten Free Vegan Oat Bread contains no potato-based flours (such as arrowroot, tapioca or cassava), no yeast, no flax and no gums. This allergy-friendly bread is soft, rustic, easy to make and delicious.
This recipe is also VAD-friendly.
If you're like me, you've looked at the ingredients in store-bought gluten-free breads and been SO disappointed. Almost all of them use gluten-free flour mixes that combine grains and potatoes (= hard to digest), vegetable oils (disease causing) or additives that should not be part of our whole food diets.
Jump to Recipe
I'm at a stage in my cooking life when I enjoy nothing more than making a loaf of bread!
I find it so filling emotionally — the whole experience. But my favorite part is scraping the batter into the loaf pan and sliding the pan into the hot pre-heated oven.
I love the sense of accomplishment and knowing I get to please and nourish my family with a fresh loaf of bread — with only the purest of ingredients.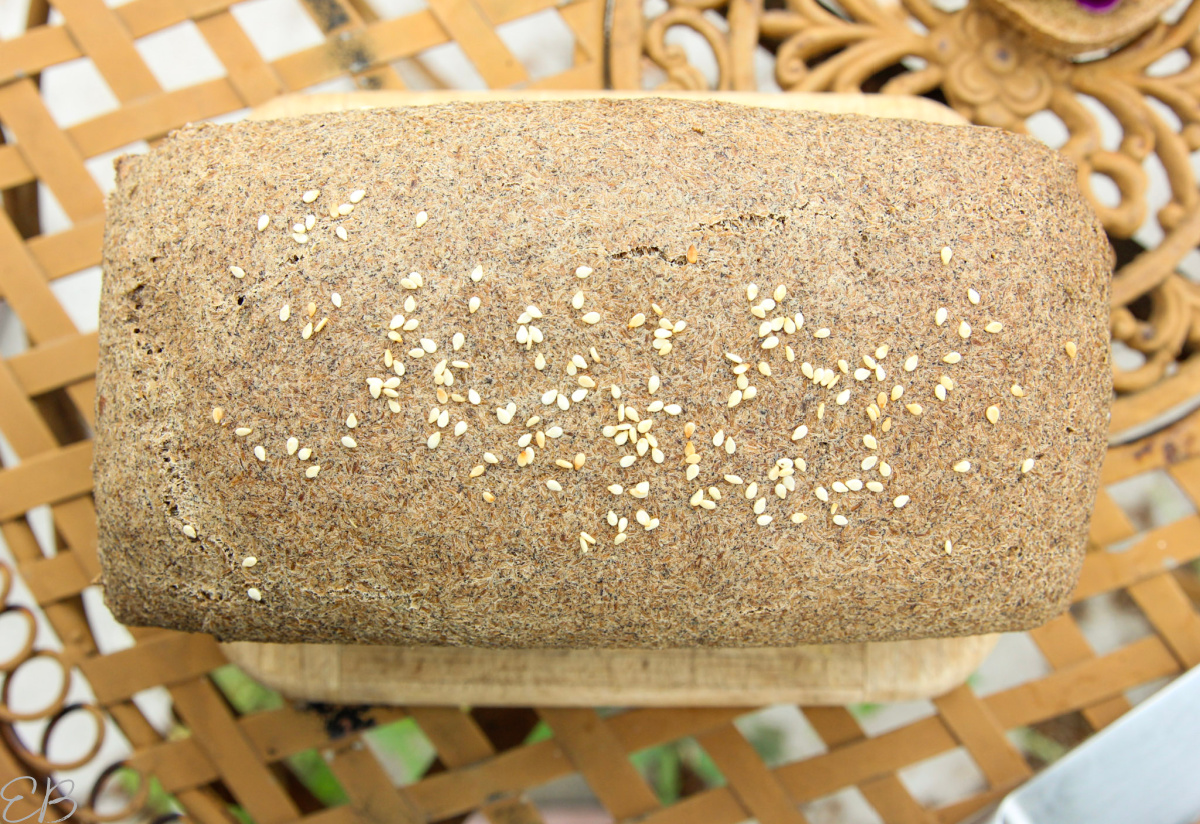 What to serve on Vegan Gluten Free Oat Bread
I also like thinking about what we'll put on Gluten Free Vegan Oat Bread.
nothing at all — This bread's texture is super soft, tender and moist. It's delicious by itself.
Berry Jam or Rhubarb Sauce — In the photo below, you can see the yellow-green version of Beautiful Rhubarb Sauce, soo lovely with spring or summer rhubarb.
butter or coconut oil — Depending on your diet … put this on warm bread and watch it slowly melt. I love eating warm bread with partially melted fat.
Chocolate Ganache — This spread takes just 5 minutes to make, and you'll LOVE it.
smashed avocado for Avocado Toast
open-faced veggie, meat or cheese (for non-vegan) sandwiches; or closed-face
nut, seed or peanut butter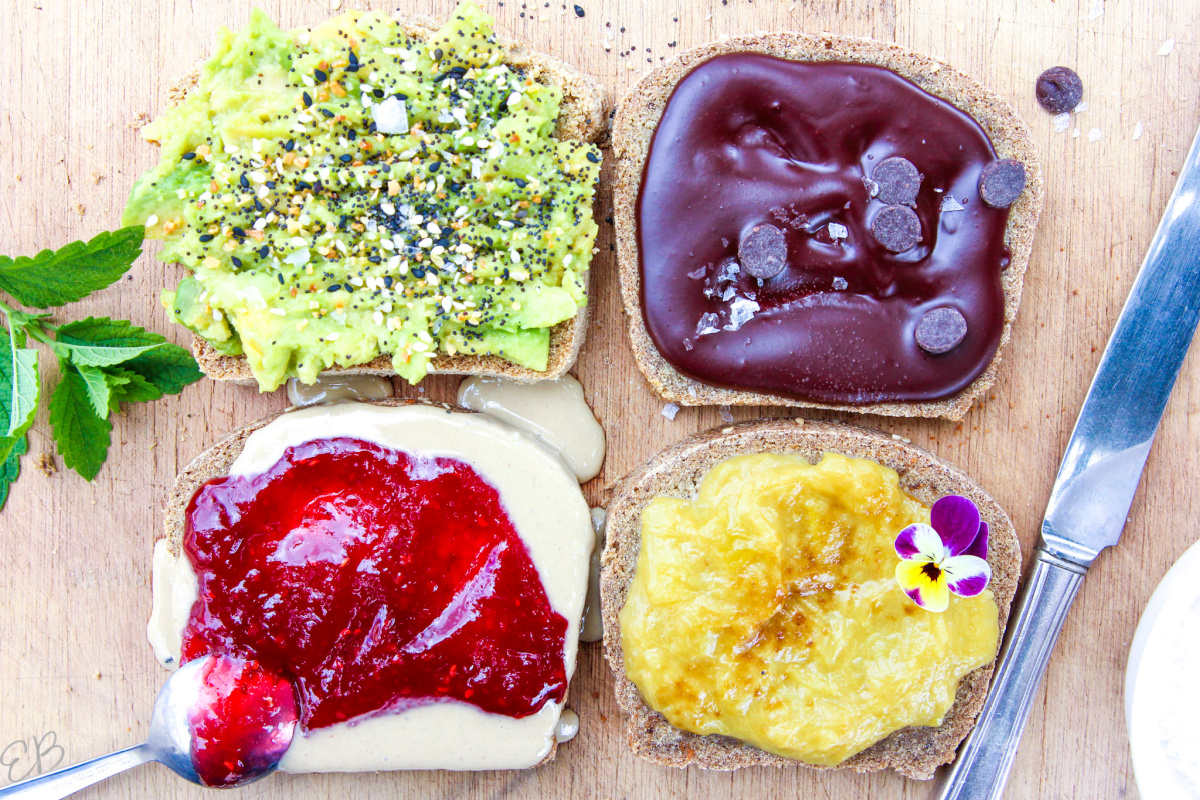 Potato-free Gluten Free Oat Bread
Gluten Free Vegan Oat Bread is free of yeast, gums, dairy, refined sugar, refined oil, flax and potato!
No potato means: potato starch, arrowroot, tapioca or cassava (all in the potato family). Even most baking powders contain potato. If you need 100% potato-free bread, be sure to use Rumsford brand, which is potato-free.
Most gluten-free bread loaves (and gluten-free flour mixes) combine rice flour with tapioca or potato flour. Yet roughly half of the population does not digest potatoes and grains well when eaten together.
Gluten Free Vegan Oat Bread uses oat flour combined with your choice of rice flour or another favorite such as millet or buckwheat flour.
The result is a tender crumb + a delicious, gentle-to-digest slicing bread for sandwiches, toast or any other bread needs.
Allergy-friendly ingredients
No gums means: no xanthan gum, because it's problematic for some people and not safe for babies.
I omitted flax seed meal from this bread, although it performs well in egg-free recipes. It is high in phytoestrogens, so not ideal for many bodies.
Nightshade-free benefits

While I personally enjoy potatoes, the other advantage of keeping potato starch out of gluten-free bread recipes is: This recipe is nightshade-free. For those who get inflammation from potatoes, this recipe is safe.
(And most potato starch on the market is sourced conventionally; potatoes belong to the list of Dirty Dozen produce items — that are full of pesticide residues and should only be consumed organic. So all that conventionally grown gluten-free bread … not so good.)
Vegetable oil free
Sadly, many commercially-made gluten-free breads now contain vegetables oils!
If you don't already know, vegetable oil is THE leading cause of heart disease. Just as bad, if not worse, than white sugar, vegetables oils should ALWAYS be avoided. I no longer even eat French fries at "gourmet" restaurants if they're cooked in vegetable oil. It's a dangerous "food".
So, it's awesome to make our own breads, friends!! SO awesome. We get to choose what beautiful whole food ingredients go into our bread — and control our organic ingredients, our diet and steer our own health journey!
And, we get the experience of baking and eating homemade bread — which adds wonder and joy to life.
Ingredients in Gluten Free Vegan Oat Bread
Gluten-free Oat Bread is mixed just like a loaf of "quick bread". No yeast, kneading or waiting for it to rise.
The main ingredients you'll need are:
Oat flour — High in both soluble and insoluble fiber, oat flour is great for regularity, satiety and even blood sugar levels. It's also high in B vitamins (especially Vitamin B1) and minerals.
Buckwheat flour or White rice flour — Or millet flour. IMPORTANT: Choose this secondary flour based on what you like the taste of — OR — your nutritional needs, whichever is more important to you.

For example, white rice flour creates the most traditional and mild tasting bread. It isn't the healthiest, but the main flour (oat) is very healthy, so not a big deal.
If you really want the entire loaf to be super nutrient-dense, choose buckwheat or millet flour. Buckwheat has a really strong flavor, so don't choose it unless you know you like it. You may also use part rice and part buckwheat etc.

Psyllium husk whole— Psyllium comes from a shrub-like herb called Plantago ovata. Each plant produces over 10,000 little seeds. Psyllium husk is a soluble

fiber made from the husks of the seeds — that helps with regularity

and is

prebiotic

. PHP is often used in Keto and Gluten-free baking because it has zero net carbs and helps to create a light, nice bread texture! Be sure to buy psyllium whole (like this), not powder. (Update, I recommend you specifically use the brand linked to here or in the recipe below, to ensure recipe success. Other brands vary too much, and some readers have ended up with a dense loaf.)

Psyllium whole husk fiber is a great alternative to other flours that are harder to digest. Plus, it holds the bread together well, in the absence of gluten and eggs.

The remaining ingredients in Vegan Gluten Free Oat Bread are:
Water — To measure the water, use a liquid measuring cup. A warm water temperature is helpful to this recipe; it keeps the solid fat warm (instead of congealing) but isn't too hot (which isn't good for the baking soda). I chose to create this recipe with water instead of milk to create a less expensive and easier to source recipe.
Coconut oil or butter — If you're Vegan or dairy-free, choose coconut oil. Otherwise, I like to use Kerrygold butter. Solid melted fat adds moisture to this bread and helps to create the right "crumb". (Update: Some readers have had fine success also using avocado oil, or similar natural oils.)
Liquid sweetener — I suggest maple syrup in the recipe below. But you may also use brown rice syrup or agave, if you prefer.
Vinegar — Choose from apple cider, rice, or even use lemon juice. This acid reacts with the baking soda to create a natural chemical rise in the bread dough.
Baking soda and baking powder — Two leavening agents are used for the bread's rise. Be sure yours are fresh.
And sea salt — For just the right flavor.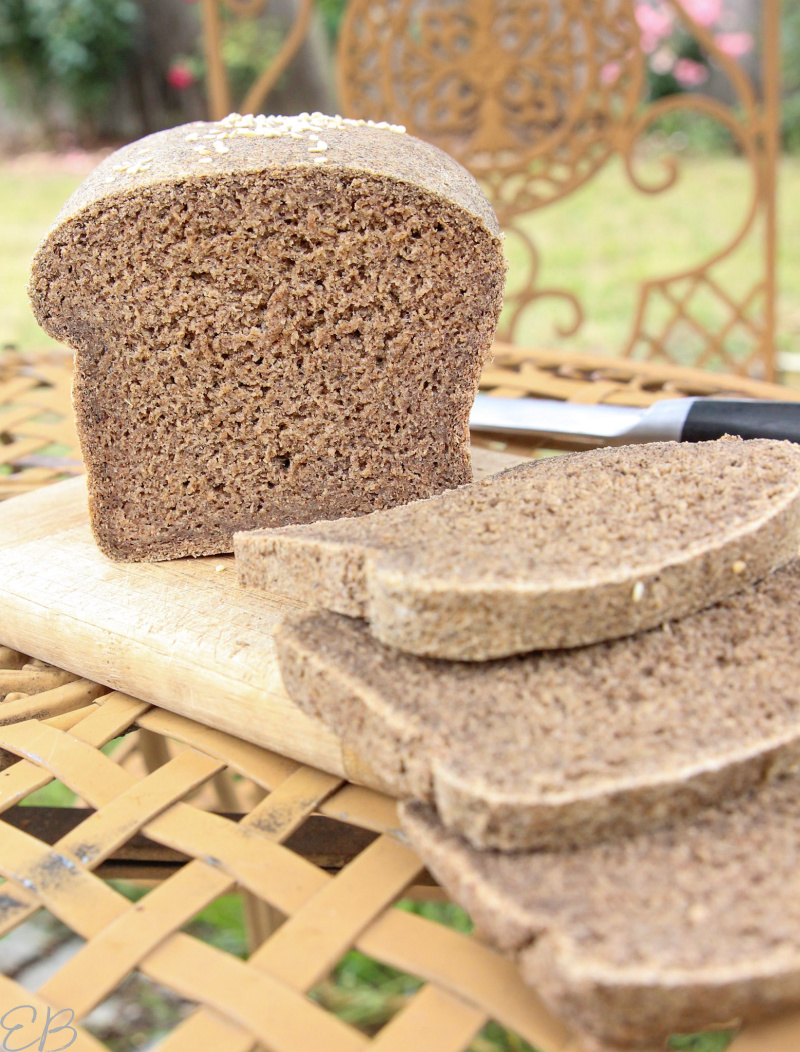 How to make Gluten-free Oat Bread
Gluten-free Vegan Oat Bread is REALLY easy to make. It's a one bowl recipe. But, you can also put the dry ingredients in one big bowl and the wet ingredients in a smaller bowl first, if you prefer.
If you use just one bowl, be sure to pre-measure all the wet ingredients, so they're easy to add to the big bowl one after the other.
Here's how it goes:
Place all dry ingredients in large mixing bowl. Stir briefly to combine.
Add wet ingredients.
Use handheld electric beaters (or an electric mixer) to fully mix dough. It will be thin at first and then become thick dough as it sits for a minute.
Transfer dough to prepared loaf pan.
Wet your fingers with water, and rub them over the surface of the bread to smooth and shape it. Repeat this a few times.
Bake in preheated oven for 50 to 60 minutes.
How to make Gluten-free Oat Bread into sourdough
If you want to get the maximum nutrition out of this bread, the best thing to do is give it an overnight ferment!
You don't need a sourdough starter to ferment this bread. Instead, we'll add a probiotic liquid in place of some of the water in the recipe, and that will help to "pre-digest" the oats and buckwheat (or millet).
To get technical, very briefly, buckwheat contains an enzyme that helps to break down oats. So if you plan to make the sourdough version of this recipe, I recommend using at least part buckwheat (instead of using rice or millet flour in its place).
You may use as little as 1/4 cup buckwheat flour to assist the pre-digestion process.
WHICH PROBIOTIC LIQUID TO USE
Choose any probiotic liquid you have on hand. Here are some probiotic liquid ideas:
sauerkraut juice (better to use a plain tasting one than one with garlic etc, unless you want garlic-tasting bread)
water kefir
kombucha
whey — Strain this from any yogurt, including non-dairy yogurt.
actual gluten-free sourdough starter
HOW TO MAKE SOURDOUGH WITH THIS RECIPE

This recipe calls for 2 cups of water. You'll take some of the water out, and sub in the probiotic liquid in its place.
Sub in just 1/4 cup of the liquid, if you have time to ferment the loaf overnight.
If you want to sour the dough more quickly, use a larger ratio of probiotic liquid, up to 1 cup.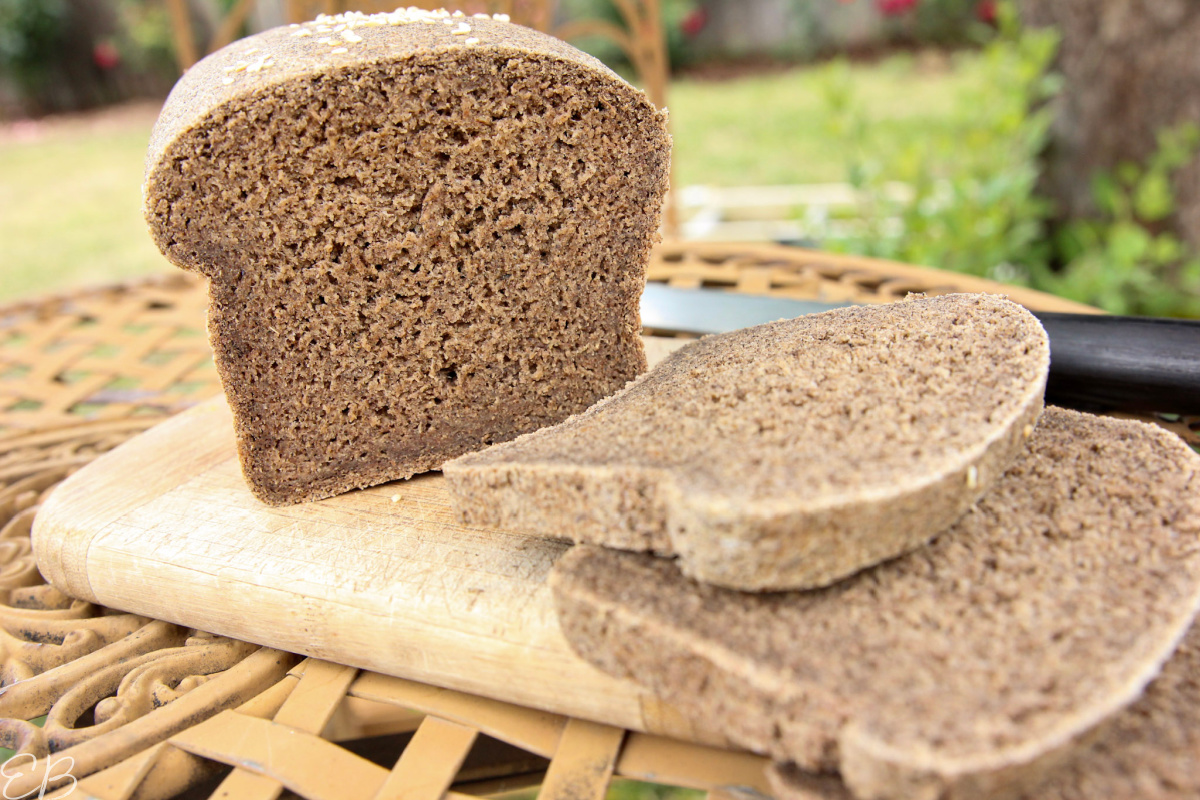 Print Recipe
Gluten-free Vegan Oat Bread (Yeast & Potato-free)
Gluten Free Vegan Oat Bread contains no potato-based flours (such as arrowroot, tapioca or cassava), no yeast, no flax and no gums. This allergy-friendly bread is soft, rustic, easy to make and delicious.
Cost:
$3-$7 (depending on sourcing of ingredients)
Equipment
hand held electric beaters or other electric mixer

bowl

oven
Ingredients
2 ¼

cups

water

(For Sourdough version, see recipe Notes: sub in ¼ cup minimum probiotic liquid.)

2

cups

oat flour

(220 grams)

1-

¼

cups

psyllium husk whole

, NOT powder: I recommend you specifically use the brand linked to here, to ensure recipe success. Other brands vary too much, and some readers have ended up with a dense loaf. (81.25 grams)

1

cup

white rice flour

(150 grams); OR buckwheat flour or millet flour; or masa

¼

cup

coconut oil

or butter, melted

3

Tablespoons

maple syrup

2

Tablespoons

apple cider vinegar

, rice vinegar or lemon juice

1

Tablespoon

baking powder

(11 grams)

1

teaspoon

baking soda

(3 grams)

1

teaspoon

sea salt

(3 grams)
Instructions
Preheat oven to 375° Fahrenheit. Grease a loaf pan, or line with parchment paper, and set aside.

In a large bowl, combine the dry ingredients: oat flour, rice or buckwheat flour, psyllium husk, baking powder, baking soda and sea salt. Stir briefly to mix.

Pre-measure the liquid ingredients, so they're all ready (or combine them in a small bowl). Add the wet ingredients to dry ingredients: water, fat of choice, sweetener and vinegar. Use handheld beaters or other electric mixer to combine. Dough will be thin at first, but after mixing and sitting for a minute will become quite thick. Scoop into prepared loaf pan and shape to be slightly mounded in the center.

Wet your fingers or the back of a spoon with water to rub and smooth the top surface. If you wish, dust with sesame seeds.

Bake in preheated oven 50 to 60 minutes. To check for doneness, you may turn the loaf pan upside down to gently dump out the loaf, and give the bottom a light thump with your fist. The inside should sound hollow. Allow to cool on a rack for about 30 minutes before slicing.

Store in an airtight container on the counter for up to 3 days, or in the fridge for up to 5 days. To freeze, you may wish to slice the bread first, to easily break off individual servings. Freeze for up to 3 months.
Notes
How to make Sourdough Gluten-free Vegan Oat Bread
Use probiotic living sauerkraut juice (or the probiotic liquid from another fermented vegetable) OR probiotic whey to make this recipe.
Proceed with the above recipe, as it is written, BUT sub

¼

cup sauerkraut juice or whey for

¼

cup of the water.
When choosing between white rice flour, buckwheat flour and millet flour, use at least

¼

cup buckwheat flour for the gentlest digestion of the loaf.
After your loaf is formed in the pan, cover it with a damp dish towel or wax cloth. Place in a warm location for 4 to 8 hours, or overnight.
Preheat oven, and bake as the above recipe describes.
Other probiotic liquids: You may also use kombucha or water kefir.
Nutrition
Calories:
200
kcal
|
Carbohydrates:
29
g
|
Protein:
5
g
|
Fat:
8
g
|
Saturated Fat:
5
g
|
Sodium:
261
mg
|
Potassium:
173
mg
|
Fiber:
3
g
|
Sugar:
4
g
|
Calcium:
71
mg
|
Iron:
2
mg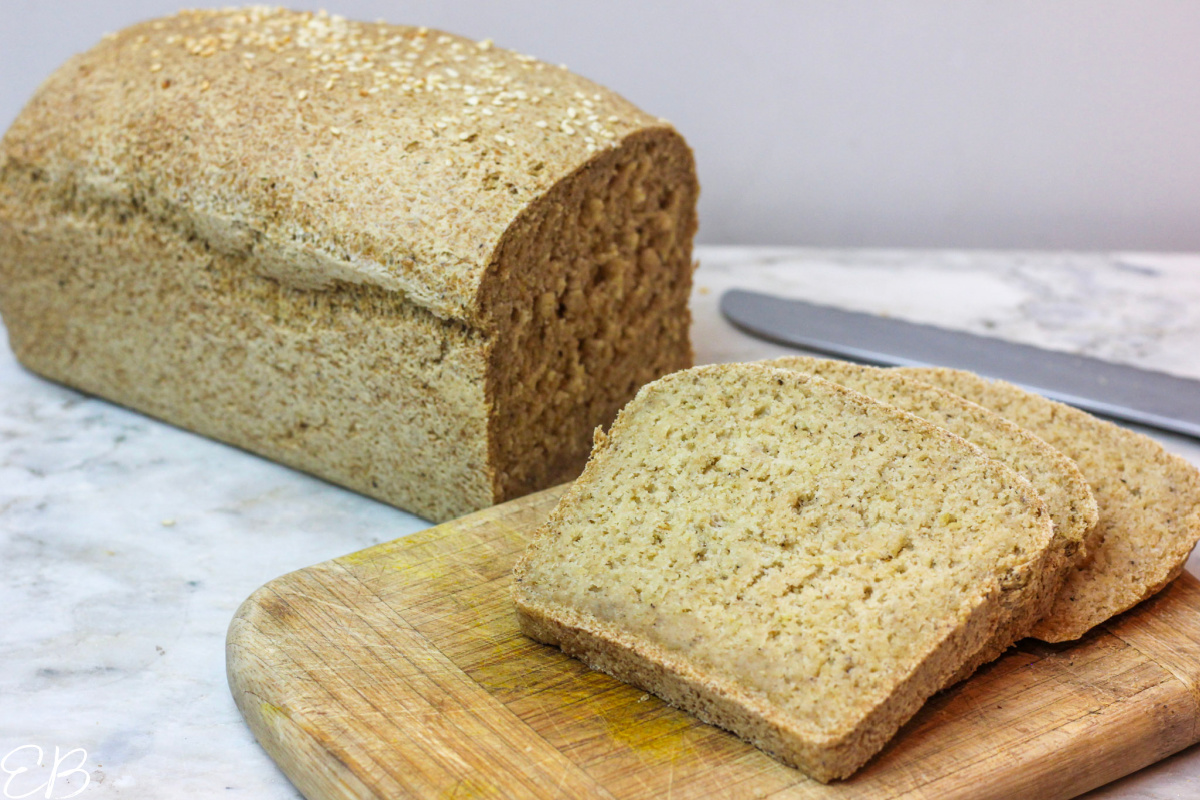 Similar Gluten-free recipes I think you'll love: