I may receive a commission if you purchase through links in this post. I am not a doctor; please consult your practitioner before changing your supplement or healthcare regimen.
Paleo Keto Chocolate Ganache takes just 5 minutes to make! This frosting-meets-condiment can be used on cakes or brownies, poured or scooped, eaten right off the spoon … and is versatile enough for Vegan or even GAPS eaters. Low Carb, can be made with or without dairy.
I created this recipe out of necessity! SO many ganache recipes use chocolate bars or cream. I needed one that uses cocoa powder, not too much sweetener, and was versatile for different wellness diets. I also wanted one that didn't require lots of stirring and cooking.
Ta-da and enjoy!!! (This is one of my favorite recipes of all time.)
How fast is Paleo Keto Ganache to make
I LOVE that Paleo Keto Ganache one has just three ingredients, not including that bit of lovely sea salt! So it comes together fast: 5 to 10 minutes total.
The recipe uses melted fat, but there's no cooking — basically you just stir the ingredients together, and it's ready to eat or serve.
Ways to eat it and who can eat it
Ganache can be used warm and thin to create a lovely drizzle, like over the surface of brownies, or it can be used room temperature for spreading on cake, a breakfast waffle … (or chaffle).
The first time I made this recipe was for our staff (at the cafe we recently sold). A lot of them are vegan, but I wanted something that was Paleo too — no sugar, no cream (and for my sake, no double boiler). We provided beautiful bread (like the French do!) to eat with the chocolate, but many of our staffers ate the ganache straight, off their spoons.
Below, you'll find the Paleo, Keto and Low Carb, GAPS and Vegan versions of this recipe.
Which sweetener to use in Paleo Keto Chocolate Ganache
For Paleo, Primal and Vegan, use pure maple syrup.
For Keto and Low Carb, I recommend liquid allulose. Find it here. But you can also use another low carb liquid sweetener that you like.
For GAPS diet, use raw honey.
Which fat to use in Paleo Keto Chocolate Ganache
The reason I list the version below with lard (you can also use coconut oil or butter, depending on your diet) is that I LOVE the end result, the texture, when it's chilled. I use it in a couple of cheesecake recipes as the topping (like this one), and it's a really nice texture. You can slice right through it after it's been chilled, instead of having to break through a hard surface, but it doesn't run either: It behaves like ganache!
With butter the recipe's just a bit firmer, and with coconut oil (for dairy-free and vegan), chilled, it is a bit harder still.
BUT at room temperature this ganache is crazy good spread on bread or waffle, or eaten straight off your spoon! Our staff was eating it like pudding! 🙂
Enjoy the fast, easy preparation — and the outcome! You may find you're making ganache weekly once you have this recipe in your arsenal. (I make it often to put on my morning waffles!)
Leftovers
You want leftovers. 😉 They keep great in the fridge. You can even leave a tub of ganache out on the counter! 🙂
Just cover, and eat as you please.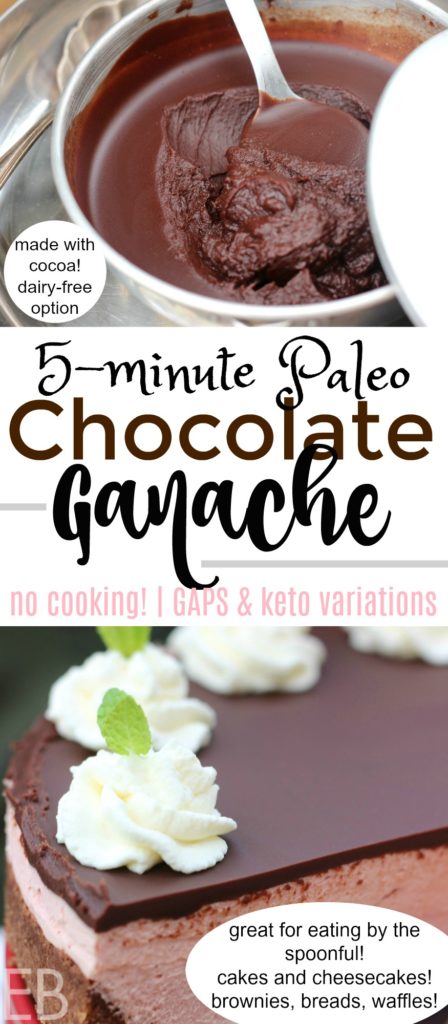 Paleo Keto Chocolate Ganache — Easy & Fast, 5 minutes to make, no cooking!
Print Recipe
Easy Paleo Keto Chocolate Ganache (5 minutes)
Fast to make, Easy Paleo Keto Chocolate Ganache is perfect for topping brownies, waffles, cheesecakes or cakes! You can even use it to make truffles.
Ingredients
Instructions
In a small bowl combine cocoa and melted, cooled fat. Stir well. (Make sure no water gets in the bowl.)

Add maple syrup or low carb sweetener (or honey for GAPS), and stir well to combine. (If you use only stevia, your ganache will be thicker. Warm it gently to drizzle or spread more easily.)

The ganache is now ready to eat right out of the spoon! (...IF you used coconut oil or butter, not lard. Lard is excellent when you're topping something soft, like a cheesecake that's chilled!, and you don't want a hard topping [...BUT not as yummy all by itself when made with lard.]) Or slather on bread, waffle; use as a topping for cheesecake; drizzle over brownies etc.
Nutrition
Calories:
152
kcal
|
Carbohydrates:
2
g
|
Protein:
2
g
|
Fat:
16
g
|
Saturated Fat:
10
g
|
Cholesterol:
41
mg
|
Sodium:
266
mg
|
Potassium:
109
mg
|
Fiber:
2
g
|
Sugar:
1
g
|
Vitamin A:
473
IU
|
Calcium:
14
mg
|
Iron:
1
mg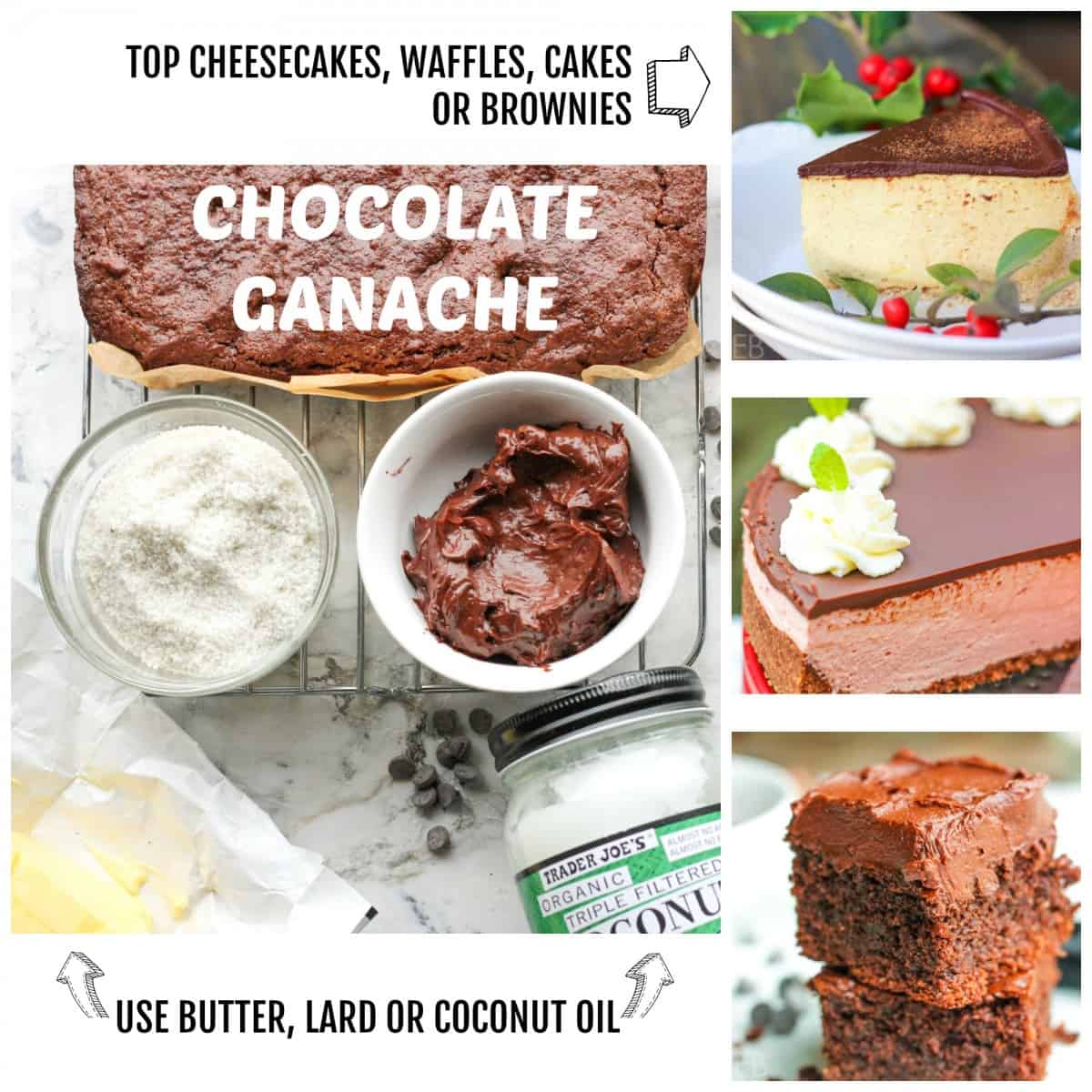 How will you use Paleo Keto Chocolate Ganache?