I may receive a commission if you purchase through links in this post. I am not a doctor; please consult your practitioner before changing your supplement or healthcare regimen.
Gluten-free Egg-free Waffles are what we eat for breakfast about 6 days a week. They're a fabulous staple, healthy enough to enjoy daily! With 3 cups of veggies in the batter, you'll love the fiber and nutrition, but also the classic taste of this indulgent-tasting breakfast treat.
This recipe is also Paleo, VAD and Vegan.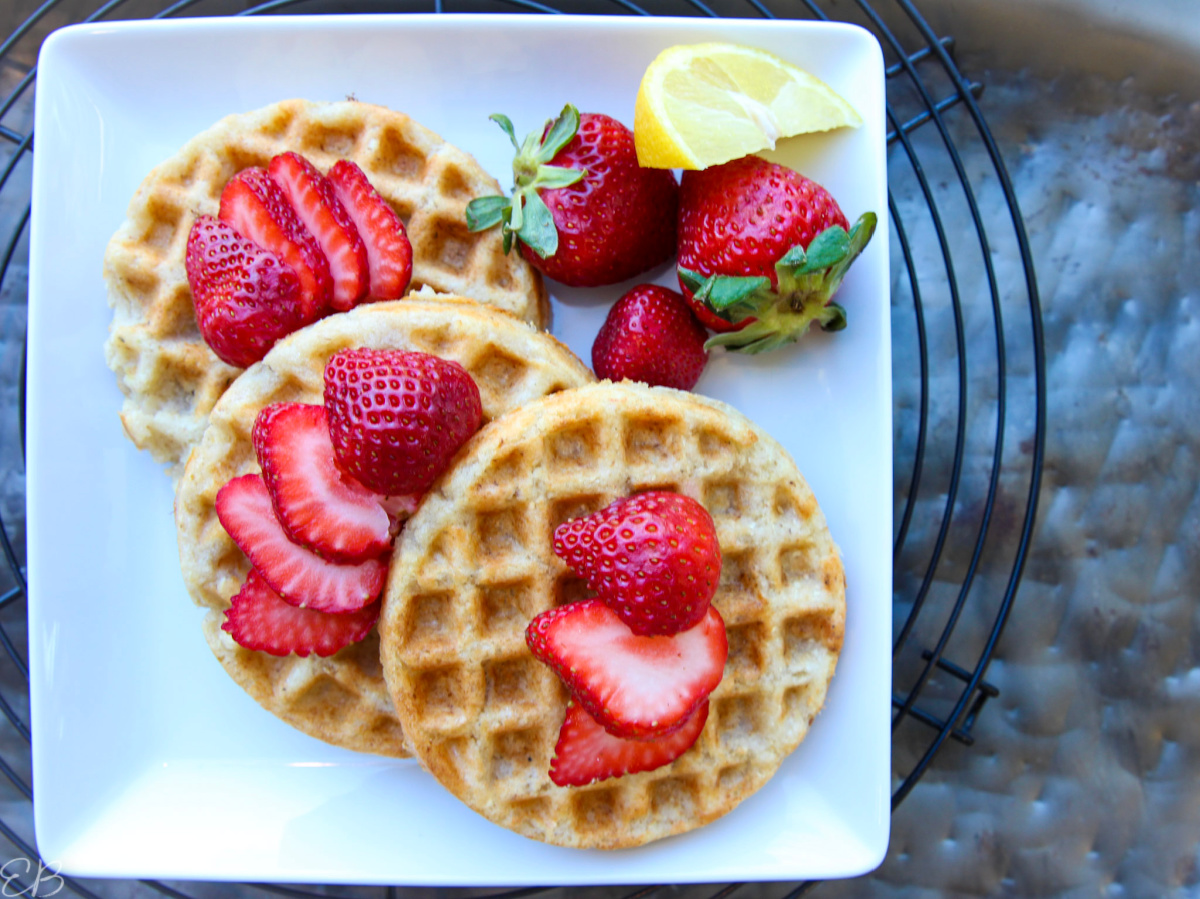 Jump to Recipe
Waffles in our house
When I was little and ate waffles, I could never figure out how the handle of my fork got so sticky.
At the end of breakfast, it was always somehow covered in syrup.
Now, having been a mom to three, I see it happening all over again. And my youngest still doesn't seem to know how it happens.
The cause, of course, is: lack of fine motor skills, making things messy! The solution? More practice!: eat more waffles, more often! 🙂
Ingredients in Gluten-free Egg-free Waffles
I'm not a fan of most gluten-free waffle recipes because they often use gluten-free flour mixes. Mixes are usually not organic, nor healthy. (Part of the problem with mixes' ingredients is they combine grain-based flours with potato-based flours. This combination is hard to digest for many people.)
Instead, Gluten-free Egg-free Waffles use complimentary gentle flours + vegetables as the base!
Parsnips
The most important veggie in Gluten-free Egg-free Waffles is parsnips. Parsnips used to be obscure, but they are no longer.
If you haven't eaten parsnips lately (or ever), don't be intimidated by them. Most grocery markets now carry fresh, crispy, nice parsnips!
Parsnips are fabulously healthy! And, they taste great. They are almost a cross between carrots and potatoes. Pale in color and starchy, they add a nice color and crispy edges to waffles.
The parsnip flavor plays nicely with a spice cake setting, like carrot cake. So, you may wish to add cinnamon, ginger and other similar spices to this batter.
Parsnips are also healthy because they're very high in fiber, especially soluble fiber, which is excellent for regularity. (If you're one of the people who gets gassy from parsnips, I think you'll find this recipe doesn't do that. The parsnips can be double cooked [see the Notes section], and are gentle to digest.)
Other ingredients
Gluten-free Egg-free Waffles also contain rice flour (with a Paleo alternative), an optional small amount of almond flour, psyllium husk (whole) and gelatin (with a Vegan alternative) — which take the place of eggs in the recipe, plus: water, coconut oil, baking soda and sea salt.
If you're not dairy-free, you may also use butter in place of the coconut oil, or even avocado oil, if preferred.
For those who like their waffle batter sweet (instead of just sweet toppings), there is also the option to add a bit of coconut sugar.
How to make Gluten-free Egg-free Waffles
The main thing that makes Gluten-free Egg-free Waffles different from other waffle recipes is the use of parsnips.
This is the recipe I feed my own family 6 days a week! So I've played around with this recipe a lot.
I originally made this recipe with cooked parsnips that I'd purée to an applesauce-like consistency. But then I figured out the batter works equally well with raw parsnips. I find the cooked purée makes the parsnips gentler to digest, for those who need that boost.
You can choose which method works best for you. Below and in the main recipe, I share the faster method, but the double-cooked parsnip version can be found in the Notes section below the recipe. Personally, I still make both versions, but I do digest the pre-cooked parsnip version better.
Here are the steps:
Roughly chop parsnips. Place them in a blender with water. Purée until mostly smooth. Measure out 3 cups.
Pour measured purée into large mixing bowl. Stir in fat of choice.
Add all dry ingredients. Mix well. It will seem separate at first (like in-process pie dough), but will then come together to look like a thick batter. (I like to use an electric handheld mixer.)
Preheat waffle iron, and cook waffles. NOTE about this batter: It is VERY thick, more like a dough. You will not pour the batter onto the iron. You will scoop it. It can be helpful to have a hot pad that you use on top of the iron, in order to close the lid gently but firmly.
How to store and use leftover batter
One of my favorite things about waffles is: you don't have to make all the batter into waffles. You can refrigerate leftover batter, and make a hot fresh waffle each morning.
Just cover the batter, then each day: preheat the iron, and scoop batter onto the iron to cook as usual. Know: that the batter thickens as it sits, so it will be firm and solid when you scoop it out. But, it will smoosh down nicely, and cook up perfectly.
Print Recipe
Gluten-free Egg-free Waffles (Paleo, Vegan)
Gluten-free Egg-free Waffles are a fabulous staple, healthy enough to enjoy daily! With 3 cups of veggies in the batter, you'll love the fiber and nutrition, but also the classic taste of this indulgent-quality breakfast treat. Also Paleo, VAD and Vegan.
Ingredients
1-¼

pounds

parsnips

raw, about 2 to 3 (or see Notes below for cooked version); up to ½ pound of parsnips may also be subbed with zucchini, cut roughly into small chunks, and peeled for VAD

2-¼

cups

water

depending on the amount needed to purée the parsnips, slightly more may be used (see Instructions below)

2

cups

rice flour OR, you may also use 2 cups tiger nut flour for Paleo

½

cup

almond flour blanched OR for nut-free version, it's fine to use

¼

cup additional rice flour instead

6

Tablespoons

psyllium husk whole

<-- This brand is best to ensure success, because psylliums vary a bit brand to brand. (not powder)

¼

cup

gelatin <—This brand is best. For Vegan, sub

¼

cup ground chia or basil seeds.

¼

cup

coconut oil

or butter if preferred, melted

2

Tablespoons

coconut sugar

optional, very easy to leave this out if preferred

1

teaspoon

baking soda

sifted

1

teaspoon

sea salt
Instructions
Place chopped parsnips and 2-¼ cups water in blender. Purée until mostly smooth and no big chunks remain, about 25 seconds. If you need up to ¼ cup more water to be able to purée easily, add it as needed and purée again. You'll end up with a thick purée. Measure out 3 cups of the purée, and reserve any leftover for another use (soup, more waffles etc); or use all the purée, but your waffles will have a moister center (which is fine if you don't mind).

Pour 3 cups parsnip purée into large mixing bowl. Add melted fat, and stir well to completely mix.

Add to same large bowl all dry ingredients in this order: rice flour (or tiger nut), optional almond flour, psyllium husk, gelatin (or ground seeds), optional coconut sugar, baking soda and sea salt.

Use electric handheld mixer, or similar, and beat to combine well. (If you are strong, you may also mix by hand, but the batter is very thick.) The batter will look a bit separate at first but will come together as you mix. After it's well combined, allow to sit and thicken for 5 minutes while your waffle iron preheats. It will look like dough.

Preheat waffle iron. Scoop dough-like batter onto waffle iron. Press the top of the iron closed with a hot pad. This batter expands but not very much, so you'll figure out how much you need to fill your iron (see photos below).

Cook waffles according to manufacturer's instructions. If you like your waffles extra crispy, leave them in an extra minute after the iron indicates they're ready, about 6 minutes depending on iron. (Or cook and cool waffles, then cook again another 2-3 minutes for extra crispy.)

Because this recipe is egg-free, the inside texture of the waffle becomes more light and bread-like as it cools. Don't eat the waffles piping hot for the best inside texture. Serve and top with favorite toppings.
Notes
How to use cooked parsnips in this recipe for gentler digestion
When I first made this recipe, I always cooked the parsnips first in my Instant Pot. Parsnips make some people gassy, so this pre-cooking makes them more gentle to digest.
To do this, boil or steam your parsnips until they're very fork tender, before puréeing them with the water in the recipe. You'll end up with an applesauce like purée, and otherwise the recipe is the same. Use just enough water to purée to end up with the thick applesauce texture. But don't worry either, because this recipe is flexible and doesn't have to be perfect.
To cook your parsnips in an Instant Pot:
Place big chunks of parsnips in insert with 2 cups water.
Choose "Manual" setting, and adjust time to 10 minutes.
When done, do a QPR, and strain out water. Allow parsnips to cool a bit before proceeding with the recipe, puréeing them with water, etc.
Nutrition
Calories:
672
kcal
|
Carbohydrates:
113
g
|
Protein:
23
g
|
Fat:
16
g
|
Saturated Fat:
7
g
|
Sodium:
598
mg
|
Potassium:
914
mg
|
Fiber:
15
g
|
Sugar:
16
g
|
Vitamin C:
39
mg
|
Calcium:
133
mg
|
Iron:
2
mg
You can Pin this recipe here:
More Gluten-free waffle recipes on the blog