I may receive a commission if you purchase through links in this post. I am not a doctor; please consult your practitioner before changing your supplement or healthcare regimen.
What are Basil Seeds & How to Eat Them shares about a seed that is similar to chia, but healthier for most people. Why healthier? It's gentler and more nutritious in most respects. In this article, we'll look at their history, uses and nutrition — as well as how to cook with them.
Among its other attributes, basil seeds are lectin-free and very high in soluble fiber.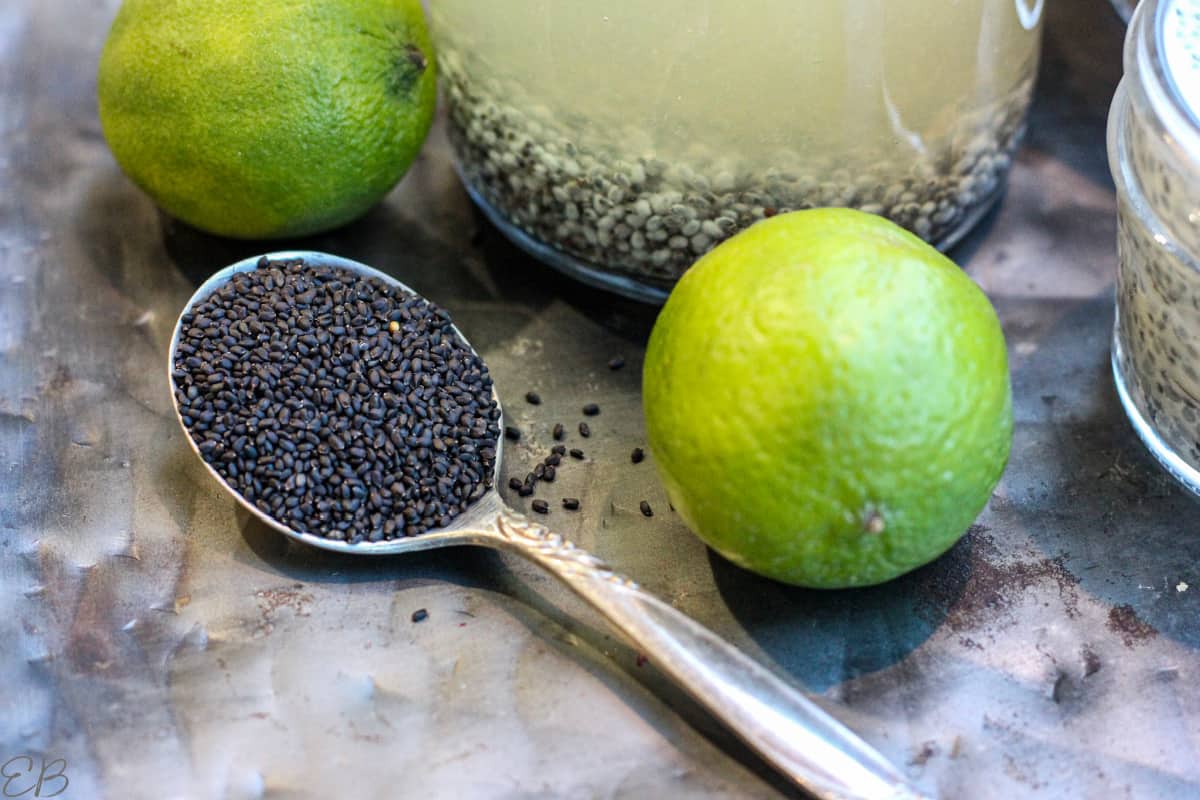 What are basil seeds
Basil seeds are the seeds from a tropical basil plant. In their native Asia, they are called sabja or tukmaria seeds.
This plant, specifically from Southeast Asia, is also known as Thai basil, and it's different than the culinary basil usually used in Western countries.
Thai basil, also known as Sweet basil, or by its Latin name, Ocimum basilicum, has a distinctly floral aroma and flavor.
Basil seeds are a bit tinier and blacker than chia seeds.
They should not be eaten raw, and when they're soaked, they swell up even more than chia seeds, about 30 times their original size.
Basil seeds have a long history in Asian and Ayurvedic medicine, often being used for constipation, because they're very high in soluble fiber. Due to their medicinal value, basil seeds are sacred in many of their native countries, including India, Indonesia, Thailand and Taiwan.
The plant has more than 150 varieties and has been cultivated for 5000 years in these areas.
While chia seeds vary in color (grey, white, brown, black and brown), basil seeds are completely black but become light blue-grey, or white with a black center, when soaked in water.
Caution: Basil seeds are not ideal for most pregnant women or those trying to conceive, because they can lower estrogen levels.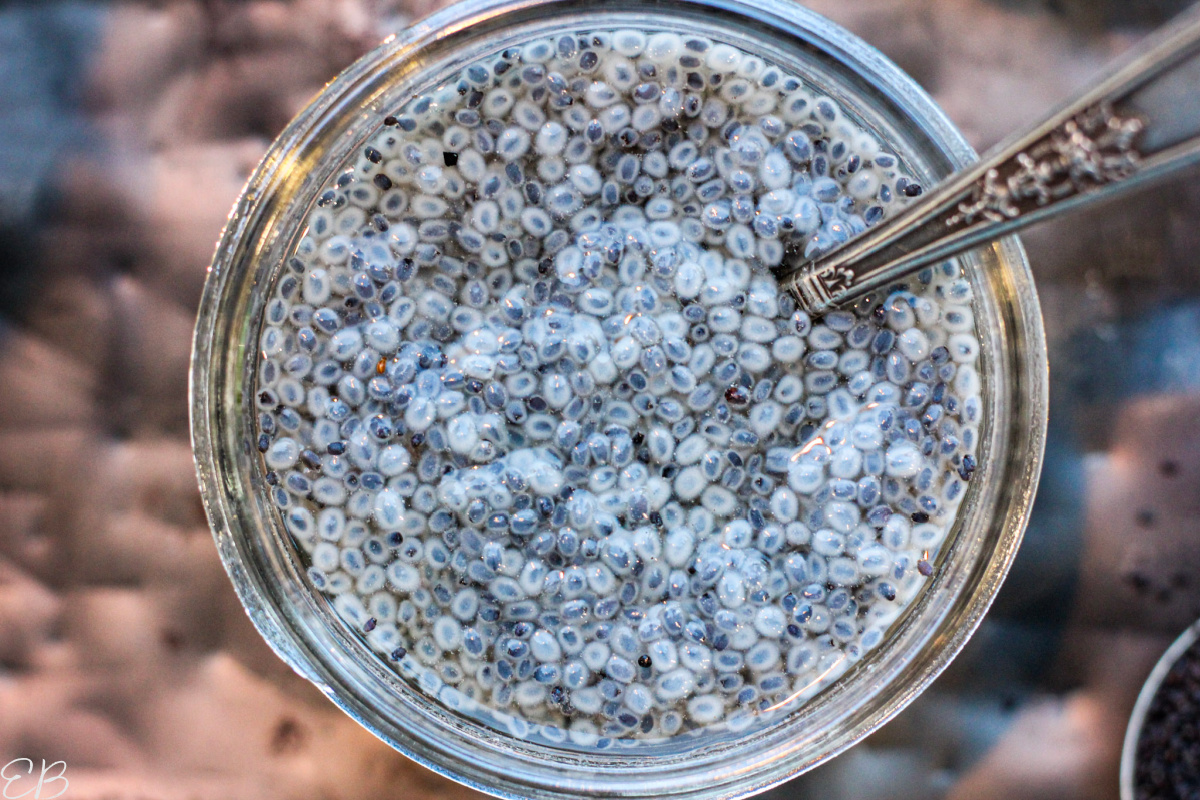 What do they taste like
While some say they're flavorless, I find them very floral! I have actually only purchased one brand (this one), and the flavor is strong, floral and and sweet in nature.
I've found that whatever recipe they're in, it emanates a basil-flavored perfume.
It may be that other brands are less flavorful. (Please share in the Comments below what you've found with the brand you buy. I'll have to try other brands in the future to compare. I definitely recommend this brand.)
Are basil seeds healthy and the nutritional facts
Of course, seeds and nuts are not healthy for every body. They do contain some anti-nutrients that may not be ideal for those with autoimmune and/or digestive issues.
But overall, I find basil seeds to be very gentle to digest, and they are healthier and gentler than chia seeds for most people. Basil seeds are:
high in plant compounds, including flavonoids and other polyphenols. These have anti-inflammatory properties.
prebiotic in nature, so they can help to feed good bacteria in the colon, thus helping to repopulate the gut microbiome.
very high in fiber, so are often helpful in relieving constipation.
appetite suppressing, due to their high fiber content, helping to create a content, full feeling after a meal.
good at detoxing the body through the gut. Their high fiber and mucilage detoxify by reducing and pushing out the build up of toxins in the gut.
a modest source of omega-3 fatty acids.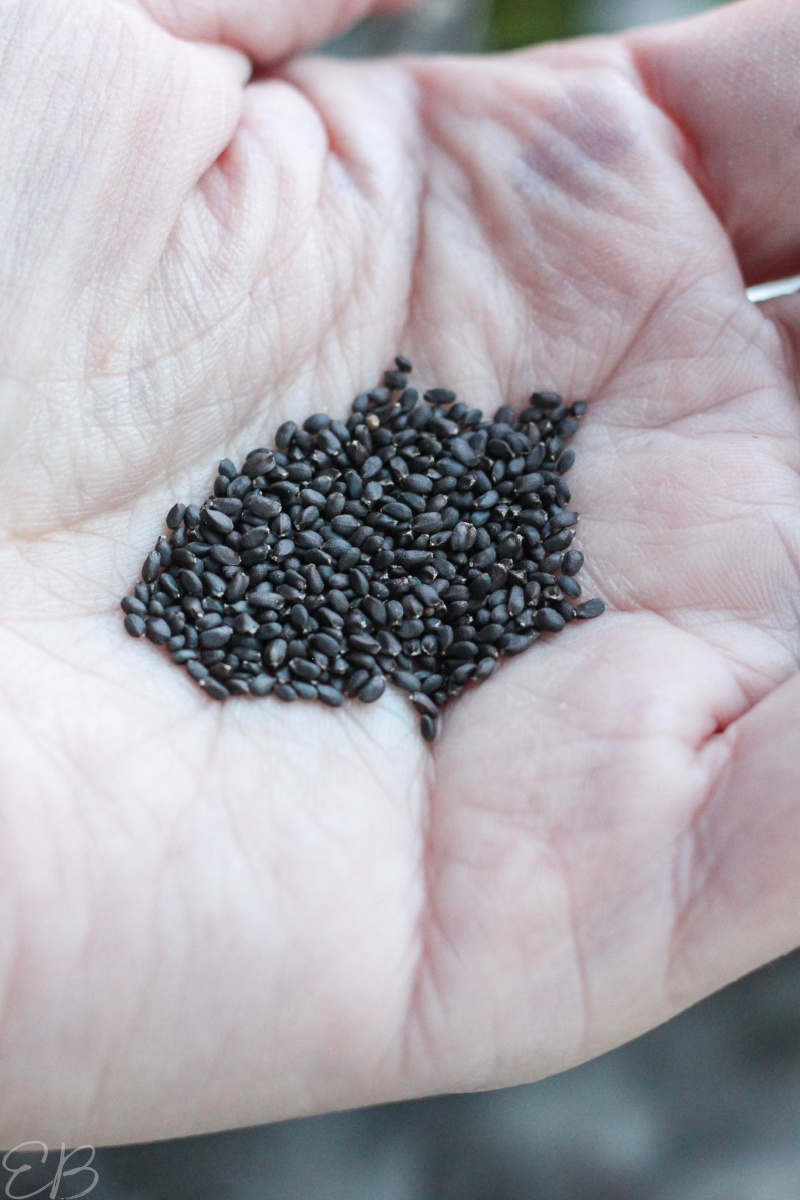 Nutritional data for basil seeds
A one tablespoon (13g) serving of basil seeds contains: 60 calories, 7g carbs, 7g fiber, 2g protein, 2.5g fat and 1,240 mg omega-3 fatty acids.
Basil seeds are also high in calcium (15% of the recommended daily dose [RDD]), magnesium (10%), iron (10%), vitamin K (180%) and provide a moderate amount of vitamin E, zinc and potassium.
(Side note: While basil seeds are very high vitamin K, it is vitamin K1. I don't know if this is turned into the much more valuable K2 through fermentation because not enough studies have been done on this seed yet, but it's possible.)
Regarding fatty acids, plant-based omega-3s come in the form of alpha-linoleic acid (ALA). While ALA is labeled essential, the long-chain derivatives of ALA found primarily in seafood, EPA and DHA, are the ones responsible for the benefits we get from eating omega-3 fats. (source)
So while the fatty acids in basil seeds may seem impressive, I want to be clear that in most people less than 5% of ALA consumed is converted into EPA, and less than 0.5 percent of ALA gets converted into DHA. So, I wouldn't eat basil seeds if that's the motivating reason.
Regarding iron, basil seeds provide non-heme iron (not as absorb-able as animal sources of iron), about 1/3 the amount that molasses provides, which is a moderate source of iron. So while some sources say basil seeds are high in iron, they really are not a significant source.
Why I eat basil seeds
The reasons I personally eat basil seeds are: their super high soluble fiber content and the fact that they're lectin-free. Plus, as I'll mention more in a moment, they work great in baked goods and provide a convenient, satisfying snack.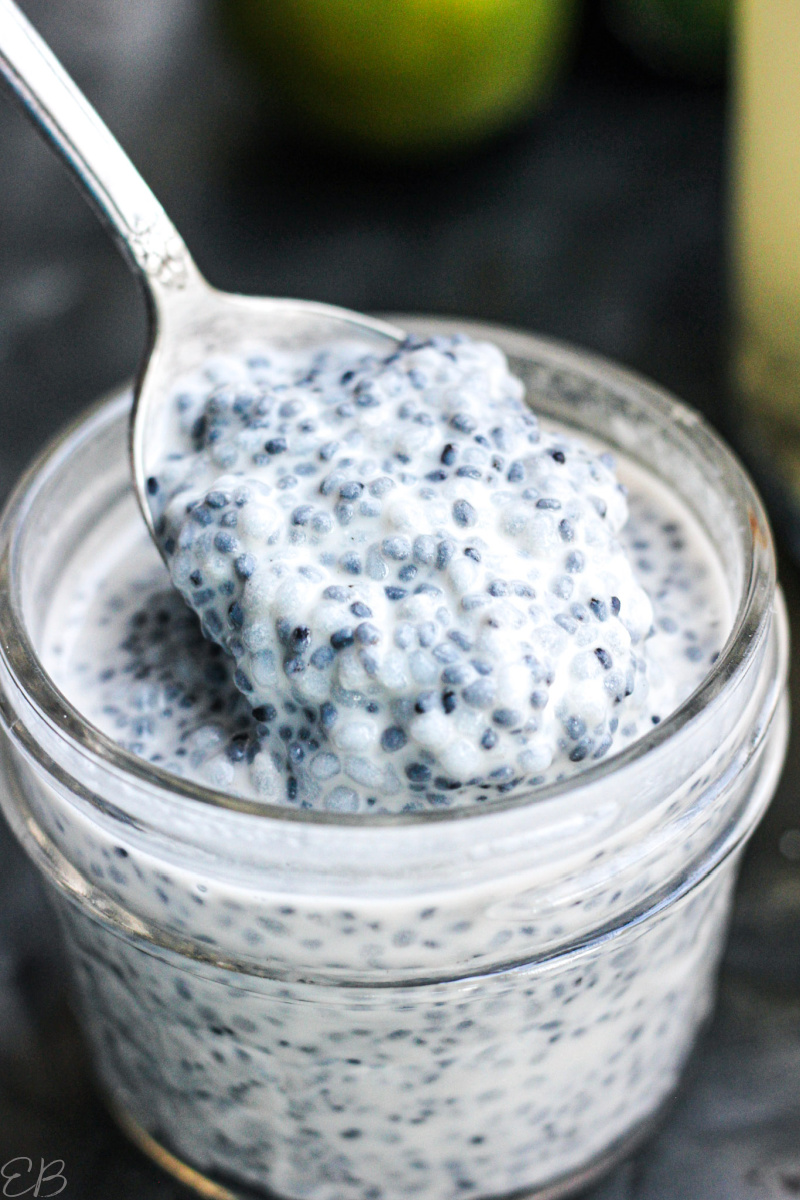 Basil seeds are great for Keto and Low Carb diets
Due to the high fiber content of basil seeds, their net carbs are actually 0!
Basil seeds' high fiber and mucilage help to slow the conversion of starch into blood sugar.
Therefore, basil seeds make a great Keto or Low Carb ingredient.
Enjoy in Keto smoothies, baked goods, puddings and other recipes. See more ideas below.
How to prepare basil seeds
Like chia seeds, basil seeds become mucilaginous (and expand!) when submerged in water.
Always soak basil seeds. Never eat them raw.
How to soak basil seeds
To soak basil seeds:
Combine 3/4 cup of water (or other liquid of choice) with 2 tablespoons of basil seeds.
Stir or whisk together.
Allow basil seeds to absorb the liquid for 15 minutes minimum or overnight.
To "pre-digest" seeds while soaking them, use an acidulated liquid. This means adding a small amount of lemon juice, apple cider vinegar or using a probiotic liquid like yogurt or kombucha to begin breaking down the seeds' antinutrients to make them more nutritious and digestible. You can read more about this concept here.
Special Notes on preparing basil seeds:
I find that basil seeds absorb water better than they absorb other liquids, like milk. So if you want a thick pudding with basil seeds, you may need to use less milk than you would water. I use 1/2 cup milk for 2 tablespoons seeds.
Basil seeds seem to thicken liquids slightly less than chia seeds. For this reason, be prepared to sometimes add slightly more basil seeds to a recipe if you're subbing them in for chia seeds.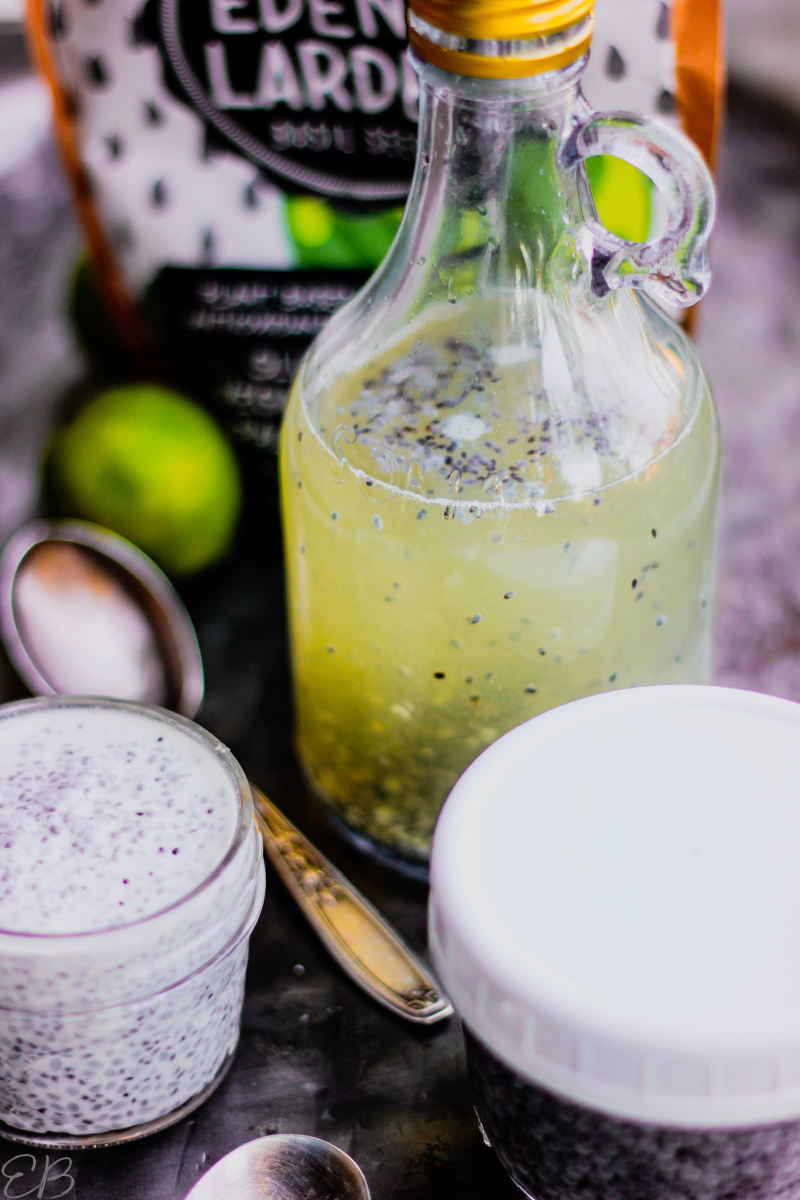 How to eat basil seeds
How to use basil seeds in baking
Basil seeds can be subbed 1:1 in many recipes that calls for chia or flax. You can even make a "basil seed egg", the same way you make chia or flax eggs: creating the egg-free "eggs" and then mixing them in with the wet ingredients.
Similarly, basil seeds or basil seed meal may be mixed directly into any batter that calls for chia or flax, with the dry ingredients.
Either way, the seeds or seed meal expand in the batter and help to create a tender bread-like texture with or without eggs included in the recipe.
Basil seeds are great in grain-free, Vegan, Keto and Paleo baking for this reason, but may also be added to any recipe, including traditional bread recipes. If you allow the mixed batter to sit for 15 minutes before baking, it will thicken and become more dough-like.
See this recipe for Oat Waffles, and replace the flax or chia meal with basil seed meal.
Other culinary uses:
In addition to smoothies, basil seeds can be used in electrolyte beverages, like the one found here, lemonade or coconut water. Simply stir them in, then allow to sit for 15 minutes or overnight, for added protein, fiber and other nutrients.
Stir basil seeds into overnight oats before their overnight soak: kombucha overnight oats or Paleo/Keto overnight "oatmeal".
Add basil seeds to any homemade salad dressing. This will thicken the dressing nicely, and the vinegar or citrus juice in the dressing will pre-digest the seeds, making them more nutritious and gentle to digest. Your salad with have lots of little crunches as with a poppy seed dressing or similar.
Make Basil-Seed Raspberry or Blackberry Jams. This recipe is an example of the preparation Note above: In some recipes, slightly more basil seeds are needed than you'd need if making the same recipe with chia seeds. This recipe uses about 1 tablespoon more.
Use in a switchel, like these: Peach, Strawberry or Blueberry. The apple cider vinegar in switchels will pre-digest the seeds.
Stir them into Raspberry Beet Kvass or Strawberry Beet Kvass for the same benefits.
Make creamy Basil Seed Pudding. This recipe can be made without dairy or with, depending on diet. Another example of the preparation Note above: In some recipes, slightly more basil seeds are needed than you'd need if making the same recipe with chia seeds. This pudding uses about 1 tablespoon more.
Add to yogurt.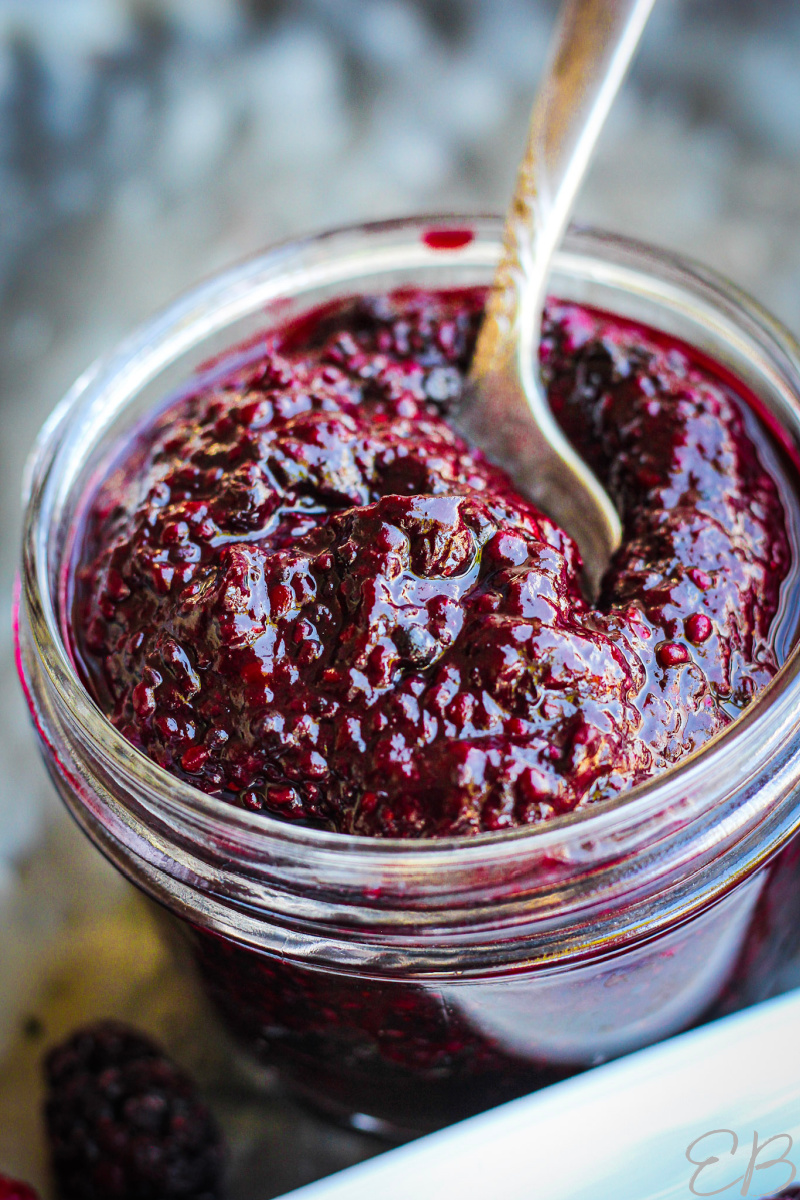 Why basil seeds are a better choice than chia seeds (for most people)
Low Carb: For those on a Keto or Low Carb diet, basil seeds have 0g net carbs, whereas chia have 1g net carb per tablespoon.
Lectins: Basil seeds are lectin-free! Great for those of us who'd like to include seeds in our diet, but need to protect our gut and overall health.
Not estrogenic: Basil seeds actually reduce estrogen in the body. Since most of us are too estrogenic, due to environmental toxins (xenoestrogens), basil seeds help to reduce that load. (Caution: Basil seeds are not ideal for everyone. Some people need to increase their estrogen or protect their estrogen levels [most pregnant women should not eat basil seeds].) But women who suffer from PMS, peri-menopausal symptoms or similar issues may truly benefit.
More fiber: Basil seeds have almost twice as much fiber as chia seeds.
Lower in fat and calories: They have 1g less fat than chia seeds, per serving, if that's important to you.
Contains more essential electrolytes: calcium, magnesium and potassium, than chia seeds.
Surprising facts about basil seeds
Skin Infections
Basil seeds have antibacterial and antifungal properties which may help in the treatment of skin infections. Studies have shown them to be beneficial in treating psoriasis, eczema and other skin diseases. (source and source)
An Ayurvedic recipe for skin allergies is to crush basil seeds and mix them with hot coconut oil. Once mixed, strain and use on affected area.
Oral hygiene
The antimicrobial, antibacterial, antiviral and antifungal properties of the seeds may help to prevent cavities, mouth ulcers, bad-breath and plaque in the mouth.
Soaked basil and fennel seeds can be chewed together as a mouth freshener.
You can Pin this post here:
Sources