I may receive a commission if you purchase through links in this post. I am not a doctor; please consult your practitioner before changing your supplement or healthcare regimen.
Cocoa Butter Bulletproof Coffee is the absolute most delicious version of bulletproof coffee, with a fine creamy foam and rich chocolate flavor.
I have always loved dark brews, and even decaf coffee satisfies! (I make mine decaf, to protect my adrenals and give me better sleep.) Now, add in cocoa butter; there is just nothing more delicious or satisfying.
This recipe is Paleo, dairy-free and Keto.
You can even make this recipe on the GAPS diet if you're ready for a special treat. See more on that, below the recipe.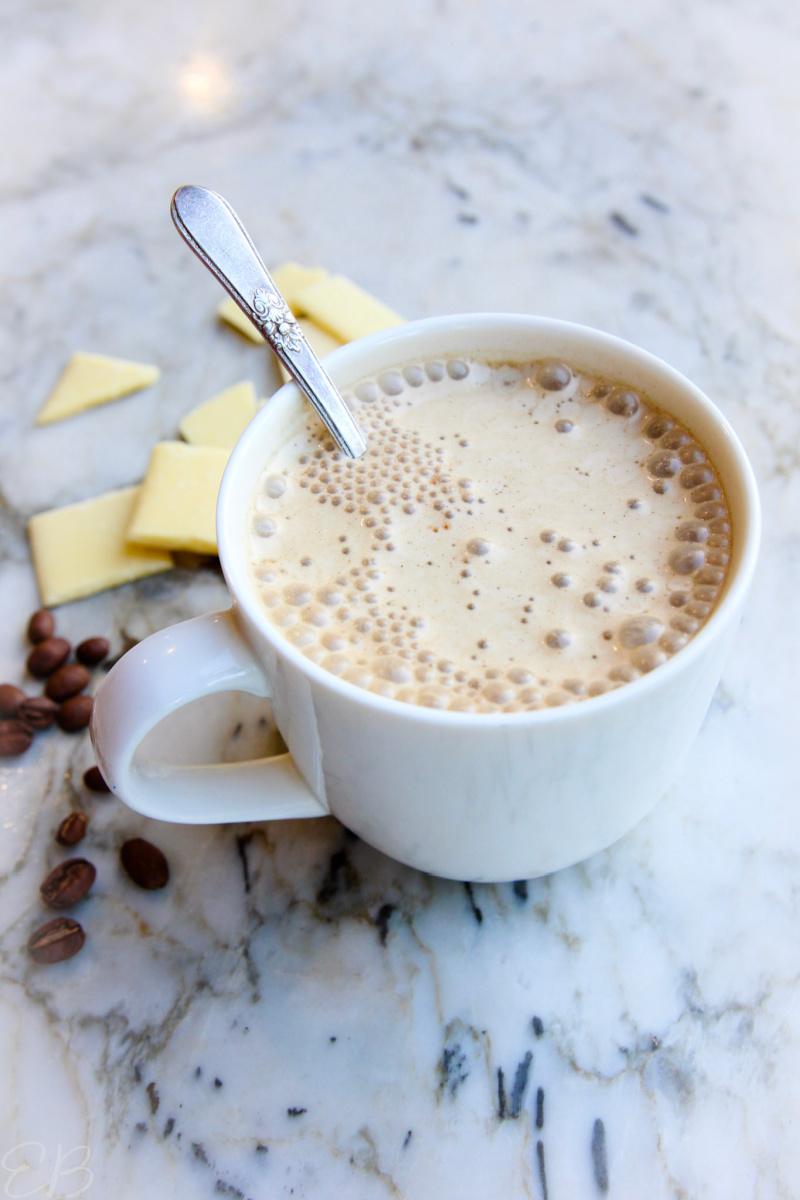 Jump to Recipe
How I came up with Cocoa Butter Bulletproof Coffee
I created this recipe back in 2015 when I needed to stop eating dairy. I was making bulletproof coffees with the usual butter and coconut oil, but coconut had stopped digesting well for me, and I was eliminating dairy for a time.
About this time I got really into cooking and baking with cocoa butter. So that was the natural solution. A fat that tasted like chocolate blended into my coffee?! Yes! 🙂
Turns out, cocoa butter coffee makes an amazingly fine foam. So creamy, luscious, lovely! Oh mercy ~ morning pleasure!
I actually videoed the cup of coffee after pouring it into a clear mug because I couldn't believe its behavior.
Swirling magic kept moving as the fine foam settled into its new home, seriously beautiful and surprising. From a one-color cup of foamed coffee, ripples waved until: three layers emerged and then finally, two, in multi-hued mocha-colored beauty.
Just wait till that fine foam hits your lip — both the texture and flavor are transportingly special.
Now I hope you'll make this … and take a sip …. Amazing, right? 🙂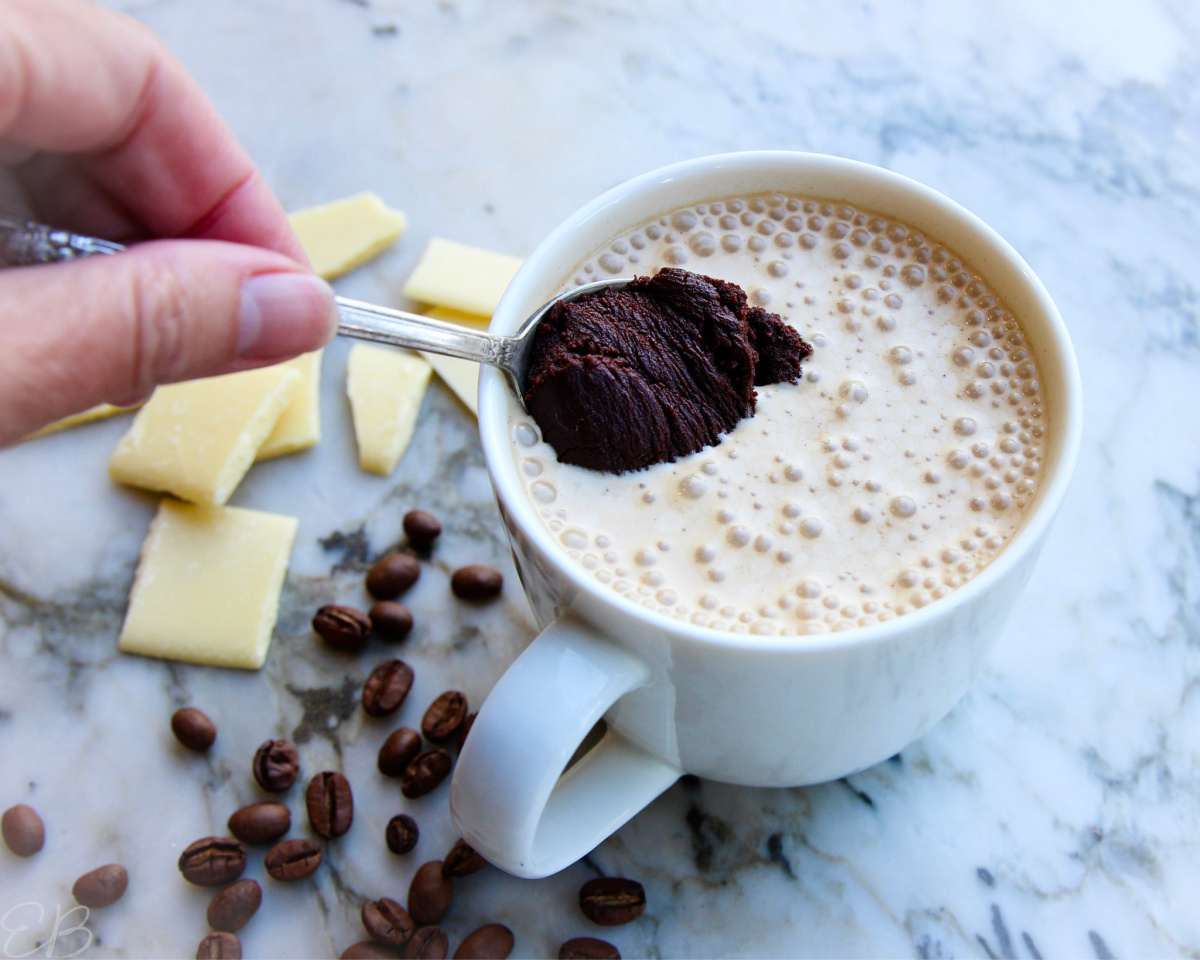 Looking for some Chocolate Ganache to stir into your Cocoa Butter Bulletproof Coffee? 🙂 Find that recipe here.
More about cocoa butter
Regarding cocoa butter, when I first created this recipe, it was new for many of us.
If it's still new for you, I know it's hard to buy or order something that's out of your usual repertoire. But if you order it, you'll be so glad. Or look for it at your local natural food store.
I love reaching into the bag for chunks (or wafers, depending on the brand) — the smell, the enriching, so-soft feel of it on my fingers.
I highly recommend incorporating this special fat into your world. Here are some other fun recipes I've made with it:
Health-wise cocoa butter is good for you, super good!
It contains almost no caffeine, has an excellent fat profile (saturated fats — 57-64%, monounsaturated fats — 29-43% and polyunsaturated fats — 0-5%) and has a high smoke point; so it's safe for baking and sauteing.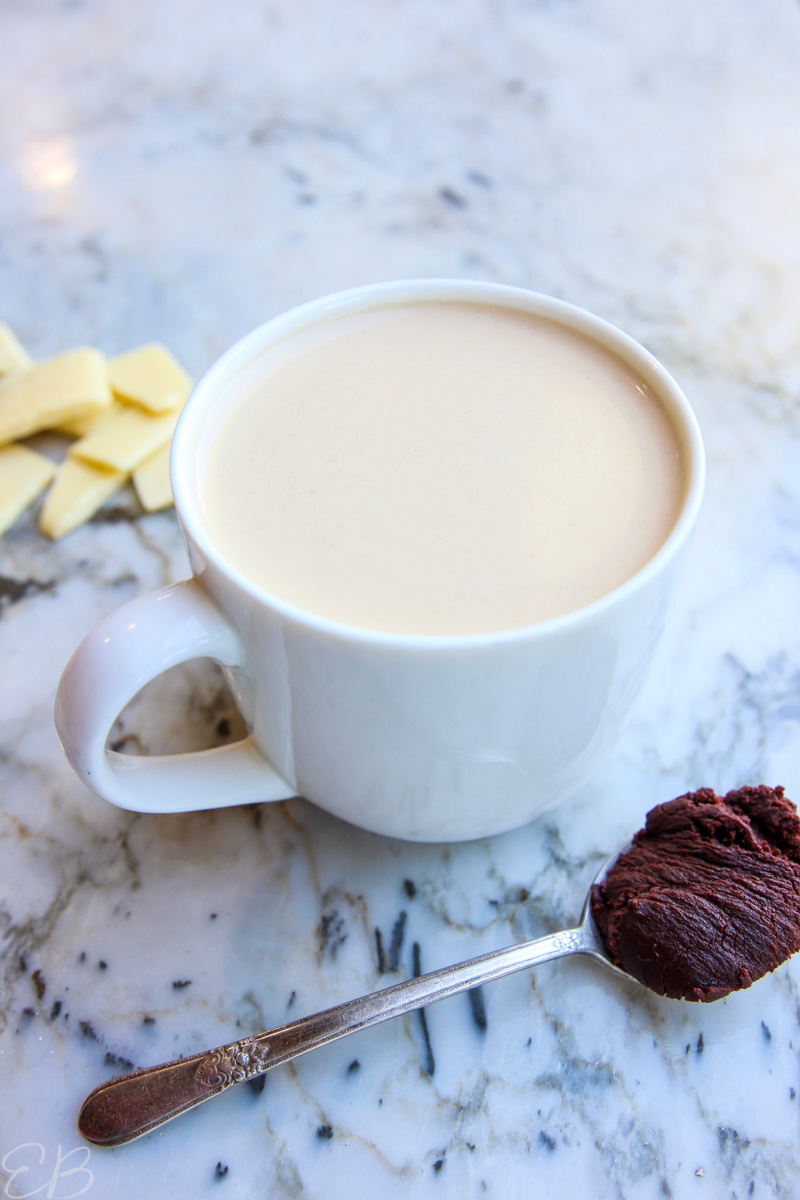 Your stomach pH when you drink coffee …
There's an important piece of this equation that I almost forgot to share. It's our stomach pH, and protecting it.
Having the proper acid pH (between 1 and 3) in our stomachs stimulates the rest of our digestive mechanisms to function properly.
Coffee, in particular, changes this pH significantly (to between 4 and 5).
Therefore, I always take Digestive Bitters OR 1 Betaine HCl with Pepsin capsule right before I enjoy my cup of decaf. coffee.
Called HCl for short, this potent supplement is hydrochloric acid. It indeed adds acid to the stomach, setting the stomach pH right.
This supplement is really important regardless of coffee, in my opinion. Anyone healing, anyone with GI issues or an autoimmune disease should, I believe, be taking the supplement with every meal. But with coffee, even more so.
Using gelatin in bulletproof coffee
Gelatin is the final protective piece, one we don't usually see in bulletproof or butter coffee recipes. (Find the best one here [sustainable, grass-fed, pesticide-free!])
I added it when I first started making butter coffee and Butter Tea to help create an added barrier to my gut, something that would coat, protect and heal. It does just that.
It makes the drink gentler, adds protein and overall makes it more nutrient dense.
If you're drinking Bulletproof Coffee, though, as part of an intermittent fast, omit the gelatin.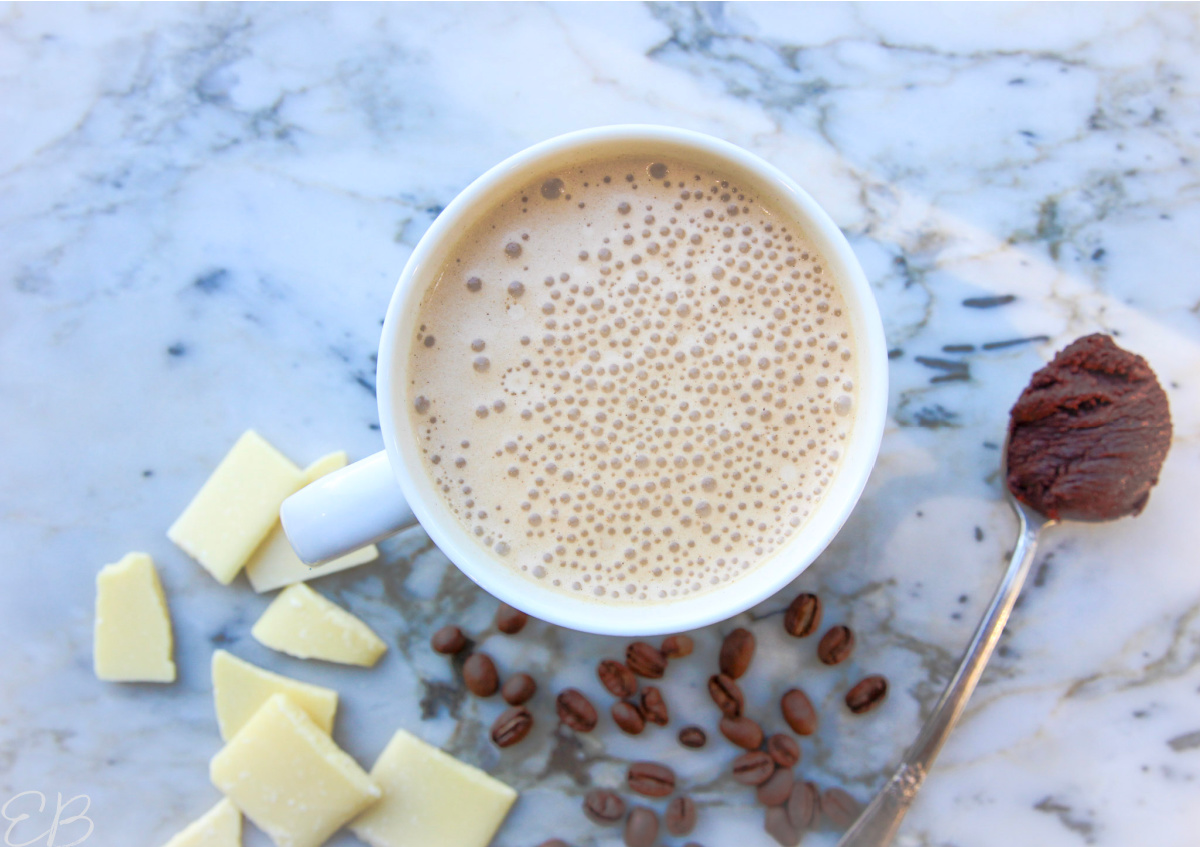 Print Recipe
Cocoa Butter Bulletproof Coffee
Cocoa Butter Bulletproof Coffee has a fine foam, is incredibly creamy and tastes of rich chocolate. This beautiful hot beverage is ethereal and sure to bring pleasure.
Instructions
Place hot coffee in your blender. Sprinkle gelatin over its surface. Add the remaining ingredients.

Blend on medium-low speed for 12 to 15 seconds. (Use caution when blending hot liquids.) Serve.
Notes
MCT oil variation
You can also sub in 1 Tablespoon of MCT oil, for the cocoa butter, if you'd like more energy or the other benefits MCTs offer.
Nutrition
Calories:
274
kcal
|
Carbohydrates:
1
g
|
Protein:
6
g
|
Fat:
28
g
|
Saturated Fat:
17
g
|
Polyunsaturated Fat:
1
g
|
Monounsaturated Fat:
9
g
|
Sodium:
14
mg
|
Potassium:
2
mg
|
Calcium:
4
mg
|
Iron:
0.1
mg
GAPS diet coffee
Weak coffee is allowed on the GAPS diet. So if you believe (what I've said) that this preparation of strong coffee is GAPS-friendly please keep in mind that Dr. Natasha hasn't given me the thumbs up.
Cocoa Butter Bulletproof Coffee is GAPS-friendly, in my opinion. Why is that?
I drink coffee but have bitters or HCl first. (Read more about this above, if you missed it.)
Plus, there are two ingredients that help make the darker brew gentler to a potentially fragile gut lining: gelatin and fat. I have never liked weak coffee. So for me, it's all or nothing.
About a year ago, when my Interstitial Cystitis was healed by the GAPS Introduction Diet (I wrote about this here), I was able to reintroduce coffee, but only with amendments that made it gentle. I started really slowly and carefully, to be sure and cautious, to protect what I'd worked hard to heal. The result? No symptoms, just a happy belly.
And here's my favorite grass-fed gelatin. You may feel a bit of a sticky lip when drinking hot beverages with gelatin in them! I like that. 😉
Similar recipes you'll enjoy: