I may receive a commission if you purchase through links in this post. I am not a doctor; please consult your practitioner before changing your supplement or healthcare regimen.
Discover the 10 best Bulletproof Coffee Add-ins + the basic recipe for bulletproof coffee! As long as you're blending, why not throw in one more healthy ingredient, to make it that much better?
What is bulletproof coffee
Bulletproof coffee is simply great quality, fair trade coffee with (usually) coconut oil and butter blended in for a creamy and healthy outcome.
Bulletproof coffee is great for most wellness diets, including Keto, Paleo, Vegan, GAPS diet and Gluten-free.
The nutrition and satisfying nature of bulletproof coffee has modified many people's morning ritual for the better.
In addition to great coffee and fat, each of us can tweak the cozy, comforting beverage to suit our own needs and tastes!
Fat: what does it add to coffee? — both creaminess and nourishment.
Discover below the 10 best add-ins — what to add … to make it your own.
10 Best Bulletproof Coffee Add-ins
Coconut Oil
This is really where it started:
speed up the metabolism
slow the digestion of caffeine
increase the yield of energy to both brain and body
increase one's intake of medium chain triglycerides
Coconut oil does all that and more, as well as making coffee creamy, when blended.
Coconut oil is also anti-viral and anti-bacterial — helping to keep us well and to maintain the right flora gut balance.
Use 1 tablespoon coconut oil for every mug of bulletproof.
Butter or Ghee
Butter leaves my body satisfied by providing hard to find nutrition:
vitamins D3
E
K2
selenium
healthy saturated fat for good blood sugar and energy levels
short and medium chain fatty acids
antioxidants
immune boosting conjugated linoleic acid
For those who can tolerate dairy, butter is a true health food, and it makes bulletproofs creamy.

Use 1 tablespoon grass-fed, A2 butter for every mug of bulletproof. I like Kerrygold brand best.
Fair-trade Cocoa
What's not to love about a mocha?
(Remember that chocolate and cocoa should be designated "Fair Trade" to not support child slave labor. Choose a cocoa like this one that supports its workers and sustains the environment.)
How much? Start by adding 1 tablespoon cocoa powder (non-Dutch processed) to each mug of bulletproof. (See recipe below.)
If you love bulletproof mochas, you can also add organic orange zest or pure orange oil, to create a Borgia — delicious.
MCT Oil
MCTs are medium-chain triglycerides. MCTs get broken down in the body — into fatty acids that are actually digested in the liver! This means they can't and aren't stored as fat; rather, they're used as fuel by the body immediately: fuel for the brain and the body.
The end result of consuming MCT oil is a decrease in body fat, an increased metabolism and more energy.
Use 1 tablespoon MCT oil in place of coconut oil for every mug of bulletproof.
Slippery Elm
Slippery elm is often used to treat stomach issues like gastritis. It contains mucilage, which is a gel-like polysaccharide. This substance coats the intestines and gives the herb its name. For those who may lack adequate mucosal lining, due to leaky gut, slippery elm provides this protective barrier.
However, the herb is not only protective. It's also high in antioxidants that fight inflammation.
Added bonus, slippery elm is a prebiotic food; it's consumed in the colon by probiotics, creating a healthier gut ecosystem.
Slippery Elm has a mild flavor and just slightly thickens a beverage when blended in.
You can find slippery elm powder HERE.
Use 1 tablespoon slippery elm for every mug of bulletproof.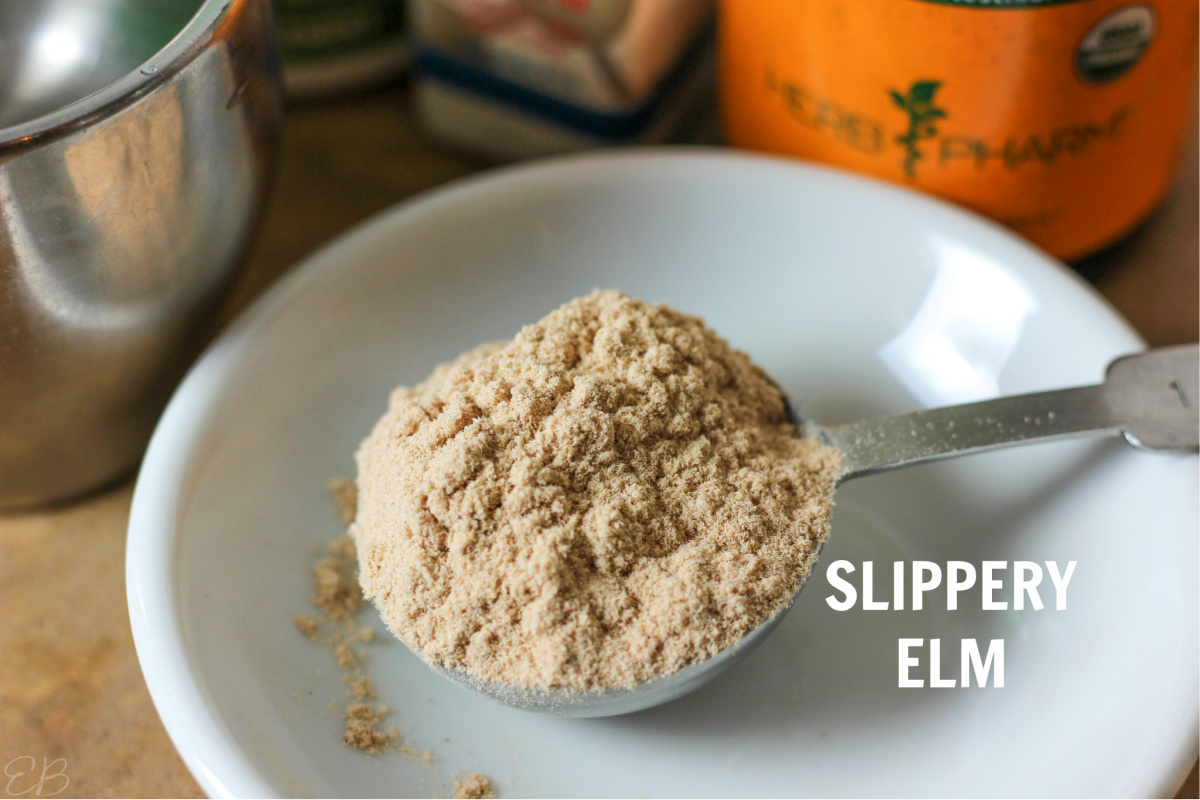 Lavender or Peppermint Essential Oil
Regarding safety, when essential oils are blended with warmed fat the fat serves as a carrier oil, evenly homogenizing and distributing the power of the herbs.
Only 1 drop of essential oil is needed in the blender for 1 to 3 servings.
I buy this lavender and this peppermint essential oil.
Make a lavender mocha or a peppermint latte or a peppermint hot chocolate — lots of flavor variations to try!
Here's a coffee-free bulletproof steamer with lavender, warmed milk (non-dairy option) and cocoa butter — such a special bulletproof option.
Cinnamon
As you may know, cinnamon is excellent for blood sugar levels and the metabolism. It's a great compliment to bulletproofs, which can have a similar effect — toning down the jolt that caffeine often otherwise provides … instead making the surge of energy more gradual and lasting, even helping with weight loss.
Cinnamon is also delicious in coffee with hints of Turkey and Vienna.
Use up to 1 teaspoon cinnamon for every mug of bulletproof.
Gelatin or Collagen
Gelatin and collagen are both easy to add to the blender and are great staples.
They help to set up one's blood sugar for the whole day, by adding a hefty dose of protein to breakfast.
Gelatin especially creates a fine foam when blended, which adds to the experience.
If you'd like to read more about gelatin and its many health benefits, go here. Gelatin benefits hair, nails, gut, skin and more. (You can find collagen discounted here and gelatin discounted here. Use code BEAUTIFUL10 at checkout.)
Use 1 to 2 tablespoons gelatin or collagen for every mug of bulletproof.
(Leftover gelatin bulletproof coffee ends up being a nice treat to eat with a spoon, as it hardens up like a firm pudding.)
Paleo Chocolate Protein Powder
I first learned of this protein powder from Chris Kresser, a functional medical practitioner whose writings I often read.
We tried it for our family, especially for my teenage son, because Chris mentioned it increases athletic performance and recovery.
I also found it reduces belly fat and increases energy — because it contains MCT oil!
Four years later, I'm still buying this same protein powder because we love it.
Enjoy the flavor and even add it to homemade ice cream recipes. In bulletproofs it also makes the loveliest, creamy texture. Highly recommended. (Get it here.)
Start by using 1/2 a scoop protein powder for every mug of bulletproof.
Cocoa Butter
This fat is my favorite — so delicious and healthy.
Although I can eat butter and my daughter can eat coconut oil, neither of us can have the other.
So when I make bulletproofs for the whole family, cocoa butter solves that problem.
Cocoa butter yields a super creamy, chocolatey bulletproof.
Health-wise, cocoa butter boasts:
healthful saturated fat
lots of antioxidants
a long shelf life (so it won't go rancid)
Find fair trade cocoa butter here.
Use approximately 1 tablespoon cocoa butter for every mug of bulletproof.
It can be hard to measure solidified cocoa butter, so just guess about how many pieces would fill a tablespoon. Too much won't hurt.
Use in place of either coconut oil or butter.
Print Recipe
10 Best Bulletproof Coffee Add-ins
Double, triple or quadruple this recipe to accommodate number of guests.
Servings:
1
mug of bulletproof coffee
Equipment
blender or immersion blender
Ingredients
12 to 16

ounces

coffee

fair trade and fresh

1

Tablespoon

coconut oil

or MCT oil

1

Tablespoon

butter

grass-fed and A2, such as Kerrygold brand

optional add-ins

fair-trade cocoa, slippery elm, cinnamon, gelatin or collagen, lavender or mint essential oils (not with cinnamon option), protein powder, cocoa butter

1

pinch

sea salt

for minerals and best flavor
Instructions
Pour hot coffee into blender.

Add to blender coconut oil and butter.

Add any additional optional ingredients, as desired, plus pinch of sea salt.

Start blender at lowest speed setting. Use caution when blending hot liquids.

Blend coffee 12 seconds, increasing speed to medium.

Serve.
Nutrition
Calories:
224
kcal
|
Carbohydrates:
1
g
|
Protein:
1
g
|
Fat:
25
g
|
Saturated Fat:
19
g
|
Trans Fat:
1
g
|
Cholesterol:
30
mg
|
Sodium:
107
mg
|
Potassium:
170
mg
|
Sugar:
1
g
|
Vitamin A:
350
IU
|
Calcium:
10
mg
|
Iron:
1
mg
What about sweetener?
That's up to you.
As with the other ten options, bulletproofs may be catered to your tastes and your health goals.
In our cafe our customers really vary: some ask for the traditional (and Keto version), which is no sweetener.
Others ask for a teeny bit of stevia, and still others ask for a teaspoon of honey. For bulletproof mochas at our cafe, we use coconut sugar.
At home I use a combination of pure maple syrup and stevia whenever I add cocoa (which is often).
But I do love my bulletproof coffee without sweetener. So it's up to you!
What will you try adding to your bulletproofs?