I may receive a commission if you purchase through links in this post. I am not a doctor; please consult your practitioner before changing your supplement or healthcare regimen.
Grasshopper Pie is a creamy peppermint pie that's no-bake, egg-free and dairy-free! With a grain-free Oreo-like crust and fresh whipped topping, you'll love this Paleo, Keto, Vegan and Gluten-free treat — the real food version of an old favorite.
If you're Keto, Primal or Gluten-free and do enjoy dairy, this pie can be topped with real whipped cream, for the best of both worlds.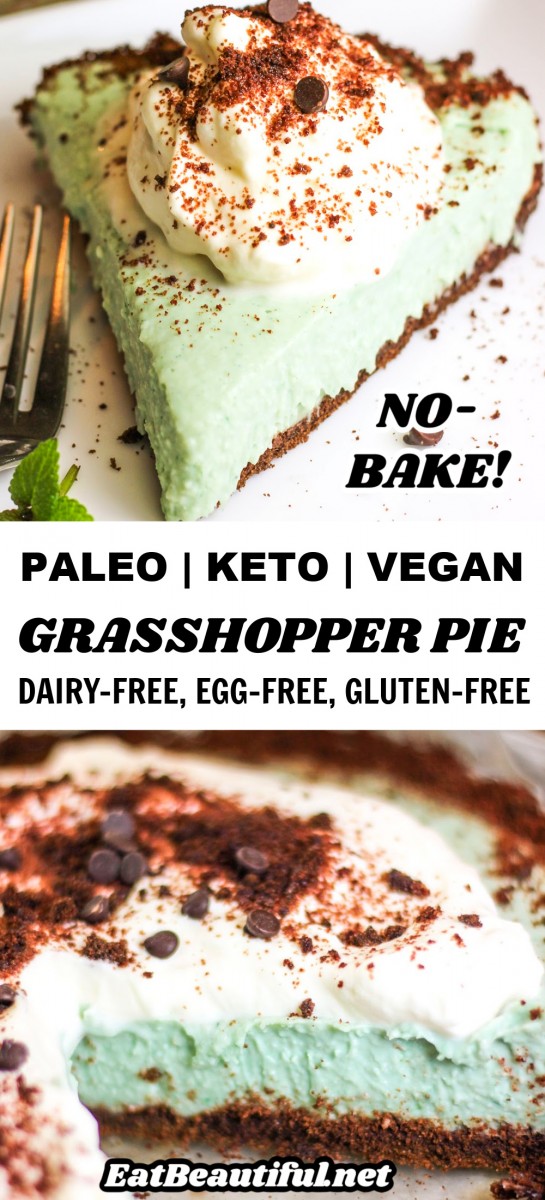 What is Grasshopper Pie
Have you had the original version of Grasshopper Pie, made with crème de menthe? Not surprisingly, that version was likely developed in the 1950s and contains dye from the green alcohol, not to mention many other unnatural ingredients.
This dairy-free version is way better — with no alcohol and instead: nutrient-dense ingredients like collagen, coconut butter, cocoa butter and spirulina.
Grasshopper Pie is lovely to enjoy year round, but it's often been served, historically, around springtime, Easter and St. Patrick's Day. The lively color and vibrant flavor make it a celebratory pie.
Paleo Grasshopper Pie also has an amazing texture. You'll love this tempting creamy cocoa butter base that whips up in the blender!
Chocolate "Oreo" Pie Crust
The crust for Grasshopper Pie is a Chocolate "Oreo" Pie Crust.
It's a simple mix of just 5 dry ingredients, stirred together with your fat of choice, either coconut oil or butter.
The cocoa that's used in the crust is up to you:
You can either use whatever cocoa powder you have in your cupboard, chocolate-brown in color.
Or, you can use extra dark cocoa, which is what a lot of Oreo copycat recipes use. It's almost black.
For this recipe, I went ahead and used the Fair Trade cocoa I have on hand. But I ordered the extra dark cocoa for next time, because it's fun and beautiful.
I plan to re-shoot the photos for the crust (here) with the darker cocoa so you can see that pretty option.
When to eat Grasshopper Pie
When I served this pie the first time, our family had it for dessert one night and then finished it off for breakfast the next morning. We always approach pie like that: best at breakfast time when you're extra hungry with super appreciative taste buds! 😉
But I know that's just us; please enjoy this for dessert after dinner!
Regarding seasonality, Grasshopper Pie is great year round, whenever you need a pretty-easy pie to make. But, it's extra special whenever you want a a green peppermint pie (St. Patrick's Day or Christmas, maybe?), a refrigerator pie (summer!) or for spring and Easter holidays.
How to serve Grasshopper Pie
Top Grasshopper Pie with Paleo Meringue! It's light and marshmallowy, as well as being billowy and creamy.
This new variation on meringue is very easy to make: The meringue takes just two egg whites, no candy thermometer, half the sweetener of most meringue recipes and can be made with, for Paleo: honey, maple syrup or a combination of both. Or for Keto, any liquid low carb sweetener.
Meringue is a wonderful way to make a creamy topping without venturing into dairy! And, it's so pretty!
For Vegan, or if you want straight dairy-free whipped cream, make Coconut Whipped Cream (recipe here).
You can also fold them together, which is my personal favorite! Follow the Instructions in the recipe Notes of the Meringue recipe for a creamy, fluffy topping that's not too sweet … and oh, the mouth-feel.
Meringue swirled with whipped cream!
If you do eat dairy: top the pie with regular whipped cream, lightly sweetened.
Print Recipe
Grasshopper Pie with Chocolate "Oreo" Crust (Paleo, Keto, GF)
Grasshopper Pie is a creamy peppermint pie that's no-bake and dairy-free! With a grain-free Oreo-like crust and fresh whipped topping, you'll love this Paleo, Keto, Vegan and Gluten-free treat — the real food version of an old favorite.
Equipment
pie plate

blender

refrigerator
Ingredients
Filling
1

cup

coconut cream

(This is the solid cream in the top half of a full-fat coconut milk can. One can doesn't have quite enough for 1 cup, so you'll probably need 2 cans. Use the leftover watery milk in smoothies, curries, soups etc.)

½

cup

coconut butter

, freshly made and soft OR soften it (set the jar in hot water and then stir until it mostly liquifies)

¼

cup

maple syrup

or honey for Paleo; OR for Keto: liquid allulose or other preferred liquid low carb sweetener

¼

cup

cocoa butter

melted (do not let any water touch it)

⅛

to

¼

cup

collagen peptides

optional (omit for Vegan)

¾

teaspoon

peppermint extract

¼

teaspoon

spirulina

(see sourcing and discount code below in Recipe notes)
Instructions
Chocolate "Oreo" Pie Crust (Reserve ¼ cup of the loose crust, if you wish, to garnish the finished pie.)
After making the pie crust (recipe here), refrigerate it until your filling is ready.
Filling
Place the following ingredients into high powered blender: coconut cream, coconut butter, sweetener, optional collagen and peppermint extract.

Blend till smooth and creamy. With motor running, add melted cocoa butter, pouring through the door in the lid. Finally add spirulina until mixed in. (Color will intensify as it sits.)

Pour into prepared pie crust. Set in freezer for 1 hour; then transfer to fridge for 2 to 3 hours, until set through to the middle.
Notes
Nutrition
Calories:
219
kcal
|
Carbohydrates:
4
g
|
Protein:
4
g
|
Fat:
22
g
|
Saturated Fat:
15
g
|
Polyunsaturated Fat:
1
g
|
Monounsaturated Fat:
2
g
|
Sodium:
5
mg
|
Potassium:
99
mg
|
Fiber:
2
g
|
Sugar:
1
g
|
Vitamin A:
1
IU
|
Vitamin C:
1
mg
|
Calcium:
7
mg
|
Iron:
1
mg
Pantry staples
If you don't have your pantry ingredients yet, here are my picks for the best: